Drought and extreme weather looms as threat as crops and fertilisers are in short supply
Drought and extreme weather looms as threat as crops and fertilisers are in short supply
From France to the Middle East to the US Midwest, drought levels that haven't been seen worldwide in at least two decades are damaging prospects for replenishing depleted global wheat supplies and increasing food security risks for many countries.
An aggregation of growing conditions in all the world's wheat-growing regions shows soil moisture levels are at their lowest point since at least 2010, according to Gro's Climate Risk Navigator for Agriculture. Meanwhile, the Gro Drought Index, weighted for the world's wheat acres in the Climate Risk Navigator, is showing the highest readings since at least 2003.  
Worldwide production of wheat, the most important crop affecting food security, is forecast to decline this year for the first time in four years. The global wheat stocks-to-use ratio, a key measure of available supplies, is projected to drop in 2022/23 to the lowest level in seven years, marking the third consecutive annual decline in wheat inventories. 
Tight global wheat supplies have pushed benchmark futures prices on the CME up by 57% so far this year. 
Russia's invasion of Ukraine in February exacerbated the world's supply squeeze by halting shipments of wheat from the Black Sea region. Also compounding the problem are wheat export restrictions enacted by some governments, including Russia and India, to control rising domestic prices. 
France presents one of the most worrisome pictures, as scant rainfall and high temperatures depress growing conditions in Europe's top wheat supplier. With Ukraine wheat sidelined by its war with Russia, drought hit countries across the Middle East and North Africa have been counting on France to help fill the supply gap. 
France's durum and soft wheat crops, which are harvested in July and August, are currently in the key growing months that have the greatest bearing on final crop yield. But soil moisture readings for the country's wheat regions are at their lowest levels in at least 12 years, Gro's Climate Risk Navigator shows. 
US wheat prospects are also at risk, as the winter wheat and spring wheat crops continue to face adverse conditions. Gro's machine-learning US Hard Red Winter Wheat (HRW) Yield Forecast Model is pointing to a double-digit yield decline, as hot and dry conditions blanket the HRW growing areas in the southern Plains. Meanwhile, the US hard red spring wheat (HRS) crop to the north is struggling with spring planting because excessive rains are hampering sowing. North Dakota, the top HRS-producing state, is currently experiencing the slowest planting season since 2011. 
Elsewhere, Iran, the Middle East's top wheat producer, is expected to see production drop 20% this year to 12 million tonnes, which is 17% below the 5-year average. Iran's wheat-growing areas have experienced "severe" levels of drought since mid-2021, according to Gro's Drought Index, weighted for wheat acres in Iran using the Gro Climate Risk Navigator.
Wheat production in Morocco is projected to be down 35% this year to 3.22 million tonnes, Gro's model shows. Morocco, one of the top wheat producing countries in Africa as well as a large wheat importer, has experienced one of the worst droughts in nearly two decades since late last year, as shown by the Gro Drought Index weighted for the country's wheat areas. 
Gro's Climate Risk Navigator for Agriculture enables users to evaluate and compare growing conditions anywhere in the world, in real time and on a historical basis. The application's ability to weight growing conditions for a specific crop is a valuable function when crops are spread widely within a country and when yield forecast models aren't available.  
By John Kemp, senior market analyst
U.S. gas prices have climbed to the highest for more than 13 years as inventories remain well below average while the drought and lack of hydro generation threatens to stretch them even further.  Front-month futures prices for gas delivered at Henry Hub in Louisiana have climbed to around $9 per million British thermal units, up from $3 at the same point a year ago.
Prices are the highest after adjusting for inflation since October 2008, when the financial crisis was intensifying and the economy was heading deeper into the great recession.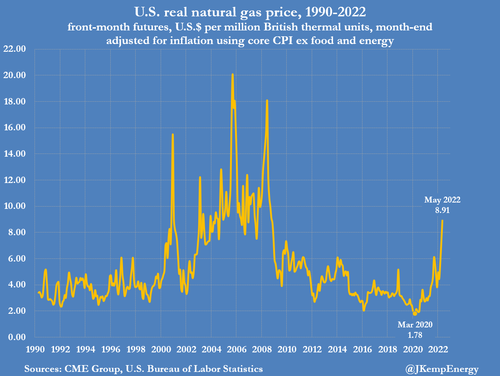 In real terms, front-month prices are in the 86th percentile for all months since 1990, signalling the need for significant steps to relieve the gas shortage.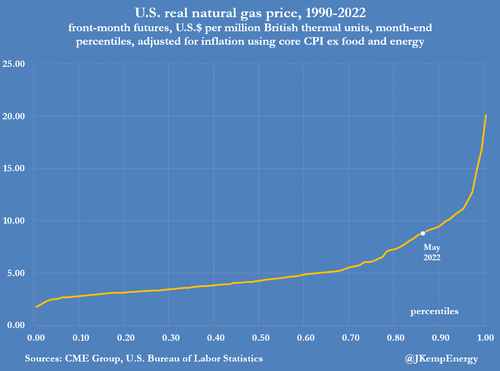 Last week, working stocks in underground storage were 348 billion cubic feet (16%) below the pre-pandemic five-year seasonal average ("Weekly natural gas storage report", Energy Information Administration, May 26).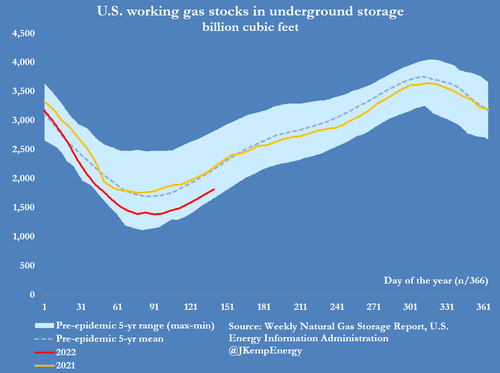 Inventories increased by just 430 bcf between April 1 and May 20, below the pre-pandemic seasonal average of 461 bcf, so the storage deficit is increasing rather than reducing.
The result is that the one-year calendar spread has moved into a record backwardation of almost $4 per million British thermal units as traders anticipate stocks will remain tight.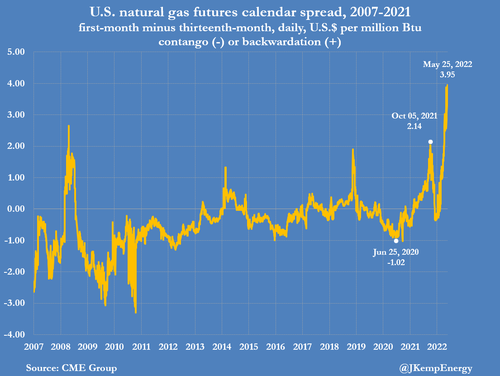 High prices signal the need to reduce consumption, including by switching from gas-fired to coal-fired generation as much as possible, while maximising drilling and production. 
The total number of rigs drilling for gas has climbed to 150, the highest since late 2019, and up from just 100 this time a year ago, according to field services company Baker Hughes.  The number of oil rigs, which produce associated gas as a by-product, has climbed to 576, up from 343 a year ago, and the highest since just before the first wave of the pandemic arrived in early 2020.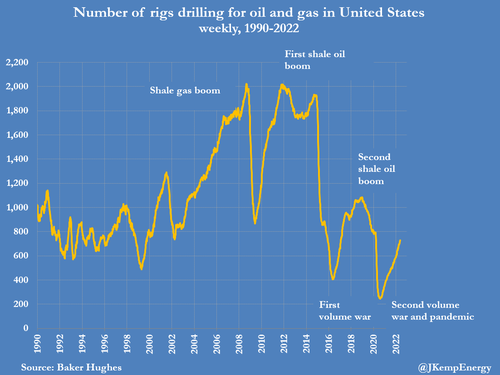 Increased drilling should ensure gas production continues increasing throughout the rest of this year and into the first quarter of 2023.
But the last two months have been hotter-than-normal for the time of year boosting air-conditioning and refrigeration demand.  The Lower 48 states have experienced a total of 171 population-weighted cooling degree days so far this year compared with a long-term seasonal average of 124.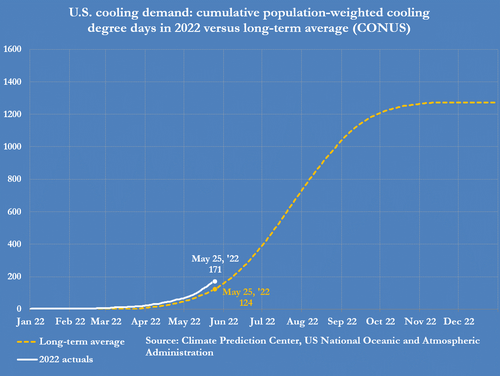 At the same time, the worsening drought across the western states is cutting power generation from hydro-electric sources and increasing reliance on gas-fired generators. In California, drought could cut hydro to just 8% of total generation, from a median of 15% in recent years, according to the EIA.
Increased gas-fired generation is likely to make up around half the shortfall ("Drought effects on California electricity generation and western power markets", EIA, May 2022).
Large volumes of gas will also continue to be exported in the form of LNG to Europe and Asia to cover high demand in those regions, especially for alternatives to Russian gas, tightening the market further.
Traders expect the market to remain tight, with exceptionally high prices signalling the need for even more drilling and running non-gas generation units for as many hours as possible this summer.

Supply chain issues, rising fertiliser prices and tougher growing conditions pose challenges to the Australian solution.
Australian wheat farmers are top contenders to make up for the loss of grain from Russia and Ukraine, which normally accounts for one-quarter of the world's annual wheat trade.
But supply chain bottlenecks, skyrocketing fertiliser prices and tougher growing conditions linked to climate change present significant challenges to the Australian solution.
Hundreds of wildfires have broken out this spring. More than a dozen areas are under voluntary or mandatory water use restrictions, and more than 200 Texas counties have been designated as crop disaster areas.
An increasingly severe drought now covers more than 90% of Texas, according to the U.S. drought monitor, affecting more than 16 million Texans and stressing ecosystems in nearly every region of the state.
In West Texas, a wildfire has burned at least 27 homes and forced much of Taylor County to evacuate; it's one of nine wildfires that firefighters battled to contain last week. In the Panhandle, the drought has devastated the wheat crop. In South Texas, the Rio Grande has run dry in some areas.
Since September, average rainfall in Texas is less than 10 inches — the first time that's happened since 1925, according to state climatologist John Neilsen-Gammon
Drought conditions are forecasted to expand throughout the state this summer.
The National Oceanic Atmospheric Administration predicts dry conditions will continue for western Iowa and expand eastward, impacting the majority of the state. Throughout the summer months, Iowans can expect warmer temperatures and lower precipitation.
Forecasters said it's a continuation of La Niña weather conditions – a climate pattern that induces drier conditions for the Great Plains region. Much of the western region of the U.S. and a portion of western Iowa have long been battling drought. Now, meteorologist Adam Hartman said it's likely that much of Iowa will develop a similar lack of precipitation.
"Much of what I leaned on was the below normal soil moisture anomalies that are currently in place across the state along with the long term dryness," said Hartman, who authored the report. "In addition to the fact we are in La Niña."
As drought conditions have withered crops and reduced pasture across much of western Oklahoma, many cattle producers have been confronted with prospects of selling off animals to cut losses.
It's not uncommon for ranchers to cull cattle. Many producers consider it essential, in fact, to maintaining herd health, and income derived from culled animals can account for as much as 20% of gross income of a commercial operation, according to an article produced by the Oklahoma State University Extension Service.
This year, however, the drought likely will force deeper culling and more difficult decisions. Some producers already have likened conditions to those that forced massive reductions and even selloffs of entire herds during the severe drought of 2010-11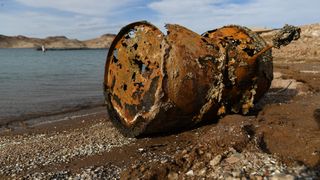 A rusted metal barrel, near the location of where a different barrel was found containing a human body, sits exposed on shore during low water levels due to the western drought at the Lake Mead Marina on the Colorado River in Boulder City, Nevada. (Image credit: Patrick T. Fallon/AFP via Getty Images)
First the drought came. Then, the bodies started washing up.
For over a decade, water levels have been plummeting in Nevada's Lake Mead, the biggest reservoir in Clark County, Las Vegas, and one of the largest reservoirs in the United States. On May 1, receding waters due to regional drought led officials to a gruesome discovery on the reservoir's shore: a metal barrel holding a corpse that had been dumped into the water more than 30 years ago, CNN reported(opens in new tab). 
Just a few days later, more human remains emerged in Lake Mead's Callville Bay, National Park Service (NPS) representatives said in a statement(opens in new tab). A witness reported finding "human skeletal remains" on May 7 at approximately 2 p.m. local time, and NPS rangers responded to the call and recovered the remains. 
Severe drought leads to grim discoveries in Lake Mead

Climate change is fuelling what's become a 22-year mega-drought, even drying up America's largest reservoir: Lake Mead outside Las Vegas, but it's what is happening underneath the surface that is capturing headlines.
Two human bodies discovered, including one hidden in a barrel wearing clothing from the 1970s and some suspect given the history of the city, organized crime could be a factor.
As Jennifer Johnson reports, as water levels may drop further, there are questions about what could be found next.