Dutch Farmers Storm To Victory In Regional Elections
Dutch Farmers Storm To Victory In Regional Elections
Authored by Thomas Brooke via Remix News,
The success of the Farmer-Citizen Movement (BBB) will further undermine the Dutch government's plans to impose radical agricultural reforms campaigners say will destroy rural communities…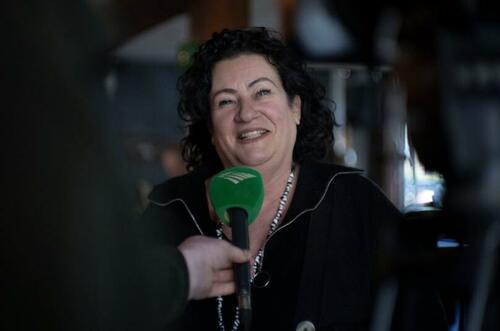 Lawmaker Caroline van der Plas, leader of the populist BBB Farmer-Citizen Movement, reacts after casting her vote for the provincial elections in Okkenbroek, eastern Netherlands, Wednesday, March 15, 2023. (AP Photo/Peter Dejong)
Voters dealt a hammer blow to the Dutch establishment in Wednesday's regional elections, propelling the Farmer-Citizen Movement (BBB) to become the largest party in the Senate in just its first election.
Exit polls projected the movement will win 15 seats in the Dutch upper chamber as voters sent a clear message to Mark Rutte's government over its planned nitrogen emissions laws campaigners say will devastate the country's agricultural sector.
"The Dutch have clearly shown that they are fed up with the policy," BBB leader Caroline van der Plas told De Telegraaf late on Wednesday. "I'm going to party."
"The turnaround has started. The voters have spoken and have denounced support of this government," she added in a tweet.
"She did very well," Dutch Prime Minister Mark Rutte admitted, whose People's Party for Freedom and Democracy (VVD) saw its projected seats fall from the current 12 to 10.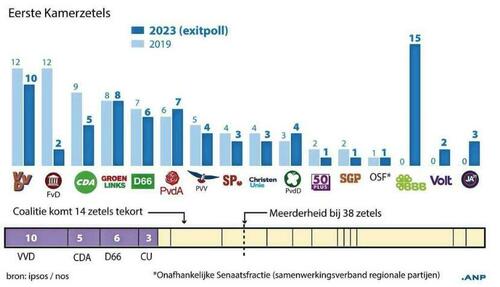 Government coalition parties didn't fare much better. The liberal party, Democrats 66 (D66), is projected to drop a seat, as is the Christian Union (CU), while the Christian Democratic Appeal (CDA) is expected to drop four seats from its current nine.
With a collective seat share of just 24, the government coalition has fallen well short of a majority. It will now have to rely on working with opposition parties on specific legislative proposals to push through government policy.
The Senate wields considerable influence in the Netherlands, unlike many other European nations. While it cannot initiate legislation, it has the power to block government policy, and Thursday's election suggests a period of sustained political stalemate for the country.
One victim of the election night was Thierry Baudet's Freedom For Democracy (FvD) party. It saw its core voter base capitulate and is expected to lose 10 of its 12 seats. The collapse suggests the surge in support for BBB is to a large degree off the back of deep anti-government and right-wing sentiment.
Turnout was 61 percent, up significantly by 5 percentage points on 2019, suggesting the BBB managed to galvanize disenfranchised voters as the movement stormed to victory in almost every province to have already declared an outcome, including Drenthe, Overijssel, Friesland, Flevoland and Zeeland. The party is also projected to win in Gelderland, North Brabant, Limburg, and Groningen, and is neck-and-neck with the governing VVD in both North and South Holland.
The election result follows a recent Rabobank survey that revealed just 1 percent of Dutch citizens believe the country is clearly heading in the right direction, while 86 percent of respondents are pessimistic about the country's trajectory.
The rise of the BBB over the past two years has been in response to the government's plans to appease EU nitrogen emissions targets by imposing radical agricultural reforms. It introduced plans last year to reduce livestock numbers by a third, while farmers have also been told their land could be subject to compulsory buyouts.
The policy resulted in agricultural workers staging several demonstrations against the government, blocking motorways and supermarket distribution centers in mass protests last year.
At a recent demonstration in The Hague ahead of the elections, over 10,000 Dutch farmers came to hear campaigners speaking out against the government plans.
"We are fighting against a corrupt and unjust government," Eva Vlaardingerbroek, a prominent campaigner in defense of the farmers, told attendees. She spoke of a government that "drives our farmers from their land" and that has "turned on its own population."
The planned reductions affecting Dutch agriculture have been described by industry leaders as "so severe that rural communities will be totally devastated economically." Those were the words of Sander van Diepen, a spokesperson for the Dutch agricultural and horticultural association, LTO Nederland, speaking in June last year.
Wednesday's electoral victory does not guarantee success against the government's plans, but with support from JA21 and Geert Wilders' PVV party, the farmers' movement will be able to establish a solid block of opposition to government policy and seek to frustrate the process.
The Farmer Citizens' Movement or BoerBurgerBeweging ("BBB") has now become the third-largest political force in the country. Wednesday's elections saw the party win the most votes in at least nine of the country's 12 provinces. At the time of writing, 3 provinces were still to finalise their results.
Below is a summary of the results where PvDA is Labour, CDA is the Christian Democratic Appeal, GroenLinks is the GreenLeft, VVD is Prime Minister Mark Rutte's People's Party for Freedom and Democracy and PVV is the Freedom Party. You can read a description of the main Dutch political parties as of 2017 HERE.
Reversing the government's approach to nitrogen emissions may become BBB's key platform.  BBB's mission states: "Farmers cannot do without citizens, citizens cannot do without farmers. The countryside is good for roughly five to six million inhabitants of the Netherlands. Outside the four major cities, rural areas have different dynamics and lifestyles, in which neighbourly assistance and joint – bottom-up – solving problems are self-evident.  BBB stands up for these residents, who do not recognise themselves in the government policy aimed at the big cities."
However, as NOS reported, BBB got about a third of its votes from the countryside and about 22% from large urban areas, such as Leiden and larger. 22% of the vote coming from large urban areas makes BBB on par with PVV or the Socialist Party ("SP") and a lot more "urban" than, for example, CDA, which gets about 13% of its votes in large urban areas.
Although BBB is now a significant political force it may not be enough to stop the theft of farmers' land by the Government.  Reuters reported on Wednesday that: "The two most cooperative parties, Labour and GreenLeft, looked set to have held on to their seats, keeping their combined group at a par with BBB and possibly enough to maintain support for Rutte's policies."
This is "Catastrophic for [the] Netherlands – a coalition of left parties can now pass all the laws needed to begin expropriation of farmland," Yon tweeted in response to Reuters's report.
"Really bad news. The first election results are in: The ruling parties suffered some losses, but with the help of the Labour Party and the GreenLeft they will still be able to form a majority in the Senate to pass the nitrogen policies, including expropriation," Vlaardingerbroek tweeted.
In addition to the threat from a coalition of Labour and GreenLeft, farmers could be facing a threat from within BBB itself.   BBB's "talking points" are ultimately highly destructive to farmers, Yon said during the build-up to the elections.
"For instance, the idea that cow dung is toxic for the environment and nitrogen is poisonous.  FVD party accurately dismisses these nonsense claims outright .. [But BBB's leader, Caroline van der Plas,] seeks to 'negotiate' with the authoritarian government," he said.
Michael Yon became one of America's youngest Green Berets at 19 years old. Michael has lived over half of his life abroad travelling to more than 80 countries. Author of three books in the United States and three others in Japan, he is America's most experienced combat correspondent.
Eva Vlaardingerbroek is a Dutch political and cultural commentator and legal philosopher. She has been featured on Fox News, GB News, Tim Pool, 'Achtung, Reichelt' and many other media outlets across the world.
During a recent interview with Dr. Jordan Peterson, Yon and Vlaardingerbroek discussed recent events encircling the Dutch farmers' protest, how their anti-globalist movement mirrors the Canadian Freedom Convoy, and how their message has resonated across the world despite best efforts to silence their voices.
The interview, which took place on 12 March and before last week's elections, covered a broad range of topics: information warfare, the nitrogen "crisis," why the Netherlands seeks to destroy farmers, famine, migrants, the Dutch spirit, dystopian technology, smart cities, digital currencies, fertilizer shortages and what the Dutch farmers will do. 
If you find you are short of time and unable to watch the interview all in one go, there is a comprehensive index of chapters and timestamps in the description section below the video on YouTube.
If the video above is removed from YouTube you can watch it on Bitchute HERE