Events in the Middle East; Israel to attack Lebanon
Events in the Middle East; Israel to attack Lebanon
This is what Hal Turner is reporting
The discussion inside the Israeli Cabinet Meeting is deadly serious.  All factions of the Knesset are offering their full support to the government for a "harsh" response. Israel is now preparing for "several days of intense fighting"; IDF is, at this moment, presenting Israeli political leadership with several retaliation options
* BULLETIN *
Israel has prepared an unprecedented target list in Lebanon.  IDF's response to today's rocket fire from Lebanese territory will be very powerful.
According to the Lebanese newspaper Al-Akhbar, UNIFIL troops of the UN peacekeeping force are reportedly vacating their positions near the Israeli border.
Public BOMB shelters in all regions of Western Galilee have been opened.
* FLASH *
Concern in Israel: U.S. weapons purchased from the Ukrainian Black Markets and from Afghanistan MAY be used against Israel.
Hezbollah already moving Fateh-110 mobile-launch missiles into striking position against Israel if it enters into a conflict with Lebanon.
UPDATE 1:29 PM EDT —
Jordanian Foreign Ministry: We are in a dangerous stage and what is happening on the Lebanese border is a reaction to what we witnessed in Al-Aqsa Mosque.
Emergency meeting of Israeli Cabinet Ministers begins right now.  "The dilemma: too limited a response will be interpreted as weakness, too strong a response will lead to war with Hezbollah"
Multi front response expected, in Gaza and Lebanon.
All Israeli military leave has been cancelled.
China is deeply concerned over the escalation of the Palestine-Israel conflict.
UPDATE 1:46 PM EDT —
Israel has informed members of the UN Security Council & the UNIFIL with information about the rocket attack from Lebanon and the intention to respond.
RELATED ACTION IN . . . SYRIA . . . .
The Iranian Revolutionary Guards are evacuating sites and headquarters near Damascus International Airport in preparation for a possible Israeli attack in Syria..
Also, the centers of the Syrian National Army are increasing the Air Defense batteries in the center and south of Syria.
Military camps in Syria raised their alert level
UPDATE 5:05 PM EDT —
Israeli artillery is NOW deployed near the Blue Line separating Israel and Lebanon.
 The IDF is recalling all military personnel from vacations and leave.
All public bomb shelters have been ordered to open.
PALESTINIAN Joint Operations Room says it is ready to "confront and respond with all force" to any Israeli action in the Gaza Strip.
***** FLASH *****
Deployment of Iron Dome batteries in Tel Aviv and the surrounding area it.  (Hal Turner Remark: THIS means without doubt, Israel __is__ going after Hezbollah in Lebanon.   Only Hezbollah has missiles that can reach Tel Aviv.   If Israel is now deploying Iron Dome Batteries in and around Tel Aviv, then they absolutely ARE going to hit Hezbollah)
We now have reports of jets up over the Gaza Strip, Northern Israel and southern Lebanon.
********** BULLETIN **********
MULTIPLE EXPLOSIONS IN NORTHERN GAZA STRIP.   ISRAELI RETALIATION HAS BEGUN
Big explosions in the south, center and north of Gaza as a result of Israeli bombing.
Israeli assault on Gaza underway: multiple targets attacked simultaneously, heavy bombings reported in some Hamas strongholds.
IDF confirms they have begun airstrikes on targets in Gaza
Israeli police raid Al-Aqsa Mosque again
Here is a report from al-Jazeera
Israeli forces fire stun grenades and arrest worshippers from inside the mosque, drawing condemnation from the Palestinians.
Have a guess why they raided the al-Aqsa Mosque and why this happened
TruNews reported on this yesterday
The Israeli occupation Prime Minister says "Israel" will hit back at its enemies
Thousands protest in Israel despite judicial overhaul pause
And today's events
The prior days of clashes and tensions at Jerusalem's al-Aqsa Mosque are spiraling toward broader conflict in Gaza and along Israel's northern border as on Thursday afternoon a barrage of rockets was fired from Lebanon.
Rocket sirens have been sounding in the towns of Betzet and Shlomi in the Western Galilee, close to the border, while the IDF says its Iron Dome system intercepted at least one of the projectiles. There are emerging reports of at least person wounded by shrapnel on the Israeli side.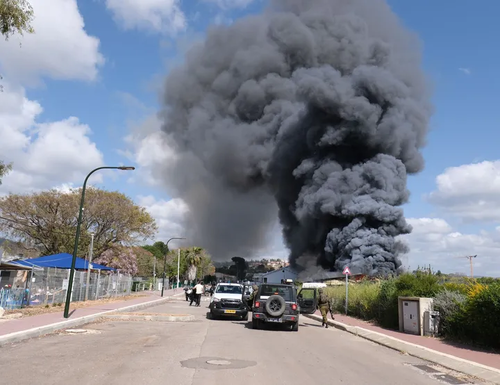 No group has claimed responsibility for the rockets, but Hezbollah is the prime armed group operating in southern Lebanon. Some reports say the rocket salvo was launched from Palestinian refugee camps, and thus might not have been approved by Hezbollah, the Lebanese Shia group backed by Iran.
According to The Times of Israel, it's a likely directly response to the recent Israeli police raids on al-Aqsa Mosque during Muslim holy days: 
There was no immediate claim of responsibility, but the launches came just hours after Lebanon's Iran-backed terror group Hezbollah said it would support "all measures" Palestinian groups may take against Israel after clashes at the flashpoint Al-Aqsa mosque on the Temple Mount in Jerusalem.
Axios is reporting an estimate of "between 25-30 rockets" launched, according to defense officials.
"Most were intercepted by the Iron Dome system, the Israeli military said. At least one rocket fell in the town of Shlomi in northern Israel," the report continues.
BREAKING NEWS: Dozens of missiles fired from Lebanon hit northern Israel in response to the storming of Al-Aqsa Mosque pic.twitter.com/5KqjyFmuzP

— The Cradle (@TheCradleMedia) April 6, 2023
Israel is also observing an important holiday, namely the first day of the Passover festival. The current tensions began Tuesday night, when Israeli police raided Jerusalem's Al Aqsa Mosque, brutally beating worshippers after declaring overnight prayers there unlawful. 
Outrage swept across Palestinian communities, sparking marches, confrontations with Israeli troops, and rocket attacks from the Gaza Strip. The violence spiraled higher, as the Israeli Air Force bombed Gaza.  
Rocket from Lebanon hits the city of Shlomi, northern Israel pic.twitter.com/cJPIz0tstW

— Yosef Yisrael (@yosefyisrael25) April 6, 2023
Hamas then continued firing a barrage of rockets from the Gaza Strip into Israel Wednesday night and Thursday morning, according to the IDF. Violent clashes were also reported between Israeli forces and protesters in the country's north.
Footage of multiple interceptions over northern #Israel due to rocket fire from #Lebanon pic.twitter.com/kXr4szkP3h

— Aurora Intel (@AuroraIntel) April 6, 2023
Israel is reportedly now shelling southern Lebanon, and has scrambled air force jets to neutralize the attacks. Prime Minister Benjamin Netanyahu is also set to convene an emergency security meeting as the crisis escalates, which is already being called the most serious escalation since the 2006 war.
developing…
The rockets came in response to attacks by Israeli police on Palestinians in Al-Aqsa Mosque for two nights in a row
Reports from the Middle East publication, al-Mayadeen.
The occupation warplanes launch a series of raids on various sites in the Gaza Strip, targeting a site for the Palestinian Resistance in the south of Gaza City and an observatory in the east of the city.
Al Mayadeen correspondent reported that Israeli warplanes launched two airstrikes on the north of the Gaza Strip and the southeast of Gaza City, stressing that explosions are currently heard in Gaza.
The Israeli aggression further pushes the region closer toward a wider confrontation following three days of provocative raids on Al-Aqsa Mosque in occupied Al-Quds, assaulting Palestinians who are stationed there as part of the religious practice of Itikaf, which is one of the acts of worship during the holy month of Ramadan.
In further detail, the occupation warplanes launched a series of raids on various sites in the Gaza Strip, targeting a site for the Palestinian Resistance in the south of Gaza City and an observatory in the east of the city.
The occupation planes also bombed the sites "Salah Al-Din" and others, as well as agricultural land in Al-Zaytoun neighborhood in southeastern Gaza, while they bombed a Resistance site in the city of Beit Hanoun in the northern Gaza Strip.
Field sources in Gaza affirmed to Al Mayadeen that all the sites that were targeted by the Israeli aggression are empty or have been evacuated.
Meanwhile, private sources told Al Mayadeen that the Resistance in Gaza has informed the mediators that any massive aggression against the Strip will be met with an unprecedented response.
Earlier, the Israeli occupation military claimed that 34 rockets were launched on Thursday from southern Lebanon on occupied Al-Jalil.
The occupation said the Iron Dome air security system intercepted 25 of the projectiles, adding that at least five rockets landed in occupied Palestinian lands.
It claimed that the locations of the remaining four rockets are still unknown.
Israeli media reported that the rockets caused two minor injuries and some damage.
This is how the zionist entity reports it
One Israeli injured by shrapnel, another while seeking shelter • Netanyahu to convene security cabinet this evening with top IDF officials