Everything is falling apart between Starlink and Ukraine
Everything is falling apart between Starlink and Ukraine
14 October, 2022
The commander-in-chief of the Ukrainian army, "integral nationalist" general Valeri Zaluzhnyi, asked SpaceX a month ago for a supply of 8,000 additional terminals. His army had previously received 20,000 terminals – worth between 1,500 and 2,500 dollars depending on the model – largely funded by Poland, the United States and the United Kingdom.
According to General Zaluzhnyi, about 500 terminals are being destroyed on the battlefield every month. Without these terminals, the army and the civil authorities no longer have any means of communication. A failure has already occurred which apparently resulted in a disaster, the details of which are classified Secret-Defense.
The price of the terminals and their communications, which are borne by SpaceX, currently amounts to 80 million dollars. It should climb to 100 million by the end of 2022 and to 400 million by the end of 2023.
Despite its public commitment at the start of the war in support of Ukraine, SpaceX sent a letter to the Pentagon asking it foot the bill because the company could no longer afford it.
Starlink CEO Elon Musk has recently exchanged some caustic tweets with Ukrainian President Volodymyr Zelensky. The billionaire, who is privy to a lot of information that we don't know considering that he has access to all the messages exchanged by the Ukrainian authorities on Starlink, has taken a stand for the recognition of Crimea and Donbass as Russian provinces.
The sum requested by SpaceX is negligible when compared to the value of the company (127 billion dollars). Elon Musk, who lived in South Africa until he was 17, is aware of what a supremacist ideology like the "integral nationalists" means. If he cuts off access to Starlink, the Ukrainian military will crumble within days.
An update
SpaceX and Tesla CEO Elon Musk has admitted that his efforts to de-escalate the Russia-Ukraine conflict have failed. The comments came as he discussed the risks of nuclear war on Twitter with tech entrepreneur and the former head of Megaupload, Kim Dotcom.
The dialogue happened as officials and experts in both the West and Russia have been weighing in on the possibility that the bloodshed in Ukraine could lead to a larger and even more destructive conflict.
"The hell with it … even though Starlink is still losing money and other companies are getting billions of taxpayer [dollars], we'll just keep funding Ukraine govt for free," Musk tweeted on Saturday.
The billionaire has donated around 25,000 Starlink satellite internet terminals to Ukraine after Russia launched its military operation in the neighboring country in February.
Kim Dotcom, whose real name is Kim Schmitz, replied: "In other words you will continue your support for the US proxy war in Ukraine despite your better knowledge that this is a US proxy war and the risk of a nuclear war because of the US proxy war?"
"Damned if you do, damned if you don't, so … guess I'm just damned," Musk wrote in response.
Schmitz then praised Musk for offering ideas for a peace settlement between Moscow and Kiev. "I believe in you. We are facing nuclear war because of reckless US foreign policy in Ukraine. You know that. This is a big one. We have to put our personal interests aside for the sake of humanity," he argued.
Musk replied: "I'm trying my hardest to de-escalate this situation and obviously failing."
Schmitz has criticized Washington's response to the conflict in the past, arguing that the US "provoked this war and carries the brunt of responsibility."
Musk, meanwhile, was heavily criticized in Ukraine and the West earlier this month for suggesting that, for the sake of peace, Kiev should recognize Crimea as Russian territory. As for the four other former Ukrainian territories that were admitted into Russia, the billionaire proposed to "redo elections of annexed regions under UN supervision."
Elon Musk has publicly expressed alarm over his name and profile appearing to have been added to a well-known Ukrainian 'kill list', following controversy and outrage from Kiev over his prior "Russia-Ukraine peace poll" and subsequent threats to cut funding for Starlink satellite internet services deployed in the country.
On Friday, the billionaire SpaceX founder responded directly to a viral tweet by independent journalist Eva Bartlett which claimed "Musk added to Ukraine's Myrotvorets kill list (which includes 327 children!)," in which he asked her "is this list real?"
Is this list real? What's the URL?

— Elon Musk (@elonmusk) October 14, 2022
Musk later appeared to answer is own question in the affirmative, tweeting out a link to the 'kill list' website's Wikipedia page. The website within recent weeks fell into the spotlight after Pink Floyd's Roger Waters highlighted his own inclusion on the list.
"Concerning," Musk later wrote.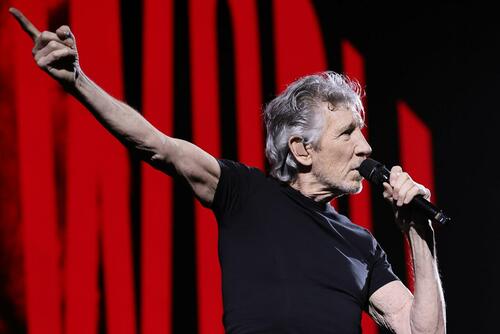 In the case of Waters, Louder Sound writes;
The 'list' that Waters is referring to is stored on the NSFW website Myrotvorets ('Peacemaker'), which, in addition to posting graphic photos of dead Russian soldiers, allegedly features around 187,000 names of people critical of the Ukrainian government, alongside their home address, phone numbers and contact details. The left-wing UK website The Canary actually identified Waters' name on the list in an article published in May, stating that the musician was on the database as he is accused of "Anti-Ukrainian propaganda. An attempt on the territorial integrity of Ukraine. Participation in attempts to legalize the annexation of Crimea by Russia."
Newsweek, meanwhile, in attempting to identify and verify the Ukrainian website suggested that it is independently-run, but at the same time kept open the question of whether it has direct links to the Ukrainian government:
As various media reports on Mirotvorets note, it is an NGO that keeps an open-sourced database of persons that it deems to have promoted anti-Ukrainian narratives or acted to destabilize Ukraine's national security. Since the start of the war, it also keeps count of the Russian soldiers and agents killed on its territory.

It was founded by a Ukrainian politician and activist Heorhiy/Georgiy Tuka. It has also been closely linked to politician Anton Gerashchenko, whom The Times of London in a recent interview referred to as a co-founder of the project.
According to Rolling Stone, "There is a list maintained by a far-right Ukrainian organization that contains hundreds of thousands of enemies of Ukraine, from alleged members of the Wagner private military company to journalists accused of cooperating with puppet governments in the Donbas region. The site, which has been roundly internationally condemned — but not taken down by the Ukrainian government itself — claims not to be a kill list but rather "information for law enforcement authorities and special services."
Concerning

— Elon Musk (@elonmusk) October 14, 2022
Newsweek highlighted that in some instances names of Ukrainians that had their names and addressed published as "collaborators" were hunted down and prosecuted, and that some turned up dead.
The Mirotvorets list has no official standing in Ukraine, though Al Jazeera, citing the rights group Uspishna Varta, reported that it had been used as evidence in more than 100 court cases against those suspected of involvement with pro-Russian paramilitaries.

In April 2015 two pro-Russian Ukrainians, politician Oleg Kalashnikov and publicist Oles Buzina, were shot dead in Kyiv.

Al Jazeera reported that the attacks took place just days after Mirotvorets published personal details, including addresses, about the two men, but no direct link has been found or proven in court. -Newsweek
And according to Mirotvorets' Wikipedia page, the site does maintain an "enemies of Ukraine" list, and has even come under censure from Western allies of Kiev, who find it somewhat of an uncomfortable embarrassment.
"The site has remained open despite repeated requests from the UN, G7 ambassadors, the EU and human rights groups to close it down, and although it has no official status, it acts to supplement government databases at checkpoints," the Wikipedia page which Musk refers to cites.
For those who say Ukraine's kill list *isn't* a kill list:

"…a screenshot from the Ukrainian site Myrotvorets, where the photo of Daria Dugina is crossed out and it says "liquidated".
"They are openly flaunting her murder," the Russian envoy said."https://t.co/6CkLrIehAz pic.twitter.com/3kyxxyDfVr

— Eva Karene Bartlett (@EvaKBartlett) August 24, 2022
Eva Bartlett herself, the journalist and pundit that Musk interacted with on Twitter, is reported to be on the kill list.
Screenshot of "liquidated persons" on the Myrotvorets site… names that appear were accused of publicly supporting Russia or of being "anti-Ukrainian", or being collaborators with the occupying Russian army.
While a screenshot of Musk's profile on the kill list is now being widely circulated, his name may have only briefly appeared on the website, reportedly having been taken down quickly after it became focus of attention on social media.
Moscow may well succeed in its efforts to leave Ukraine without satellite communications, the tech entrepreneur has warned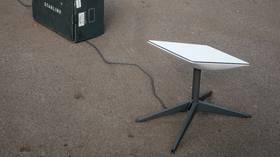 SpaceX CEO Elon Musk has blamed Russia for working to disable his Starlink satellite service, which the Ukrainian forces are heavily reliant upon in the conflict between Moscow and Kiev.
"Russia is actively trying to kill Starlink," Musk said in a tweet on Saturday.
According to the tycoon, SpaceX, which operates the satellite service, has been allocating "massive resources" to protect it from jamming and cyberattacks. "Even so, Starlink may still die," he warned.
Musk had donated $80 million worth of Starlink terminals to Kiev at the beginning of the conflict in late February, with the system becoming the main communications tool for Ukraine's forces.
However, the world's richest man had a falling out with Ukrainian officials in early October after sharing his peace plan for the conflict. According to Musk, Russia should "redo elections of annexed regions under UN supervision," while Kiev would commit to neutrality and drop its claim to Crimea.
Ukrainian President Vladimir Zelensky reacted to the idea by launching a poll on Twitter, asking followers "which Elon Musk" they "like more" – the one "who supports Ukraine" or the one "who supports Russia." Kiev's controversial outgoing ambassador to Germany Andrey Melnik went further, telling the tycoon to "f**k off."
The Twitter spat coincided with reports that the Ukrainian military had started to experience problems with its Starlink communications. Earlier this week, Musk said he couldn't provide Ukraine with Starlink services for free anymore and suggested that the Pentagon should be paying for it. The US Department of Defense said on Friday that it had been discussing the issue with SpaceX.
Being left without Starlink "is going to be a massive blow to Ukraine's defense capability" because, in this case, "it wouldn't be able to use satellite data for targeting," Russian Senator Vladimir Dzhabarov said on Friday.
SpaceX is "a private company after all, and although it did everything [provided free Starlink services to Ukraine] at the request of the Pentagon, it couldn't go on like this forever," Dzhabarov – who is the first deputy chair of the Russian Senate's committee on foreign affairs – pointed out.