Extreme weather in Europe
Extreme weather in Europe
Severe drought conditions affect about 60% of the EU, and in France, dozens of municipalities have run out of water and relied on a fleet of trucks hauling fresh water for survival. 
At least 100 towns and villages have run out of fresh water. The French government has stepped in to support these drought-stricken areas.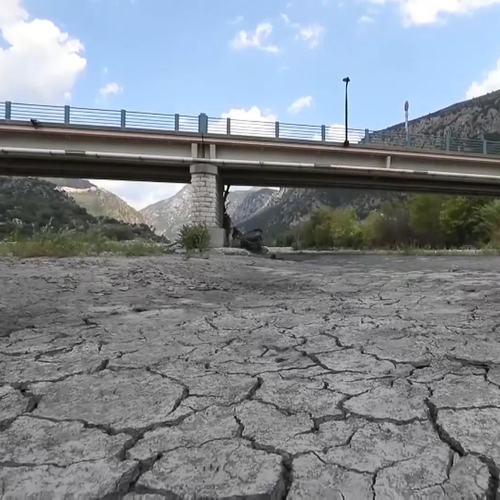 French environment minister Christophe Bechu said in dozens of municipalities, "there is nothing left in the pipes," referring to freshwater systems that have run completely dry. He said the 'historic' crisis has resulted in the deployment of a fleet of trucks delivering water to areas in need. 
Besides France, Spain, Italy, Germany, and the Netherlands are all facing water shortages and falling water levels on inland waterways (the situation on the River Rhine is one to follow). Drought conditions across 60% of the EU could have severe economic consequences, affecting energy production, agriculture, and river transportation.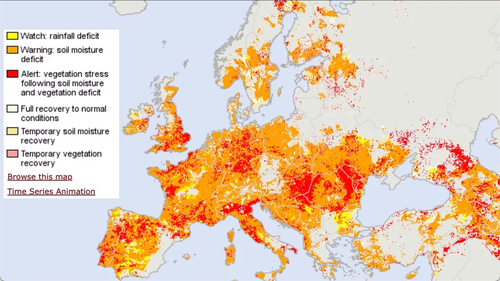 Record heat across Europe has fueled "increased fire danger due to the lack of rain and the resulting dry vegetation, combined with high temperatures," the European Union's Copernicus Climate Change Service noted. 
In southwest France, a massive wildfire has scorched 14,000 hectares in just a few weeks, forcing the evacuation of thousands of people. 
🔴 #Catastrophe en cours en #Gironde avec un #incendie hors de contrôle ce soir 🔥. De nombreuses évacuations ont lieu dans le secteur d'#Hostens. Une nuit très compliquée en perspective… 📹 Johanna SG pic.twitter.com/3caq4HUaZd

— Loïc Spadafora (@loicspadafora) August 9, 2022
A new #wildfire has broken out near #Landiras, at the border between #Gironde & #Landes 🇫🇷, an area already affected by #fires in July

6,000 people have been evacuated

The @CopernicusEMS has been activated by @SecCivileFrance #EMSR519

The smoke as seen today by #Sentinel3🇪🇺🛰️ pic.twitter.com/BidZwk6MLN

— Copernicus EU (@CopernicusEU) August 10, 2022
We've pointed out that French utility Electricite de France SA had to "reduce or halt nuclear output" because record-breaking heat on the Rhone and Garonne rivers made the water too hot to circulate through condensers and discharge back into waterways. 
Meanwhile, French power prices are at a new record of over 600 euros per megawatt hour amid grid strains thanks to the lack of nuclear power generation amid heightened demand during heatwave.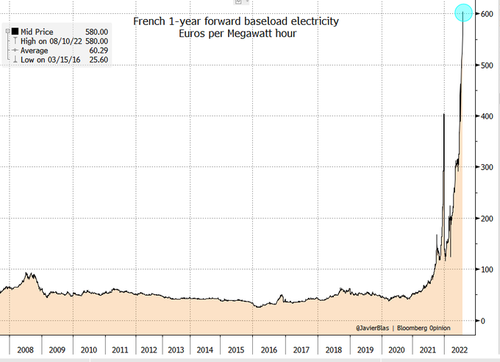 The bad news is the persistent heat wave is forecasted to continue in parts of western and central Europe through the second half of August. 
Germany, Poland, Romania, Italy, Sweden and Greece sending firefighters and equipment to help France
1,100 firefighters are battling a blaze that has been ripping through the Gironde region for more than a month 
Europe has been hit by a record-breaking drought which has dried up rivers and turned woodland into tinder 
In Switzerland, a pass that has been covered in ice for the last 2,000 years is now almost totally ice-free
This is the terrifying moment a fire tornado raced towards French firemen battling a huge blaze amid a record-breaking European drought that has dried up rivers, melted glaciers and ravaged farmland.
Video of the rare phenomenon, posted to social media on Friday, showed a tornado rip through an area of dry grassland where firefighters were battling a wall of flames.
A twisting pillar of smoke is seen rising up into the sky, before the wind passes over the inferno. This causes flames to twist upwards and dance rapidly across the ground. The footage cuts as the flames barrel towards a fire engine.
France has been forced to call in reinforcements from across Europe to help battle a huge wildfire that has been burning in the south of the country for more than a month.
Hundreds of firefighters from Germany, Poland, Romania and Italy are heading to Gironde, near Bordeaux, to help tackle a blaze that began burning in early July as Europe's record-breaking summer heatwave got underway before reigniting several days ago – forcing 10,000 people from their homes and burning 7,000 hectares of pine forest.
Water-bombing planes are also being sent from Greece and Sweden to help extinguish the flames, as locals describe biblical scenes. Valentine Dupy, who lives in the village of Belin-Beliet, said the region is 'like an apocalypse. Smoke everywhere … and planes throwing orange powder onto the fire.'
Europe is sweltering through a record-breaking summer of heatwaves and drought that has parched the continent and turned forests tinder-dry. In Switzerland, a glacial pass that has been covered by ice for the last 2,000 years is set to be ice-free by the end of the week because it has all melted.
This is the terrifying moment a fire tornado raced towards French firemen battling a huge blaze amid a record-breaking European drought that has dried up rivers, melted glaciers and ravaged farmland
A water-bombing plane drops flame retardant chemicals on to trees in the Gironde region of France, where fire crews are struggling to extinguish a blaze that has been burning for more than a month
Firefighters embrace as they work to contain a fire in Saint-Magne, as wildfires continue to spread in the Gironde region of southwestern France
Europe's weather crisis, country by country 
France
Wildfires burning in at least four locations – the worst of which is in Gironde, where 10,000 people have been evacuated from their homes.
Country is also going through the worst drought in its history, with 100 villages now without drinking water.
Germany 
Widespread drought has dropped the level of the Rhine river so far that it will soon become impassable to barges carrying coal, oil and goods.
Should the river become blocked it will cause huge economic damage. The last time that happened – in 2018 – the country narrowly avoided falling into recession.
Italy 
The River Po, which runs across the affluent north, is dangerously low – threatening farms that rely on it to water their crops.
Stretches are so low that sunken ships are reemerging, and an old WW2 bomb was even uncovered and had to be defused.
Spain
Having suffered through a record heatwave in July, crucial reservoirs in Spain are now running close to empty – with weeks of summer left to go.
The Cijara reservoir, near Madrid, is around 84 per cent empty while the Vinuela reservoir in the arid south – near Malaga – is 87 per cent empty 
Portugal
 A large wildfire is burning out of control in central Portugal, just weeks after dozens of blazes tore through the country during a 40C heatwave.
Switzerland 
A glacial mountain pass, covered in ice for the last 2,000 years, will become ice-free in the next few days – the first time since the Romans were conquering Europe that it will have been fully exposed. 
Firefighters said they had managed to save her village, transformed into a ghost town after police told residents to evacuate as the flames approached. But the blaze reached the outskirts, leaving wrecked houses and charred tractors in its wake.
'We've been lucky. Our houses were saved. But you see the catastrophe all over there. Some houses could not be saved,' said resident Gaetan, pointing to houses burnt to the ground.
Support was on its way from across Europe, with 361 firefighters, as well as trucks and waterbombing aircrafts, expected to back up the 1,100 French firefighters already on the ground.
'We are still in the phase of (trying to) confine the fire, direct it where we want it, where there is less vegetation, where our vehicles can best position themselves … so we can eventually fix it, control it and extinguish it,' said Matthieu Jomain, a spokesperson for the Gironde firefighers.
More than 60,000 hectares (230 square miles) have gone up in flames so far in France this year, six times the full-year average for 2006-2021, data from the European Forest Fire Information System shows.
French authorities said temperatures in the Gironde region would reach 40 Celsius (104 Fahrenheit) on Thursday and stay high until Saturday.
Firefighters warned of an 'explosive cocktail' of weather conditions, with wind and the tinder-box conditions helping fan the flames.
The Gironde was hit by big wildfires in July that destroyed more than 20,000 hectares of forest and temporarily forced almost 40,000 people from their homes.
Hostens mayor Jean-Louis Dartiailh described the past weeks as a disaster. 'The area is totally disfigured. We're heartbroken, we're exhausted,' he told Radio Classique. '(This fire) is the final straw.'
Europe is suffering under a severe heat wave and drought that has produced tragic consequences for farmers and ecosystems already under threat from climate change and pollution.
In France, which is enduring its worst drought on record, flames raged through pine forests overnight, illuminating the sky with an intense orange light in the Gironde region, which was already ravaged by flames last month, and in neighboring Landes. More than 68 square kilometers (26 square miles) have burned since Tuesday.
Along the Oder River, which flows from Czechia north into the Baltic Sea, volunteers have been collecting dead fish that have washed ashore in Poland and Germany.
Piotr Nieznanski, the conservation policy director at WWF Poland, said it appears that a toxic chemical was released into the water by an industry and the low water levels caused by the drought has made conditions far more dangerous for the fish.
A glacial pass in Switzerland that has been covered by ice for the last 2,000 years is set to become ice-free by the end of the week as high temperatures cause it to melt – except for one strip covered by blankets to protect it
Europe is in the grips of sweltering heat, severe drought and raging wildfires that are tearing through Spain, France and Portugal, while key waterways such as the Rhine and the Po are running dry
'A tragic event is happening along the Oder River, an international river, and there is no transparent information about what is going on,' he said, calling on government authorities to investigate.
People living along the river have been warned not to swim in the water or even touch it.
Poland's state water management body said the drought and high temperatures can cause even small amounts of pollution to lead to an ecological disaster but it has not identified the source of the pollution.
In northern Serbia, the dry bed of the Conopljankso reservoir is now littered with dead fish that were unable to survive the drought.
The water level along Germany's Rhine River was at risk of falling so low that it could become difficult to transport goods – including critical energy items like coal and gasoline.
In Italy, which is experiencing its worst drought in seven decades, the parched Po River has already caused billions of euros in losses to farmers who normally rely on Italy's longest river to irrigate their fields and rice paddies.
'I am young and I do not remember anything like this, but even the elderly in my village or the other villages around here have never seen anything like this, never ever,' said Antonio Cestari, a 35-year-old farmer in Ficarolo who says he expects to produce only half his usual crops of corn, wheat and soy because his river-fed wells have such low water levels.
The Po runs 652 kilometers (405 miles) from the northwestern city of Turin to Venice. It has dozens of tributary rivers but northern Italy hasn't seen rainfall for months and this year's snowfall was down by 70%. The drying up of the Po is also jeopardizing drinking water in Italy's densely populated and highly industrialized districts.
Elsewhere, in Scilla, footage was taken by locals of water cascading through the streets and engulfing cars on the road. 
Writing on Twitter, one person said the water was the result of 'climate change and untreated streams' while another person said they hoped everyone was ok. 
Over in Portugal, the Serra da Estrela national park was also being ravaged by a wildfire. Some 1,500 firefighters, 476 vehicles and 12 aircraft were deployed to fight it but the wind-driven blaze 250 kilometers (150 miles) northeast of Lisbon was very hard to reach, with inaccessible peaks almost 2,000 meters (6,560 feet) high and deep ravines. The fire has charred 10,000 hectares (25,000 acres) of woodland.
In Britain, where temperatures hit a record 40.3 degrees Celsius (104.5 degrees Fahrenheit) in July, the weather office has issued a new warning for 'extreme heat' from Thursday through Sunday, with temperatures forecast to reach 36 C (96.8 F).
It has been one of the driest summers on record in southern Britain, and the Met Office weather service said there is an 'exceptional risk' of wildfires over the next few days.
London Fire Brigade said its control room had dealt with 340 grass, garbage and open-land fires during the first week of August, eight times the number from last year. Assistant Commissioner Jonathan Smith said 'the grass in London is tinderbox dry and the smallest of sparks can start a blaze which could cause devastation.'
In Switzerland, a drought and high temperatures have endangered fish populations and authorities have begun moving fish out of some creeks that were running dry.
In Hausen, in the canton of Zurich, officials caught hundreds of fish, many of them brown trout, in the almost dried-up Heischerbach, Juchbach and Muehlebach creeks this week by anesthetizing them with electric shocks and then immediately placing them in a water tank enriched with oxygen, local media reported. Later, the fish were taken to creeks that still carry enough water.
Despite all the harm caused by the extreme weather, Swiss authorities see one morbid upside: they believe there's hope of finding some people who went missing in the mountains in the last few years because their bodies are being released as glaciers melt.
In the Swiss canton of Valais, melting glaciers have recently revealed parts of a crashed airplane and, at separate locations, at least two skeletons. The bodies have not yet been identified, news website 20Minuten reported Thursday.
Spanish state television showed dozens of trucks heading to France having to turn around and stay in Spain because wildfires had forced authorities to close some border crossings. TVE reported that truckers, many carrying perishable goods, were looking for ways to cross the border because the parking areas around the Irun crossing were full.
France this week is in its fourth heat wave of the year as it faces what the government describes as the country's worst drought on record. Temperatures were expected to reach 40 C (104 F) on Thursday.
Dead fish float on the surface of the Oder river, as water has been contaminated and is causing the mass extinction of fish in the river, in Bielinek, Poland
What's causing Europe's extreme summer? As England officaly declares drought, rivers run dry in Germany and 'monster' wildfires ravage France – SHIVALI BEST on how the answer could lie far away over the Atlantic 
By Shivali Best, Executive Science And Technology Editor For Mailonline and Jonathan Chadwick For Mailonline
Europe is sweltering through a record-breaking summer of heatwaves and drought that has parched the continent and turned forests tinder-dry. 
Wildfires are blazing across France, while Germany's most-important river, the Rhine, is on the verge of running dry, and swathes of England are officially in drought today. 
In this video, MailOnline's Shivali Best explains the Azores High – a new weather phenomena that is 'driving Europe's extreme drought'. 
The Azores High usually sits to the south but is currently directly over the UK and Ireland, stretching from the Azores Islands
Using climate models, scientists simulated global weather over the past 1,200 years and found that the number of large Azores Highs is extremely unusual
Met Office reveals how the 'Azores High' pressure system is pushing up from the south and bringing scorching temperatures to the UK, France and the Iberian peninsula
The Met Office has revealed how the 'Azores High' pressure system is pushing up from the south, bringing scorching temperatures to the UK, France and the Iberian peninsula. 
The Azores High is a large centre of high atmospheric pressure typically found south of the Azores archipelago in the Atlantic Ocean. 
It is often referred to as the 'gatekeeper of precipitation', and is formed by dry air descending in the subtropics. 
Flames rip through tinder-dry woodland in Gironde, in the south of France, where a record-breaking summer of heatwaves and drought has turned pine forests into firewood
The river Rhine is pictured with low water. The low water levels are threatening Germany's industry as more and more ships are unable to traverse the key waterway
What is The Azores High? 
The Azores High is a large subtropical semi-permanent centre of high atmospheric pressure typically found south of the Azores archipelago in the Atlantic Ocean. 
Formed by dry air descending in the subtropics, the Azores High, which usually sits off Spain, has grown larger and is being pushed northwards.
This has brought scorching temperatures to the UK, France and the Iberian peninsula.
The size and intensity of the Azores high shifts year on year, driving variations in rainfall levels over the continent. 
As such, it's been referred to as a 'gatekeeper of precipitation' over Europe.
While it usually sits off Spain, it has recently grown larger and is being pushed further north, bringing scorching temperatures to the UK, France, and the Iberian peninsula. 
A Met Office spokesperson told MailOnline: 'Areas of high and low pressures do move around the globe, so the Azores High does occasionally extend across the UK throughout the year. 
'The high usually doesn't stay for too long but on this occasion it has remained close by throughout the summer.'
Worryingly, these large Azores High systems are becoming more common.
A major new study this year found that over the past 100 years, the number of extremely large Azores High systems has increased significantly.
And since 1980, large Azores Highs are two to three times more likely than over the previous hundred years.
Using climate models, scientists simulated global weather over the past 1,200 years and found that the number of large Azores Highs is extremely unusual.
Aside from the effects of the Azores High this summer, scientists believe long-term trends in hot weather have been caused by climate change.  
The 10 warmest years on record in the UK have occurred in the 21st century, with data stretching back to 1884.
Professor Nigel Arnell, professor of climate system science at the University of Reading, said this year's heat was 'virtually impossible' without the sharp rise in greenhouse gases since pre-industrial times.
'The implication of that of course is that droughts are going to get worse into the future,' he said.
Swathes of England are officially in drought today as supermarkets began rationing bottled water today to prevent panic buying and millions of households edge closer to a hosepipe ban.
Residents in the South West, Southern and Central England and East of England have been move into drought status where they are being urged to be frugal with water use because of the driest summer in 50 years.
It is the first drought declared in the UK since 2018 – although that one was rapidly brought to an end by heavy rain – but despite the threat of torrential downpours and thunderstorms on Monday, much of southern England is unlikely to see significant rain until September.
The dried out greens and fairways of Ashton Court Golf Course, near Bristol, where the prolonged dry conditions, have left the parched land turning from green to brown
A prolonged period of low rainfall is a common definition of a drought, but in fact there is no one definition that applies across science, agriculture and the water industry.
'Within agriculture, a period of three or four weeks with no or below average rainfall quickly constitutes a drought situation in this country,' said Dr Joe Osborne, an industry consultancy manager at the Met Office.
'[But] there are many, many different definitions of drought, from the meteorological, the hydrological, the agricultural and the socio-economic perspectives.'
The move will put pressure on water companies to do more to conserve supplies after a number of major leaks in recent weeks wasting millions of gallons of water.
Hosepipe bans have already been announced for around 17million people – and another 15million could soon join them. Parts of southern England had the driest July since records began, and reservoir levels have fallen to their lowest levels in last 30 years.
Sainsbury's and Aldi have put up posters limiting customers to between three and five bottles of drinking water each.
The ground starts to crack on a footpath in Windsor Great Park due to the continued heat and lack of rainfall on August 11, 2022
Dry conditions are like a 'tinder box' for sparking fires, as seen in parts of France at the moment. Wildfires are now blazing across the country's southwest, forcing tens of thousands of people to evacuate from their homes.
A wildfire starts with a spark, perhaps from a burning ember, a spark on a train track, lightning, heat from the sun or even often human error, such as disposing of a lit cigarette.
If a spark happens in the presence of oxygen and fuel – such as dry grass, trees, shrubs and even houses – a fire can start.
During the first British heatwave of the 2022 summer, fires were reported in Upminster, Southgate, Croydon, Dagenham and the Essex village of Wennington, among other locations.
HOW WILL A DROUGHT BEING DECLARED AFFECT BRITS?
– What will an official drought mean for the public?
A drought might not mean much in practical terms for people's day-to-day lives immediately, but it gives water companies the freedom to implement certain stages of their emergency plans.
Level one of most drought plans might be as simple as asking the public to voluntarily cut down on their water use, followed by restricting non-essential usage via a hosepipe ban.
As the dry weather drags on, this can be extended to a non-essential use ban on activities such as filing a pond, cleaning non-domestic premises and vehicles such as boats, aircraft or trains.
In extreme scenarios, water firms can ask permission from the Environment Agency to abstract water from lakes and rivers, and disused boreholes.
– How does climate change cause both drought and flooding in summer?
In 2021, bursts of heavy rain saw localised flooding, particularly in London, where some tube stations had to be evacuated.
Scientists warn that while climate change is likely to increase the intensity of summer rainfall, it won't save us from future water shortages.
Prof Arnell sad: 'As the atmosphere warms, it can hold more water, so if the conditions are triggered to generate a storm, that storm will have more water in it.
'So the chance of having the intense sort of rainfall that we saw in London last year increases with climate change, but that's sort of short duration one-off events which can happen during the dry period.'
He continued: 'So the total rainfall will be less but it might be concentrated in short duration intense bursts, which will be problematic for all sorts of reasons – for short-term flooding risks and also for water resources as well.'
– Will the taps run dry this year?
While rivers and reservoirs in some areas have plunged to some of the lowest levels on record, relatively high levels of ground water have so far prevented the need for tighter water restrictions.
Mr Hannaford said there had been a 'pulse of replenishment' of groundwater late last year, but warned in places, particularly the chalky ground of the South East, levels were declining sharply.
'The important point is groundwater makes a very large part of the drinking water supply across south-east England,' he said.
Professor Arnell said that in England and Wales, communities are unlikely to see the same levels of water restrictions seen during the heatwave of 1976.
He added: '(The water industry) is in a much better position than it was in 1976 because it has prepared drought plans there are measures that are organised and thought about in advance.'
– What does the drought mean for the natural world?
The drought can have a devastating impact on wildlife, not just those trying to survive on tinder-dry land, but also those in freshwater and marine ecosystems as well.
Mr Hannaford said lower river flows and stagnant water leads to higher concentrations of pollutants, while dried up waterways means animals can lose access to their usual range of habitat.
'You can get a lack of connection between those areas and that can have an impact on the life cycles of lots of aquatic organisms,' he said.
Stagnant water also increases the likelihood of algal blooms that suck oxygen from the water, leaving fish and other fauna struggling to survive.
– What will it take to get back to normal?
'Thundery breakdown and showers' are forecast for the early part of next week, but it is not yet clear how much rain we can expect, or where it will fall.
But scientists agree that it will take a lot more than average rainfall to rehydrate the nation.
A burst of heavy rain will often run straight off very dry ground, potentially causing flash flooding and not necessarily replenishing soil moisture in a meaningful way.
Mr Hannaford said it would require 'exceptional' rainfall over the next one to three months to bring river, reservoir and groundwater levels back up to normal.
Update (1203ET): From the last update, the water level on the Rhine River at Kaub, Germany, has fallen one centimeter (.40 inches), below the critical level of 40 centimeters (15.7 inches) to 39 centimeters (15.3 inches). Now the shipping industry is in disarray as low water levels mean barges can no longer transit parts of the river.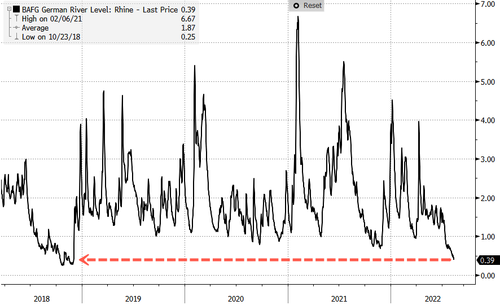 Bloomberg reported container company Contargo GmbH & Co. KG said it would discontinue transport service on the middle and upper Rhine due to low water levels. 
Contargo said it would still haul cargo on the lower parts of the Rhine and then move goods to either rail or trucking before reaching the mid-section of Europe's most important inland waterway.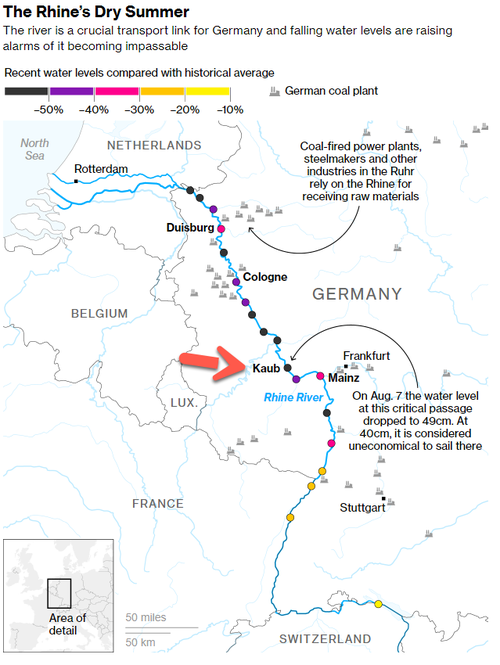 The company warned: "Our barges will not be able to sail without danger" as water levels drop.
 * * * 
Update (1000ET): The water level on the Rhine River at Kaub, Germany, has fallen to a critical 40 centimeters (15.7 inches). It becomes uneconomical for barges to transit Europe's most important inland waterway at this level.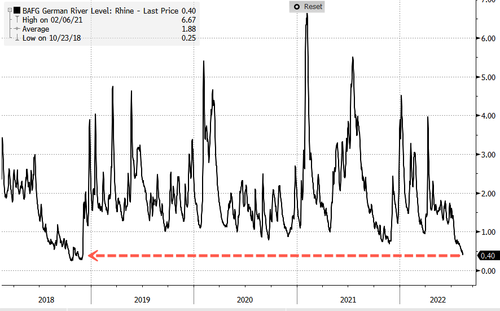 "About 160 million tons of goods and commodities were hauled along the Rhine in 2020, ranging from chemicals to iron ore to oil products. Low water levels restrict the transport of goods along the waterway by limiting how much barges can carry without scraping against the riverbed," Bloomberg said. 
* * *
Update (0900ET): The water level on the Rhine River at Kaub, Germany, a key point on the inland waterway west of Frankfurt, is one centimeter (.40 inches) from breaching 40 centimeters (15.7 inches), which below that level could severely impact barge shipments. 
Toril Bosoni, head of the IEA's oil market division, said the Rhine's low water crisis would remain a problem through the end of the year, making it very challenging for landlocked countries in central and eastern Europe to receive crude product deliveries via barges. 
On Friday morning, water levels at Kaub were 41 centimeters (16.15 inches), with new estimates from the German Federal Waterways and Shipping Administration indicating the level could drop even further by the end of the weekend or early next week to 33 centimeters (12.9 inches).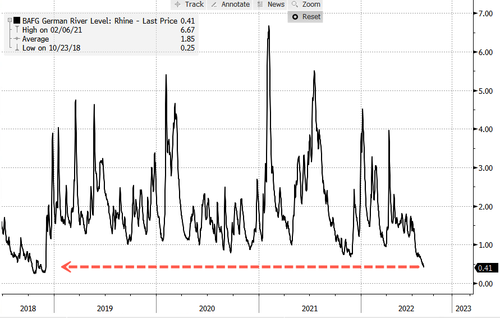 Barges have been hauling "significantly less" goods — including crude oil and coal, but still can transit the waterway, German newspaper Frankfurter Allgemeine Sonntagszeitung said, citing an interview with the head of Federal Waterways and Shipping Administration Hans-Heinrich Witte.
Witte said, "it's possible, but I don't think it's likely" a shipping halt on the waterway would occur. However, a level of 33 centimeters (12.9 inches) in 2018 was enough to shutter parts of the Rhine and spark economic pains for Germany. 
Earlier this week, we pointed out that a handful of major companies along the Rhine that relies on barge shipments have made alternative plans, such as trucking and rail, to continue operations.
A reduction in barge transport capacity has increased the cost of shipping exponentially. 
Gunther Jaegers, managing director at Rhine stalwart Reederei Jaegers GmbH, told Bloomberg that the barge rate jumped 30% in one day earlier this month. He said, "I've never, ever, seen this … it's insane." 
CHART OF THE DAY: Rhine barge rates for refined oil products continue to set fresh record highs (chart).

The water gauge at the Kaub chokepoint is set to drop by Friday below 40cms — the level typically seen as "impassable" (although a few barges can operate with just 35cms). pic.twitter.com/NSonNZiYie

— Javier Blas (@JavierBlas) August 10, 2022
Joachim Hessler, managing director at shipping company Maintank GmbH, said declining water levels at Kaub could soon "mean 'game over' for more and more barges." 
For some context to the last closure of the waterway, current water levels for this time in 2018 are much lower. 
The Kiel Institute for the World Economy warned barge disruptions would likely dent German economic putout. 
* * * 
Water levels on the Rhine River are set to drop below a critically low point by the end of this week, making it increasingly difficult for barge transport of goods — including crude oil and coal — as one of the worst energy crises in decades batters Europe. 
We noted Wednesday that further up the Rhine is Kaub, Germany, a bottleneck for barges where the river is very narrow and shallow and could fall below 40 centimeters (15.7 inches) by the end of the week. A drop below that level would make it nearly impossible for barges to transit the stretch of the waterway.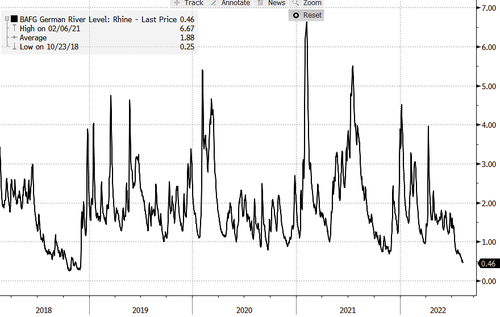 New data from the German Federal Waterways and Shipping Administration expects water levels at the key waypoint west of Frankfurt could plunge to 33 centimeters (12.9 inches) by Monday. This extremely low level would mean most barges hauling commodities on Europe's most important inland waterway that snakes 800 miles (1,300 kilometers) from the Swiss Alps through the largest industrial areas on the continent would be unable to sail through Kaub.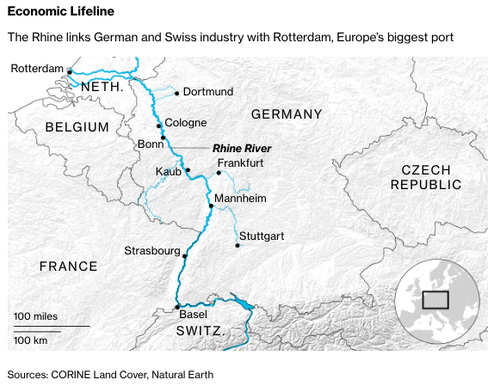 "This is particularly the case for the Rhine, whose nautical bottleneck at Kaub has very low water levels but which remains navigable for ships with small drafts," said Tim Alexandrin, a spokesman for Germany's Transport Ministry. Though by the end of the weekend or early next week, Kaub could potentially fall to 33 centimeters would put it within centimeters of the low levels recorded in October 2018 that led to a shuttering of the waterway. 
"The situation is quite dramatic, but not as dramatic yet as in 2018," said Christian Lorenz, a spokesman for the German logistics company HGK.
Factories on the Rhine are heavily reliant on barge transport. About 4% of freight moved in Germany is carried on waterways, including the Rhine. If sinking water levels at Kaub breach 40 centimeters and fall further early next week, then Germany's industrial heartland would be in trouble, and the energy crisis would be exacerbated. 
The 2018 closure of the Kaub area shaved .2 percent off German GDP that year, Deutsche Bank economist Marc Schattenberg told AFP. 
"The low levels have come much earlier this time," Schattenberg said, adding, "if problems we are now observing last longer (than in 2018), the loss of economic value becomes all the more serious."
Last week, multiple companies along the Rhine reportedly shifted barge transport to trucking and rail networks to avoid logistical headaches on the river.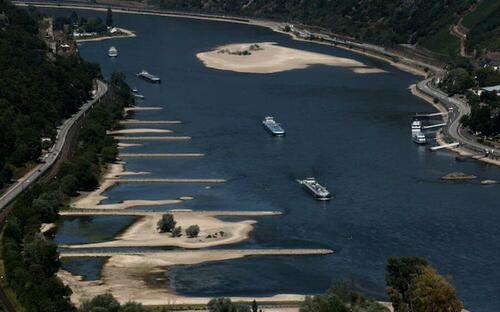 The International Energy Agency warned Thursday that low water levels at Kaub could worsen supply chain disruptions through late this year. 
"The product supply situation in central and eastern Europe was already very tight before this latest crisis," Toril Bosoni, head of the IEA's oil market division, said in a Bloomberg television interview. "The low water levels make it more costly to get fuel from the seaborne market into that region." 

"This is concerning for landlocked countries that normally get fuel on the Rhine, Bosoni added. "So we're expecting this situation to continue towards the end of the year."
CHART OF THE DAY: Rhine barge rates for refined oil products continue to set fresh record highs (chart).

The water gauge at the Kaub chokepoint is set to drop by Friday below 40cms — the level typically seen as "impassable" (although a few barges can operate with just 35cms). pic.twitter.com/NSonNZiYie

— Javier Blas (@JavierBlas) August 10, 2022
Andrew Kenningham, the chief Europe economist for Capital Economics, said Germany's economic growth will be flat in Q3 and a contraction in the last three months of the year, "the low water level in the Rhine simply makes a recession even more likely."