Extreme weather in the US
Extreme weather in the US
Is this the explanation for all the extreme weather, or is it the Jetstream?
From Dane Wigington.
Here's the reason why the U.S. weather is very nasty right now… They are heating up the HAARP machines for a space experiment! The High-frequency Active Auroral Research Program technology is about to be used (on Dec. 27) by NASA to decipher the interior of an asteroid…
An experiment to bounce a radio signal off an asteroid on Dec. 27 will serve as a test for probing a larger asteroid that in 2029 will pass closer to Earth than the many geostationary satellites that orbit our planet.
The High-frequency Active Auroral Research Program research site in Gakona will transmit radio signals to asteroid 2010 XC15, which could be about 500 feet across. The University of New Mexico Long Wavelength Array near Socorro, New Mexico, and the Owens Valley Radio Observatory Long Wavelength Array near Bishop, California, will receive the signal.
"What's new and what we are trying to do is probe asteroid interiors with long wavelength radars and radio telescopes from the ground," said Mark Haynes, lead investigator on the project and a radar systems engineer at NASA's Jet Propulsion Laboratory in Southern California. "Longer wavelengths can penetrate the interior of an object much better than the radio wavelengths used for communication."
Knowing more about an asteroid's interior, especially of an asteroid large enough to cause major damage on Earth, is important for determining how to defend against it.
"If you know the distribution of mass, you can make an impactor more effective, because you'll know where to hit the asteroid a little better," Haynes said.
Many programs exist to quickly detect asteroids, determine their orbit and shape and image their surface, either with optical telescopes or the planetary radar of the Deep Space Network, NASA's network of large and highly sensitive radio antennas in California, Spain and Australia.
Those radar-imaging programs use signals of short wavelengths, which bounce off the surface and provide high-quality external images but don't penetrate an object.
HAARP will transmit a continually chirping signal to asteroid 2010 XC15 at slightly above and below 9.6 megahertz (9.6 million times per second). The chirp will repeat at two-second intervals. Distance will be a challenge, Haynes said, because the asteroid will be twice as far from Earth as the moon is.
The University of Alaska Fairbanks operates HAARP under an agreement with the Air Force, which developed and owned HAARP but transferred the research instruments to UAF in August 2015.
The test on 2010 XC15 is yet another step toward the globally anticipated 2029 encounter with asteroid Apophis. It follows tests in January and October in which the moon was the target of a HAARP signal bounce.
Here is a video from Hungary catching the moon signal bounce:
Apophis was discovered in 2004 and will make its closest approach to Earth on April 13, 2029, when it comes within 20,000 miles. Geostationary satellites orbit Earth at about 23,000 miles. The asteroid, which NASA estimated to be about 1,100 feet across, was initially thought to pose a risk to Earth in 2068, but its orbit has since been better projected by researchers.
The test on 2010 XC15 and the 2029 Apophis encounter are of general interest to scientists who study near-Earth objects. But planetary defense is also a key research driver.
"The more time there is before a potential impact, the more options there are to try to deflect it," Haynes said.
NASA says an automobile-sized asteroid hits Earth's atmosphere about once a year, creating a fireball and burning up before reaching the surface.
About every 2,000 years a meteoroid the size of a football field hits Earth. Those can cause a lot of damage. And as for wiping out civilization, NASA says an object large enough to do that strikes the planet once every few million years.
NASA first successfully redirected an asteroid on Sept. 26, when its Double Asteroid Redirection Test mission, or DART, collided with Dimorphos. That asteroid is an orbiting moonlet of the larger Didymos asteroid.
The DART collision altered the moonlet's orbit time by 32 minutes.
The Dec. 27 test could reveal great potential for the use of asteroid sensing by long wavelength radio signals. Approximately 80 known near-Earth asteroids passed between the moon and Earth in 2019, most of them small and discovered near closest approach.
"If we can get the ground-based systems up and running, then that will give us a lot of chances to try to do interior sensing of these objects," Haynes said.
The National Science Foundation is funding the work through its award to the Geophysical Institute for establishing the Subauroral Geophysical Observatory for Space Physics and Radio Science in Gakona
"HAARP is excited to partner with NASA and JPL to advance our knowledge of near-Earth objects," said Jessica Matthews, HAARP's program manager. [UAF]
So don't be afraid if the weather gets nasty right now… HAARP is being used by NASA to detect the interior of an asteroid…
Utilities Impose Rolling Blackouts As US Power Grid In Emergency Amid Cold Blast
Update (1724ET):
As night settles and temperatures plunge again, power grids in the country's eastern half are under severe stress. Review the latest updates for reports of widespread rolling blackouts. 
Another utility has just warned about grid chaos. Dominion Energy has asked customers in Virginia and North Carolina to conserve power. The utility said high electricity demand would continue for days.  
*  *  * 
Update (1720ET): 
ISO New England warned it has "insufficient reserve supplies" and asked members to "voluntarily curtail power" amid grid strain. 
According to Bloomberg, the grid operator declared an energy emergency level 1 and requested utilities to reduce electricity consumption. 
"We have declared a power caution for the region, and is calling upon reserve resources due to the unexpected loss of generation and imports," spokesman Matthew Kakley said in an emailed statement. 
Power demand soars above forecast, and supplies are tight. Power prices average more than $2,000 per megawatt hour across the grid.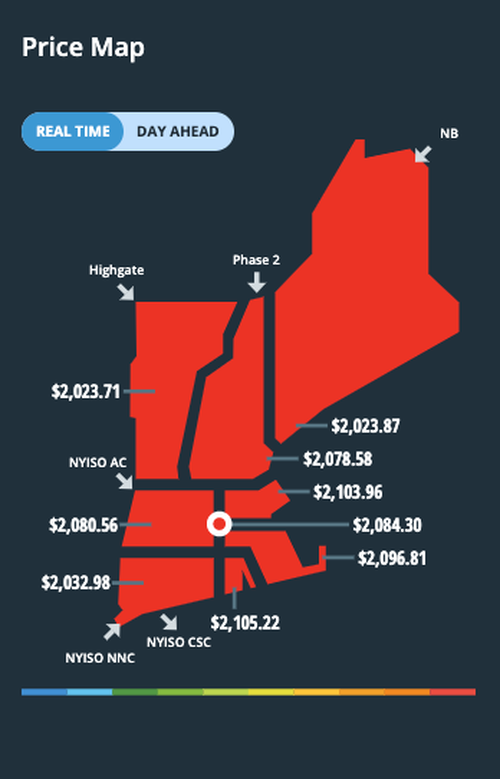 About 70% of the power generation mix is oil, nuclear, and natural gas, while unreliable renewables barely account for 6%.
ISO New England has yet to implement rolling blackouts. We note below rolling blackouts have been used by utilities across parts of the Southeast US.
*  *  * 
Update (1445ET):
More power disruption could be seen tonight as temperatures are expected to drop again as heating demand soars.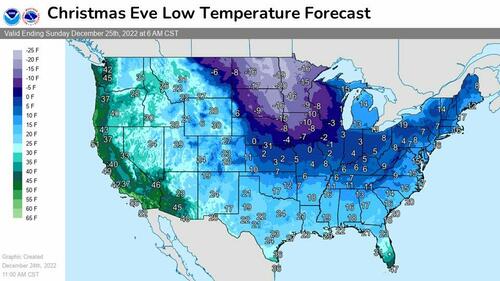 *  *  * 
Update (1243ET):
Add Georgia to the growing list of states experiencing rolling power blackouts. 
Georgia is in the rolling blackout stage of cold. pic.twitter.com/2ozAzU6qBi

— Rebecca Mitchell, DVM, PhD (@Rebecca4Georgia) December 24, 2022
White House remains silent as Americans are plunged into power blackouts amid grid instabilities on Christmas Eve. Biden's social media team continues to pump tweets about how everything is wonderful. 
*  *  * 
Update (1200ET):
Utilities have issued rolling power blackouts across North Carolina and Tennessee this morning. 
News just hit Bloomberg that Tennessee Titans delayed the home game against Houston Texans over power concerns. 
*TENNESSEE TITANS DELAY TEXANS GAME BY ONE HOUR ON POWER CONCERN

— zerohedge (@zerohedge) December 24, 2022
Extreme cold temperatures are pressuring power grids in the eastern half of the US. Rolling blackouts have affected many Americans, some of which have taken to Twitter to complain: 
18 degrees this morning and the woke idiots at Duke Energy are running "rolling blackouts" to conserve electricity. Thank God for a fossil fueled generator and wood burning fireplace! pic.twitter.com/0pIhZV7lDT

— Will Dallas (@Oldefisherman) December 24, 2022
I have been in this #RollingBlackout since 8:38 am it's now 11:38 am and I still do NOT have power @DukeEnergy do better in these cases since y'all PLANNED this!! #DukeEnergy #ChristmasEve

— David Ruffin AND The Temptations (@MaraleeLynese) December 24, 2022
Rolling blackout in Florence. Power just went out at Crunch Fitness and surrounding areas near Darby Drive and Florence Boulevard. @TVAnews @whnt @WAAYTV @waff48 #valleywx #shoals pic.twitter.com/lC4QbjgfWe

— Jeremy Jackson (@JeremyJacksonAL) December 24, 2022
Memphis is under a mandatory rolling blackout and boil water advisory. Meanwhile, TVA is allowing the NFL to fully power Nissan Stadium in Nashville. Story below. #poweroutage #Titans #TVA #MLGW #Memphis

— KWAM NewsTalk Memphis (@Mighty990KWAM) December 24, 2022
Power was off at my house for 32 minutes, others have reported over 2 hours with the rolling blackouts.
It's currently 21° with a wind chill of 9°.

Has your power been out and how long did it take before restoration? pic.twitter.com/MsCqoT4ttk

— Wendy Nations WREG (@wendynationswx) December 24, 2022
WTF 6 hours plus is not a rolling blackout! Pikeville NC out since 6:37am!!!

— Cari K 🇺🇲🇺🇦🌻🌻🌻🌻🌻 (@ClearBlueSkyys) December 24, 2022
It is 20° in Memphis, TN & we are stuck in what is now a 6 hour "rolling blackout"… on Christmas Eve.

Because of left-wing "climate change" lies & hysteria, necessary nat gas infrastructure needed to keep the power on hasn't been built.

Fuck Democrats & their climate change.

— H. F. (@MayBeHunterF) December 24, 2022
This is unacceptable. 
*  *  * 
Update (1115ET):
PJM Interconnection's power generation mix this morning is primarily coal, natural gas, nuclear, and crude oil. So much for unreliable renewables helping out when the regional grid that supplies power to 65 million Americans in 13 states and the District of Columbia is in an emergency.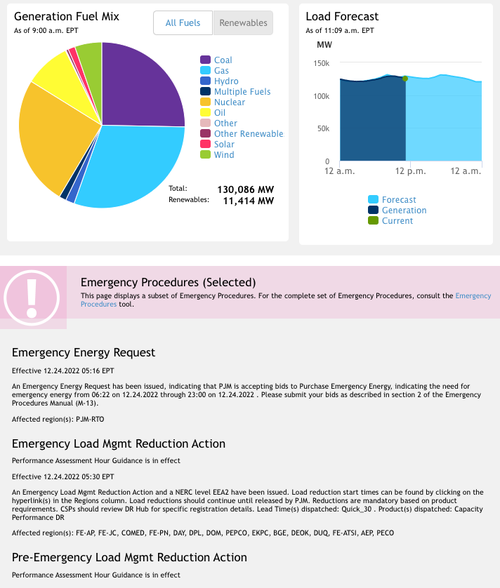 It's time for Americans to realize renewables are unreliable — also, decommissioning fossil fuel power generation in the name of 'climate change' is idiotic at this point. 
*  *  * 
The powerful winter storm that battered a large swath of the eastern half of the US has left behind an Arctic chill Saturday morning. A regional power grid with 65 million customers in 13 states and the District of Columbia has declared a rare emergency, over a million people have no power, air travel remains disrupted, and reports of highway accidents are some of the most trending topics this morning. 
Let's begin with PJM Interconnection, a regional power grid that stretches from Illinois to New Jersey, which declared a Stage 2 emergency late Friday and asked customers to conserve electricity due to the rising risk of grid instability. 
"PJM is asking consumers to reduce their use of electricity, if health permits, between the hours of 4 a.m. on December 24, 2022, and 10 a.m. on December 25, 2022," PJM wrote in a press release. 
PJM asks consumers to conserve electricity in the face of continuing frigid temperatures. https://t.co/ks01AvBr9g

— PJM Interconnection (@pjminterconnect) December 24, 2022
PJM's request for customers to reduce power comes as the grid manager is trying to prevent a Stage 3 emergency, which would result in rolling blackouts across the 13 states and the District of Columbia. 
"Demand soared more than 9 gigawatts above forecasts Friday evening — much faster and higher than anticipated. That's the equivalent of about 9 million homes just popping up on the grid on a typical day," Bloomberg said. 
PJM spokeswoman Susan Buehler told Bloomberg that Stage 2 emergency would "certainly be enough" to avert blackouts across the regional grid because the Arctic blast is only temporary. 
In the Carolinas, Duke Energy Carolinas and Duke Energy Progress, and several other utilities, have asked customers to conserve power due to energy shortfalls. 
Duke wrote in a statement Saturday morning it has "implemented load shedding steps that include interruptions in service." This means power is being curtailed for some customers to protect the grid from collapse. 
With power grids in an emergency across the eastern half of the US, there are also a million customers without power — most outages are in North Carolina, Tennessee, and Maine.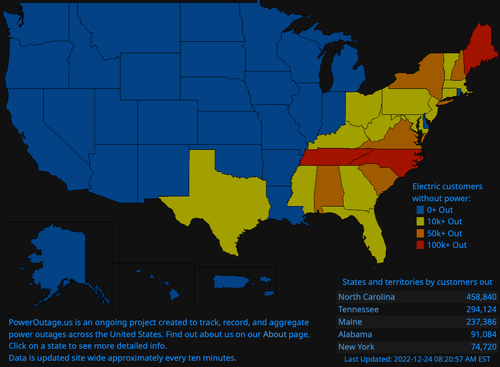 Bloomberg said 200 million Americans — around 60% of the country — are under winter weather alerts this morning.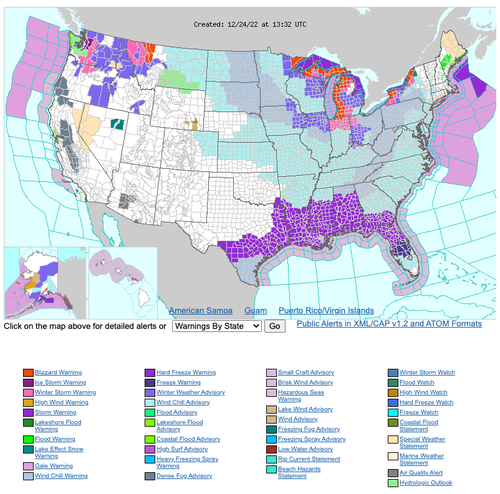 The Ambient Weather network of weather stations across the US shows much of the country is below freezing this morning.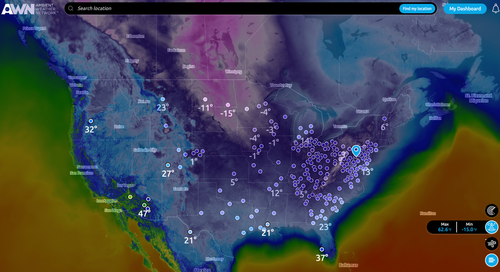 And for the third day, travel remains disrupted. FlightAware showed over 1,600 flights within, into, or out of the US were canceled. Another 1,700 were delayed. Most of the disruptions were at Hartsfield-Jackson Atlanta International Airport, Newark Liberty International Airport, O'Hare International Airport, and John F. Kennedy International Airport.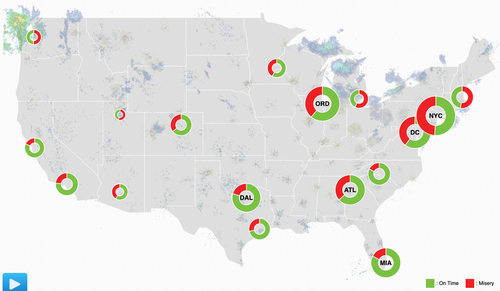 And it wasn't just air travel that experienced troubles. As millions of Americans hit the highways to see loved ones, there were numerous reports of massive pileup crashes. One of the most spoken about this morning is the 46-car pileup on the Ohio Turnpike.  
🚨#BREAKING: Mass Casualty Incident' declared following pileup on Interstate 75 in Ohio

Multiple emergency crews are responding too a very serious accident is occurring on I-75N. With Mass Casualty Incident declared reports of over 100+ vehicles are piled up pic.twitter.com/TgfCm852Si

— R A W S A L E R T S (@rawsalerts) December 23, 2022
The good news is the unbearable cold blast will begin to dissipate next week. Average temperatures across the Lower 48 will jump from 24 degrees Fahrenheit to over 50 degrees by January 1.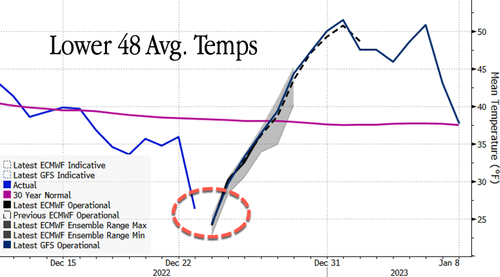 Hoping for a White Christmas?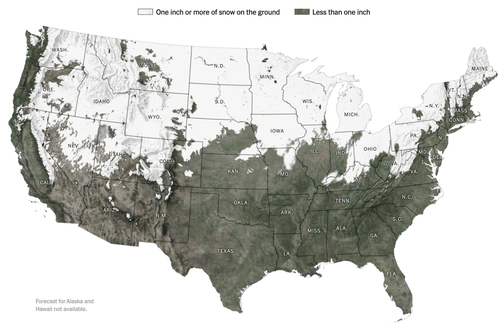 There's not one peep from climate alarmists about the cold blast after they spewed nonsense this past summer about the world imminently burning. 'Trust the science,' they say… 
Plenty of record lows on this Christmas Eve pic.twitter.com/xaa4LJxDnu

— Mike Zaccardi, CFA, CMT (@MikeZaccardi) December 24, 2022
Guess what's trending on Twitter this morning.