Fast-moving events on the war front
Fast-moving events on the war front
Russia is still waiting for the written reply from the USA to her demands, promised for next week.
Things are looking pretty worrisome.
Here are the main developments.
Russia is pulling Diplomatic Staff from the Russian Embassy in Kiev, Ukraine, and from the Russia Consulate in Lviv
Russia cuts off negotiations with the OSCE
According to Alexander Lukashevich, the OSCE is trying more and more to embed itself in this Euro-Atlantic matrix
Moscow does not plan any further discussion at the OSCE on security guarantee proposals, Russian Ambassador to the OSCE Alexander Lukashevich told an online briefing on Monday.
"I want to say that we did not, nor are we going to hold any discussions on our initiatives at the OSCE. This is an amorphous structure that has no international legal status," he stressed.
This organization has neither a charter nor a founding document and is in no position to influence the situation in the Euro-Atlantic region in any way at present. "However, initially, in the 1990s, the function of conducting negotiations and ensuring the trajectories of Europe's development was included in the OSCE's mandate," the envoy went on to say.
"Now, hardly any significant politician can say that the OSCE is capable of influencing NATO's behavioral habits or the EU's hardline policy towards Russia . It's the other way around actually," Lukashevich stressed.
"The OSCE is trying more and more to embed itself in this Euro-Atlantic matrix, in essence having revised all fundamental norms and principles of the activity of this organization," he added.
On December 17, 2021, the Russian Foreign Ministry released a draft agreement on security guarantees between Russia and the United States and a draft agreement on ensuring the security of Russia and NATO member states. Russian-US consultations on the issues took place in Geneva on January 10, followed by a meeting of the Russia-NATO Council in Brussels on January 12 and a session of the Organization for Security and Cooperation in Europe's Permanent Council in Vienna on January 13.
From yesterday
Washington accuses Russia of false flag – usually the stuff of "conspiracy theories"
Washington believes Moscow could stage a fake incident to justify military action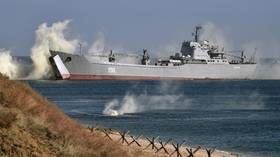 The Kremlin is laying the groundwork to fabricate a reason for invading Ukraine, including possible sabotage activities and information operations, a senior White House official claimed on Thursday.
Speaking to the press, United States National Security Advisor Jake Sullivan stated that the American intelligence community believes Moscow is planning a scenario where it can justify a military incursion into Ukraine, noting that more information will be published "over the course of the next 24 hours."
"Russia is laying the groundwork to have the option of fabricating a pretext for an invasion, including through sabotage activities and information operations, by accusing Ukraine of preparing an imminent attack against Russian forces in Eastern Ukraine," Sullivan said, accusing Russia of using similar tactics in 2014.
The accusation follows months of suggestions in American media that Russia is allegedly planning an invasion of Ukraine, with intelligence reports stating that Moscow has placed 100,000 troops on the border. Plans for military action have been repeatedly denied by the Kremlin, which says it is simply moving its own troops on its territory.
The US authorities are concerned that draft constitutional amendments may indicate Belarus' plans to host Russia's conventional and nuclear weapons, a senior US State Department official noted
© AP Photo/Luis M. Alvarez
WASHINGTON, January 19. /TASS/. The upcoming joint Russian-Belarusian military exercises may allow Russia to attack Ukraine from the north, a senior US State Department official said at a briefing.
"The reports of Russian troop movements towards Belarus, which <…> are supposedly under the auspices of regularly scheduled joint military exercises, are concerning," she pointed out. "The timing is notable and of course raises concerns that Russia could intend to station troops in Belarus under the guise of joint military exercises in order potentially to attack Ukraine from the north. I believe Belarus' complicity in such an attack would be completely unacceptable to Belarusians, and to many inside the regime, as well as to us and our allies and partners. And we've made our concerns known to the Belarusian authorities privately," the diplomat added.
According to her, a normal exercise requires notification 42 days in advance if it is about 9,000 troops, but at 13,000, it requires international observers. "That's what normal looks like, what this is is something entirely different," the official noted.
"There are many troubling things happening in Belarus right now. And there can be no doubt about Belarus his role as an increasingly destabilizing actor in the region," the senior Department of State official stressed.
The US authorities are concerned that draft constitutional amendments may indicate Belarus' plans to host Russia's conventional and nuclear weapons, she noted.
"The proposed changes to the constitution include language that could be interpreted as paving the way for Russia to garrison forces on Belarusian territory," she said. "These draft constitutional changes may indicate Belrus' plans to allow both Russian conventional and nuclear forces to be stationed on its territory," the diplomat added.
Chief of the Belarusian Defense Ministry's International Military Cooperation Department Oleg Voinov said at a briefing for military attaches on Tuesday that the Union Resolve 2022 Belarusian-Russian drills would take place in Belarus on February 10-20 as part of an inspection of the Union State's response forces.
Russian Deputy Foreign Minister Sergey Ryabkov said earlier that Russia had explained to the US during the recent consultations in Geneva that Moscow did not have any intention of attacking Ukraine. He added that Russia would continue to hold military exercises on its territory despite NATO's objections.
Earlier this week, Wendy Sherman, the US deputy secretary of state, held talks with Russian Deputy Foreign Minister Sergey Ryabkov in Geneva to discuss potential solutions to the current European security crisis. Following the bilateral meeting, Sherman told reporters that Washington was prepared to impose severe costs on Moscow if it invades Ukraine.
"We are more than ready and totally in line with our partners and allies on the need to impose severe costs on Russia through financial sanctions, export controls that target key industries, enhancements of NATO force posture on Allied territory, and increased security assistance to Ukraine," she said.
Report alleges Moscow has begun repatriating representatives and their families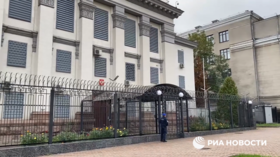 In related news, Russia's natural gas giant, Gazprom, reports no booking of natural gas transit through the Yamal-Europe pipeline for February, and no booking of natural gas through any Ukraine Pipelines for February either.
It appears Europe will be getting zero natural gas from Russia just as Winter reaches its coldest point.
No Europe gas exports for February
Gazprom opted against booking Mallnow capacity for February

Exporter opts not to book extra space to ship fuel via Ukraine
Britain and Canada stir the pot
British special forces ready to deploy 600 troops to Ukraine amid Russia invasion fears
British task force of SAS and Paras set to mobilise to Ukraine as MI6 warns the prime minister that President Putin could be a threat to Ukraine and the west
A task force of up to 600 UK troops is ready to deploy in Ukraine amid fears Russia is poised to invade its neighbour.
Units from the SAS and Parachute Regiment have been warned they could be sent to the country within hours.
The preparation comes after defence chiefs and the head of MI6 advised No10 that Russian President Vladimir Putin represents a clear and present danger to Ukraine and the West.
Video footage that emerged appears to show Russian tanks, armoured vehicles and troops massing near Ukraine.
Now a British force – consisting of SAS members, the Special Reconnaissance Regiment, medics, engineers, signallers and up to 400 paratroopers from 16 Air Assault Brigade based in Aldershot, Hants – is being set up.
In addition, both British and US military cargo planes are now engaged in an almost air-ferry operation to bring weapons into Ukraine.  C-17's are landing at very increased pace since yesterday: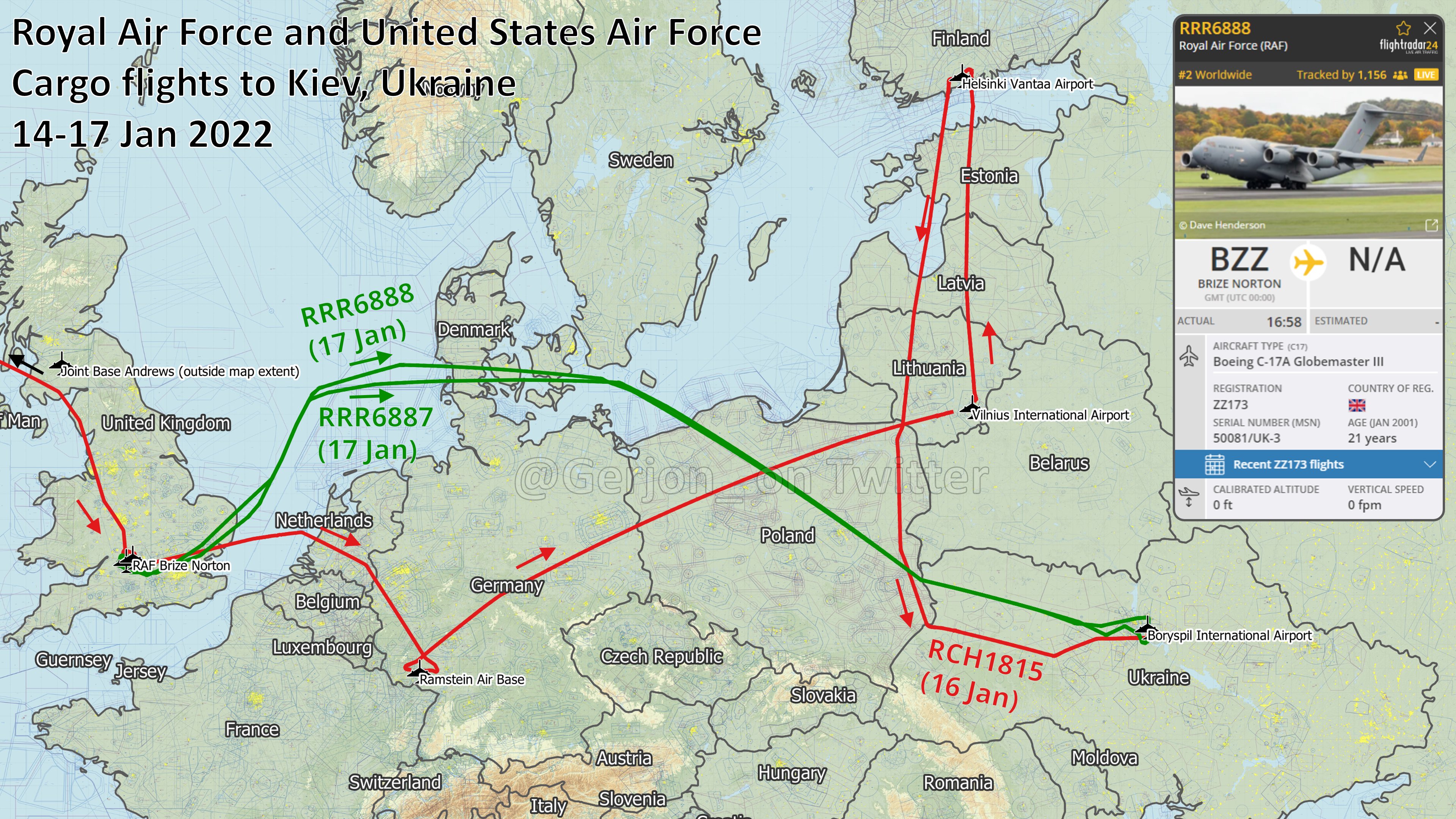 Ottawa has reportedly sent elite troops to assist both Canadian diplomats and the Kiev government
Canadian special forces have been deployed to Ukraine amid rising tensions with Moscow, according to Canada's Global News, which reported that a small team was sent to Kiev in order to deter alleged "Russian aggression."
In addition to bolstering Ukrainian forces, the soldiers will help to "develop evacuation plans for Canadian diplomatic personnel in the event of a full-scale invasion," the broadcaster reported on Monday, citing unnamed sources.

Russian troops arrive in Belarus from the Far East
Russia is transporting troops and armoured vehicles to Belarus for 'war games'
Ukraine will be surrounded by Russian troops on its eastern and northern border
Military analysts have suggested Russia could send its forces through Belarus
Russia and Belarus will rehearse repelling an external attack when they hold joint military drills in Belarus next month, both sides said on Tuesday, at a time of acute tensions with the West over neighbouring Ukraine.
Russian military forces and hardware began arriving in ex-Soviet Belarus on Monday for the "Allied Resolve" drills to be held near Belarus's western border with NATO members Poland and Lithuania, and close to its southern flank with Ukraine.
The West has voiced fears of a possible invasion https://www.reuters.com/world/europe/germany-says-russia-will-pay-price-if-it-moves-ukraine-2022-01-17 of Ukraine by tens of thousands of Russian troops gathered near its border. Russia has denied such plans.
"The goal of the exercise is to fine-tune the tasks of suppressing and repelling external aggression during a defensive operation, countering terrorism and protecting the interests of the Union State (Russia and Belarus)," the Interfax news agency quoted Deputy Russian Defence Minister Alexander Fomin as saying.
Fomin said 12 Sukhoi Su-35 fighter jets, two units of the S-400 anti-aircraft missile system and a Pantsir missile system would be deployed to Belarus for the drills.
The Belarusian Defence Ministry said that in the first phrase of the drills, which runs until Feb. 9, both sides will rehearse deploying troops, defending military facilities and assessing their troops' air defence capabilities.
In the second phase of the exercises, which will be from Feb. 10-20, Russian and Belarusian troops will go over "destroying illegal armed formations and the enemy's sabotage and reconnaissance groups," the ministry said.
The Belarusian president specified that about 8,000-10,000 US troops were stationed in Poland and the Baltic states
© EPA-EFE/MARCIN BIELECKI
MINSK, January 17. /TASS/. Over 30,000 troops are amassed in Poland and the Baltic states near the Belarusian borders, Belarusian President Alexander Lukashenko said on Monday.
"According to the data as of now, over 30,000 troops with military hardware, armaments and so on are amassed in Poland on the border with Belarus and in the Baltic states," Lukashenko said at a meeting that discussed the scenario of joint Russia-Belarus operational drills, the presidential press service reported.
Poland has also turned to NATO's leadership with a request to deploy a multilayered logistic support system in the region, the Belarusian president said.
Meanwhile, NATO is trying in its current talks with Russia on security guarantees "to put them on the back burner," "talk down all these negotiations and ideas and pretend as if nothing is happening," Lukashenko said.
"And we see what is happening," the Belarusian president said. "Warsaw has turned to the North Atlantic bloc's leadership … with a request to deploy a multilayered logistics and maintenance support system in that region. As persons familiar with military affairs, we immediately ask: Why?" he pointed out.
The Belarusian president also said that about 8,000-10,000 US troops were stationed in Poland and the Baltic states.
"From 8,000 to 10,000 US troops are deployed on the territory of Poland and the Baltic states on a rotating basis. What do the Americans have to do there? Why do they reproach us and Russia that we hold maneuvers, drills and so on while they have come here from far away? What will you be doing here?" Lukashenko said.
As the Belarusian leader said, "some 'hot heads' are already openly calling for a war." "We are hearing these statements," he said.
In the brief video below, taken today (January 18) you can see that after traveling 9,793 kilometers from the farthest eastern region of Russia, troops, tanks, artillery, and other military gear of the Russian Army have arrived in Belarus!
License plates on the army vehicles show they came from the 25th region, Primorsky Krai, Russia – which is all the way out east by Vladivostok on the Pacific Ocean!!!!  The trucks are now in Kalodzishchy, Belarus, outside of Minsk.
The western view
Germany's foreign minister said on Monday she hoped tensions with Russia over Ukraine could be solved by diplomacy, but she warned that Moscow would suffer if it does attack its neighbour.
Minister Annalena Baerbock was speaking in Kyiv on a tour that next takes her to Moscow after talks between Russia and Western states on the Kremlin's deployment of tens of thousands of troops along Ukraine's border ended with no breakthrough last week.
The United States said last week it feared Russia was preparing a pretext to invade Ukraine, which Moscow denies. A cyber attack against Ukraine has heightened alarm. read more
"Each further aggressive act will have a high price for Russia, economically, strategically, politically," Baerbock told a joint news conference with her Ukrainian counterpart Dmytro Kuleba. "Diplomacy is the only way."
German Chancellor Olaf Scholz, visiting Madrid, said everything must be done to avoid military intervention in Ukraine.
As they spoke, Russian military forces and hardware were arriving in Belarus after Minsk announced the neighbours would stage joint manoeuvres next month, state news agency Belta reported.
The "Allied Resolve" exercises will be held near Belarus's western rim, the borders of NATO military alliance members Poland and Lithuania, and its southern flank with Ukraine, Belarusian leader Alexander Lukashenko said.
Ukraine's Kuleba said Kyiv and Berlin were united in pushing to revive four-way peace talks on ending the war in eastern Ukraine in the so-called "Normandy" format, which includes Germany, France, Ukraine and Russia.
Excluded from much of last week's talks, Ukraine has sought and received reassurances from allies that no decisions would be taken about its future without its involvement and assent.
"It is important for us now that neither Berlin nor Paris makes any decisions about Ukraine without Ukraine, and does not play any game behind our backs in relations with Russia. This is the key now," Kuleba said at the briefing.
PIPELINE POLITICS
Germany has supported Ukraine with aid and diplomatic backing in its standoff with Moscow since Russia seized the Crimean peninsula and backed separatists in the Donbass region in 2014.
But there are points of contention.
Ukraine opposes Nord Stream 2, a pipeline, yet to open, that would ship Russian gas to Germany, circumventing transit through Ukraine. Baerbock said the pipeline was on hold and did not comply with European energy law.
Kyiv has also bristled at Berlin's refusal to sell weapons to Ukraine. Ukraine's ambassador to Germany Andrij Melnyk called the decision "very frustrating and bitter" in an interview with German media ahead of Baerbock's visit.
The friction between Russia and Ukraine also hit markets on Monday, with Ukrainian sovereign dollar bonds slipping into distressed territory and Russian bonds suffering sharp falls. read more
"The market has to price in some kind of probability of Russia invading," said Viktor Szabo at asset manager abrdn.
Despite the border deployment, Moscow denies it plans to attack Ukraine and has demanded NATO stop its eastward expansion.
Ukraine's cyber police said on Monday that last week's hacking of government systems appeared to have destroyed "external information resources", suggesting the attack went beyond temporarily defacing government websites.
The cyber attack warned Ukrainians to "be afraid and expect the worst".
Ukrainian officials say it hit around 70 internet sites of government bodies including the security and defence council, the cabinet of ministers and several ministries.
"It can already be argued that the attack is more complex than modifying the homepage of websites," the cyber police said in a statement.
Analysis from Alexander Mercouris
German FM Baerock Flies to Moscow as Desperate Germany Seeks Way out of Crisis with Russia
Russia starts electronic warfare systems in Northern Europe and NATO countries
Russia has begun active electronic jamming against NATO countries and the countries of Northern Europe. Various military radar stations, radio monitoring equipment, etc. became the target of Russian electronic warfare systems.
According to the Prime Minister of Norway, the situation began to deteriorate rapidly and, at the moment, there is a risk that Russian electronic warfare systems will completely cover the territory of a number of NATO countries and countries of Northern Europe with a cap, paralyzing any transmission of radio signals and seriously disrupting the operation of electronic equipment.

"According to the Norwegian Prime Minister, Russia is stepping up "hybrid" operations, such as cyber attacks and signal jamming in Scandinavia, at a time of tension on NATO's eastern flank.
Jonas Gahr Stere, 61, said the "cold winds" of geopolitical conflict are blowing north from Ukraine as the Kremlin builds up its forces in the Baltic and Arctic regions. He said Russian-backed hackers had already attacked Norwegian institutions after his government's computer systems were disabled by a glitch and civilian aircraft hit by military jamming equipment .

In a move that echoes and recalls scenes of the late John McCain visiting the Maidan protests over a half-decade ago which eventually overthrew the prior elected Russia-friendly Ukrainian government, a large group of senators traveled to Kiev this week in order to show support and solidarity with Ukraine's leaders amid the ongoing showdown with Russia, which has amassed troops near the border.
"A bipartisan group of senators is traveling to Ukraine this week to meet with President Volodymyr Zelensky and other Ukrainian officials amid escalating tensions between Kyiv and Moscow," The Hill confirms Monday. "Sens. Rob Portman (R-Ohio), Jeanne Shaheen (D-N.H.), Chris Murphy (D-Conn.), Kevin Cramer (R-N.D.), Amy Klobuchar (D-Minn.), Roger Wicker (R-Miss.) and Richard Blumenthal (D-Conn.) announced the trip on Monday. They said they are traveling to Ukraine and holding discussions "to reaffirm the U.S.' commitment to Ukraine, which continues to face an increasingly belligerent Russia."
Could Russia be preparing to deploy its armed forces closer to the US 'homeland?'
As the US refuses to halt the march of its NATO military bloc, in Eastern Europe, Moscow could leverage its ties with friendly Latin American states to ruffle Washington's feathers. But would such a course of action be worth it?
Cuba and Venezuela suddenly made the headlines alongside Ukraine and the Baltics states after Russia made remarks about putting military hardware in Latin America. RT looks at the potential cost of deploying Moscow's forces in what the US counts as its "near abroad," "hemisphere" or "sphere of influence," depending on whom you ask. 
As Moscow and Washington negotiated security arrangements in Europe, Russian Deputy Foreign Minister Sergey Ryabkov made a statement about Russia's capabilities on the other side of the pond.Amid strained relations even a very evasive statement from Russia about the prospects of deploying military infrastructure in Cuba or Venezuela was something of a bombshell for some observers.