Under the carpet: First Republic Bank Loses 40% of Deposits
Under the carpet: First Republic Bank Loses 40% of Deposits
I got my first heads-up from Hal Turner yesterday.
First Republic Bank Corporation (FRC) delayed releasing it's first quarter numbers until stock trading had closed for the day on Monday; now everyone knows why:
During Quarter One of 2023, Depositors at FRC withdrew forty percent (40%) of the total deposits in the bank!  Worse, if it wasn't for the larger banks depositing $30 Billion to shore them up, FRC's actual withdrawal amount was fifty-seven percent (57%).
When releasing their numbers late Monday, the bank quickly noted it is cutting twenty-five percent (25%) of its workforce,  and is "pursuing strategic options."
Within minutes of the quarterly numbers being revealed, the stock price of FRC began to plummet in after hours trading, and has now lost 22.19% of its Monday closing value:
Thus, people in the financial industry are now openly describing FRC as a "Zombie" bank.
For what it's worth, FRC is the eighteenth (18th) largest bank in the United States.  The fact that banks in the top 11-20 are now going "Zombie" means the contagion will likely spread to the top 1-10 banks within 3 months.  The reason: Even with the FDIC, people in the general public are no longer trusting the banks.
Proof that people have lost trust in the banks is typified by the Twitter posting, today, from Rob Kientz who reported to the world that he knew of a single Investor who asked him to source $150 MILLION in DORE gold/silver bars, immediately.
UPDATE 5:55 PM EDT- TUESDAY:
Twitter has DELETED the tweet below from a major Precious metals dealer.  Clearly someone does NOT want ***YOU*** to know that big money players are pulling  out of banks and markets, and diving head-long into precious metals.   The fact that Rob Kientz published this was surprising; the fact that Twitter has now DELETED it —– ought to be scary as hell to you.  You can, however, still read the test of his message in the remnants below:
Talked with an investor this morning that asked me to source $150 million in gold DORE bars.

Yes, the physical #gold and #silver markets are on FIRE. 🔥🔥

No wait, make that a burning inferno.

Don't wait to get your physical folks. pic.twitter.com/WGEisonNOz

— Rob Kientz | Gold Silver Pros (@goldsilver_pros) April 24, 2023
For those unaware, a doré bar is a semi-pure alloy of gold and silver. It is usually created at the site of a mine and then transported to a refinery for further purification.
The fact that a single Investor is openly asking to source this metal shows that the big money is getting OUT of markets, OUT of banks, and looking for safe haven in precious metals.
When money like this keeps moving OUT of banks and OUT of markets, the result is . . . well . . . unavoidable. 
Do you think that the #bankruns have stopped? well, think again, they are still happening, in a very quiet way and over time.

From @zerohedge👇
After yesterday's report showed #TheFed balance sheet shrinking but bank bailout facility usage higher, US commercial bank deposits… pic.twitter.com/p4WH70mbnJ

— Rob Kientz | Gold Silver Pros (@goldsilver_pros) April 25, 2023
Not exactly in the headlines – I found this on Twitter
First Republic Bank ($FRC) is expected to be seized by the US government, a report by Fox Business Network says. According to Fox's Charles Gasparino, bankers working with First Republic say that they expect eventual government receivership for the ailing bank. This will come after it exhausts private sector solutions such as asset sales and finding a buyer, both of which "appear difficult."
First Republic lost more than 40 percent of its deposits, approximately $72 billion, in the first quarter of this year. Its shares sank nearly 50 percent as of end-Tuesday. This is according to a Monday announcement by the bank.
The bank has seen record drops over the past month and a half, particularly since the Silicon Valley Bank was closed in March. Multiple big banks have also struggled, however, it looks like First Republic will be falling into the hands of the US government soon.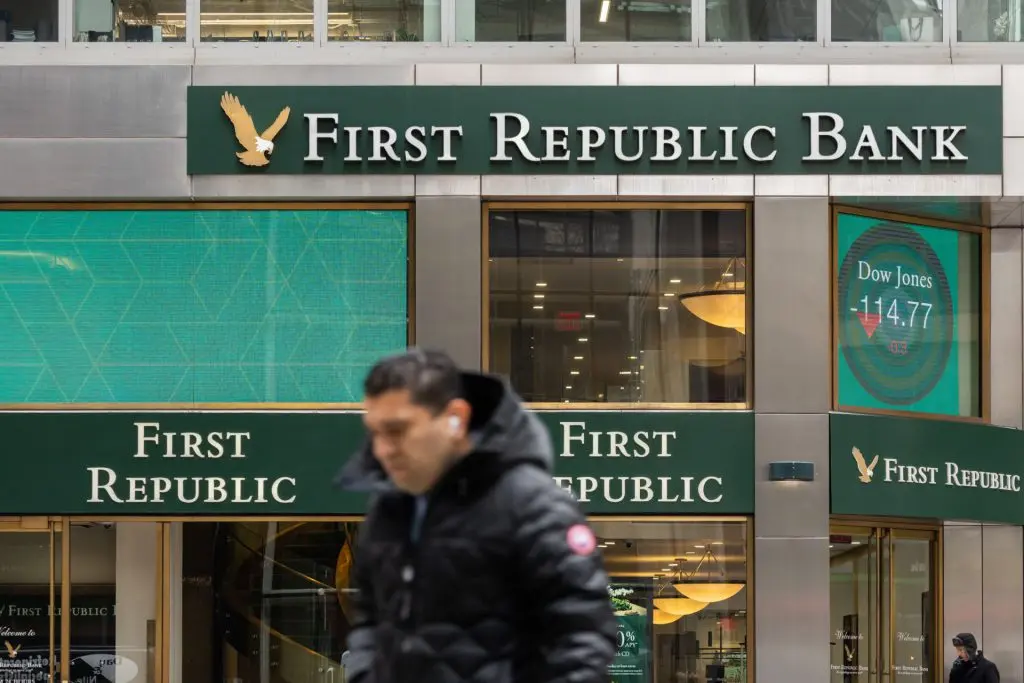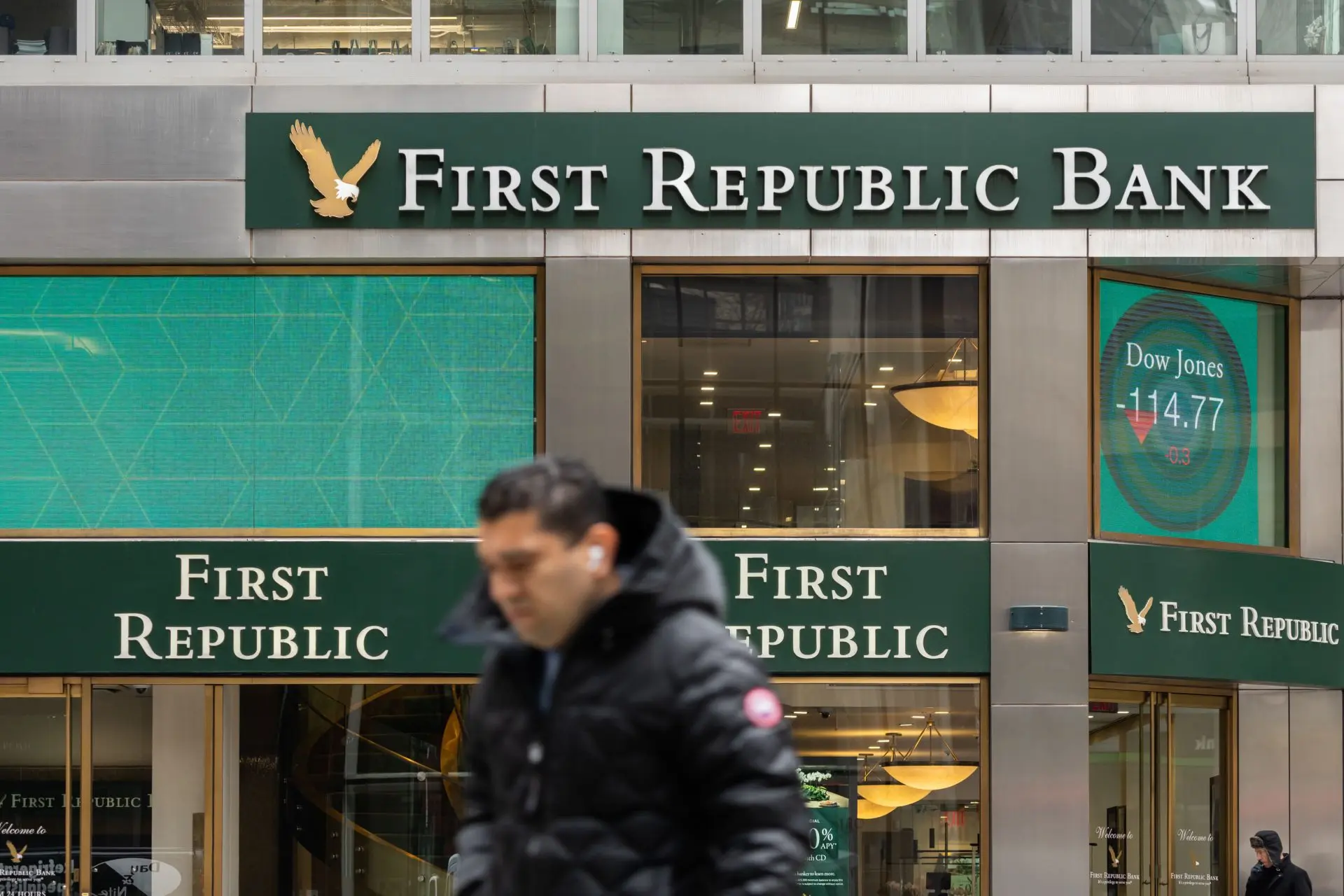 Fox Business' Charles Gasparino also adds:
"Officials at the big banks believed the Fed was poised last week to take over FRC just before its earnings announcement crushed shares."
The seizure is not final yet, however, it is very likely to occur according to Gasparino. Shareholders are also suing First Republic as of yesterday. They accuse the bank of concealing how rising interest rates impact business models by prompting an exodus of deposits.
Jim strikes again, amazing pic.twitter.com/9mMcDAGxcE

— Not Jim Cramer (@cramercoin) April 25, 2023