Focusing on Free Speech
Focusing on Free Speech
Forget China. This is what they are saying about Free Speech.
"This free speech thing is nonsense. You can't go into a movie theater and yell fire!"
UN Announces Worldwide Free Speech Ban [VIDEO]
"This freedom of speech is just nonsense."
How can we point the finger at China?!
Look at Apple.
Having seen waves of extreme over-reactions to Elon Musk's take-over of Twitter – and demands for all sorts of censorship being reinstated – we have seen an armada of virtue-signaling among advertisers pulling their spending from the free-speech platform.
Following demands from numerous former blue-checks for the deplatforming of such a dangerous app as Twitter has surely become…
In a New York Times op-ed, the former head of trust and safety at Twitter, Yoel Roth, wrote Twitter under Musk's leadership is at risk of being removed from Apple and Google's app stores if they fail to follow guidelines:

"Failure to adhere to Apple's and Google's guidelines would be catastrophic, risking Twitter's expulsion from their app stores and making it more difficult for billions of potential users to get Twitter's services. This gives Apple and Google enormous power to shape the decisions Twitter makes," Roth said.

He explained, "as I departed the company, the calls from the app review teams had already begun."
…Elon Musk has just broken the news that, seemingly confirming the rumors, Apple is threatening to pull Twitter's app from its app-store… and won't say why…
Musk is not taking this lying down as one would expect, first questioning where Tim Cook hates free speech?
And in China
Authored by Paul Joseph Watson via Summit News,
As it mulls kicking Elon Musk's Twitter off the app store, it has now been revealed that Apple restricted the use of AirDrop in China, a move that harmed the organizational efforts of demonstrators protesting against the CCP's lockdowns…..
…With Beijing now trying to contain what some are calling the most serious mass uprising since Tiananmen Square, Apple is apparently helping them to crush dissent.
Earlier this month, Apple restricted the use of AirDrop in China, which protesters had been using to evade censorship.
AirDrop allows local connections between devices, meaning it cannot be monitored or censored by local authorities.
However, Apple launched an update to the app in China that restricted usage to just 10 minutes, making it harder for protesters to communicate with other activists, as well as send messages nearby bystanders and tourists.
Is this a relaxation or a bow to Apple?
Update (1134ET): 
After Chinese health officials announced an accelerating move to vaccinate older people against Covid-19, a sign the world's second-largest economy could be reopening after disastrous zero Covid policies, a new report says the metro area around the world's largest iPhone plant is set to loosen Covid restrictions. 
Bloomberg reported Foxconn's massive iPhone factory in Zhengzhou, central China, is set to ease Covid control measures. 
Meanwhile, whatever the justifiable criticism of Elon Musk for his transhumanism etc. he is stirring things up at Twitter which is becoming quite a happening place. I wouldn't give you 2c for Facebook, but the addicts will defend their use to the hilt.
Authored by Tom Ozimek via The Epoch Times (emphasis ours),
Elon Musk said Monday that Twitter's internal files on the company's "free speech suppression" will be revealed "soon," raising expectations that light will be shed on the circumstances around Twitter's censorship of the New York Post's explosive story that exposed information on a laptop allegedly belonging to Hunter Biden.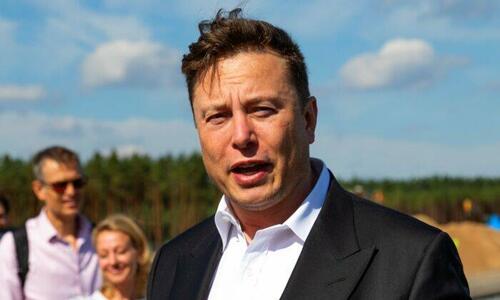 "The Twitter Files on free speech suppression soon to be published on Twitter itself. The public deserves to know what really happened …" Musk said in a post late Monday.
The Twitter Files on free speech suppression soon to be published on Twitter itself. The public deserves to know what really happened …

— Elon Musk (@elonmusk) November 28, 2022
Twitter will no longer enforce its Covid-19 misinformation policy, under which users who deviated from prevailing establishment narratives frequently had their accounts locked or suspended.
The longstanding policy did not apply to misinformation from government officials, who regularly lied about things such as transmission, masks, vaccine efficacy, side effects, or any of the other 'science' which turned out to be patently false.
Twitter did not officially announce the change, rather, the company added a note to a page on its website outlining its Covid-19 policy.
"Effective November 23, 2022, Twitter is no longer enforcing the COVID-19 misleading information policy," reads the note, which follows a line that still reads: "As the global community faces the COVID-19 pandemic together, Twitter is helping people find reliable information, connect with others, and follow what's happening in real time."
BREAKING: Twitter has stopped enforcing it's COVID-19 Misinformation Policy as of November 23rd pic.twitter.com/iOsQsZnZLh

— ALX 🇺🇸 #BringThemBack  (@alx) November 29, 2022