Food rationing in Britain
Food rationing in Britain
Authored by Kit Knightly via Off-Guardian.org,
The past few days have seen certain fruits and vegetables "rationed" by major UK supermarkets.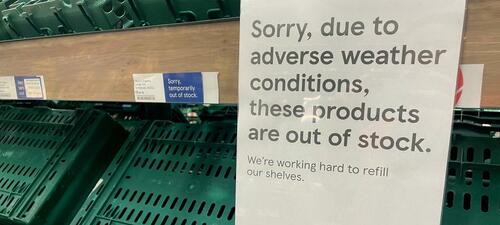 Aldi, Morrisons, Tesco and Sainsbury's have all put limits on customer purchases of peppers, tomatoes and cucumbers.
Just yesterday, Lidl added their own name to that list.
Many – including Justin King, former Sainsbury's CEO – have jumped at the chance to lay the blame at Brexit's feet.
But that doesn't make much sense, since Morocco – whence the UK imports a lot of salad vegetables – obviously isn't in the EU. Further, Ireland has been affected too, plus we're only 5 months removed from France (and other EU nations) facing their own "catastrophic food shortages"
The other side of the Brexit divide is firmly set on blaming any shortages on the weather. Of course, that's also helpful to the establishment narrative since the "bad weather" angle can be swiftly and easily parlayed into discussions about climate change. In fact, it already has been.
The real reason there are shortages – supposing there are real shortages, not just psy-op nonsense like the toilet paper fiasco at the beginning of the "pandemic" – is that, one way or another, they have been engineered.
How to create a tomato shortage…
1) Tell people there's a tomato shortage.
2) People panic buy tomatoes.
3) There's a tomato shortage.
Don't be part of it folks.

— Dr Zoe Harcombe, PhD (@zoeharcombe) February 27, 2023
The cost of producing, harvesting and transporting all crops has spiked because the cost of oil and gas was deliberately inflated. The cost of growing crops has increased because there is a "shortage" of fertiliser – likewise purposefully created.
Both of these are "blamed" on the war in Ukraine, but the war but both the energy crisis and fertiliser crisis predate the war in Ukraine (see here and here). We covered this in detail last spring when "food shortages" first hit the headlines.
Speaking of Ukraine, it's currently easier to get tomatoes in war-torn Kherson than in London. That's the reality we're being presented with.
No tomato shortage here – but I'm in Kherson, a frontline Ukrainian city that gets shelled by the Russians daily, not a British supermarket. pic.twitter.com/FFbVAf1zHC

— Lindsey Hilsum (@lindseyhilsum) February 23, 2023
In short, the rationing is just another narrative that doesn't make internal sense. It's due to Brexit but isn't. It's due to the weather, but not everywhere. It's a in some stores and not others and apparently in some places but not others and apparently only affecting major supermarkets.
According to one farmer, these supermarkets could make up the shortfall in imports by buying domestically grown produce, but are refusing to incur those costs. Further evidence that the food shortage narrative must be serving a purpose.
And all the while empty shelves and rationing are being normalised.
Neil Oliver nailed it in his most recent monologue:
They're rationing tomatoes in the supermarkets. We're told it's about supply chains, bad weather and the price of heating, but right now, in terms of the messaging, I suspect it's more about pushing the word – rationing. Less about any believable shortage of food and more about getting us used to hearing the word.

No doubt, if experience is anything to go by, the rest will come later. My money says the rationing app for our smartphones is already sitting on a hard drive somewhere, ready when we are.

For now, it's more of a familiar process of psychological manipulation. Get us acquainted with the general idea of food scarcity so that we're well-primed when the planned reality is unrolled.

We were given the same treatment with words like "lockdown" and "pandemic", "mandate" and "denier". Nudge, nudge. Rationing is a word from our parents' and grandparents' generation, a bit like "War in Europe" and "Fascist" and now they're back in fashion once more. Rationing, I ask you, while the landfills swell with fresh food dumped every day.
That's all it's about. And it is carefully calculated.
Just as Roald Dahl is the first little taste of retroactive censorship – made acceptable by both his controversial legacy and the fact he wrote for children – this is the thin end of the rationing wedge. It's just tomatoes, after all. No hardship is it?
And yet the head of the UK's Farmers Union said it would likely get worse, calling it "the tip of the iceberg" (he wasn't even making a lettuce pun, which is an awful wasted opportunity).
Maybe we should all eat insects or lab-grown paste instead of importing vegetables, amiright?
Lidl was the most recent supermarket chain to introduce limits on fruit and vegetable purchases, citing cold weather in Spain and Morocco as having a significant impact on the availability of fresh produce in the UK.
By Ian Miles Cheong
AP Photo/Mary Ann Chastain
Major supermarket chains in the United Kingdom have introduced rationing on certain fruits and vegetables as a nationwide shortage of fresh produce continues.
Tesco, the country's largest grocery retailer, has implemented a limit of three items per customer on tomatoes, cucumbers, and peppers.
Aldi and Asda have also introduced identical measures, with the latter's purchase limits extending to lettuce, bagged salad, broccoli, cauliflower, and raspberries. Morrisons, on the other hand, has restricted individual customers to two items of tomatoes, cucumbers, lettuce, and peppers.
Lidl was the most recent supermarket chain to introduce limits on fruit and vegetable purchases, citing cold weather in Spain and Morocco as having a significant impact on the availability of fresh produce in the UK.
"Whilst we still have good availability across the majority of our stores, due to a recent increase in demand we have taken the decision to temporarily limit the purchase of peppers, tomatoes and cucumbers to three items per person," a Lidl spokesperson told BBC News. "This will help to ensure that all of our customers have access to the products they need."
In addition to growers in Spain and Morocco, rising energy, fertilizer, and animal feed prices have increased cost pressures for British farmers, prompting one-third to alter their cropping plans, according to a report from the National Farmers Union. Some farmers have shifted from growing milling wheat for bread to growing feed wheat for livestock due to lower fertilizer requirements.
National Farmers Union President Minette Batters said in a statement that "costs are rising rapidly on farms across the country and across all sectors. It's already having an impact on the food we're producing as a nation as well as leading to a crisis of confidence among farmers."
Earlier this week, British Farming Minister Mark Spencer met with grocery executives to discuss the shortages. The British Retail Consortium, a trade association representing supermarkets, stated that relief for consumers can be expected in the coming weeks. However, suppliers reportedly stressed that the resolution of the problem would require a wider strategy involving government, farmers, food manufacturers, retailers, and hospitality.
The shortage of fresh produce in the U.K. coincides with worldwide supply chain bottlenecks and the ongoing Russian-Ukrainian conflict, both of which have led to increased food and energy prices globally.
The United States has also been impacted, with food prices increasing by 11.3% for food at home and 8.2% for food away from home between January 2022 and January 2023. An outbreak of avian flu in the U.S. has led to a decrease in the size of American poultry flocks, causing prices for chicken and turkey to rise while driving up egg prices severely, the Daily Wire reported.
President Joe Biden responded to the recent inflation data release last week, stating that "we have made progress on inflation, but we have more work to do." Despite the continued rise in food expenses, he praised efforts by his administration to reduce prices while blaming Republicans for undermining the economy by opposing his spending agenda.
Just to jog your memory
Skyrocketing cost of energy is putting French farmers under increasing strain
French farmers have said their energy costs have quadrupled in some cases which could lead to bottlenecks in the food supply chain.
Farmers union FNSEA warned at a press conference in Paris on Monday that the agricultural sector is at risk due to rising energy costs. The union is demanding that the state "provide concrete answers" so as not to jeopardize food sovereignty.
"Producers are wondering what they can put on consumers' plates," warned Sebastien Mery, a senior member of the union.
"Some will make decisions to stop production," she added.
Currently, small agricultural businesses in France are still not eligible for emergency government aid if their energy costs do not reach 3% of their sales in 2021.
In mid-October, Agriculture Minister Marc Fesneau promised that the state would come to the aid of "energy-intensive agri-food industries" without laying out a concrete plan.
Emmanuel Lefebvre produces thousands of tonnes of endives on his farm in northern France annually, but this year he may abandon his crop because of the crippling energy costs required to freeze the harvested bulbs.
Across northern and western Europe, vegetable producers are contemplating halting their activities because of the financial hit from Europe's energy crisis, further threatening food supplies.
Surging power and gas prices will impact crops grown through the winter in heated greenhouses such as tomatoes, peppers and cucumbers, and those which need to be placed in cold storage, such as apples, onions and endives