France Aims To Shut British Firms Out Of EU Financial System As Fisheries Dispute Drags On
France Aims To Shut British Firms Out Of EU Financial System As Fisheries Dispute Drags On
13 May, 2021
As the spat between the UK and France over access to British fishing waters – a contentious issue that nearly scuppered the post-Brexit trade deal – worsens, France has apparently decided to go for the jugular.
Last week, French officials threatened to cut off electricity to the UK-dominated island of Jersey while a "protest" staged by French fishermen nearly prompted a confrontation between British and French naval ships. Now, France is threatening to do everything in its power to scupper a EU deal that would broaden access to European markets for British financial firms.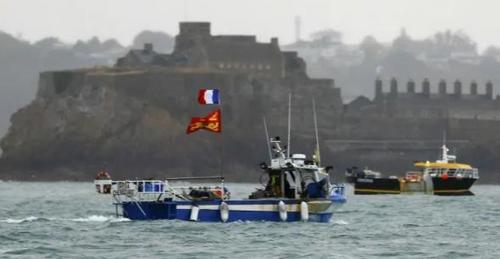 In keeping with threats made by a French diplomat last week, Bloomberg reports that French diplomats are working to stall an agreement that would help restore some of the access British financial firms once enjoyed to European markets, which was lost when Brexit officially came into effect following the end of the transition and the start of 2021.
Though it wouldn't have much practical effect in the near term, reaching a Memorandum of Understanding between the UK and the EU about plans to re-integrate their financial systems is seen by the UK as a critical first step to restoring the level of access they once enjoyed. Negotiations in Brussels later this month will bring EU leaders together to further the discuss a potential deal on market access. To be sure, the EU has said that it's in no rush to restore the reciprocity rules that would restore trading rights for British financial firms.
Here's more from BBG:
At the end of March, Britain and the EU had agreed on a forum regarding cross-border financial market access. While granting so-called equivalences that would allow U.K. financial firms to do business in Europe remains a separate and unilateral process, the MoU would help speed up the process.

Since Brexit took effect at the beginning of 2021, London-based financial firms have been largely unable to operate in the bloc, forcing banks like JPMorgan Chase & Co. and Goldman Sachs Group Inc. to move billions of dollars in assets and thousands of staff to the continent.
All 27 EU states must sign off on an MoU before it can be implemented. BBG says talks could begin in the coming days. But if the British are still refusing to hand out fishing licenses for the waters around the island of Jersey by then, well, they can expect the French to do everything within their power to stall talks on the MoU.
As a reminder, here's how close British and French Navy vessels came to a confrontation earlier this month (courtesy of Bloomberg).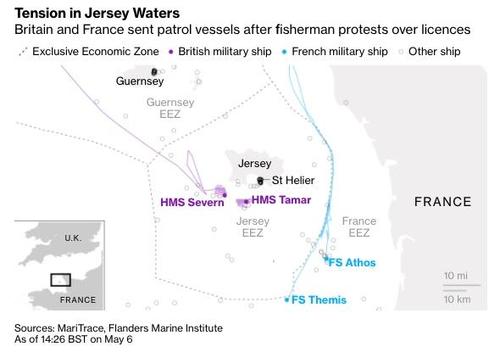 France has accused the British government of reneging on some of its promises from the Brexit deal by refusing to hand out licenses for French fishermen in certain British-controlled fishing waters, primarily those off the island of Jersey, which lies close to the French coast.