Friday the 13th 2023: Day of "Global Jihad" Begins and Israeli genocide of Gazans is prepared
Friday the 13th 2023: Day of "Global Jihad" Begins and Israeli genocide of Gazans is prepared
NBC News said the New York Police Department ordered all officers to be on patrol today while providing enhanced security at cultural sites and houses of worship. Additional officers will be deployed to protest areas.  
"New York City will do whatever it takes to keep our people safe," New York Mayor Eric Adams (D) told reporters at a Thursday evening press conference. 
Outside of Israel, NYC has the largest Jewish population, and already, Rep. Alexandria Ocasio-Cortez's (D) Democratic Socialists of America have held pro-Palestinian rallies in Times Square. 
AOC has made an effort, optically, of course, to denounce DSA's explosive anti-Israel rhetoric: "(The rally) did not speak for the thousands of New Yorkers who are capable of rejecting both Hamas' horrifying attacks against innocent civilians as well as the grave injustices and violence Palestinians face under occupation." 
From coast to coast, police departments said they plan to increase patrols after Khaled Mashal, the former leader and founding member of Hamas, called on Muslims earlier this week to unleash a 'Day of Rage' on Friday. 
Here's why state and federal officials are on guard today (a translation of the statement via the Middle East Media Research Institute): 
"First: We declare next Friday, 'The Friday of the Al-Aqsa Flood,' as a day of general mobilization in our Arab and Islamic world and among the free people of the world. It is a day to rally support, offer aid, and participate actively. It is a day to expose the crimes of the occupation, isolate it, and foil all its aggressive schemes. It is a day to demonstrate our love for Palestine, Jerusalem, and Al-Aqsa. It is a day for sacrifice, heroism, and dedication, and to earn the honor of defending the first Qibla of Muslims, the third holiest mosque, and the ascension of the trusted Messenger.

"Second: We call upon our rebellious youth throughout the West Bank, in its cities, villages, and uprising camps, in the streets and neighborhoods of Jerusalem, and at the squares of the blessed Al-Aqsa Mosque, to rise up, join massive demonstrations, and shake the ground beneath the feet of the Zionist invaders and their settler gangs. Engage with their soldiers and cowardly army in every place, affirming the unity of destiny and the path towards Jerusalem and Al-Aqsa, liberating them from the defilement of the Zionist occupation.

"Third: Our people within the occupied territories of 1948, people of honor and courage, who have borne much to preserve their Palestinian-Arab identity. This day is your day to mobilize, assemble, and stand united in guarding the blessed Al-Aqsa Mosque. Preserve it, its Islamic heritage, its divine message, and prevent settler gangs from desecrating it. Thwart the fascist occupation's plans to divide it, Judaize it, and build their alleged temple. Unite with your people in Gaza and the West Bank.

"Fourth: We call upon the masses of our Arab and Islamic nation and our Palestinian people in all places, including refugee camps and the diaspora, to march towards the borders of our beloved Palestine in massive gatherings. On this day, we declare our solidarity with Palestine, Jerusalem, and Al-Aqsa. For those geographically distant, let them gather at the nearest point leading to Jerusalem.

"Fifth: We call upon the free people of the world to mobilize in solidarity with our Palestinian people and in support of their just cause and legitimate rights to freedom, independence, return, and self-determination.
Axios said police in Washington, DC, have ramped up security at the US Capitol complex, public areas, places of worship, and some schools. 
Rep. Marjorie Taylor Greene (R-Ga.) called on the House to adjourn on Friday due to a "global day of jihad by Hamas" that creates "heightened security around the Capitol, and a dozen protests planned in DC." 
On the West Coast, all officers of the Los Angeles Police Department have been told to report in uniform this morning. City officials told NBC News they have enough personnel to provide security at protests.
Meanwhile, the Anti-Defamation League has looked the other way this week while the Chicago chapter of the Black Lives Matter organization, members of the Democratic Socialists of America, and a number of radical progressive groups at Ivy League universities, such as Harvard, have incited outrage for appearing to publicly support Hamas militants. 
For an updated timeline there is this from Hal Turner.
I have extracted some of it below
Students are marching through American campuses calling for a final solution against Jews.
In Jordan, HAMAS Supporters break through barricades and are STORMING the Israel border:
Breaking News Jordan: Thousands of #HamasTerrorist supporters have broken through blockades in answer to a global Jihad by former Hamas leader Khalid Mashal and are storming the Israeli border.
Hundreds-of-thousands of people in the country of Jordan are trying to get to the Israeli border in multiple places, to break-through and fight against Israel.   The government of Jordan is efforting to prevent that.
THOUSANDS gather in Tahir Square to protest Israel and support the Palestinians
In Baghdad, Iraq, hundreds-of-thousands show support of Palestine: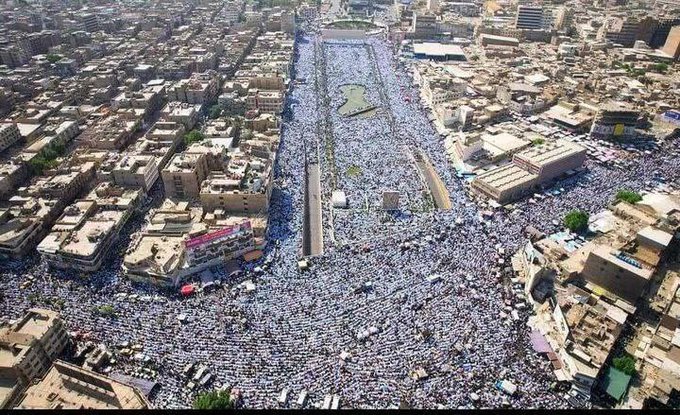 F-16 ALLEGEDLY SHOT DOWN BY HAMAS
Video has emerged from inside the Israel-HAMAS war ALLEGEDLY showing an Israeli F-16 fighter jet having been HIT by a HAMAS surface-to-air missile.
***** FLASH: Russia *****
PUTIN: "The Israeli siege of the Gaza Strip is unacceptable and is like the Nazi siege of Leningrad"
Tel Aviv looks like a war zone right now after a rocket took out a while building in the center of the city.
********** BULLETIN **********
11:16 AM EDT —
Israel just upped-the-ante in a gigantic way:  The Israeli Defense Force (IDF) just declared The West Bank, a CLOSED MILITARY ZONE.
It has been claimed that he never said this. The available video is without translation
Emir of Qatar WARNS he will stop Gas shipments WORLDWIDE.
"If the bombing of Gaza doesn't stop, we will stop gas supply of the world." pic.twitter.com/GZa633a34B
Footage showing the moment a number of Reuters Journalists in Southern Lebanon who were Live Streaming the current Exchanged of Fire on the Border were Struck by an Israeli Artillery Shell. pic.twitter.com/j3JH7w3UnA

— OSINTdefender (@sentdefender) October 13, 2023
— The crew of the Reuters live stream just got hit by an explosion. The woman could be heard screaming "I can't feel my legs!"
Occurred in northern Israel near the Lebanon border.
🇵🇸🇮🇱 Video from a school in Israel:

"Al-Aqsa mosque will collapse, explode, disappear."

"I feel I want to kill them [an Arabic kid]."

"There will be Arabs, but they will be slaves."

"There will be a massive war and all the Arabs will die."

What are they teaching these kids!? pic.twitter.com/9ZUuw243am

— Censored Men (@CensoredMen) October 13, 2023
Israel set to cut off internet connectivity in Gaza from tomorrow.   (They don't want anyone seeing what's about to take place)
— The Israeli Army: "We are moving more reinforcements to the North preparing for a potential ground offense from Lebanon"
–Hamas has set up blockades so civilians can't leave northern Gaza!
🇵🇸🇮🇱 HAMAS OFFICIAL URGES PALESTINIANS NOT TO LEAVE GAZA

"We will never leave our land — we will be back to the 1948 territories."

Full Statement: pic.twitter.com/1lTr4onDxL

— Censored Men (@CensoredMen) October 13, 2023
🚨JUST IN: Deputy Secretary General of Hezbollah's statement:

"We confirm our readiness to act against Israel." pic.twitter.com/4OVPiQe6pH

— Mario Nawfal (@MarioNawfal) October 13, 2023
https://twitter.com/MarioNawfal/status/1712953089928352043
CHAOS IN NYC!! "DAY OF JIHAD" PALESTINE PROTESTS ERRUPT ALL OVER USA

ISRAELIS CHANTING GAZA, GAZA, GAZA IS A CEMETRY#Gazagenocide pic.twitter.com/r2PRsy6beC

— Sulaiman Ahmed (@ShaykhSulaiman) October 13, 2023
🚨FOOTAGE JUST IN: Violent Clashes at Shuafat Camp Checkpoint in Jerusalem.

And there are additional reports of Israeli aircraft targeting a house in Northern Gaza. pic.twitter.com/tb0r5WVDbP

— Mario Nawfal (@MarioNawfal) October 13, 2023
🚨BREAKING: Reports of Israeli Tanks Advancing into Gaza

Reports state that Israeli tanks and armoured vehicles moving fast near the town of Ashkelon, near Israel's border with Gaza.

Source: Al-Arabiya pic.twitter.com/UYki3ymaDh

— Mario Nawfal (@MarioNawfal) October 13, 2023
🚨JUST IN: Israeli police are reportedly holding BBC journalists at gunpoint pic.twitter.com/7eklNvlvek

— Mario Nawfal (@MarioNawfal) October 13, 2023
Russian President Vladimir Putin in a rare public address on Friday (13/10) compared Israel's blockade of the Gaza Strip to Nazi Germany's siege of Leningrad during World War II and called for a solution to the conflict through mediation.
Israeli media convey the statements of the Russian president in exactly this way.
In particular, Putin said on Friday that an Israeli ground attack on Gaza would result in a level of civilian casualties that would be "absolutely unacceptable".
Putin spoke after Israel's military called on all Gazans – more than 1 million people – to move south within 24 hours as it assembled tanks ahead of an expected ground invasion.
Putin said there had been calls even in the United States for a blockade of Gaza on par with " the siege of Leningrad in World War II."
"The resolution of the conflict is possible only through the creation of an independent state of Palestine," stressed the Russian leader, expressing his opinion at a meeting in a limited form of the CIS summit.
"Israel received an unprecedented attack with great cruelty. And, of course, he has the right to protection, he has the right to secure his peaceful existence
Right now the most important thing is to stop the bloodshed. And in this regard, collective efforts are more than necessary.
Russia is ready to coordinate with all constructively thinking partners.
A ground operation in Gaza would be fraught with dire consequences and civilian casualties would be unacceptable,"  the Russian president noted.
Israelis sing and dance a song about Gaza becoming a cementary for children.

These people are going to love the #GazaGenocide pic.twitter.com/ymDCTG4Rtk

— Lucas Gage (@Lucas_Gage_) October 13, 2023