Gaza livestream from Hal Turner
Gaza livestream from Hal Turner
After Israel commenced what it calls an "expanded ground operation" in the Gaza Strip yesterday, daylight is showing the horrifying results.  Social media is ablaze with information and video. "Body parts are everywhere" from the air strikes.
We begin with 21 brief seconds of "Before and After" video showing vast, entire neighborhoods of Gaza, obliterated by Israeli air strikes:
"Gaza looks like a wasteland from space in these before-and-after photos" – AP

The below image was Beit Hannoun prior to today's bombardment.

There is ongoing clashes right now in Beit Hannoun

We have a source on stage telling us on stage now that Beit Hannoun has been… pic.twitter.com/qODrwiAkXS

— Mario Nawfal (@MarioNawfal) October 28, 2023
Below, brief video of sunrise this morning in Gaza.  The sounds of gunfire and heavier weapons fire, is clearly evident in the distance:
— ARKAN || أركان (@iARKKAN) October 28, 2023
https://twitter.com/MarioNawfal/status/1718123034727342083?ref_src=twsrc%5Etfw%7Ctwcamp%5Etweetembed%7Ctwterm%5E1718123034727342083%7Ctwgr%5E798e7aa50f74b21edb68d2aa66756bcc893265bf%7Ctwcon%5Es1_&ref_url=https%3A%2F%2Fhalturnerradioshow.com%2Findex.php%2Fen%2Fnews-page%2Fworld%2Fgaza-open-slaughterhouse-one-gigantic-satanic-sacrifice
Israel claims they are "attacking Hamas."  Yet upwards of 100,000 housing units have been destroyed.   Is the world to believe there were that many "Hamas" targets?   Or would it be more appropriate to call this what it actually is: "Forced displacement?"
David Icke sums it up succinctly: "One giant Satanic sacrifice."
Amazing how they claim the intel to target Hamas operatives, but had no idea the attack on Israel was planned. It was ALLOWED to happen. Israeli civilians sacrificed and now Gaza civilians sacrificed. It is one mass Satanic sacrifice as all 'wars' are.https://t.co/Ow6aE239Uq

— David Icke (@davidicke) October 28, 2023
The Israeli Defense Force (IDF) release video of their operation, shown below.  How can 2.3 million civilians in Gaza defend themselves against THIS?
https://twitter.com/MarioNawfal/status/1718159490002874438?ref_src=twsrc%5Etfw%7Ctwcamp%5Etweetembed%7Ctwterm%5E1718159490002874438%7Ctwgr%5E798e7aa50f74b21edb68d2aa66756bcc893265bf%7Ctwcon%5Es1_&ref_url=https%3A%2F%2Fhalturnerradioshow.com%2Findex.php%2Fen%2Fnews-page%2Fworld%2Fgaza-open-slaughterhouse-one-gigantic-satanic-sacrifice
According to the Palestinian Health Ministry, the Palestinian death toll from Israeli attacks in Gaza climbs to 7,703, including 3,595 children; 19,734 others injured: Health Ministry.  But it is very early and there are countless more people buried in rubble.  These numbers are likely to skyrocket.
The air strikes are continuing this morning, Saturday, 28 October 2023.
⚠️Strikes in northern #Gaza short time ago#Israel pic.twitter.com/FOWIG5Hb3g

— Swords of Steel (@ignis_fatum) October 28, 2023
This morning, there are already "Red Alerts" in Tel Aviv because more missiles have been launched by Hamas.
The bloodshed continues, unabated.
UPDATE 9:39 AM EDT –– Iran's Tasin News Agency, citing a source, CLAIMS "5,000 U.S. troops participated in yesterday's entry into Gaza."  When asked about such claims in a telephone call last night, the Pentagon Press Office replied "No comment at this time."
MORE:
The IDF is once again urging people living in northern Gaza, to "leave immediately"
An urgent message for the residents of Gaza: pic.twitter.com/GAW3a7lWt8

— Israel Defense Forces (@IDF) October 28, 2023
In London and many other places around the world, tens-of-thousands of citizens are taking to the streets to protest Israeli actions and to show their support of Palestinians:
Thousands of protesters have taken to UK streets demanding a ceasefire.

Police expect 100,000 people to join a demonstration which is currently taking place in London

Watch live ⬇️

— Sky News (@SkyNews) October 28, 2023
In Paris, tens of thousands more prople are rallying FOR the Palestinians:
In Turkiye', President Recypt Erdogan personally attended an utterly MASSIVE rally in support of Palestinians:
#BREAKING #Turkey #Israel #Gaza JUST IN! President of Turkey arrives at massive rally in support of Palestine held at Ataturk Airport. pic.twitter.com/7KAIjah5Mq

— The National Independent (@NationalIndNews) October 28, 2023
Also this morning, a Statement from Palestinian Islamic Jihad, one of the combatants:

"The Israeli forces received painful strikes last night from our fighters present at the points of advance on the outskirts of eastern Gaza.
The enemy's display of firepower enabled their forces to advance only a limited number of meters, not exceeding 100 metres, and they erected dirt barriers to protect their soldiers from the strikes of our fighters.
The enemy forces that tried to advance at some points east of Gaza retreated back under fire and clashed with our fighters in the field.
The enemy's exaggeration of the ground incursion into the Gaza Strip comes within the framework of its bankruptcy of achieving any image of victory in front of its internal front; it is a lie that the enemy constantly peddles."
UPDATE 10:00 AM EDT —
The map below accurately reflects yesterday's action by the IDF as it made entry into the Gaza Strip: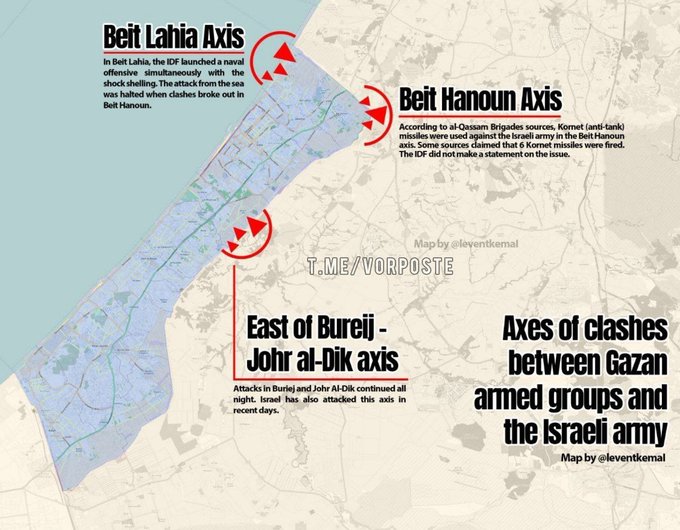 — Gaza Civil Defense official says that 'hundreds of buildings and houses were completely destroyed' overnight.
UPDATE 3:26 PM EDT —
The sounds of fierce fighting coming from the Gaza Strip have been unrelenting for hours — a mix of artillery fire and tanks and airstrikes. But with the phone and internet service out in the Gaza Strip, it is impossible to know exactly what is happening there.
Some information __is__ getting out.
— Turkiye' President Erdogan tells Palestinians "Our Muhammadan army will come one night by surprise to support the people of Gaza."
— Israeli Prime Minister Netanyahu says "the second stage of war has begun."
— SHOCK: Israelis in Tel Aviv take to the streets calling for an end to the bombing of the Gaza Strip Thousands of protesters fear that Israeli aggression could lead to the destruction of the state. 
— Carrier-based AMERICAN Aircraft over Gaza Strip!
An American patrol aircraft that took off from an aircraft carrier is patrolling the southern Gaza Strip pic.twitter.com/P39yREyrit

— Sprinter (@Sprinter99800) October 28, 2023
— With Internet CUT in all of Gaza, Elon Musk said he will turn on his STARLINK system, only to registered and recognized RELIEF ORGANIZATIONS, to restore their Internet access.   IN RESPONSE, Israel's Minister of Communications says the country will immediately SEVER ALL TIES with STARLINK.  He then went further: "We will use available means to prevent Elon Musk from providing relief organizations in Gaza with the Internet."
(HT REMARK: Why does Israel want to halt the flow of information about what's going on in Gaza?  War crimes, maybe?) 
— A near total communications blackout has impacted the work of medical staff in Gaza, with paramedics unable to reach the injured and hospitals unable to contact each other.
MORE:
Israel recalling Diplomats from Turkiye'
Given the grave statements coming from Turkey, I have ordered the return of diplomatic representatives there in order to conduct a reevaluation of the relations between Israel and Turkey.

— אלי כהן | Eli Cohen (@elicoh1) October 28, 2023
United Arab Emirates Condemns Israeli Invasion
https://twitter.com/TheWarMonitor/status/1718343769014104202?ref_src=twsrc%5Etfw%7Ctwcamp%5Etweetembed%7Ctwterm%5E1718343769014104202%7Ctwgr%5E798e7aa50f74b21edb68d2aa66756bcc893265bf%7Ctwcon%5Es1_&ref_url=https%3A%2F%2Fhalturnerradioshow.com%2Findex.php%2Fen%2Fnews-page%2Fworld%2Fgaza-open-slaughterhouse-one-gigantic-satanic-sacrifice
UPDATE 6:14 PM EDT —
After reporting (above) that Israel is recalling its Diplomats from Turkiye' I can now not only confirm that report, but add:  Israeli Minister of Security tonight said "Erdoğan is the greatest enemy of the Jewish people. He will never be our friend. Normalization between Israel and Turkey is over."
From War News 24/7
Israel: "The ground operation is expanding"
The heaviest shelling since the start of the war is underway in the northern Gaza Strip with Israelis being pounded by land, air and sea, in another sign that a massive ground invasion may be very close.
Israel is hitting Islamist positions in Gaza with Bunker Buster bombs in an attempt to destroy Hamas' network of underground bunkers.
Internet and communication services have been completely disrupted in the north and severely restricted in the southern part of the Strip.
The shelling is" the heaviest since the start of the war on October 7,"Hamas said, accusing Israel of "preparing for massacres." Journalists in the area make the same observation.
The Hamas government has announced that telecommunications and the Internet have been disrupted in the Palestinian enclave.
Netblocks, an organization that monitors cyber security and Internet access around the world, reported a "collapse" of connections in the Gaza Strip.
Watch video
Israel: Expanding business tonight!
The IDF spokesman said that Israeli forces will expand ground operations inside the Gaza Strip tonight.
"In the last few hours we have increased the attacks in Gaza. The Air Force widely attacks underground targets and terrorist infrastructure.
Following on from the offensive activity we have carried out over the past few days, ground forces are expanding ground activity this afternoon.
The IDF is working vigorously in all dimensions to achieve the objectives of the war" was the comment of the spokesman of the Israeli army, Daniel Hagari.
Biden was briefed
With israel's operations in Gaza ongoing and intensified in recent hours, the White House announced that President Joe Biden was briefed by members of the National Security Council on the developments.
According to CNN, in the meantime, the Israeli bombardments are being carried out by tanks located near the border with Gaza, while warships are also operating from the sea.
Rocket storm from Hamas
And the Palestinians, for their part, are attempting to respond, as sirens sound in Ashdod and Ashkelon, while rockets are fired toward Tel Aviv.
"Fire of rockets towards the occupied territories (including Israel) in response to the massacres of (Palestinian) civilians"refers to the post of the Ezzedine al-Qassam Brigades on the Telegram platform.
It is worth noting that yesterday, Hamas carried out one of the largest rocket attacks in Tel Aviv.
The rockets fired by Hamas outnumbered the interceptors fired by israel's Iron Dome air defense systems. Then some of the rockets hit the city.
Al-Jazeera
Health ministry says US administration 'devoid of human standards, morals' for 'shamelessly' questioning validity of figures
Israel says it's 'expanding' ground activities in Gaza Strip after telecommunications were knocked out.
The US regional strategy lays in shambles, as its allies face pressure and its foes seek to take advantage.
The Hamas attack has not only changed the path of the Palestine-Israel conflict, but also the dynamics of the whole Middle East. It has left the US strategy of de-escalation in the region in shambles, put Arab governments and Iran in a difficult position and opened the door for greater Chinese and Russian involvement
Israel's land incursions, bombs and information blackout imposed on Gaza won't necessarily harm a well-prepared Hamas.
A strong combined-arms attack on Gaza that started on Friday night continued on Saturday, but it is still unclear whether this is the first step in the big push that Israel has been announcing or is it just another probe to test Palestinian resistance.
The Israeli military launched two limited-scope ground attacks on Wednesday and Thursday night, releasing videos to exploit them for propaganda. On both occasions, they pulled back to Israel before dawn.
The still-ongoing attack seems not to be the "'Big One". But as an obvious extension of the previous two incursions into Gaza, it may be a precursor to an all-out offensive.
Saturday's reports from Gaza may be the last made over mobile networks and land-based internet. Israeli forces hit public telecom infrastructure and Gaza is now under an almost total communications blackout. The only means to get information out to the world are the few remaining satellite telephones, but those could be targeted at any time.
Israeli Air Force dedicated electronic warfare aircraft can pinpoint every device exchanging data with low-orbit communication satellites and direct deadly air-to-ground missiles against it.
The technique is hardly new: It was first used by the Russians in 1996 to assassinate Chechen President Dzhokhar Dudaev as he was using a satellite phone. Israelis have a long record of targeted killings using phones to identify and locate the target. One of the first victims of the technique was Hamas leader Yahya Ayyash, killed the same year as Dudaev.
However, the destruction of communication nodes and the use of electronic countermeasures to block any remaining public lines that survived will not harm Hamas fighters who, knowing Israeli tactics and capabilities, appear to have prepared for this course of action.
Palestinian sources claim that Hamas installed "Israel-proof" communications infrastructure in its extensive network of tunnels under the Gaza Strip. It allegedly laid tens of kilometres of cables with strong electromagnetic shielding to prevent the detection and interception of signals.
Installed in the most modern tunnels, set in much deeper, they are almost fully secure from prying Israelis. The cables emit a minimum amount of electromagnetic radiation, and the great depth practically prevents detection and signal interception. These new, secure, means of communications may explain how Hamas managed to keep its plans for the October 7 attack secret.
On Saturday, Israel's Defence Minister Yoav Gallant admitted that his forces were specifically targeting the tunnels. Israel claimed it hit more than 150 underground targets, but this claim must be taken with a pinch of salt. Buildings hiding tunnel entrances, maybe; 150 tunnels, unlikely.Since Hamas first embarked on underground warfare, its tunnels have grown from primitive makeshift dugouts couple of metres deep to sophisticated, well-engineered, concrete-clad structures that reportedly stand as deep as 20 metres (66 feet) under the surface.
The reasons for going so deep — a feat that requires considerable engineering effort and use of manpower — is to pass under Israeli border barriers, including tall concrete walls that extend as deep as eight metres (26 feet) under the surface. Digging deep gives Hamas the additional advantage of their tunnels becoming fairly immune to Israeli bombing.
Ordinary iron bombs, free-fall or laser-guided, penetrate poorly. Anything deeper than one meter (3 feet) is relatively safe. To destroy targets hidden further underground, special ammunitions are needed. Rocket-accelerated bombs, originally developed to penetrate the thick and strong concrete of airport runways and explode in the soft ground under it, raising the paved surface and making it unusable for aircraft, can be used against tunnels and underground bunkers. But in Gaza, their efficacy is questionable as tunnels are rarely dug under open soil that these boosted bombs can penetrate.
Having gone through so many bombardments, Hamas took good care to locate its subterranean facilities under surface structures. Its tunnels probably extend under the buildings wherever possible.
This affords the tunnels the protection of several concrete floor slabs that even bigger ordnance has difficulty penetrating. Bombs and rockets normally explode when they hit a hard obstacle, penetrating the first concrete floor but lacking the power to go through the subsequent ones.
This is overcome by tandem warheads, where the first charge explodes as the projectiles hit the topmost slab, the next blasting through the one immediately below it. Most such warheads are designed to take out two lawyers, a few might be able to take three. But none can blast its way through three or four floors. If the structures are hit by conventional explosions beforehand and turn into loose layers of rubble, the task becomes even more challenging. Rubble favours defenders rather than attackers.
Special dedicated "bunker buster bombs" exist, designed to take the biggest and hardest underground bunkers, but they are certainly not going to be a game changer in this conflict. Such deep penetrators were designed to defeat the enormous concrete ceilings of former Iraqi leader Saddam Hussein's bunkers. But they would be a very impractical and prohibitively expensive solution because, despite Israeli superior technology, it still would have a very slim chance of accurately detecting the deep Hamas tunnels. Wasting thousands of bombs worth millions each simply could not be sustained.
The United States ended up not using these super-penetrators for the invasion in Iraq. Israel bought an undisclosed number of GBU-28 2,100kg (4,500-pound) specialised deep-digging bombs, but I would be surprised if these could make a strategic difference as the conditions for their use are far from ideal. Iraq probably had several dozens of main command bunkers whose locations were generally known while Hamas has more smaller facilities, most well-hidden under buildings.
We have to see how the latest escalation will develop, whether it will lead to an invasion along multiple lines using at least 30,000 ground troops or if it will quiet down.
To sum up the last four days of attacks: Nothing that Israel has shown so far could grow into a major strategic initiative to win the war on the ground. Its next steps will show how well it learns from its — and Hamas's — performance.