GAZPROM Declares "Force Majeure": News from the Front – 18 July, 2022
GAZPROM Declares "Force Majeure": News from the Front – 18 July, 2022
Medvedev judgement day. Elensky paranoia. EU, be patient as you freeze. Ghost of Kiev toys. Update 1
Embassy: "All Americans Should LEAVE Ukraine Immediately" — U.S. Nuclear Bombs Being Moved! – GAZPROM Declares "Force Majeure"
The United States Embassy in Kiev, Ukraine, has increased its Alert status and is now publicly advising all Americans to get out of Ukraine IMMEDIATELY.  All Embassy functions will be transferred to Lviv, in western Ukraine.
This seems to coincide with a report issued yesterday which outlined that an ULTIMATUM had been given to Kiev by Moscow.
 UPDATE 12:51 PM EDT — Concerning the "ULTIMATUM" reported above,
Russia's Ministry of Foreign Affairs has confirmed
Kiev is REFUSING to negotiate at all with Russia.  
 This also seems to coincide with intelligence reports saying Ukraine plans to use new HIMARS MLRS to attack Crimea.   
Crimea is Russian territory now.   Russia has previously stated that if U.S. long range weapons are used against "Russian territory" then Russia will declare the US an active combatant, and will take military action.
The US says that Crimea is "Ukrainian territory" and so the Ukrainians can use HIMARS against it.
Over the weekend, former President of Russia, Dmitry Medvedev publicly spoke about possible Ukrainian attacks on Crimea, and said: "If something like this happens, Judgment Day will happen to all of them"
Overnight, the Russian Navy began moving several ships OUT of Crimea to their port at Novorossiysk.  The Russian Black Sea fleet pulled anchor and left Sevastopol, for the Kuban.  Clearly they suspect a missile attack on the port facilities. If this should happen, many observers think there will be war.
"FORCE MAJEURE"
This morning, Russian energy giant Gazprom declared force majeure on gas supplies to at least one major EU customer RETROACTOVE TO JUNE.
According to a document from inside the company, Gazprom tells a large client it cannot fulfil its supply obligations due to "extraordinary" circumstances outside its control.
REUTERS News Agency now reports that its sources are saying that the letter was referring to supplies to Germany via the Nord Stream 1 pipeline.  The letter makes clear that GAZPROM cannot supply __any__ natural gas via Nord Stream One pipeline, until further notice. 
The route is currently undergoing planned annual maintenance which is due to be completed on Thursday, however many in Germany fear that the flow will not be resumed.  Given today's declaration of a "force majeure" it now appears certain that natural gas flows WILL NOT RESUME.
Without the flow of Russian natural gas, Germany and other European nations had to begin drawing-down on stored natural gas reserves in their countries as of July 11.  Those reserves are finite, and will run out.   Various countries in Europe have various amounts of gas in storage, but none of them have more than a few months worth.
As natural gas runs out, there won't be gas to power the steam boilers in gas-fired electric generating plants.  No boilers means no steam.  IF there is no steam, that means nothing to turn the turbines.  No turbines means no electricity.
       UPDATE 2:05 PM EDT — With regard to GAZPROM's declaring a "force Majeure" this is now explicitly CONFIRMED.  The company has thus decided to void itself from all contractual obligations. Gas will stop flowing to Germany through Nord Stream 1 indefinitely.   
So right now, July 18, 2022, many differing issues are all coming to a head at about the same time.  If Ukraine attacks Crimea using U.S.-supplied HIMARS, then Russia may declare the US an active combatant and use military force against the US.
If Russia refuses to restore natural gas flows to Europe, then Europe will run out of natural gas, and its economy will utterly stop.
If Europe's economy stops, then two weeks later, the US economy stops.
These are things that cause nations to go to actual war.
In that regard, Russia announced today it will be holding NUCLEAR ATTACK CIVILIAN EVACUATION DRILLS so its citizens can become accustomed to where they have to be in such a situation.  That story is HERE.
US Nuclear Bombs Under Deployment Order
I can now report the following from intel sources:   B61-12 mini-nuclear bombs "Made in America" for a "nuclear first strike" are coming soon in Italy, Belgium, Germany and the Netherlands.
Europe is being turned by the US into the front line of a nuclear confrontation with Russia, which is even more dangerous than that of the Cold War.
"The production of the B61-12 atomic bomb has begun," the Sandia National Laboratories said in a statement.   
My intel sources tell me those bobs will be deployed almost immediately to Europe.
COVERT INTEL – UKRAINE – HIMARS – CRIMEA- ULTIMATUM ISSUED! ! !
Covert intelligence sources inside Ukraine are reporting this afternoon that Vadym Skibitsky of Ukraine's Main Intelligence Directorate, informed his fellow Intel people that Ukraine:
1) Is awaiting new, long-range ammunition for HIMARS Multiple Launch Rocket Systems – and said such ammo is already coming . . . .
2) Upon receipt of the long range ammo, U.S. donated HIMARS MLRS will be able to strike targets 300km away
3) Ukraine will use those HIMARS to attack Crimea.
Russia has previously stated that if U.S. long range weapons are used against "Russian territory" then Russia will declare the US an active combatant, and will take military action.
The US says that Crimea is "Ukrainian territory" and so the Ukrainians can use HIMARS against it.
Former President of Russia, Dmitry Mevedev has now publicly spoken regarding possible Ukrainian attacks on Crimea, and said: "If something like this happens, Judgment Day will happen to all of them"
(HT Remark: There it is, folks.   The match that lights the explosion of World War 3.   Now spoken out loud by the second most powerful elected official in Russia, Dmitry Medvedev.)
Medvedev went on to say "NATO's refusal to acknowledge Crimea being Russian  territory is a systemic threat to the Russian Federation, and a conflict ***up to a direct attack*** is possible.
He finished his public remarks by saying "This is the last time in history Ukraine will be an annoyance to Russia."
Russian Senator Andrey Klishas: "Threats by the Ukrainian junta to attack Crimea or the Crimean bridge only confirm that denazification & demilitarization must be carried out in all of Ukraine, otherwise there will always be a threat to our territory, citizens & infrastructure."
More:
Moscow has put forth an ULTIMATUM to Kiev, and is waiting for negotiations on its own terms.
Asked about this "Ultimatum" the former head of Ukraine's Foreign Intelligence, General Malomuzh, indicated Russia will negotiate only to cause Ukraine to fulfill all the conditions of the Ultimatum.   
He also says he believes that "If Russia's conditions are not accepted, the advance of the Russian Army on Ukrainian territory will increase "by orders of magnitude."
Already days before the July 22 European "Doomsday" when the scheduled Russian 10-day maintenance of the crucial Nord Stream pipeline to Germany is slated to end – but which was thrown into deep doubt given Gazprom recently said it can no longer guarantee its "good functioning" due to crucial turbines being previously held up in Canada related to sanctions – the Russian energy giant has declared Force Majeure to one major European customer. 
Simply put, Gazprom declared extraordinary and extreme circumstances to void itself from all contractual obligations to this customer, thus the gas will stop flowing indefinitely, as Reuters reports in a breaking development Monday, "Russian gas export monopoly Gazprom has declared force majeure on gas supplies to Europe to at least one major customer starting June 14, according to the letter seen by Reuters." The letter is dated July 14. "It said the force majeure measure, a clause invoked when a business is hit by something beyond its control, was effective from deliveries starting from June 14," writes Reuters.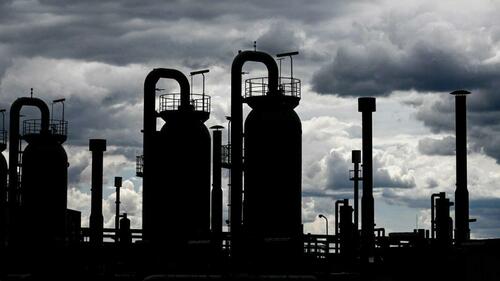 The letter invoked "extraordinary" circumstances outside the company's control, Reuters continues, citing a source saying the customer in question is Germany via the Nord Stream 1 pipeline.
And Bloomberg is also confirming:
GAZPROM SENT FORCE MAJEURE NOTICE TO AT LEAST 3 BUYERS

GAZPROM FORCE MAJEURE NOTICE APPLIES TO FLOWS FROM JUNE 14

UNIPER SAYS IT HAS RECEIVED LETTER FROM GAZPROM EXPORT IN WHICH COMPANY RETROACTIVELY CLAIMS FORCE MAJEURE FOR PAST AND CURRENT SHORTFALLS IN GAS DELIVERIES

UNIPER: WE CONSIDER THIS TO BE UNJUSTIFIED AND HAVE FORMALLY REJECTED FORCE MAJEURE CLAIM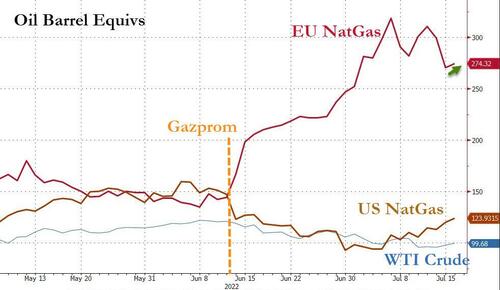 As we've been detailing, German authorities have of late taken unprecedented steps in anticipation of an enduring Russian gas halt, essentially dimming the lights across the country – which has included everything from limiting hot water, to shutting down swimming pools, to quite literally dimming city street lights as it entered "alarm" stage over dwindling supply.
And as demonstrated in the Monday morning oil price spike (below: WTI crude futures for September), the bid for oil will remain strong the longer the force majeure holds, given utility companies and the manufacturing sector are likely to seek transition to oil from gas…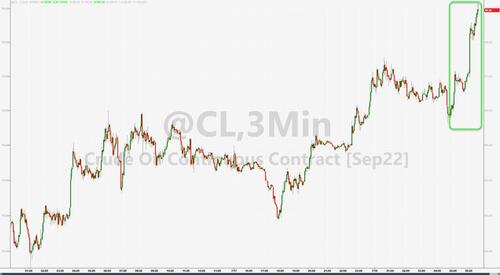 It seems this letter declaring its legal release from supply obligations going back to June 14 is in preparation for definitive action on July 22, namely that the pipeline's operations are likely to remain suspended past the scheduled reboot/supply back online designated date.
EU – Whilst you are distracted by hysterical news reports about climate, the real heat (or lack of) is in Europe.

Russian Gazprom has declared a Force Majeure notice on gas deliveries.

Meaning … there won't be any!

This is huge news.https://t.co/gMilU5VKSr

— Bernie's Tweets (@BernieSpofforth) July 18, 2022
In an analysis from earlier this month (available to pro subscribers), UBS economists laid out a detailed vision of what they see happening if Russia halts gas deliveries to Europe: It would reduce corporate earnings by more than 15%. The market selloff would exceed 20% in the Stoxx 600 and the euro would drop to 90 cents. The rush for safe assets would drive benchmark German bund yields to 0%, they wrote.
"We stress that these projections should be seen as rough approximations and by no means as a worse-case scenario," wrote Arend Kapteyn, chief economist at UBS.

"We could easily conceive economic disruptions that lead to more negative growth outcomes."
To be sure, markets are already pricing in some of the damage beginning with the euro which starting this month traded at a fresh two-decade low and touched parity with the dollar, something it hasn't done since 2002.
IEA WARNS EUROPE MUST CUT GAS CONSUMPTION IMMEDIATELY – FT

— First Squawk (@FirstSquawk) July 18, 2022
Meanwhile the Paris-based International Energy Agency (IEA) is still even amid this "red alert crisis" for Europe bizarrely focused on responding to the emergency in a way "consistent with the EU's climate ambitions"… this as Germany and other European populations are about to clearly enter an extremely difficult winter, to put it mildly. 
From a fresh IEA report: After many months of warning signs, Russia's latest moves to squeeze natural gas flows are a red alert for the EU – a snippet of which is below…
* * *
The world is experiencing the first truly global energy crisis in history. And as the International Energy Agency has been warning for many months, the situation is especially perilous in Europe, which is at the epicentre of the energy market turmoil. I'm particularly concerned about the months ahead.
The gas crisis in Europe has been building for a while, and Russia's role in it has been clear from the beginning. In September 2021 – five months before Russia's invasion of Ukraine – the IEA pointed out that Russia was preventing a significant amount of gas from reaching Europe. We raised the alarm further in January, highlighting how Russia's large and unjustified reductions in supplies to Europe were creating "artificial tightness in markets" and driving up prices at exactly the same time as tensions were rising over Ukraine.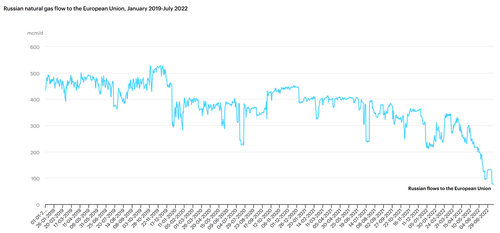 After Russia invaded Ukraine on 24 February, nobody in Europe or elsewhere could be under any illusions about the risks around Russian energy supplies. Just a week after the invasion started, the IEA released our 10-Point Plan to Reduce the European Union's Reliance on Russian Natural Gas, setting out the practical actions Europe could take. It stressed the need to maximise gas supplies from other sources; accelerate the deployment of solar and wind; make the most of existing low emissions energy sources, such as renewables and nuclear; ramp up energy efficiency measures in homes and businesses; and take steps to save energy by turning down the thermostat. 
Read more of the full IEA report here
Developing…
A conflict between V. Zelensky and the military is ongoing in Ukraine, confirming the information that existed for days about a "very bad climate" due to the disintegration of the Ukrainian Army.
Zelensky seems to fear a coup from within because of this and has fired his "right-hand man and childhood friend", the head of the SBU secret service.
At the same time, the Russians are pounding the whole country by intensifying the missile attacks. Artillery, missile forces, Air Force, Navy and strategic bombers are striking targets across Ukrainian territory.
Earlier, there were reports of an intensification of hostilities in Donbass, in particular in the Soledar, Seversk and Artemovsk region, as well as in Kharkiv, where Ukrainian positions were heavily attacked in the Barvenkovo ​​– Slavyansk direction.
V.Zelensky: SBU Chief Caratomized
The president of Ukraine, V. Zelensky, dismissed the Prosecutor General and the head of the SBU. In particular, Zelensky removed Irina Venediktova and the head of the SBU Ivan Bakanov from their duties. Alexey Symonenko was appointed as the new Prosecutor General.
In fact, Bakanov was suspended under a very harsh law, Article 47 of the Criminal Code. Today, in a speech to the Ukrainian people, Zelensky stated why he expelled them.
He said about it:
"651 criminal proceedings for high treason and collaborative activities of prosecutors, pre-investigation bodies and other law enforcement agencies have been recorded.
In 198 criminal proceedings, individuals have been named as suspects.
In particular, more than 60 employees of law enforcement agencies and the SBU remained in the occupied territories and are working against our state.
Such a series of crimes against the foundations of the national security of the state and the connections recorded between the employees of the law enforcement agencies of Ukraine and the special services of Russia pose very serious questions to the relevant leaders.
Each of these questions will get an answer, " Zelensky said.
Ivan Bakanov, until now the head of Ukraine's internal security service, is a childhood friend of Zelensky.
Prosecutor General Irina Venediktova had taken over the effort to prosecute Russian war crimes in Ukraine.
Russia Prepares for Decisive Donbass Battle, Zelensky Purges, EU Defiant Ahead of Energy Crisis