Germany's flip-flops over energy
Germany's flip-flops over energy
On Tuesday, the European Commission published a new ambitious energy strategy to "make Europe independent from Russian fossil fuels well before 2030," according to NYTimes. 
"We must become independent from Russian oil, coal, and gas," the commission's president, Ursula von der Leyen, said in a news release. 
"We simply cannot rely on a supplier who explicitly threatens us," he said. 
The commission said it aims to reduce as much as two-thirds of its natural gas needs from Russia within a year and seeks to halt all imports of LNG and natgas by the end of the decade. It expects to increase gas imports from other countries this year. If implemented, this could be a massive boon for LNG supplies in Qatar and around the Gulf of Mexico. 
The Russian invasion of Ukraine has been a turning point for Europe to become energy independent. Russia supplies the 27-country bloc about a third of its gas, 27% of its oil imports, and 46% of its coal imports. Add it all up, and it's tens of billions of dollars a year for President Vladimir Putin. 
"It is time we tackle our vulnerabilities and rapidly become more independent in our energy choices," EU climate policy chief Frans Timmermans said. "Putin's war in Ukraine demonstrates the urgency of accelerating our clean energy transition."
The UK also appears to be on board with phasing out Russian oil, a person familiar with the matter told Bloomberg. It's expected to be in sync with the US. 
Europe's push for energy independence could be extremely painful for businesses and households who are already dealing with record-high natgas prices, soaring power, and rising petrol prices, along with rapid food inflation. EU lawmakers are already considering joint bond sales to lessen the impact from Russia's invasion of Ukraine.
We noted Monday, as there was buzz the commission would propose steps such as tapping new gas supplies on Tuesday, there is a problem: as the following JPMorgan chart shows, European oil and gas production has been steadily declining in recent years as a result of the continent's infatuation with ESG, even as imports from Russia have been steadily growing.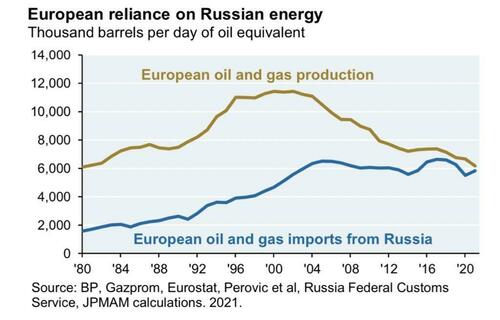 Goldman noted today that Europe should "shift its short-term focus from decarbonization to energy security, likely relying for now on more coal, more nuclear, and gas generation, and overall allowing for more carbon emissions." And by doing so, this will need to be a world effort.