'Give us 10 minutes': How Israel bombed a Gaza media tower
'Give us 10 minutes': How Israel bombed a Gaza media tower
An Israeli air raid flattened a building housing residential apartments and the offices of news organisations, including Al Jazeera and AP, in Gaza.
Youmna al-Sayed had less than an hour to get to safety.
But with just one elevator working in al-Jalaa tower, an 11-storey building in Gaza City housing some 60 residential apartments and a number of offices, including those of Al Jazeera Media Network and The Associated Press, al-Sayed made a dash for the stairs.
"We left the elevator for the elderly and for the children to evacuate," the Palestinian freelance journalist said. "And we were all running down the stairs and whoever could help children took them down," she added. "I myself helped two children of the residents there and I took them downstairs – everyone was just running quickly."
Moments earlier, the Israeli army, which has been bombarding Gaza for six straight days, had given a telephone warning that residents had just an hour to evacuate the building before its fighter jets attacked it.
Al Jazeera's Safwat al-Kahlout also had to move quickly. He and his colleagues "started to collect as much as they could, from the personal and equipment of the office – especially the cameras", al-Kahlout said.
But more time was needed.
"There will be no 10 minutes," the officer replied. "No one is allowed to enter the building, we already gave you an hour to evacuate."
When the request was rejected, Mahdi said: "You have destroyed our life's work, memories, life. I will hang up, do what you want. There is a God."
The Israeli army claimed there were "military interests of the Hamas intelligence" in the building, a standard line used after bombing buildings in Gaza, and it accused the group running the territory of using journalists as human shields. However, it provided no evidence to back up its claims.
"I have been working in this office for more than 10 years and I have never seen anything [suspicious]," al-Kahlout said.
"I even asked my colleagues if they've seen anything suspicious and they all confirmed to me that they have never seen any military aspects or the fighters even coming in and out," he added.
"In our building, we have lots of families that we know for more than 10 years, we meet each other every day on our way in and out to the office."
Gary Pruitt, president and CEO of AP, also told Al Jazeera: "I can tell you that we've been in that building for about 15 years for our bureau. We certainly had no sense that Hamas was there."
AP journalist Fares Akram said he had been sleeping in the office after a long night of reporting when his colleagues began shouting, "Evacuation! Evacuation!" Akram grabbed what he could – a laptop, some electronics, and a few things from his desk – before running down the stairs and jumping into his car, he wrote in a written piece after the attack.
When he was far enough away, Akram stopped the car and got out to look back at the tower. He said he witnessed drone strikes hit the building, followed by three more powerful strikes from F-16s.
"At first, it looked like layers of something collapsing. I thought of a bowl of potato chips, and what might happen if you slammed a fist into them. Then the smoke and dust enveloped everything. The sky rumbled. And the building that was home to some people, an office to others and both to me disappeared in a shroud of dust," Akram wrote.
Al-Sayed, who has been covering Israel's bombardment for Al Jazeera and has worked for AP, said she could not understand what threat a building housing families and offices for lawyers, doctors and media workers could pose.
"Where is the alarm from this? Where are the Hamas or any military members that could be in this building?" the Gaza resident asked.
"The people here, the residents, all know each other. The first five floors are for offices that are [closed] during this time of escalation. So basically what is [still here] are the two media offices of Al Jazeera and AP and the residential apartments."
Still, at 3:12pm (12:12 GMT), the first Israeli strike came. Five minutes later, al-Jalaa tower crashed to the ground after being hit by three missiles that sent a dark cloud of dust and debris into the air. There have been no immediate reports of casualties.
"Years of memories, years of work in this building, suddenly, everything is rubble," said al-Kahlout, about the tower from whose roof he often broadcast from. "Just vanished."
Islam az-Zaeem, a lawyer who worked in the building, was at home when his cousin – the owner of the Johara building that was flattened overnight on May 13 – knocked on his door and told him al-Jalaa was about to be destroyed.
"I ran to the building and saw the residents and other employees gathered outside," az-Zaeem told Al Jazeera.
"I went inside and took the stairs since the electricity was out and the elevators weren't working. I was hysterical, and fell down several times in the dark, shouting and crying."
Az-Zaeem, who said nine legal associates and four interns worked on his floor, left the building five minutes before it was levelled.
"Even after the building fell, I kept shouting that I'd forgotten to lock the door to my office," he said. "Imagine that."
The building, built in the mid-1990s, was one of Gaza City's oldest high-rises.
Fares al-Ghoul, the executive director for the Mayadeen Media Group, said his company was previously based in the Shorouq building, which was destroyed by Israeli missiles on May 13.
"The upper floors of Shorouq were targeted in the 2014 war," he said. "In 2019, we moved the company to al-Jalaa building because we thought it would be safer, since it accommodated the offices of international media agencies."
"Now both have been destroyed," he said.
The bombing of al-Jalaa, widely condemned as an attempt to "silence" journalists covering Israel's offensive, came just hours after an Israeli air raid at Shati refugee camp killed 10 members of the same family – eight children, two women – celebrating Eid al-Fitr, the religious festival marking the end of the holy month of Ramadan.
At least 145 Palestinians, including 39 children, have been killed in the Gaza Strip since Israeli air raids on the coastal Palestinian territory began on Monday. About 950 others have been wounded.
The violence comes after Israel's plan to forcibly displace Palestinian families from occupied East Jerusalem and its attacks on Palestinian worshippers at the Al-Aqsa Mosque compound spurred widespread protests in Jerusalem, the occupied West Bank and inside Israel. Hamas said it began firing rockets towards Israel in response to that Israeli crackdown. At least nine people have also been killed in Israel.
As evening fell on Gaza, families and journalists started returning to al-Jalaa in the hopes of salvaging some of their belongings buried underneath the rubble.
"One person came back to look for some paintings done by his daughter because these paintings carried a lot of memories," said al-Kahlout, who continued reporting from the streets of the bombarded enclave. "We moved outside and are now applying our emergency plans for reporting. We are trying to be safe. No place is safe in Gaza but we are trying to do our best."
Al-Sayed, meanwhile, headed to al-Shifa Hospital, believed to be a safe space to broadcast from. "It's devastating," she said of the al-Jalaa building's flattening.
"I worked in that place and my heart was broken to see it being brought to the ground, it was tragic. Every place whether we work or we live, we have incredible memories," she added.
"What about those families who have lost their homes, who have lost everything they saved to get these apartments? In Gaza, it's not an easy thing to be able to get an apartment, and now in just minutes, [they] lose everything.
"Words can't describe the amount of devastation, can't describe the tragedy that people are going through."
Iron Dome intercepts massive missile salvos from Gaza as sirens blare in Tel Aviv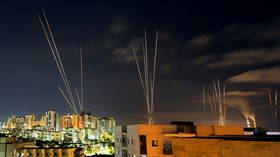 Rocket sirens and heavy blasts sounded over Tel Aviv, as well as central and southern Israel, shortly after midnight, as Hamas militants launched several salvos from Gaza – with most missiles intercepted by the Iron Dome.
At least three rounds of rockets were fired from Gaza in the direction of Tel Aviv and other parts of central Israel on Saturday night, according to RT's Paula Slier.
Multiple videos shared on social media showed the night skies light up with both rockets coming out of Gaza and the Iron Dome missiles launched to intercept them.
There were no immediate reports of casualties from rocket impacts, but at least 10 people received injuries while rushing for shelters, according to Israel's national EMS.
Hamas has justified its renewed strikes against Israel as a retaliation for the "massacre of women and children at the Shati refugee camp" the night before.
READ MORE: At least SIX children & 2 women killed in Israeli airstrike on crowded Gaza refugee camp
The midnight strikes came shortly after Prime Minister Benjamin Netanyahu delivered a speech vowing that Israel will continue to strike Gaza "as long as necessary."
"The party that bears the guilt for this confrontation is not us, it's those attacking us," he added. "Unlike Hamas, which deliberately intends to harm civilians while hiding behind civilians, we are doing everything… to avoid or limit as much as possible harming civilians and to directly strike terrorists instead."
ALSO ON RT.COM'Will not be silenced': AP, Al Jazeera condemn Israel for bombing Gaza media offices & nearly killing their journalistsEarlier on Saturday, IDF destroyed a building where offices of international media outlets, including Associated Press and Al Jazeera, were located – claiming it to be a legitimate military target because it allegedly housed "Hamas military intelligence."
The nearly week-long violent standoff between Israel and Palestinian militants was initially prompted by an Israeli court decision to evict several Palestinian families from an East Jerusalem neighborhood, which led to massive protests and brutal police crackdown on the demonstrators. In retaliation, Hamas militant group targeted Israeli cities with rockets on Monday, prompting Israel to launch its massive military operation against 'terrorist infrastructure' in Gaza.
READ MORE: Civilian killed by shrapnel after rockets from Gaza hit Tel Aviv suburbs (VIDEO)
The hostilities so far claimed at least 145 Palestinian lives, including 41 children, while Israel reported 10 dead, including two children, with hundreds injured on both sides.