Gonzalo Lira has been taken
Gonzalo Lira has been taken
Gonzalo Lira arrested by Ukronazis
Prolific Reporter/Journalist/Commentator Gonzalo Lira, whose videos from Ukraine about the ongoing war are viewed by millions, HAS BEEN ARRESTED by Ukrainian NAZI Secret Police.
SECRET POLICE VIDEO
The video above was recorded by Ukrainian Police.   IT was released by them; as a warning to other Journalists or even opinion commentators, to keep your mouth shut.
THIS is what "Ukraine" is.
THIS is what "Ukraine" does.
Anyone supporting Ukraine is a NAZI SYMPATHIZER or NAZI COLLABORATOR.
Start calling them those things.  Publicly.
UPDATE 2:18 PM EDT —
The Ukrainian Secret Police have issued a Statement which was auto-translated below:
https://t.me/fr0m_Russia_with_L0ve/21281
Security services have accused Gonzalo Lira of "insulting" Ukraine's government and military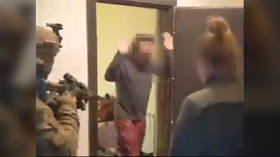 The Security Service of Ukraine (SBU) on Friday confirmed the arrest of Gonzalo Lira, a Chilean national living in Kharkov, suspecting him of pro-Russian sympathies. Lira had been previously detained in April 2022, but released after a week and ordered not to leave the city.
According to a SBU statement quoted by Ukrainian media, Lira "publicly justified the armed aggression" of Russia, denied or glorified alleged Russian war crimes, and "engaged in discrediting the top military and political leadership and the Defense Forces of our state."
The SBU filmed Lira's arrest by heavily armed agents, blurring out the faces of everyone involved. 
He is suspected of "producing and distributing materials justifying the armed aggression of the Russian Federation against Ukraine, committed repeatedly." A court ordered him jailed pending the outcome of the investigation. 
The SBU has reportedly seized Lira's computer and multiple cell phones as evidence.
Lira, 55, is a writer and filmmaker who used to work in the US. Several years ago, he moved to Kharkov, where he got married and began blogging as 'Coach Red Pill'. 
This is the second time he has been detained by the SBU. He was first arrested in April 2022, but was released after a week. No charges were pressed at the time, and Lira would not discuss the details of what happened, saying only that he was not allowed to leave Kharkov.
He blamed the US outlet Daily Beast for directing Kiev's attention to his work, accusing the outlet of trying to get him killed. The tabloid had reported on Lira's activities in March 2022, calling him "sleazy" and a "pro-Putin shill," and noting its reporters had reached out to Ukrainian authorities.
While Lira kept a low profile for several weeks after his release, he eventually returned to social media and continued voicing criticism of Kiev's policies. Since then, Ukraine has enacted laws criminalizing dissent and allowing President Vladimir Zelensky to ban opposition political parties, nationalize the media and even persecute the Ukrainian Orthodox Church for being in canonical communion with Moscow.
Just over a year ago
Gonzalo Lira said he had been taken by the Ukrainian Security Service last Friday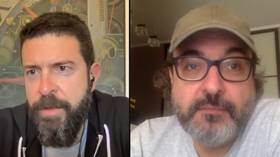 Chilean-American blogger Gonzalo Lira, who went missing in the Ukrainian city of Kharkov a week ago, has appeared online on Friday, revealing that he had been held by the Ukrainian Security Service (SBU).
"I'm in Kharkov. I'm OK. I just want to say that I'm back online." Lira said in short video chat with journalist Alex Christoforou on The Duran's YouTube channel.
 "I was picked up by the SBU on Friday, April 15," the blogger revealed.
Speaking about his condition, the 54-year-old said that he was "fine physically," but "a little rattled" and "a little bit discombobulated." Lira made it clear that he was forbidden from revealing any details about what had happened to him in detention.
"I'm still in Kharkov and for the time being I cannot leave. The authorities here told me that I cannot leave the city," he said, adding that his computer and phone were taken away and that he didn't have access to his accounts on social media.
"There seems to have been like a lot of interest in my case, which is wonderful. Thank you. But there are a lot of other people, who are frankly more deserving of the attention," the blogger said. Lira was referring to his tweet from March 26, in which he listed the names of Ukrainian opposition figures, who are thought to have died or disappeared since the outbreak of the conflict, adding then that "if you haven't heard from me in 12 hours or more, put my name on this list."
Since the start of the Russian military operation in Ukraine, Lira had been using YouTube, Twitter and Telegram to criticize President Volodymyr Zelensky and Kiev's conduct on the battlefield, while also speaking about far-right tendencies among the Ukrainian military and debunking what he saw as false reports about events on the ground. After the blogger's disappearance, some unconfirmed claims emerged that he could have been kidnapped by nationalists linked to the notorious Azov battalion, and even executed.
Lira who penned the novel 'Acrobat,' and is a filmmaker with Hollywood experience, had earlier claimed that the SBU had made at least two other attempts to detain him, but he was lucky to avoid arrest.
He also accused the Daily Beast of attracting Kiev's attention to his work and revealing his location to the country's law enforcers. The US outlet dedicated a large article to the blogger on March 21, slamming him as "a Pro-Putin shill in Ukraine." In the piece, Daily Beast journalists said they had contacted Ukrainian authorities to learn about the man's whereabouts and to clarify if he was still in Kharkov in the east of the country.
Lira's week-long disappearance from social media was largely overlooked by major Western media outlets.