Headlines – 24 September, 2022
Headlines – 24 September, 2022
Ukrainian Nazi soldiers are decapitating, cooking, and eating, human heads of Russian soldiers they kill on the battlefields of Ukraine.  THIS is the face of what America, Europe and NATO are supporting.
The Public Referendums being conducted in (former) areas of Ukraine are proceeding, but Ukrainian government Saboteurs have been caught with BUNDLES of fake ballots all voting "NO" on becoming part of Russia.
Russian Army Troops caught the perpetrators, detected the phony Ballots, arrested the perps and seized the phony Ballots.
Apparently, Ukraine, like its Western Benefactors, thought they could steal the Referendum with vote fraud, the same way in the USA, the Presidency was stolen by Democrat Joe Biden and his supporters, through Election fraud.  Except this time, they got caught, red-handed, as the vote was in progress.  
The video below shows the perps, under arrest, and the bundles of FAKE Ballots:
The Second day of voting, (There will be two more days) has just ended. So far, the number of registered voters who have cast ballots is as follows:
Kherson 31.79%
Zaporozhye – 35.54%
Donetsk Peoples Republic – 55.5%
Lugansk Peoples Republic – 45.86%
Some voters have been INTIMIDATED by the government of Ukraine, which passes a law saying anyone who votes in a Referendum in an area under Russian military control, can be IMPRISONED for up to five years.
This wanton effort to intimidate voters is criminal in the United States, yet is apparently considered OK by the United States, which keeps sending aid to that same Ukraine government.
The fact that US Aid is being used to intimidate voters makes the US an "accomplice" or at least makes the US guilty of Criminal Facilitation of Voter Intimidation.  It isn't working.
According to Exit Polling done by RIPSI, in Zaporozhye region, 93% of those who voted on the first day of the referendum voted for reunification with the Russian Federation.
My increasing problem with the Duran is they are still treating this as a war in Ukraine and not World War 111.
Other than that their analysis is top-notch.
Russia Prepares Knock Out, Ukraine Stalls; Rumours, Saudi Deal Giving Donbass, Kherson to Russia
Russian Federation on Ukraine | Press Conference | United Nations (24 Sept 2022)
BY REFUSING TO NEGOTIATE, THE US AND NATO LEFT MOSCOW NO CHOICE BUT TO LAUNCH ITS MILITARY OPERATION IN UKRAINE, FM SERGEY LAVROV SAID.
Years of NATO encroachment on Russia and the West's refusal to negotiate over Ukraine left Russia "no choice" but to launch its special military operation, Foreign Minister Sergey Lavrov told the UN on Saturday. However, Lavrov added that Russia is now shaping "the future of the world order."
"The US and its allies want to stop the march of history," Lavrov declared from the podium in New York, describing how in the aftermath of the Cold War, Washington appointed itself "almost an envoy of God on earth," launching foreign conflicts at will and expanding the NATO alliance deeper into Eastern Europe.
The shifting of NATO's borders to the east and its official declaration of interest in the Indo-Pacific region mean that the US-led bloc "now has the goal of subjugating the Asian area," Lavrov stated. However, it was the West's refusal to negotiate over Ukraine that led Russia to fight back, he continued.
"The West watched in silence as the coup plotters started bombing the east of Ukraine," he said, referring to Kiev's attacks on the Donetsk and Lugansk People's Republics even after the Minsk agreements had been signed in 2014 and 2015.
Were we supposed to put up with Kiev's attempt to ban the Russian language, education, Russian media and culture? The demands of chasing Russians out of Crimea? The declaration of war against the Donbass, the population of which was declared not human beings, but 'creatures' by both the former and the current Kiev's authorities?
Once the US and NATO rejected a Russian-proposed security deal for Ukraine, Moscow had "no choice but to recognize the independence of the Donetsk and Lugansk People's Republics and start a special military operation," Lavrov said, adding that "any sovereign self-respecting state would do the same, a state that understands its responsibility to its own people."
Seven months into that operation, and with Russia recently announcing the mobilization of some 300,000 additional troops, Lavrov told the assembly that "the future of the world order is being decided," with the US-led "unipolar" model "receding into the past."
Washington will respond in kind if Moscow uses WMDs in Ukraine, Biden's national security adviser promised
The US will retaliate forcefully should Russia use nuclear weapons in Ukraine, President Joe Biden's national security adviser, Jake Sullivan, told CBS on Sunday. He also declared that the referendums in the Donbass republics and Kherson and Zaporozhye Regions of Ukraine had not altered Washington's support for Kiev.
"Any use of nuclear weapons will be met with catastrophic consequences for Russia," Sullivan said on the network's Face the Nation program, explaining that the Biden administration had told Moscow both privately at "very high levels" and publicly that "the United States and our allies will respond decisively if Russia uses nuclear weapons."
Sullivan also revealed that Washington was keeping "a close eye" on the Zaporozhye nuclear plant. In order to lessen the chance of a catastrophic incident, the facility has been placed in cold shutdown in response to constant shelling that both sides blame on each other. 
However, the plant is still operating. The International Atomic Energy Agency, which visited the site earlier this month, identified an "urgent need for interim measures to prevent a nuclear accident," specifically the "immediate establishment of a nuclear safety and security protection zone." The IAEA, however, failed to mention the culprit behind the attacks, despite Russia providing evidence that pointed to the Ukrainian side.
The US and its allies have condemned the referendums, which are still underway, as "illegitimate," vowing not to recognize the results because the votes "in no way respect democratic norms," despite international observers from several countries volunteering to come to the regions to verify the vote.  
The Donetsk and Lugansk People's Republics declared their independence in 2014 and were recognized as independent states by Russia in February 2022, eight years after initially voting for self-rule in landslide referendums following the US-backed coup in Kiev. Most of Kherson and Zaporozhye Regions have been under Russian control since March.
Authored by by Kyle Anzalone via AntiWar.com,
The Joe Biden administration has sent several warnings to Russia via backchannels regarding the possible use of nuclear weapons in Ukraine, the Washington Post reports. The White House's messages to Russia have been intentionally nondescript to foster uncertainty in Moscow about what the US would do if Russia deployed its ultimate weapon.
The White House has sent the message several times since the war in Ukraine started, according to the US officials who spoke with the Post. The White House's communications with the Kremlin have been intentionally vague.
"The United States for several months has been sending private communications to Moscow warning Russia's leadership of the grave consequences that would follow the use of a nuclear weapon, according to U.S. officials, who said the messages underscore what President Biden and his aides have articulated publicly," The Post wrote.
How can Truss save UK from collapse? Step 1, talk to Russia and roll back sanctions
Danish banks hand out blankets
Danish banks are handing out blankets to help staff cope with lower office temperatures introduced as part of a push to cut energy usage.
https://t.me/seemorerocks/36983
By Tsvetana Paraskova of OilPrice.com
Banking and financial firms in London are closely studying and updating contingency electricity supply plans to protect themselves and their customers in case power outages hit the UK this winter.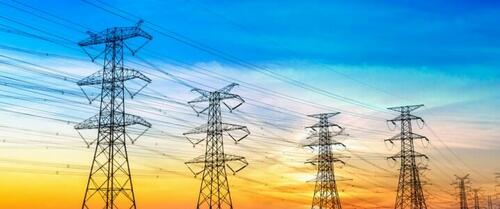 Some banks are discussing the idea of again encouraging the work-from-home policies from previous Covid lockdowns or using offsite locations, representatives of the trade association UK Finance, coordinating the talks, told Bloomberg.
The UK and the rest of Europe are preparing for potential blackouts this winter, especially if the weather is colder than usual and gas and power shortages strain the grids. Governments in Europe are asking people to conserve energy to avoid rolling outages.  
In the City of London, banks are paying closer attention to plans for backup power supply in case of blackouts.
"There is no sense of panic, just everyone is making sure that their ducks are in a row," Andrew Rogan, director of operational resilience at UK Finance, told Bloomberg in an interview. 
From British press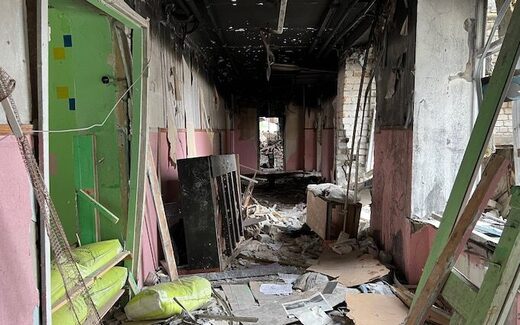 Glimpse inside the city gives a sense of how complete and rapid the enemy's defeat was with evidence of Russia's panicked retreat everywhere
The Russian army headquarters in Izyum looks like it was hit by a hurricane.
Shattered walls, furniture in splinters, entire corridors scattered with rubble.
Underfoot, a June edition of Red Star, the Russian army newspaper, bearing the headline: "With precise focus on guaranteed results."
The irony could not be more bitter.
This command centre was destroyed by satellite-guided rockets from American-built Himars missile launchers – the precision weapons that underwrote a lightning Ukrainian offensive that liberated this city in just a few days late last week.
The first glimpse inside Izyum gives a sense of how complete and rapid the Russian defeat was.
But this is a city still in shock.
Not a single city block has escaped shell damage of some sort. About half of the windows in the town seem to have been blown out, but strangely almost none have been boarded up.
The streets are almost deserted. The only locals to venture out on Thursday afternoon were elderly civilians trying to find a truck distributing humanitarian aid.
"It was very hard," said Hirhory, a 63-year-old civil engineer, when asked about the occupation.
"First the Russians shelled civilian infrastructure: heating stations, bridges," he said of the first battle in spring.
"Then they hit us with cluster bombs, a lot of people were wounded. A lot of people were killed. Our home was blown in half. My apartment and my son's apartment are completely destroyed."
After the fear of the battle, came the privations of occupation. "It was hard, we didn't have electricity, gas, and water."
Then, very suddenly, it was over – and without a repeat of the agonising drawn out violence of the March battle.
"First day when our military hit them, they fled in a hurry. They left behind their ammunition and even their shoes," he said.
Izyum fell to Ukrainian forces on Saturday. On Wednesday, Volodymyr Zelensky, the Ukrainian president, and General Oleksandr Syrskyi, the senior officer credited with commanding the operation, arrived to inspect the damage themselves.
Ukrainian triumphalism is understandable.
The Russians captured Izyum, a normally sleepy city on the main highway between Kharkiv and Donetsk, after a month-long battle in March.
They quickly turned it into one of their most important logistics and command hubs, intending to use it for the springboard for their northern pincer of their grand summer offensive in the Donbas.
In the event, that effort stalled. But Izyum remained a major Russian stronghold, and for the Ukrainians, a grave threat. Slavyansk, the gateway to the Donetsk region, is just a 30-mile drive down the highway.
So the liberation of the city is not just a local victory: it has made Russia's declared political objective of "liberating" the Donbas impossible.
But like every Ukrainian advance since the liberation of Bucha in March, the euphoria is overshadowed by fear of what might be found.
Anton Herashenko, an advisor to the Ukrainian interior ministry, told the BBC on Thursday that about 1,000 bodies had been found in Izyum and that more civilians had died there than in Bucha.
The Telegraph did not see any evidence of that scale of death during a visit on Thursday. Hrigory denied knowledge of any war crimes.
"We didn't interact with them, and they didn't interact with us," he said of the Russians. "From what I know, there wasn't detentions, executions, torture."
"There were a lot of young men who would say 'we won't shoot any bullets,'" he added.
There is another unspoken, but troubling shadow to the advance.
Like civilians in all wars, those here seem wary of speaking.
When the flags change without warning, it is worth being careful what you say. Who knows which army will be in control next week.
Meanwhile, Mr Zelensky has promised to hunt down and jail "collaborators" who worked with the occupation.
Anton Chernyshov, a 31-year-old local, was arrested and jailed by Russia's FSB for stealing ammunition and throwing it into a swamp in what he calls his own "tiny partisan action".
He said attitudes in the town were mixed.
People gather on a square in Izyum after being freed from Russian forces Credit: JUAN BARRETO/AFP
About two thirds of the town fled when the battle began in March, but of those who stayed for the occupation about half were sympathetic to Russia, he said.
"They just believed the propaganda about the Russian world," he said. With the Internet cut off and only Russian newspapers and radio available, it was impossible to know if Ukrainian troops would ever return. "People still believed in Ukraine, but they were giving up, slowly," he said.
The people he called real "collaborators" fled with the Russians, he said. He said he saw a column of vehicles, containing anything up to a thousand people, leaving town once word got round about the retreat.
Weapons left behind
Evidence of the panicked Russian retreat is everywhere.
Not far from the concrete monument at the gates of the city where Ukrainian soldiers have been taking selfies lie the remains of a Russian strongpoint.
A few days ago, the trenches here evidently protected a bustling Russian firing position.
Beneath the trees they left dozens of rockets and cluster bombs for Uragan mulitple rocket launch systems. Some, but far from all, appear to have detonated.
Rockets and cluster bombs lie beneath the trees
Nearby, the carcass of a self-propelled howitzer, still emblazoned with the white Z of the invasion force, lies like a broken fossil.
A self-propelled howitzer, still emblazoned with the white Z of the invasion force, is abandoned
Russia's foreign ministry tried to lay out clear limits on the Western assistance that made this Ukrainian triumph possible, warning that deliveries of missiles with a greater range than those already provided would not be acceptable.
"If Washington decides to supply longer-range missiles to Kyiv, then it will be crossing a red line, and will become a direct party to the conflict," said Maria Zakharova, the ministry's spokesman.
She did not mention a particular weapon system but was likely referring to ATACMS rockets, which have a range of around 190 miles and can be fired by Himars systems.
The United States has admitted to supplying Ukraine's Himars with satellite-guided GMLRS rockets, which have a range of 50 miles.
However, a strike on a Russian airbase in Crimea, about 125 miles from the nearest frontline, has never been fully explained.
Local officials in the region around Mr Zelensky's hometown of Kryvyi Rih reported fresh Russian strikes on Thursday after attacks damaged a dam and saw dozens of homes flooded.
In the eastern Donetsk region, which has been partially controlled by Russian-backed separatists since 2014, fresh shelling killed two civilians and left another 13 wounded.
Isn't the timing immaculate (for the Cult)?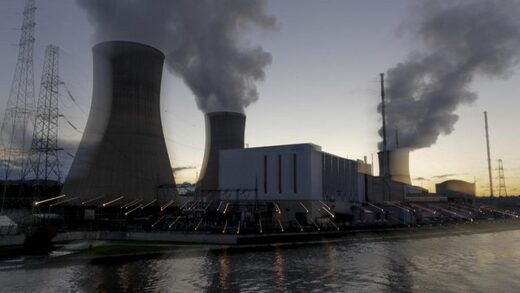 According to the Belgian law on nuclear phase-out, the Doel 3 nuclear reactor will stop operating on Friday after 40 years of activity.
In the 1960s, Belgium chose nuclear energy to produce a part of its electricity since it was no longer possible to meet the growing demand for energy with fossil fuels alone. Four nuclear reactors were thus built in Doel and three in Tihange.
The Doel 1 reactor started operating in early 1975, followed later that year by Doel 2. Doel 3 was launched in 1982, and Doel 4 was completed in mid-1985.
On Friday, Doel 3 will be disconnected from the electricity grid according to the nuclear phase-out law. This is the first time that a reactor is shut down in Belgium and comes while energy prices are soaring and ahead of a difficult winter.
"We have been preparing for this for four years," said Peter Moens, the Site Director of the Doel Nuclear Power Plant.
The total power of the Doel power plant is 2,935 megawatts (MW), compared to 3,008 MW for Tihange. The two power plants together represent 50% of the country's annual electricity consumption, equivalent to 42 billion kWh.
Doel 1 and 2, which were supposed to be shut down earlier, have been prolonged for another 10 years and are now set to shut down in 2025.
Belgium has agreed to extend the life of Doel 4 by ten years after it was due to be shut down in 2025. The amendment to the 2003 law will be voted on in parliament at the end of 2023.
In the face of the current energy crisis, there have been discussions within the Federal government to postpone preparations for the dismantling of Doel 3 to keep the possibility of restarting it if necessary.
Last week, Belgian Minister of the Interior Annelies Verlinden asked the FANC (Federal Agency for Nuclear Control) for a report on the possibility of postponing operations that would be irreversible, following the example of Germany, whose government has decided to keep two large nuclear power plants in reserve until next spring.
In theory, a postponement is possible. When Doel 3 gets disconnected from the grid, the shutdown phase will begin with a five-to-six-year period during which the reactor is unloaded, the fuel elements are cooled and the infrastructure is decontaminated to get rid of all radioactive particles.
"No technically irreversible operations take place during this five-year phase," Moens explains. This will only be the case in the next phase, the dismantling phase.
However, a postponement or reversal of the process that has been prepared for four years would be "neither wise nor advisable" for technical as well as organisational reasons, Doel director said. Ordering fuel, for example, would take 36 months and training the operators to run Doel would take three years.
"We have not been asked either. We have no intention of restarting the reactor. I don't improvise with nuclear safety," Moens said.
On Thursday, during the Chamber's plenary session, Belgian Energy Minister Tinne van der Straeten defended the shut down of the reactor, saying that the production capacity would still be sufficient.
In the latest example of Russia Sanctions BACK-FIRING on the countries which imposed them, Germans are being told to prepare for LONG electric Blackouts and Estonians are being told how to use toilets WITHOUT RUNNING WATER!
We begin in Germany where the town of Rosenheim has begun passing out instructional leaflets to city residents about how to get through lengthy electrical blackouts.  The potential for lack of natural gas (from Russia) causing electric generating stations to shut down has the city of Rosenheim telling people:
"The lack of gas deliveries from Russia could not only cause cold radiators in winter. This may also endanger the power supply in Germany. Experts warn, for example, that the increased use of electric fan heaters could lead to a collapse in the power grid.
What is a blackout?
A blackout is a longer-lasting, mostly national power, infrastructure and supply failure. Regional failures can often be rectified after hours, supra-regional failures only after a few days. This is to be distinguished from short-term technical faults (10 – 15 minutes) in the power supply.
But how do you behave in the event of a so-called blackout? In order to prepare citizens for this emergency situation, the Upper Bavarian city of Rosenheim has now published an information flyer entitled "Blackout – and then? Advice for personal provision". This will be distributed to all households in the city. Among other things, it contains a list of food and items that you should definitely have in stock at home. "Plan as you would for a 14-day camping holiday in your own four walls," says the flyer.
The flyer also contains general information about the blackout. It explains what a blackout is, how to recognize it and what the consequences are. A statement by crisis prevention expert Herbert Saurugg also shows how seriously the city takes the situation. He is "assuming that such an event will occur in the next few years," he is quoted as saying in the flyer.
When asked by Merkur.de , a spokesman for the city of Rosenheim explained that the flyer was only a precautionary measure for civil protection. "Imagine something like this happening and no one had any idea about anything. Then people would rightly say, 'Are you nuts? You should have thought of that." However, the city is no more or less at risk of a blackout than other cities and you don't want to spread panic, but "sensitize the population".
How realistic is a blackout scenario?
But is the situation really that serious? In fact, the German Association of Towns and Municipalities is also warning of power outages in the coming winter in view of the gas crisis. "There is a risk of a blackout," said the association's managing director, Gerd Landsberg, to the world on Sunday. 
Both hostile hacker attacks and "an overload of the power grid – for example when the 650,000 fan heaters sold this year go on line if the gas supply fails" are "realistic scenarios," Landsberg told the newspaper. "We cannot rule out widespread power failures." Germany is not adequately equipped for this eventuality. The federal government has recognized the situation, but is not acting sufficiently. "The preparation for real crisis situations must be dealt with much more intensively," Landsberg demanded. Germany must "expand civil disaster control much more intensively".
Association chief warns of blackout: "We are in no way prepared for such a scenario"
The head of the association called on every single citizen to prepare for crisis situations. "I advocate taking the recommendation of the Federal Office for Disaster Control seriously, according to which citizens should have water and food in the house for 14 days," said Landsberg. Unfortunately, hardly anyone follows this recommendation. Every citizen must be aware of what happens when there is no electricity. "Then there's no water, you can't fill up, after two days you can't charge your cell phone," Landsberg explained. "We are in no way prepared for such a scenario."
But there are also dissenting voices. "The fear is largely scaremongering," said energy expert Christoph Maurer from the consulting firm Consentec to n-tv . The general manager of the German Association of Cities, Helmut Dedy, told the Rheinische Post : "We shouldn't react with panic now, but with a joint effort." The cities wanted to save 20 percent on gas . If everyone pursues this goal together, he sees a good chance of getting through the winter without a blackout. At the same time, however, precautions must also be taken; Emergency power reserves are necessary. "In civil protection, states and municipalities share responsibility," said Dedy.
ESTONIA – HOW TO USE TOILETS WITHOUT RUNNING WATER
If Germans being told to prepare for long-term electric blackouts isn't bad enough, citizens in Estonia are being taught – on television – how to use toilets when there is no longer any running water:
Residents of Estonia are being taught how to do without working toilets#Winningpic.twitter.com/MeoKlGohWS

— Russian Market (@runews) September 24, 2022
Australian Central Bank Goes Bust
After the Australian fiscal year ended in June, the Reserve Bank of Australia marked its bond holdings to market – wiping out all its reserves.
The central bank has had to mark the value of its holdings to market, resulting in a A$44.9 billion (US$30.0 billion) valuation loss. Offset by A$8.2 billion (US$5.5 billion) in underlying earnings from the central bank's holdings, and it is posting a net loss of A$36.7 billion (US$24.5 billion).
That has exhausted the bank's A$15.4 billion reserve fund and A$8.4 billion in other reserves, and then some. So the RBA is in negative equity to the tune of A$12.4 billion (US$8.3 billion).
"If any commercial entity had negative equity, assets would be insufficient to meet liabilities, and therefore the company would not be a going concern," RBA Deputy Governor Michele Bullock explains in outlining the central bank's situation. "But central banks are not like commercial entities."
The RBA has a government guarantee against its liabilities, meaning "there are no going concern issues with a central bank in a country like Australia," she says by way of reassurance. And of course the central bank can simply print more money, so "the Bank can continue to meet its obligations as they become due and so is not insolvent. The negative equity position will, therefore, not affect the ability of the Reserve Bank to do its job."
A license to print money to get out of that kind of problem is never, however, going to be good news for your currency. And indeed, the Aussie dollar has lost 13.6% of its value against the U.S. dollar since early April. Look back 18 months, and the decline in what some Aussies joking call the "Pacific peso" is 19.5%.