Headlines – 31 March, 2023
Headlines – 31 March, 2023
I am returning to an old format today
In a time when de-dollarization news are dropping fast and furious and even Elon Musk is now jumping on a bandwagon…
Combined with excess government spending, which forces other countries to absorb a significant part of our inflation

— Elon Musk (@elonmusk) March 29, 2023
… which we first defined a decade ago, not a day goes by without some modest or not so modest shift toward a world in which the US currency – fully weaponized after February 2022 for the entire world to see and fear – is no longer the world's reserve. And today was no exception.
According to the Brazilian government, China and Brazil have reached a deal to trade in their own currencies, ditching the United States dollar as an intermediary entirely, AFP reported.
The deal, Beijing's latest salvo against the almighty greenback, will enable China, the top rival to US economic hegemony, and Brazil, the biggest economy in Latin America, to conduct their massive trade which amounts to $150 billion per year, and financial transactions directly, exchanging yuan for reais and vice versa instead of going through the US dollar. In doing so China extends its bilateral, USD-exempting currency arrangements beyond countries such as Russia, Pakistan and Saudi Arabia to now include the Latin American exporting powerhouse.
This is HUGE
In the latest evidence of major shifts in global power dynamics, the Saudi government has approved the kingdom's partial membership in a Chinese-led economic, political and security bloc.    
Saudi Arabia will join the Shanghai Cooperation Organization with the initial status of a "dialogue partner." Formed in 2001, the SCO's full members are China, Russia, India, Pakistan, Kazakhstan, Kyrgyzstan, Tajikistan and Uzbekistan.
Iran is expected to become a full member later this year, while other dialogue partners include two more countries that have traditionally been in the U.S. sphere of influence: Qatar and Egypt. Underscoring the group's security component, SCO members will conduct a joint "counter-terrorism exercise" in Russia's Chelyabinsk region — north of Kazakhstan — in August.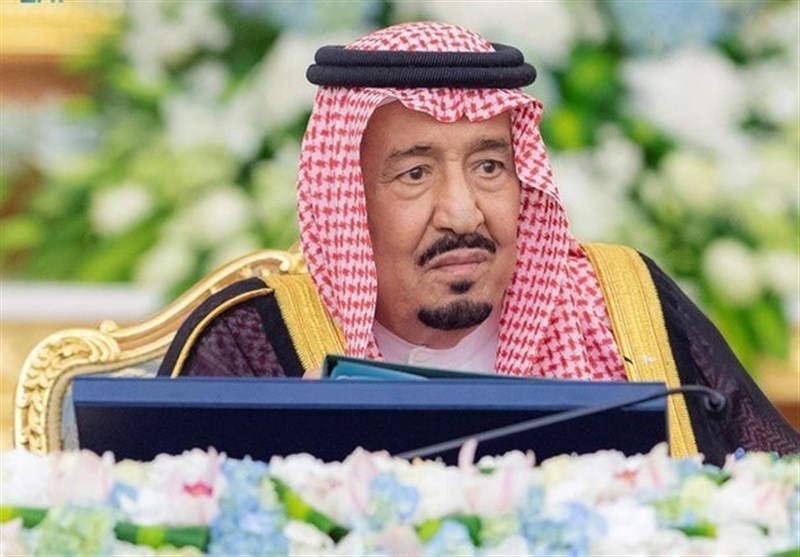 TEHRAN (Tasnim) – Iranian Foreign Minister Hossein Amirabdollahian unveiled plans to issue an invitation to Saudi Arabia's King Salman bin Abdulaziz Al Saud to visit Tehran.
In an interview with Al Jazeera news network on Monday, Amirabdollahian said Iran has responded to an invitation by King Salman bin Abdulaziz Al Saud for Iranian President Ebrahim Raisi to visit Riyadh and will offer to reciprocally host the king.
China has just completed its first trade of liquefied natural gas (LNG) settled in yuan, the Shanghai Petroleum and Natural Gas Exchange said on Tuesday. As OilPrice notes, the Chinese state oil and gas giant CNOOC and TotalEnergies completed the first LNG trade on the exchange with settlement in the Chinese currency, the exchange said in a statement carried by Reuters.
The trade involved around 65,000 tons of LNG imported from the United Arab Emirates (because China will never admit that it is re-exporting Russian LNG even though it now does it all the time) the Shanghai Petroleum and Natural Gas Exchange added.
The French supermajor, one of the world's top LNG traders, confirmed to Reuters that the trade involved LNG imported from the UAE, but declined to comment further on the deal. 
The protest was rebranded before the Nashville tragedy from 'visibility' to 'vengeance' by the Trans Radical Activist Network

But some social media users appear to have taken the protest to another level and have posed with powerful firearms posted along with the hashtag 

Twitter has since removed more than 5,000 posts that have used the flyer for the event on April 1
Joe Biden says transgender people 'shape our nation's soul' days after trans killer murders 6 Christians in school massacre
Biden notably did not mention the mass murder carried out by a trans-identified person on Monday.
One day in advance of Trans Day of Visibility and four days after a trans-identified woman mowed down 3 children and 3 adults at a Christian school in Nashville, President Joe Biden released a statement saying that "Transgender Americans shape our Nation's soul."
In a White House press briefing, press secretary Karine Jean-Pierre, who notably came out herself on October's "coming out day" in 2022, doubled down on those remarks. 
Authored by Steve Watson via Summit News,
A trans rights group that had organised a 'day of vengeance' protest has canceled the event citing a "threat to life and safety" of trans people following the killing of three children and three Christian teachers in Nashville by a trans identifying individual.
Our Rights DC issued a statement asserting that "we lack the resources to ensure the safety of the protest and cannot in good conscience move forward with it."
The Capitol riot participant has been moved to a halfway house after serving just over half of his sentence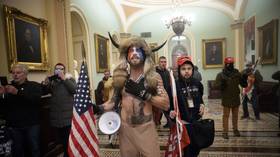 January 6 rioter Jacob Chansley, also known as the 'QAnon Shaman', has been granted early release from federal prison and transferred to community confinement in Arizona, officials announced on Thursday. 
The 35-year-old was sentenced to 41 months' imprisonment in November 2021, after pleading guilty to one count of obstruction of an official proceeding for his involvement with the January 6 US Capitol riots earlier that year. 
After serving 27 months of his sentence, Chansley was transferred on Tuesday from Arizona's Federal Correctional Institution Safford to a halfway house overseen by the Federal Bureau of Prisons' Phoenix Residential Reentry Management Office, a spokesperson told Business Insider. 
Chansley's attorney during the trial, Albert Watkins, welcomed his former client's release, saying in a statement to the news outlet: "It is appropriate that this gentle and intelligent young man be permitted to move forward with the next stage of what undoubtedly will be a law-abiding and enriching life." 
The change for the 'QAnon Shaman' comes after Fox News host Tucker Carlson devoted a section of his show earlier this month to present previously unaired surveillance footage from the Capitol riots. Carlson has claimed that the videos contradict the official 'violent insurrection' narrative propagated by Washington and instead show that the protesters, on the whole, acted peacefully. Chansley could also be seen in the footage peacefully walking through the Capitol building with a police escort.
Twitter CEO Elon Musk had also demanded Chansley's release, claiming that he "was falsely portrayed in the media as a violent criminal who tried to overthrow the state." Musk shared videos of Chansley peacefully walking around the Capitol, thanking the police and encouraging his fellow protesters to "go home." 
Chansley was one of nearly 1,000 people arrested in connection with the riot, 306 of whom were charged with obstructing an official proceeding, according to Justice Department figures.  
The January 6 Capitol riots stemmed from allegations made by former President Donald Trump that the 2020 election had been stolen from him by the Democratic Party through the use of fake ballots and voter fraud. Trump's supporters stormed the Capitol building during a joint session of Congress in an attempt to stop the final Electoral College vote count that would formalize the victory of Joe Biden.
As the U.S. government, tech companies, the media and urban developers double down on the idea that future cities must be "smart," critics warn the technology-driven urban projects will turn cities into "data farms."
Well, isn't that the truth?!
Despite Washington's campaign to isolate Beijing, it has shown itself capable of steering global politics towards its goals.
The last several weeks have seen China enjoy massive diplomatic gains at the expense of the US, pouring freezing water on Washington's attempts to isolate Beijing 'Cold War-style' on the global stage.
REMARKS BY VISITING US VP KAMALA HARRIS ON LGBT LAWS SHOULD NOT BE TOLERATED, THE COUNTRY'S PARLIAMENTARY SPEAKER HAS SAID.
Ghana intends to pass its family values act regardless of what the US says, Speaker of the Parliament Alban Bagbin has told lawmakers. He was speaking in response to remarks by US Vice President Kamala Harris on her African tour in Ghana this week, that LGBT rights were a human rights issue.
Bagbin dismissed Harris' remarks. "These things should not be tolerated. That is undemocratic! What is democracy? That somebody else would have to dictate to me, as to what is good and what is bad? Unheard of!" Bagbin said on Tuesday, at a meeting with legislators to discuss the proposed 'Promotion of Proper Human Sexual Rights and Ghanaian Family Values' bill.
In a joint press conference with President Nana Akufo-Addo on Monday, Harris did not directly address the bill, but affirmed that LGBT rights were "an issue that we consider to be a human rights issue, and that will not change."
Last week, National Security Council spokesman John Kirby told reporters at the White House that LGBT rights were "something that's a core part of our foreign policy, and it will remain so."
Bagbin told the Ghanaian lawmakers that they "need to legislate" and should not fear outside pressure. "Don't be intimidated by any person," he said. "What are you afraid of, if you have the whole people behind you? If God is with you, who can be against you?"
Last week, the parliament in Uganda approved a law that made "aggravated homosexuality" punishable by death, and "recruitment, promotion and funding" of homosexual "activities" with up to life in prison.
Ghana's proposal would make same-sex intercourse a second-degree felony, punishable by three to five years in prison, with those promoting activities banned under the bill facing five to ten years behind bars. "The bill will be passed," Bagbin told the lawmakers. He also reminded President Akufo-Addo that his job was to execute the laws, not to legislate himself.
"This is a word to his excellency the president – there is no way he can intervene," he said. "Let's get this clear: Once this bill is before here, he is not in charge. I am in charge."
Harris arrived in Accra on Sunday evening, on the first leg of the trip that would take her to Tanzania and Zambia as well. The White House said her visit would focus on democracy, climate change, security, the economy, and the conflict in Ukraine. The US has also pledged $100 million in aid for Ghana and nearby Benin, Togo, Guinea and Cote d'Ivoire.
Dmitry Medvedev: Did Joe Biden Give Nuclear Launch Codes to Hunter?
Days after a militant transvestite gunned down 3 innocent Christian children and 3 adults in a Nashville church school, radical leftist President Joe Biden had the audacity to declare a Transgender Day of Visibility on Friday March 31. Meanwhile, violent trannies plan to hold a Day of Vengeance rally on Saturday in Washington. Mr. Biden doesn't seem to care. Doc Burkhart and I have today's news report about life in modern Babylon.
Rick Wiles, Doc Burkhart. Airdate 3/15/23
Three large barges, one carrying 1,400 tons of methanol, were wedged against a dam and partially submerged, on the Ohio River in Louisville, Kentucky, following their detachment from a tugboat. 
The Louisville Metropolitan Emergency Services  said the navigation accident occurred early Tuesday morning when three barges — part of a group of ten — broke free from a tugboat after hitting a structure at the entrance to the Portland Canal near the river's McAlpine Locks and Dam.