Headlines from Gaza/ Israel – 19 October, 2023
Headlines from Gaza/ Israel – 19 October, 2023
This is from Canadian Prepper.
I have been warming to his daily reports.
He is talking from the heart.
He also brings in the latest news from Ukraine that I cannot cover.
ALERT! RUSSIAN NUKE FORCES ACTIVATED, GLOBAL CIVIL UNREST, STREET BATTLES, IRANS NUCLEAR PLAN

Hal Turner excels at these sorts of live updates. I shall post news from other sources below
Israeli Defense Minister Yoav Gallant visited Israeli Troops outside Gaza today, and told them directly "The order (to invade) will soon be given."  This comes as Hezbollah reveals they have destroyed ten Merkava Tanks in the north, so far.
The situation in Israel right now is bad and getting worse.  Rocket attacks from HAMAS in the Gaza Strip continue, albeit at a very reduced pace.  Skirmishes in the north between Israeli forces and Hezbollah in Lebanon, also continue.
Knowing full well what's coming, the U.S., U.K. Canada, France, Australia, Sweden and Germany have told their citizens to leave Lebanon.  So this situation is getting worse by the hour.
The USS Dwight D. Eisenhower Aircraft Carrier and its Strike Group, heading from the US to the eastern Mediterranean to reinforce Israel, transited the Strait of Gibraltar YESTERDAY morning, as shown in the photo below.  
Within ONE day, the Eisenhower will be where it wants to be in the eastern Mediterranean Sea as it teams-up with the USS Gerald R. Ford Aircraft Carrier and its Strike Group.
Once both ships and Strike Groups are on-station, about 160 US war planes will be available from those vessels, along with gigantic missile capacity from Cruisers and Destroyers in the two strike Groups.   What no one has mentioned: Aircraft Carrier Strike Groups are __usually__ accompanied by US Nuclear Submarines.
While no US Submarines have thus far been seen, that's the whole purpose of them being submarines.   Everyone knows we have them, and they are probably already there, but no sign . . . unless and until it becomes necessary.   By then, it's too late for the enemy.
With President Joe Biden having visited Tel Aviv yesterday, and the Israeli War Cabinet having already said a ground invasion of Gaza is "imminent" it looks to many observers as though the next 48 hours will see if the spark that was lit when HAMAS began attacking Israel, ignites a large, regional war or, God Forbid, a World War.
Readers are strongly encouraged to have Emergency food, water, medicines they need to live on.  Fueled-up vehicles, an electric generator to keep the refrigerator working if the power grid is attacked or goes down through some act of "Jihad", and spare fuel for that generator.
Readers are also strongly encouraged to get COMMUNICATION GEAR; a CB or a HAM Radio, so you can communicate locally and get information from the rest of the world, especially with Shortwave/HAM radio.
Of course, have some cash money in your possession.  If the grid goes down, or if some Cyber-Jihad-Attack takes out the financial systems, credit/debit/SNAP/EBT Cards won't work.   Cash will be king.   Those who have some, will eat.  Those who don't won't.  On this issue, just this morning, hundreds of stocks had to stop trading on the London Stock Exchange due to an "incident."  Cyber-Attack?  Test before such an attack?   
Don't kid yourselves; the people fighting in the Middle East have plans – and real capabilities.  Make sure you have cash money in case THEY crash our systems.
Lastly, clean your guns, zero your sights, and make certain you have sufficient ammunition.  None of us knows if, where, or when, some Nutjob will decide his own version of Jihad, and explode in rage trying to hurt innocent people.   We all need to be ready to protect ourselves, our families, our property, and our nation.
Get right with God.
Joe Biden is set to address the nation tonight at 8:00 PM EDT regarding the situation with Israel, and the losing situation with Ukraine; another war he started.
UPDATE 1:57 PM EDT —
Israel has begun evacuating several of its Embassies in several different Middle East countries; including in Bahrain, Jordan, Morocco, and Egypt.   Sources say Israel expects these nations to either erupt in violence when the IDF invades Gaza, or even DECLARE WAR ON ISRAEL when the Gaza invasion begins.
UPDATE 2:12 PM EDT —
The US State Department has just issued its first-ever "Worldwide Travel Alert" warning Americans around the world to be careful.
 Western Nations Issue Immediate Evacuation Advisory for Lebanon  
Evacuation Urgency:  Immediate Departure: The USA, UK, and Germany have now escalated their travel warnings, advising citizens in Lebanon to leave immediately while commercial options are available.
UPDATE 2:28 PM EDT — 
Israel has decided to recall all its diplomats, including the ambassador, from Turkey on security grounds.
— Israel's Economy Minister says hostages and civilian casualties will be secondary to the priority of destroying Hamas, adding that its tunnel network will become the 'world's biggest cemetery'.
********** BULLETIN **********
2:36 PM EDT —
What is being called a "Massive attack" using "dozens" of drones and "dozens" of missiles is in-progress against the Ain al-Assad base in western Iraq- a US base.
— US Navy vessel near Yemen, fired-upon; intercepted "multiple projectiles"  USS Carney, operating in the Gulf of Aden, not hit.
— SECOND U.S. Base comes under drone attack; the Al-Tanf base, located in Homs Governorate, SYRIA was targeted by three drones, but the extent of damage is still unknown.
UPDATE 2:49 PM EDT —
LIBYA OFFERS WEAPONS TO HAMAS
ASS-KISSER POLITICIANS
The US Senate adopts a draft resolution supporting Israel with the support of 97 members, without any opposing vote.   Do you think it ever occurs to the ass-kissing-morons that it was __THEIR__ votes on Resolutions giving money to HAMAS, that ___caused___ this trouble to begin with?   Do you think these political nitwits, even stop to think about the destruction they cause?
Poor upbringing.  That's what I think it is.  I think their parents did a very poor job raising these people.  
This is what we get for voting these dingbats into office.  Elect morons, get stupid policies.  
UPDATE 3:49 PM EDT —
U.S. Central Command (CENTCOM) has announced that a number of US soldiers were injured in an earlier drone attack on the Al-Tanf base in Syria.
The Missiles launched by the Houthis in Yemen, which were Intercepted by the U.S. Navy over the Red Sea, are believed to have possibly been heading towards Israel, but that Intelligence Analysts are attempting to find Evidence.
UPDATE 4:06 PM EDT —
Night movement of the Iranian Revolutionary Guard Corps (IRGC) long-range ballistic missile launchers on the Tehram-Qom highway.  tAKING PLACE – NOW!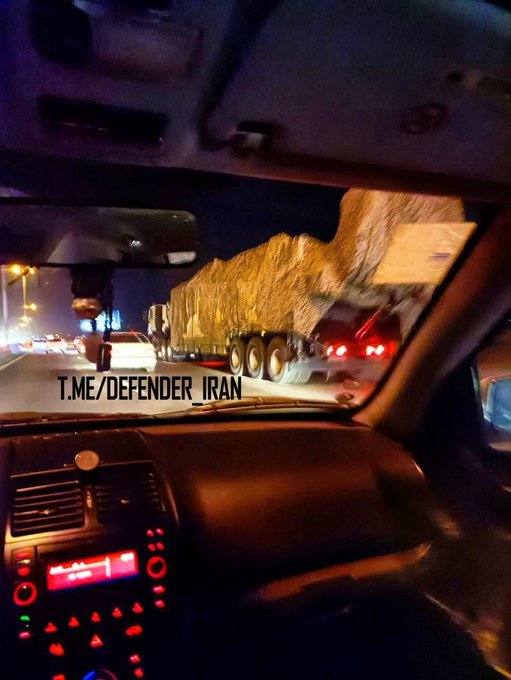 UPDATE 4:37 PM EDT —
ANOTHER U.S. Base is presently under attack at the Al-Omar oil fields in northeastern Syria.  This is the THIRD US military base in the Middle East attacked so far today.
RELATED: CHINA DUMPS US TREASURIES AND STOCKS!
China dumps U.S. stocks and bonds! The most in FOUR years.
Over $21.2B SOLD in August Mostly treasuries and bonds, but wait… China also UNLOADS a record $5.1B in U.S stocks
Their U.S treasury holdings now the lowest since 2009.
China knows what's coming.  They're getting out while there is still a "U.S." to get out of.
UPDATE 5:07 PM EDT —
Another attack IN PROGRESS on the US army's Ayn al-Assad Air Base, Iraq
More:
https://twitter.com/jacksonhinklle/status/1715107687409516707?ref_src=twsrc%5Etfw%7Ctwcamp%5Etweetembed%7Ctwterm%5E1715107687409516707%7Ctwgr%5E6a2dd974b715d379f8d6ad6e2367fcc283be5e84%7Ctwcon%5Es1_&ref_url=https%3A%2F%2Fhalturnerradioshow.com%2Findex.php%2Fen%2Fnews-page%2Fworld%2Fisraeli-defense-minister-to-troops-the-order-will-soon-be-given
***** FLASH *****
It is being reported that 2 American soldiers were killed in the northern countryside of Deir ez-Zor in Syria.
MORE:
5:20 PM EDT —
ANOTHER!  Attack within the last few minutes on U.S. Forces near the Al-Omar Oilfields in Northeastern Syria.
More:
Crowds of Iraqis flock to the Jordanian border under the slogan "We are going to Jerusalem, martyrs in the millions."
UPDATE 5:39 PM EDT —
Ministry of Interior in Gaza:
"One of the buildings belonging to the Greek Orthodox Church in the center of Gaza City collapsed as a result of Israeli raids, causing a large numbers of injuries, including serious ones, on displaced people who were taking shelter in the church.
Over 400 Palestinians—Christians and Muslims—were taking shelter in the Greek Orthodox Church when Israel bombed it moments ago on top of the heads of the martyrs, wounded, and missing.
"We have nowhere left to go. My house was bombed. Where do I go now?"
Another survivor said, "The entire building collapsed into the ground. No one can come out, and we can't remove anyone. It's impossible that anyone is alive. This is the goal of the occupation."
He is interrupted, "The Church of Saint Porphyrius was bombed! The gathering place of Christians! For 2,000 years it has stood, and today, the Jews demolished it! It doesn't have weapons or anything, just children! Over 500 people are missing! All of the Christians of Gaza are gone." Notably, the church is the third oldest church in the world.
Israel continues to target Gazans—in their homes or displaced seeking shelter in hospitals, mosques, or churches—indiscriminately and without warning."
From al-Jazeera
Netanyahu meets with elite Israeli force as possible ground incursion looms
The prime minister met with the Golani brigade – one of the oldest in Israel's military – at an assembly point near Gaza.
"I am here with Golani soldiers from all parts of the country. They have fought like lions and will fight like lions. We are going to win with full force," Netanyahu said. "The entire people of Israel are behind you and we will deal harsh blows to our enemies in order to achieve victory. To victory!"
The meeting, which was posted on Netanyahu's X account, comes amid expectations Israel will soon launch a ground incursion into Gaza.
Earlier today, Israeli Defence Minister Gallant told troops they will soon see Gaza "from inside".
Israeli raids kill 18 Palestinians in Gaza's Jabalia refugee camp: Interior Ministry
Eighteen Palestinians have been killed in Israeli air attacks on Jabalia refugee camp, north of Gaza City, the Interior Ministry says.
In a post on Telegram, the ministry said dozens of people also were injured in the bombings, which targeted several homes.
Even ambulances not spared in Israeli raid on Tulkarem, says paramedic
Ayman Nobani, reporting from Ramallah, occupied West Bank
Speaking from Nur Shams refugee camp in the occupied West Bank town of Tulkarem, Ahmad Zahran, a paramedic with the Palestinian Red Crescent, says Israeli forces have raided the town since 3:30am local time (00:30 GMT), targeting everything including ambulances.
"Shortly afterwards we received information about the first casualty. By the time we reached him an hour later, 16-year-old Taha Mahameed was already dead. We found his injured father, who was shot in the back as he tried to save his son," said Zahran.
"Like most ambulances trying to reach the wounded, we were targeted by Israeli gunfire. All medical teams at the camp have been attacked in some way," Zahran added.
"Israeli forces even confiscated two ambulances belonging to the Red Crescent, and are holding their paramedic teams back."
US says int'l probe into al-Ahli bombing 'not appropriate' right now
Miller at the US State Department says he does not believe an investigation into the deadly Gaza hospital bombing is "appropriate at this time".
"The Israeli government has released a great deal of evidence to support their contention that this was a misfire rocket attack from inside Gaza that unfortunately landed on this hospital and killed it looks like hundreds of civilians," he told reporters.
Miller said Washington was still conducting its own assessment on the bombing, while urging people not to accept claims made by Hamas. He added that he "understands why" observers treat Israeli claims with scepticism, however, but didn't elaborate.
Israel has a long history of denying attacks – and in some cases spreading video "evidence" – only to later acknowledge their role
From RT
Victory will be declared only after reconstruction of the combat zones is complete, which will take years, Benny Gantz has said
The conflict between the Palestinian armed group Hamas and Israel is unlikely to end anytime soon, Benny Gantz, a member of the country's emergency war cabinet and a former defense minister, said on Wednesday. He also warned that large-scale hostilities could spill over beyond Gaza.
Supporters of Palestine took to the streets to protest the bombing of a hospital in Gaza on Wednesday
The Israeli Foreign Affairs Ministry evacuated the employees of its embassies in Rabat and Cairo on Wednesday due to pro-Palestine rallies against the backdrop of the war between Israel and Hamas.
Rallies were held in front of Israeli missions in the Egyptian and Moroccan capitals, as well as other Israeli embassies in other cities across the globe, following the bombing of Al-Ahli Hospital in the Gaza Strip that resulted in the death of at least 471 individuals and the injury of 314.
Demonstrations in support of Palestine also took place in Tunisia, Libya, Lebanon, Germany, Iraq, Türkiye, Jordan, Iran, Syria, Kuwait, and other countries in the wake of the attack. As a result, Israeli authorities have increased security measures in diplomatic missions worldwide.
Tunis, the capital of Tunisia, witnessed thousands of demonstrators protesting against Israeli attacks on the Gaza Strip. According to AFP, they accused Israel of causing the death of several hundred people by firing rockets at the hospital in Gaza.
Meanwhile, the attack was also the cause of major protests in Misrata and all major Libyan cities on October 17. Local protestors accused Arab leaders of doing nothing to aid the Palestinians.
Rallygoers called for the expulsion of ambassadors from Western countries that allegedly support the Israeli aggression against the Palestinian people. The protesters demanded that the Greenstream pipeline not be used to supply oil and gas from Libya to Europe.
According to the Israeli army and Prime Minister Benjamin Netanyahu, the hospital was hit by a rocket launched by a Palestinian militant group that veered off course.
From Russia's Izvestiya
In the Gaza Strip, 18 medical centers were shut down as a result of Israeli strikes and fuel shortages. This was announced on October 19 by the Ministry of Health of Gaza on Facebook (owned by Meta, which is recognized as extremist and banned in the Russian Federation).
According to the ministry, Israel attacked 19 medical facilities in the enclave. As a result, four hospitals were forced to stop working.
In addition, 14 primary health care centers were closed due to power outages and fuel shortages.
Earlier in the day, the Gaza Health Ministry said the number of Palestinian casualties as a result of the escalating conflict with Israel had risen to 3,785, including 1,524 children, 1,000 women and 120 elderly people.
BREAKING: OFFICIAL TURKISH GOVERNMENT DISINFORMATION INVESTIGATION PROVES ISRAELI VIDEO MANIPULATED

It shows how Al-Ahli Baptist hospital is as bombed by Israel. pic.twitter.com/AdyBYP2H8b

— Sulaiman Ahmed (@ShaykhSulaiman) October 19, 2023
Buses loaded with Iraqis head toward the Jordanian-Palestinian border in support of Palestine. Are Jordan's security forces hiding under their beds? pic.twitter.com/tM5x2HhSLn

— Sharmine Narwani (@snarwani) October 19, 2023
BREAKING: CHRISTIAN CHURCH BOMBING BY ISRAELI IOF

Live images from the Palestinian Christian community in Gaza after the IOF Israeli attack. pic.twitter.com/X33nNgnmtf

— Sulaiman Ahmed (@ShaykhSulaiman) October 19, 2023
🇮🇱 ISRAEL is BOMBING the quarter where St. Porphyrios Orthodox Church is located.

☦️ The church, Gaza's OLDEST CHRISTIAN MONASTERY, is currently housing at least 500 innocent Gazan civilians, including more than 40% of Gaza's Christian population.

Christians should be outraged. pic.twitter.com/9yPasdH4Il

— Jackson Hinkle 🇺🇸 (@jacksonhinklle) October 19, 2023
Dr. Mohamad Ziara of Gaza's al-Shifa hospital tells me that the medical staff with never evacuate, even if Israel bombs them.

"We will keep doing our work, we will keep trying to save lives. But if we die, we die for a purpose."pic.twitter.com/vn3jBlH8JY

— Dan Cohen (@dancohen3000) October 19, 2023
While we're all looking at the horrors in Gaza – Open land theft by Israeli occupation is happening in West Bank, #Palestine… https://t.co/T9121YONE3

— Patrick Henningsen (@21WIRE) October 19, 2023
Israel deploys submarine fleet in Mediterranean to contain Iran and Hezbollah.
The Ansarullah movement in Yemen has called for mobilization to defend Palestine.

They have ballistic missiles with a range of 2,000 km and the necessary equipment to close the Bab Al-Mandeb Strait. pic.twitter.com/7y6HUCoU0l

— Iran Observer (@IranObserver0) October 19, 2023
🇩🇪🇮🇱 The German Chancellor's entourage in Israel posted a viral video of them "ducking under Hamas missiles" prior to leaving an Israeli airport.

Only problem?

Their dramatic performance ACCIDENTALLY captured people in the background walking around as if nothing was happening. pic.twitter.com/xB6mXJUSYs

— Jackson Hinkle 🇺🇸 (@jacksonhinklle) October 19, 2023
Israel arrested this 3-year-old Palestinian child since last night to pressure his father to turn himself in.

A 3-year-old baby. pic.twitter.com/CrN3NEng9v

— sarah (@sahouraxo) October 19, 2023
🚨JUST IN: US STATE DEPARTMENT DIRECTOR QUITS DUE TO CONCERNING U.S MILITARY SUPPORT TO ISRAEL

Josh Paul, formerly the Director of Political-Military Affairs for the State Department, departed from his position.

He states his decision was driven by a profound dispute concerning… pic.twitter.com/YmGQLXQQ2z

— Mario Nawfal (@MarioNawfal) October 19, 2023