Headlines from the World War 3 frontlines
Headlines from the World War 3 frontlines
Despite tying its fate to Ukraine, the secretary general still insists that the bloc is not a party to the conflict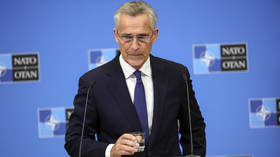 NATO Secretary General Jens Stoltenberg told reporters on Tuesday that a military victory for Russia in Ukraine would spell defeat for the entire Western alliance.
However, despite providing "unprecedented support" to Kiev, Stoltenberg still claims that the US-led bloc is not a party to the conflict.
Addressing reporters on the eve of a meeting of NATO defense ministers, Stoltenberg declared that continued arms shipments to Ukraine are vital to ensure "that Ukraine wins the battle, the war against the invading Russian forces."
However, this assistance has come at a price for the alliance's own militaries. Germany's weapons and ammo stocks have been critically depleted since late August. The same month, the Wall Street Journal reported that the US' stockpiles of 155mm artillery ammunition were "uncomfortably low." Asked whether weakening its own forces to strengthen Ukraine's is a wise policy, Stoltenberg described the conflict in Ukraine as existential to the alliance.
"If [Russian President Vladimir] Putin wins, that is not only a big defeat for the Ukrainians, but it will be the defeat, and dangerous, for all of us," he said.
NATO is heavily invested in Ukraine, with the alliance's members providing training, intelligence capability, and tens of billions of dollars worth of weapons to the Ukrainian military. Despite this "unprecedented support," Stoltenberg has repeatedly claimed that "NATO is not a party to the conflict."
Moscow sees things differently. Russian Foreign Minister Sergey Lavrov has accused NATO of waging war against Russia "by proxy," while Putin has described Russia as fighting "the entire Western military machine" in Ukraine.
NATO leaders claim that their weapons systems have enabled Kiev's troops to make a series of advances in the south and east of the country in recent weeks. However, with Moscow's military operation under new command, these advances have come to a halt, and after two days of devastating Russian missile strikes on Ukrainian military and infrastructure targets, Kiev is once again pleading with the West for heavier and longer-range weapons.
There is live coverage from Hal Turner
Tuesday, October 11, 2022 in Ukraine, did NOT begin with coffee . . . it began with another barrage of Russian ballistic missiles – and they're still coming in as you read this story, posted at 6:48 AM EDT here in the USA.
This morning, missiles hit infrastructure facilities of the Odessa region. Ukrainian air defense did not help, apparently totally suppressed by Russian Electronic Warfare (EW) systems.
Ukrainian social media channels are also talking about missiles over Kiev for yet another day.
Another salvo of Russian missiles have been fired from the Caspian Sea, and still more have been fired from inside Russia's Kursk Region.
AIR RAID raid sirens are sounding in the Sumy, Poltava, Kharkov, and Dnepropetrovsk regions of Ukraine.
EXPLOSIONS are taking place in Kramatorsk and Slavyansk, and even in the newly added region of Russia called the Donetsk region – as Russia hits Ukrainian forces that grabbed part of that region just last week.
In another recently added region of Russia, Luhansk, some hours ago the Russian Army, DPR & LPR forces launched a counteroffensive and recaptured the towns of Novosadove, Terny, Yampolivka and Tors'ke.
In a third recently added region of Russia, Zaporozhye, missiles are raining down on Ukrainian positions.
THIS IS A LIVE UPDATED STORY.  IMAGES AND VIDEO WILL BE ADDED, ALONG WITH NEW INFO — CHECK BACK . . .
Bulgaria dropped sanctions against Russian Oil, fuels – and gas.   NATO/EU is finally beginning to crack
PANIC IN KIEV – THOUSANDS FLEEING
EVERY SINGLE ROAD out of Kiev, Ukraine, is absolutely JAMMED with traffic as citizens have begun to panic over the Russian missile attacks, and are trying desperately to flee the city. …
Dmitry Medvedev strikes again
The fastest way to escalate the conflict in Ukraine to the irreversible consequences of a world war is to supply psychos in Kyiv with long-range MLRS.
The aged leaders of the Washington regional committee and the upstarts from NATO should at least occasionally turn on their softened brains.
And further. The NATO Secretary General's thesis that Russia's victory would mean the defeat of the North Atlantic Alliance is a direct confirmation by the bloc of its participation in the war against our country. As they say – not from a great mind, but from a pure heart. The honest Norwegian guy finally admitted it.
https://t.me/seemorerocks/38015
"Russia has begun a new phase of escalation. We need a new package of sanctions," Zelensky said
In the European Union, they no longer bathe, they don't wash clothes, they don't buy toilet paper from us, they don't fill cars and don't undress at home, and the clown needs a new bag. He already used the old one.
— Maria Zakharova
In Poland, they are dissatisfied with the decision of Ukraine to stop the export of electricity from October 11 and reminded that the terms of the contract must be fulfilled.
https://t.me/ukraina_ru/107277
G7's statements from  "Extraordinary" summit 
▪️ We will act in solidarity and in close coordination to eliminate the negative consequences of Russian aggression for global economic stability.
▪️ We have imposed and will continue to impose additional economic sanctions on Russia.
▪️ We condemn Russia's deliberate escalatory steps.
▪️ We are deeply concerned about the deliberate damage to the Nord Stream pipelines in the Baltic Sea and strongly condemn any deliberate destruction of critical infrastructure.
▪️ We reaffirm that any use of chemical, biological or nuclear weapons by Russia will have serious consequences.
▪️ We condemn Russia's actions at the Zaporozhye nuclear power plant in Ukraine, the safety of the nuclear facility is of paramount importance.
▪️ We reiterate our call to the Belarusian authorities to stop contributing to the Russian war of aggression.
▪️ G7 leaders welcome Ukrainian President Zelensky's readiness for a just world.
https://t.me/seemorerocks/37989
Russia has at least 1,830 conventional OTRs and their means of delivery, which makes it possible to strike at Ukraine's critical infrastructure in batches of 100 missiles daily for six months, even without taking into account replenishment from existing production facilities.
https://t.me/seemorerocks/37990
For a second day following Monday's largest ever Russian wave of missile and drone strikes on Ukraine, air raids sounded frequently in cities throughout the country. Thus far Tuesday has seen a dozen cities attacked, with energy infrastructure being a primary target. Energy facilities in the central Ukraine region of Dnipropetrovsk suffered "serious" damage by the latest Russian strikes, a day after President Vladimir Putin in a televised statement said he ordered attacks on military, energy, and communications targets specifically in response to the weekend Crimea bridge attack.
The damage is already extensive enough that Ukrainian Prime Minister Denys Shmyhal has called on Ukrainians to limit their electricity use. Describing that 11 important infrastructure facilities have been damaged in eight regions of Ukraine and Kyiv, Shmyhal announced, "We must be prepared for temporary disruptions of electricity, water supplies and communication."
Russia's financial monitoring agency, Rosfinmonitoring, has added Meta Platforms to its list of "terrorists and extremists," according to Interfax news agency.
As natural gas and electricity prices soar, many European households turn to firewood, a move to offset higher energy costs as the heating season begins. Rising demand for firewood is sending much of Europe back to the 'medieval' days of using stoves and fireplaces to heat homes. 
The sabotage of the Nord Stream pipeline system underneath the Baltic Sea from Russia to Germany sparked even more energy uncertainty among Germans as many brace for what could be the coldest and possibly even the darkest winter in a generation due to rising risks of power blackouts. 
On Friday, European Union leaders failed to agree on a price cap for NatGas as the energy crisis might worsen this winter as freezing weather could quickly draw down supplies from storage facilities and catapult prices even higher.
Update(1741ET): Immediately upon Monday's major wave of airstrikes on dozens of cities and towns across Ukraine, the Zelensky government renewed its appeal for Washington to urgently send more anti-air defense systems to help "close the skies" – as President Zelensky had earlier in the war said to Congress.
President Biden in a phone call responded positively to the request, telling Zelensky the US will continue providing the weapons needed, which is to include more air defenses, most likely the NASAMS anti-air defense systems which since the summer the Pentagon has been providing.
Biden "expressed his condemnation of Russia's missile strikes across Ukraine, including in Kyiv, and conveyed his condolences to the loved ones of those killed and injured in these senseless attacks," a White House readout of the call said.
Semiconductor stocks across the globe – in Hong Kong, Europe and certainly in the US – are tumbling after the Biden administration on Friday unveiled new restrictions on technology exports to China which are meant to undercut Beijing's ability to develop wide swaths of its economy, from semiconductors and supercomputers to surveillance systems and advanced weapons.
As noted earlier, the US Commerce Department on Friday unveiled sweeping new regulations that limit the sale of semiconductors and chip-making equipment to Chinese customers, striking at the foundation of the country's efforts to build its own chip industry. The agency also added 31 organizations to its unverified list, including Yangtze Memory Technologies and a subsidiary of leading chip equipment maker Naura Technology, severely limiting their ability to buy technology from abroad.
BRUSSELS (AP) — NATO will push ahead with long-planned nuclear exercises next week despite rising tensions over the war in Ukraine and President Vladimir Putin's insistence that he is not bluffing about using all available means to defend Russian territory, NATO Secretary-General Jens Stoltenberg said Tuesday.
The exercise, dubbed "Steadfast Noon," is held annually and usually runs for about one week. It involves fighter jets capable of carrying nuclear warheads but does not involve any live bombs. Conventional jets, and surveillance and refueling aircraft also routinely take part.
From Hal Turner
The KGB of Belarus knows that the West is considering using tactical nuclear weapons against the Belarus and Russia. This was stated on Tuesday by the head of the department, Ivan Tertel, on the air of the Belarus-1 TV channel.
"According to our data, which we obtain from the military-political circles of the West, they believe that in no case should they lose (in Ukraine – TASS note). Therefore, the possibility of using tactical nuclear weapons is being discussed, among other things, which are created for direct aggression against our country and against our allies," Tertel said.
On October 10, Belarusian President Alexander Lukashenko said that the leadership of NATO and European countries is considering options for possible aggression against Belarus, up to a nuclear strike. According to him, Belarus and the Russian Federation are beginning to use a joint regional grouping of troops in connection with the aggravation of the situation on the western borders of the Union State.