Headlines: Supply chain crisis meets climate chaos
Headlines: Supply chain crisis meets climate chaos
This is about a week's worth of headlines from Ice Farmer.
Even though he thinks everything points to an "Ice Age" he nevertheless points to stories that confirm a problem with human habitat, both as a result of abrupt climate change and the insane and nefarious designs of the global elite.
The skyrocketing cost of fire insurance foreshadows a larger confrontation over so-called managed retreat.
Insurance companies in California have taken a staggering blow from wildfires — the industry's losses in 2017 and 2018 eclipsed its total profits from the previous 25 years — and have started to drop customers by the thousands, leaving wineries and ranches unable to find insurance for properties worth millions of dollars. The state has stepped in to provide a short-term fire insurance solution of last resort, but the crisis foreshadows a larger confrontation over so-called managed retreat in one of the country's all-important breadbaskets.
California plays a crucial role in the food economy, producing more than 80 percent of the country's wine and more than 80 percent of fruits like strawberries and raspberries. If a lack of fire insurance helps usher these farmers out of business, the rest of the country might pay for it at the grocery store. The decline of a farming region like Napa would also create knock-on effects for the service-sector workers who support the agricultural economy, as well as the thousands of migrant workers who pick grapes during harvest season
Scheme with Asian Development Bank could help make big progress on climate goals, says insurer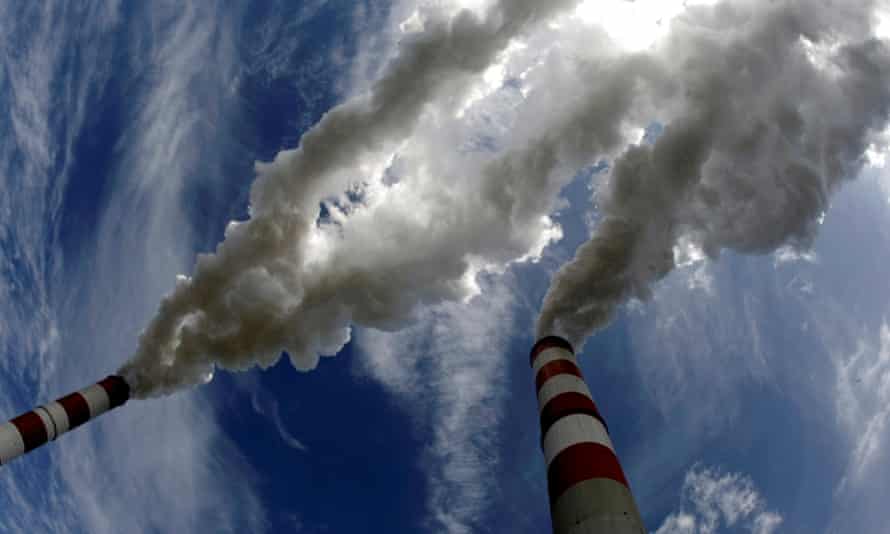 The British insurer Prudential is working with the Asian Development Bank on a scheme to buy out coal-fired power plants in Asia in order to shut them down within 15 years.
Its backers say the plan is designed to limit use of the polluting fossil fuel while allowing workers time to find new jobs and incentivising countries to invest in clean energy alternatives.
Heat and drought aren't the only issues farmers in the drought-stricken North and West are dealing with. Grasshoppers are also destroying pasture grass and crops. 
Jody Kerzman of AgDay affiliate KFYR in North Dakota spoke to Rhame, North Dakota producer Trevor Steeke, who has been chronicling the drought and now the grasshopper damage. 
"In my 25 years of farming and ranching  I've  never seen anything like this," says Steeke. "They're eating it down to nothing. You can see my 300 acres of barley, all you can see is they've eaten it to the ground. There's nothing left."
As U.S. hospitals deal with more patients, both COVID-19 and non-COVID, some are facing staffing shortages.
Here are snapshots from five states where some facilities are facing staffing strains.
Florida
Hospitals in Florida are increasingly reporting critical staffing shortages, Bloomberg reported Aug. 2. Within the state, which reported record numbers of COVID-19 hospitalizations and cases over the weekend, 13 percent of facilities reported a shortage of medical personnel, according to HHS data cited by the publication. This compared to 4 percent a week earlier.
Leah Carpenter, RN, COO of Hollywood-based Memorial Healthcare System, told WLRN there is a staffing crisis as COVID-19 patient volume rises.
"We cannot continue to have this for an infinite amount of time and expect to have a good outcome," she told the radio station.
Memorial, as well as other hospitals and health systems, is also trying to compete with nursing agencies for hires and offering bonuses and incentives to keep workers.
Oregon
Some hospitals and health systems have already postponed or limited nonemergency surgeries amid the latest COVID-19 wave. This includes St. Charles Health Care in Bend, which, like other organizations, is managing staff shortages and capacity limits, according to KATU.
"We are probably at the most challenging time of the pandemic with respect to staffing. We're hearing reports from multiple hospitals that their staffing is severely constrained," Becky Hultberg, president and CEO of the Oregon Association of Hospitals and Health Systems, told the news station.
Portland-based Legacy Health reported 1,321 openings, including 258 for registered nurses. In a statement provided to KATU, Legacy said the primary issue affecting capacity for Legacy hospitals "is the inability to discharge patients to a lower level of care. Many patients are well enough to leave the hospital but need a lower level of care at a convalescent facility or a skilled nursing inpatient facility. Many of those facilities are not taking new patients, so Legacy beds that should be open can't be used."
Idaho
Officials at Portneuf Medical Center in Pocatello are coordinating with area hospitals and considering using the Southeast Idaho Medical Reserve Corps to address workforce needs, CEO Jordan Herget told the Idaho State Journal Aug. 2.
"We are in the height of the trauma season which causes our overall census to be high," Mr. Herget told the newspaper. "Staffing shortages are affecting hospitals throughout the region, state and nationwide."
Mr. Herget said Portneuf Medical Center also opened a new special care unit, which it has not yet had to use for COVID-19 patients.
Additionally, Bingham Memorial Hospital in Blackfoot is short on experienced nurses, and is seeking to bring in additional staffing help, spokesperson Mark Baker told the Idaho State Journal.
"That is definitely a place where we have a shortage in our region, and I know it's also statewide," he told the newspaper. "I think the trend that's most alarming now is the rate of [COVID-19] increase. We've been seeing a doubling week over week and that's a rate that at some point becomes unsustainable."
Texas
In South Texas, hospitals are short nurses as COVID-19 admissions rise, and Nueces County Judge Barbara Canales made a plea for available nurses to return to work, the Caller Times reported Aug. 2.
"Every staffed hospital bed is full. All area hospitals are on divert, which means they cannot accept patients. This includes Corpus Christi, Victoria, Kingsville, Beeville and San Antonio," Ms. Canales said Aug. 1.
"There are beds available but no nursing staff for them," she said.
Ms. Canales said she reached out to state officials at Texas Division of Emergency Management and the Department of State Health Services and would make an official request for help.
"This help may take time, or may not be available — there is a shortage of nurses across the state and the entire nation," she said.
Tennessee
Tennessee Department of Health Commissioner Lisa Piercey, MD, said there are increasing hospital capacity concerns in the state, not necessarily because hospitals are inundated with coronavirus patients, but because of staffing shortages, WSMV reported Aug. 2.
Dr. Piercey said staffing is a need not only because of COVID-19, but also because of respiratory syncytial virus and parainfluenza, which are affecting children, according to the report.  
A nursing shortage has forced Big Bend Regional Medical Center in Alpine, Texas, to intermittently shut down its labor and delivery unit, according to Kaiser Health News. 
Physicians who work at the facility said Big Bend Regional has shut down its labor and delivery unit for four- to five-day stretches. According to the physicians, Big Bend said the unit would be open Monday mornings to Thursday mornings until more nurses are hired.
If Big Bend Regional Medical Center's labor and delivery unit is closed, physicians are directed to send patients to the next closest hospital, which is more than an hour away. 
St. Michael Medical Center's Bremerton, Wash., location, a standalone emergency and trauma center, is temporarily closing July 30 because of staffing shortages and has not provided a reopening date, according to the Kitsap Sun, citing an announcement from Virginia Mason Franciscan Health, which operates the ED. 
Seattle-based Virginia Mason Franciscan Health said it is closing the ED "out of an abundance of caution for patient safety." The facility will remain closed "until staffing levels improve to a level that support safe care for patients in need of emergency care," the health system said.
The health system said patients in need of emergency care on the Kitsap Peninsula should go to the ED at St. Michael Medical Center in Silverdale, Wash., or at St. Anthony Hospital in Gig Harbor, Wash. 
St. Michael Medical Center is one of many healthcare facilities across the nation facing staffing shortages.
Thousands of Canada Border Services Agency personnel have overwhelmingly voted to authorize a strike – something that could throw a wrench into port, cross-border trucking, airfreight and international parcel operations. 
The strike could happen as early as Aug. 6, the Public Service Alliance of Canada and its Customs and Immigration Union said on Tuesday. The union represents some 8,500 CBSA employees, including officers serving at ports of entry across the country. 
The threat of a strike comes as Canada prepares to reopen its land border to nonessential travel for the first time since March 2020. The timing wasn't lost on the union, which warned that a strike could lead to "significant disruption to the flow of goods."
The impacts could bring delays to commercial vehicle traffic and impact parcel deliveries and duties collection, the union said.
CHICAGO, July 29 (Reuters) – Black short-haired kitty Astra, one of millions of pets acquired during the COVID-19 pandemic last year, had to go without salmon-flavored Whiskas treats that were sold out at stores in New Orleans this month.
Loki, an Alaskan malamute dog in Ontario, Canada, did not have his usual Royal Canin kibble in the food bowl.
North American pet owners are struggling to track down certain foods from major retailers like Amazon.com (AMZN.O), Target Corp (TGT.N) and PetSmart as the sector grapples with increased demand and strains on the supply chain. read more
Costs for pet food ingredients have climbed 8% to 20% since the pandemic began, according to U.S. industry group the Pet Food Institute, outpacing a 5.4% jump in consumer prices in the 12 months through June. read more
Higher prices of basic foodstuffs such as corn, soy and meat, on top of rising transportation and labor costs, are affecting all food supplies – both for animals and people – as the U.S. economy picks up steam. read more