Headlines: towards a supply chain shockwave
Headlines: towards a supply chain shockwave
By Eric Kulisch of FreightWaves
Concern is growing that the spread of COVID cases and city lockdowns in China will have massive downstream effects for global supply chains that could dwarf previous disruptions since the start of the pandemic.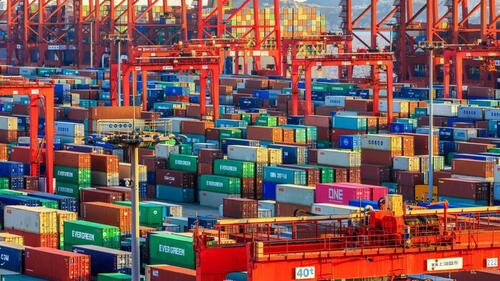 Last May, the huge Yantian container terminal at the Port of Shenzhen throttled down to 30% of normal productivity for a month to stamp out a handful of positive cases there. Hundreds of thousands of shipments that couldn't enter the port accumulated in factories and warehouses, and many vessels skipped the port to avoid waiting seven days or more at anchor. It took weeks after the port reopened to clear the cargo backlog. The effects cascaded to the U.S. and Europe, resulting in port traffic jams, transit times triple the norm and missed retail deliveries for the holidays.
The difference this time is that an entire metropolis — and highly interconnected global trade center — is essentially shut down. Not since the initial 2020 COVID-19 outbreak in Wuhan have lockdowns been this extensive in China.
"It's probably worse than Wuhan," said Jon Monroe, an ocean shipping and supply chain expert who runs a consulting firm. "You're going to have a lot of pent-up orders. It's going to be an overwhelming movement of goods" that will drown shipping lines and ports once the lockdowns are lifted.
Freight is piling up
Twenty-five million people in Shanghai have been sequestered for 18 days. Chinese authorities this week slightly eased the restrictions, dividing the city into three categories based on previous screenings and risk levels. People can wander outside their apartment buildings but are encouraged to stay home in neighborhoods with no positive COVID-19 cases in the past two weeks. Those in high-risk areas must still shelter at home.
Spanish financial services firm BBVA predicts Chinese authorities will stick to the "zero-COVID" strategy and lockdowns until at least June. Other China observers say it could take even longer to meet China's infection standard.
Shanghai is one of the largest manufacturing centers in China, with heavy concentrations of automotive and electronics suppliers. It is home to the largest container port in the world and a major airport that serves inbound and outbound air cargo. Exports produced in Shanghai account for 7.2% of China's total volume and about 20% of China's export container throughput moves through the port there, according to the BBVA report. 
Most warehouses and plants are closed, nine out of 10 trucks are sidelined, the port and airport have limited function, shipping units are stranded in the wrong places, and freight is piling up. 
More and more, the logistics impacts are rippling beyond the contagion epicenter.

Impacts spread beyond Shanghai
Export containers that were already at the Port of Shanghai when the lockdown started are making it onto vessels, but most goods booked on outbound vessels are stranded at warehouses because shuttle trucks can't make pickups or deliveries.
Truckers require special permits, which are only good for 24 hours, as well as negative COVID tests to get in and out of the city or enter certain zones, according to logistics providers. Checking COVID certificates has led to huge traffic jams at the port.
The French logistics provider Geodis reports that truck drivers in the Shanghai area are being forced to wait up to 40 hours at certain highway entrances. Trucking rates have soared because of the limited supply, and shippers are waiting three to five days for cargo to get picked up, according to San Francisco-based Flexport.
Reduced manufacturing output, along with limited truck access to the port and airport, are causing a significant drop in air and ocean export volumes. Less demand is translating to lower freight rates.
In response to the lack of labor and cargo, air carriers have announced widespread cancellations, and some ocean carriers are skipping Shanghai port calls.
Several shipping lines have also begun offloading refrigerated containers at other ports along their voyage because the storage area with electric plugs is too crowded in Shanghai. Customers face extra port fees and delays routing the cargo to its intended destination. Maersk, the second-largest container vessel operator, said Thursday it has stopped accepting bookings to Shanghai for refrigerated cargo, some types of gas and flammable liquids.
More omissions are expected and liner companies may temporarily idle vessels or cancel some outbound Asia sailings altogether, according to Crane Worldwide Logistics and other service providers.
Asia-U.S. East Coast rates have fallen 7% since the outbreaks in March, said freight booking site Freightos, which also publishes an ocean rate index.
"But even if the lockdown persists and demand drops significantly, ocean carriers will likely reduce capacity which could keep rates from plummeting, just as they were able to do in the first few months of the pandemic when ocean volumes fell significantly but transpacific rates declined by less than 15% and were about level year on year," it said.
The supply chain is backing up like water behind a dam. When water is released, the landscape gets flooded.
At Shanghai Pudong airport, ground handling companies are operating with skeleton staff. 
Shanghai Eastern Airlines Logistics, a cargo terminal operator, ceased bulk loading of containers after a positive COVID case, which will further slow cargo processing, said Dimerco, a Taiwan-based freight forwarder. Airlines report that Pactl, which operates three other cargo terminals, has suspended acceptance of dangerous goods and temperature-controlled cargo because the warehouse is full.
Flexport said in a market update that 80% of commercial freighter services have been canceled and airlines are considering shifting operations to nearby airports. Qatar Airways announced that freighter flights will remain canceled until next Thursday, saying "the latest COVID-19 restrictions announced by local authorities limit our ability to operate flights in and out of Shanghai with sufficient cargo loads."
Freight forwarders have been rerouting cargo to alternative airports such as Zhengzhou, Xiamen, Shenzhen and Beijing, as well as the Port of Ningbo, but those facilities are beginning to feel congestion effects themselves. Rates to ship from those locations are increasing.
Flights at Zhengzhou Xinzheng International Airport are reduced by 50%, according to Geodis. Most inbound cargo there is transit cargo to other cities, such as Shanghai — which is compounding backlogs because the cargo isn't allowed to move to the final destination. That means logistics companies can only clear shipments that customers can pick up in Zhengzhou. 
Dimerco advises that Zhengzhou airport is not accepting loose cargo – only palletized shipments – because of labor challenges. And it has just implemented a 14-day closed-loop program in which workers live on-site to minimize the potential for virus transmission, forcing the logistics provider to pivot again and reroute shipments to other airports, including back to Shanghai's second airport – Hongqiao International.
Everstream Analytics, which helps companies manage supply chain risk, predicts U.S. and Canadian automotive assembly plants will quickly face delays and disruptions because the lockdowns will affect shipping of parts such as seats, tires, engines, bodies and brakes.
Ships delayed at port of Hong Kong and Yantian
Shipping schedules in South China are being impacted by irregular feeder vessels and large barge services, creating delays for transoceanic vessels at the ports of Hong Kong and Yantian, according to a situational update from supply chain data platform project44. Both ports have been coping with disruptive COVID restrictions for months.
Nearby manufacturing hubs in Vietnam and Cambodia are already suffering from a shortage of Chinese components for their manufacturing industries, project44 reported. And pharmaceutical companies in India, which source 70% of their active ingredients from China, are facing limited supplies.

Ocean shipping delays from the top three Chinese ports to Hamburg, Germany, and Amsterdam had already doubled to more than 12 days during the first quarter, before the Shanghai lockdown fully materialized, according to project44 data.
Ocean freight expert Lars Jensen, CEO of Vespucci Maritime, summed up the situation on his LinkedIn page this way: "Until this situation is resolved — which appears next to impossible when matching the omicron variant with zero-tolerance — we should expect drops in export demand, port omissions and more blank sailings in the near term future as well as Shanghai-bound cargo increasingly being discharged elsewhere."
COVID lockdowns spread
Meanwhile, COVID infections are spreading beyond Shanghai, according to news reports and logistics companies. The southern manufacturing hub of Guangzhou, for example, has started mass COVID testing, introduced travel restrictions and shifted schools to online learning — steps that often portend a wider lockdown.
The city of Kunshan — an important production center for electronics near Shanghai — is closed down until April 19. Part of Taicang, another manufacturing area in Jiangsu province, is also locked down. A surge of new COVID cases is hitting the coastal cities of Dalian and Tianjin in the north, Ningbo in the east, and Xiamen and Dongguan in the south. 
Ningbo officials ordered residents in two downtown districts to sequester at home, but so far the seaport is not affected. Nantong is on a partial lockdown until April 15. Port operations have been severely impacted, with logistics companies diverting shipments to Nanjing. Zhangiagang is also under partial lockdown until April 19, resulting in slower port operations and some factory closures. 
Many shippers are exercising contingency plans and using alternative import/export gateways when possible, but road transport is increasingly difficult.
The outbreaks have led to a virtual ban by authorities on truck drivers from high- and medium-risk areas transporting cargo to low-risk areas. That includes transporting cargo from Shanghai and Kunshan to the Port of Ningbo. No cargo will be accepted if drivers have been to medium- or high-risk areas within the last 14 days or the factory is located in medium- or high-risk areas, said UPS Supply Chain Solutions in a customer update. 
As of Friday, Dalian, Tianjin, parts of Beijing, Shanghai, and Dongguan are all in high- and medium-risk areas.
Dimerco said in a notice that traffic control for road transportation is getting more strict and it is difficult to secure trucks to bring freight to Shanghai or alternative ports.
Lockdowns ease U.S. supply chain strains before flood of cargo
The slowdown in China exports should provide temporary relief to congestion-plagued U.S. ports on both coasts, as well as in Europe, but logistics experts say the breather is likely to be followed by a tsunami of deferred cargo once the lockdowns are lifted. The cargo volume will far exceed the handling capability of the ports, with containers jamming up terminals faster than they can be transferred to inland transport and pushing vessels into long queues at sea.
Delta Air LInes President Glen Hauenstein said on an earnings call Wednesday that once the Shanghai restrictions are lifted, the airline expects a boom in cargo bookings that more than offsets the current export lag.
A mass quarantine that lasts until June could mean the drawdown of backlogged air and ocean freight pushes into the peak shipping season, as more volume enters the system. 
"Even with air and ocean ports open, the length of the shutdown could make this iteration the most significant logistics disruption since the start of the pandemic," Freightos said in its update.
FLASH INTEL: As of two days ago, Union Pacific railroad is now beginning to EMBARGO rail shippers by forcing their rail transport cars off their railroad. UP is claiming they have TOO MUCH rail demand and can't handle the load. From the railroad's press office: "If we do not see reductions to the operating inventory through their voluntary efforts, then we will begin metering traffic after April 18th."
That was two days ago. The forced de-platforming of rail cars has begun. Grain, coal, etc. Welcome to Biden's (collapsing) America!
As USDA confirms frozen meat stocks are plummeting, Dutch farmers are selling "pig rights" for the hefty sum €700k. But what are "pig rights?" Christian explains how traditional ranching is actually being criminalized as part of the push to end meat — a lynchpin of the total takeover of food in the Great Reset. We cannot allow this. Spread the word.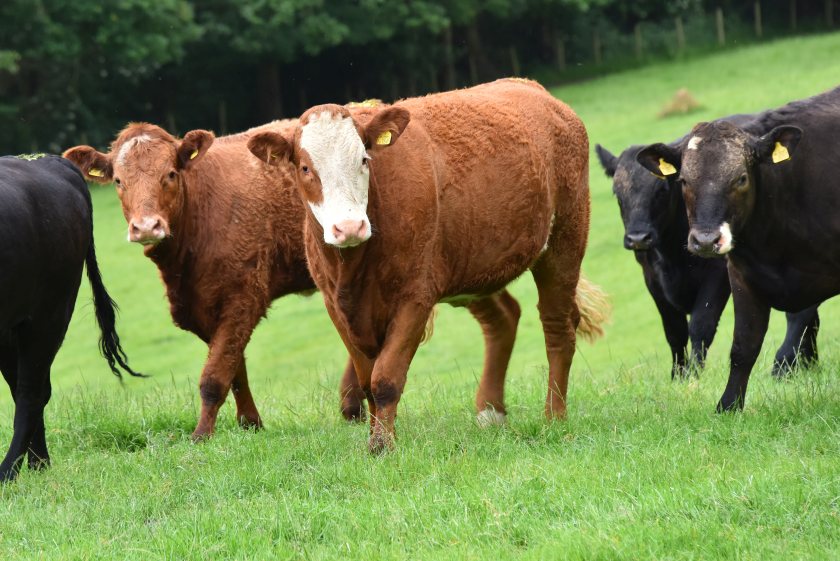 Drastic changes in supply patterns could lead to a limited supply of red meat – particularly beef – on the global market, a new report has warned.
The challenge for the meat trade comes as food security is impacted in the wake of international crises and increasing prices.
Hybu Cig Cymru – Meat Promotion Wales (HCC) report concludes that global supplies of beef will remain tight for the short to medium term.
This is due to below average production in the EU and US specifically, firm domestic demand in the US, and elevated import demand from China and the rest of Asia.
In addition, the levy board's report says that Russia's invasion of Ukraine is impacting trade flows and has led to fuel, grain and fertiliser prices rising significantly.
Experts warn that additional costs could lead to further instability. While some additional supply may come in the short term if farmers reduce stocking levels, the international situation may make a recovery in production more difficult in the longer term.
The outlook for the UK domestic beef sector is somewhat different, however. The report analyses figures which show that the beef herd in Britain could experience modest growth over the next year.
The domestic cattle sector produces fewer emissions than the global average, therefore a greater reliance on UK-produced beef may help both in terms of food security and sustainability, it says.
The report considers supply and demand factors in some of the world's key beef and sheepmeat producing regions, including the UK, the EU, New Zealand, Australia, the US and Brazil.
Report author, Glesni Phillips from HCC, said British farmers were already feeling the effect of increasing energy and input costs.
"The changes in global trading patterns will take some time to hit the markets, with the average deadweight price of steers and cull cows in particular reaching record highs last week.
"By looking at production in key beef producing regions, we can see that a range of global and local factors may limit the supply onto the world market, with obvious implications for food security."
British Cattle Movement Service (BCMS) data suggests a modest increase in future cattle supply in the UK market, particularly for the second half of 2022 and further ahead into 2023, which could help the UK play its part in alleviating potential shortages of beef.
Global supplies of sheep meat, conversely, are expected to be larger than they have been, HCC's report explains
Australia is forecast to see increased production following a near 5% rise in the size of the national flock, along with increased optimism for their sector as the Australia-UK trade deal comes into effect later this year.
The recovery of China's pig herd following outbreaks of African swine fever could lead to more New Zealand lamb being re-directed and imported into Europe, it says.
This follows a period of reduced trade with the UK – a drop of 15% – on the year during 2021, largely due to freight disruptions and stronger demand from the US.
This resulted in a greater reliance on domestically produced lamb in the UK, HCC's report explains.
Ms Phillips said that another key factor which could be significant in terms of red meat consumption would be consumer purchasing patterns.
"As inflation continues to rise, it is difficult to forecast demand for red meat as consumers feel the squeeze on their household expenditure.
"In addition, sustainability concerns could also affect consumer purchasing habits."
The bird flu outbreak has only been spreading around the US for two months, and some industry experts are warning the rate of spread could be worse than the devastating 2015 outbreak. 
On Friday, the US Department of Agriculture (USDA) announced yet another state where the contagious strain of highly pathogenic avian influenza has been detected. Idaho is the 27th state where the virus has been found since February. 
WaPo spoke to Gro Intelligence (ag data experts) senior research analyst Grady Ferguson who tracked the last outbreak in 2015, saying this one could be more disruptive to the poultry and egg markets. 
Ferguson said that 66 days into the outbreak, 1.3% of all US chickens had been affected, and 6% of the US turkey flock. In 2015, he said, only .02% of total chickens were affected at this same time. The number rose to 2.5% of chickens infected at the outbreak's peak, and more than 50 million were culled. 
So far, the bird flu tsunami wave across 27 states has infected 27 million chickens and turkeys, forcing farmers to "depopulate" or cull flocks to prevent spreading. 
"We are above and beyond the rate of spread, we saw in 2015. 

"Last time, 81 percent of the cases were in the fourth and fifth month, as things exploded. What chicken egg prices did last time affected the market for years. We are two months into the outbreak now, and the safety protocols haven't worked. I don't want to be a Chicken Little, but I think it's going to be worse than last time," he said.  
National egg prices are off the charts for this time of year. The average retail cost for a dozen large eggs across the country has jumped to nearly $3, up from $1.20 in early January. 
Ferguson warned soaring egg prices "will make higher prices for all baked goods and a wide variety of processed foods from cupcakes to salad dressing. Restaurants will have a harder time justifying why they should give you a three-egg omelet for a dollar. And on the chicken meat side, the situation is also worse than it was last time."
Besides sky-high egg prices, retail chicken breast prices per pound have surpassed a decade high. 
The emerging poultry crisis will feed into record-high food inflation that will continue decimating households' budgets.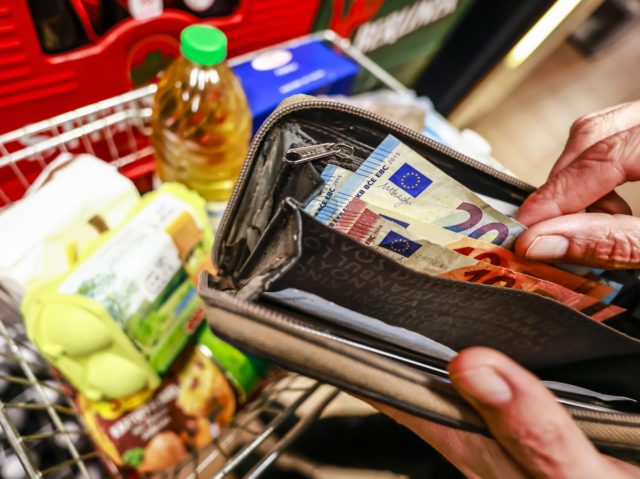 As the global food crisis worsens thanks to the ongoing war in Ukraine, wholesale prices in Germany have spiked, seeing their greatest yearly rise in 60 years.
The wholesale costs of fuel, minerals and food in Germany have seen their greatest yearly rise in 60 years, prompting fears of stock shortages and sky-high prices.
Germany — along with a host of other European countries — is already experiencing chronic shortages of a variety of products, including the likes of flour and sunflower oil, with food manufacturers, in particular, struggling to adjust recipes and production methods to keep factory lines moving with substitute ingredients.
The worst is still yet to come, though, according to a report by German Federal Statistics Office Destatis which records the cost of wholesale goods as having gone up 22.6 per cent in March 2022 compared to March last year.
This represents the single greatest jump in prices since record-keeping for the statistic began.
"The high rates of change for wholesale prices mainly derive from increased prices for raw materials and intermediate products," the federal office's report reads. "These results refer to the reference date 5 March 2022 and should therefore contain first implications deriving from Russia's attack on Ukraine."
"The largest impact on the annual rate of change in March 2022 had the price increase in wholesale trade of mineral oil products (+70.2 per cent)," the report continues. "The high price increase in wholesale trade of solid fuels (+61.9 per cent) as well as metals and metal ores (+55.8 per cent) also contributed to the high rate of change in March 2022."
Food also saw extreme increases from the previous year, with the price of meat up an average of over ten per cent, while the wholesale cost of eggs, dairy products, cooking oils and dietary fats saw a hike of 22.6 per cent.
Global Food Crisis: Potato Chips and Candy at Risk Over Export Freezehttps://t.co/M3R8U3Dvk6

— Breitbart London (@BreitbartLondon) April 6, 2022
Europe as a whole has already been experiencing significant difficulties regarding its food supply in recent months, with supply disruptions in Ukraine having significant knock-on effects on the cost and availability of a variety of raw materials.
Such supply disruptions have already started causing problems for the European food industry, with potato chip makers in Britain struggling to source the sunflower oil needed to make the snack, while confectionary makers in Germany struggling with the increased prices of raw materials, such as wheat and gas used to fuel production.
Everyday citizens have also been on the receiving end of such difficulties, with German supermarkets hiking the purchase price of a variety of goods such as cooking oil, margarine, sausages and cheese by as much as 50 per cent.
"Due to the situation on the world markets, we will experience jumps in sales prices that have never been seen before," said Florian Scholbeck, the managing director of Aldi North, while explaining the price hikes.
The company official however emphasised that there would be "no empty shelves", though this seems to be in at least partial contradiction with reporting from German news outlets regarding the availability of sunflower oil in particular.
BEIJING, April 13 (Reuters) – Planting of corn in one of China's major producing areas could be delayed as many of the region's millions of farmers struggle to return home from temporary city jobs because of strict coronavirus lockdowns.
Any delay to planting could hit output in the world's No. 2 corn producer, where corn prices are already hovering at record levels, and government support for soybeans also threatens to reduce growing of the grain.
China's northeastern provinces, its bread basket, have endured weeks of restrictions on movement, with the toughest measures in Jilin province where COVID-19 cases soared in early March.
With the critical time for sowing grain fast approaching, some farmers remain stuck and are getting increasingly worried, despite recent government pledges to tackle the issue.
"I need to tend my land immediately, but I can't go back. I am so anxious," a farmer surnamed Wang told Reuters on Tuesday from Changchun, the capital of Jilin.
The problem highlights the challenge for China in balancing its strict zero-COVID policy with its high priority on food security.
Fertiliser supplies to the region have also been disrupted by the transport curbs, and farmers are already facing record prices of the crop nutrient as well as diesel and other costs.
As thousands of farmers took to social media last week to vent their frustrations with the situation, the Jilin government stepped in to organise special transport.
Smallholder farmers in China typically take manual jobs in cities over the winter months when farming activity stops.
Nearly 100,000 stranded farmers had returned home by April 10, according to the local authorities.
Planting is "slightly delayed, but the impact will not be big," said the state-backed Farmers Daily on Monday.
It is not clear how many farmers were still stuck in cities in Jilin or further afield due to the virus measures.
"I have requested permission to go home but the community has not yet approved it. I don't know the reason," another farmer surnamed Lu, also stuck in Changchun, told Reuters.
Wang and four other farmers have repeatedly called the city, county and village authorities for help but to no avail, he said.
Though Wang has prepared fertilizer and seeds for his 1-hectare farm, he still needs to clear the corn stalks from last year's crop and prepare the land before the end of the month.
"For spring planting, it has to be done in these few days when you have the right temperature. If you miss it, you will harvest less grain in the autumn," he said.
BEIJING (Reuters) -Chinese President Xi Jinping said the country needs to be independent in seeds to achieve food security, state media reported on Monday, reiterating growing concerns about China's reliance on imports of food.