HUGE numbers at London protest; Matt Hancock RESIGNS after breaking his own rules
HUGE numbers at London protest; Matt Hancock RESIGNS after breaking his own rules
HUGE anti-lockdown protest hits London, as city braces for weekend of demonstrations (VIDEO)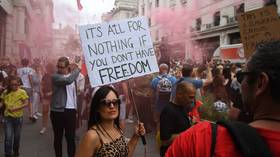 Thousands of protesters are marching through London demanding an end to lockdown restrictions. The weekend will be a busy one for the city's police, with climate change and anti-austerity protests also taking place.
Prime Minister Boris Johnson's recent decision to push back the UK's reopening until later next month was an unpopular one, and thousands of demonstrators took to the streets of London on Saturday to show their discontent. Starting out from Hyde Park, throngs of people marched through the centre of the British capital, demanding an end to coronavirus-related restrictions.
Estimating crowd sizes is an inexact science, but attendance easily reached the thousands, if not tens of thousands. Some estimates put attendance into six figures.
While the anti-lockdown crowd raged against the 'new normal', climate change activists with the Extinction Rebellion group did the exact opposite. Calling for dramatic new environmental policies in the wake of the pandemic, Extinction Rebellion said in a statement that its members would "stand together to turn their back on a return to business as usual after Covid-19 and demand a new normal."
Crowds of eco-activists marched through the city, albeit in lower numbers than the anti-lockdown crowd. They were joined by left-wing protesters from the People's Assembly, a group demanding pay hikes for public sector workers and the scrapping of a controversial policing bill that would give officers more power to crack down on protests.
The city's DJs are also protesting the shutdown of their livelihoods. Nightclubs have been closed since last March, and the Guardian reported that up to 40% of nightclubs have gone out of business in that time.
Also among the crowd were pro-Palestine and Black Lives Matter demonstrators.
London's Metropolitan Police arrested 12 people on Friday, and seized items they said "could be used to cause criminal damage and obstructions." Several members of Extinction Rebellion were among those arrested, though the group claimed that they were "artists," and the items seized were materials for an art installation.
The police, on the other hand, described the arrests as "proactive action to prevent and reduce the likelihood of criminal activity during the course of the weekend." A statement from the force also said that "a number of highly specialist policing teams will remain on hand during the course of the weekend," and that "officers will act swiftly to any threat."
The Daily Mail
Tens of thousands of anti-lockdown protesters marched through central London today calling for 'freedom'
Crowds demanded an end to all Covid-19 lockdown regulations after Freedom Day was delayed from June 21
People held signs reading 'freedom is not for trade' and 'mask wearing zombies wake up or comply and die'
Protesters held placards calling for police to 'arrest Matt Hancock' after he was caught breaching Covid rules
Health Secretary was accused of hypocrisy over a video showing him kissing married aide Gina Coladangelo
Crowds threw tennis balls at Parliament before descending on Downing Street, where they started booing
Tens of thousands of anti-lockdown protesters marched through central London and towards No10 today demanding the 'arrest' of Matt Hancock after he was caught breaching Covid rules by kissing his married aide while preaching the restrictions to the rest of the UK.
Anti-lockdown protesters were seen marching along through the capital before descending on Downing Street on Saturday as they called for 'freedom' and the end to all Covid lockdown regulations after Freedom Day was delayed from June 21.
As well as demanding the end to lockdown, protesters brandished placards that demanded police 'arrest Matt Hancock' after he was caught breaching Covid safety regulations by kissing his married aide – despite asking the rest of the country to follow the strict restrictions.
It was too big for the BBC to ignore:
The following is a bit of a laugh when you watch the video below
"Officers made their presence known but stood back allowing events to take place."
I'm not very good with estimating numbers but it seems to me that it goes beyond "thousands:
Instead of the above, this is what gets the headlines..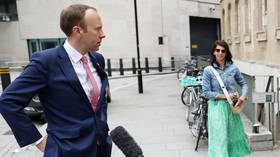 British Health Secretary Matt Hancock has resigned. Hancock was caught on CCTV footage released this week kissing an aide, in breach of his own social distancing guidelines and his marital vows.
Hancock announced his resignation on Saturday, apologizing again for breaking social distancing rules, and to his family for "putting them through this." 
"We owe it to people who have sacrificed so much in this pandemic to be honest when we have let them down as I have done by breaching the guidance," a statement by Hancock read.
A day earlier, The Sun published still images from CCTV footage showing Hancock embracing and kissing aide Gina Coladangelo, a married lobbyist who he had promoted to a paid position last year.
Shortly after the written statement, Hancock posted a video message to Twitter. "Those of us who make these rules have got to stick by them and that's why I've got to resign," he said.
Hancock had apologized on Friday for breaking the social distancing guidelines he helped draft, and said he was "very sorry" for letting the country down. Prime Minister Boris Johnson accepted Hancock's apology, with Downing Street deeming the "matter closed" later that day.
However, calls for his sacking proliferated in the media and online, especially given the fact that Hancock backed the resignation last year of Professor Neil Ferguson, the epidemiologist and government adviser who was caught breaking quarantine to meet with his married lover.
The resignation comes after multiple Conservative MPs broke ranks on Saturday and added their voices to the chorus demanding Hancock step down.
Hancock is married with three children, and wrote in his resignation letter that he needs "to be with my children at this time."
Here is one view. I would find it hard to disagree: