HUGE: Russia To Demand "Hostile States" Pay In Rubles For Gas
HUGE: Russia To Demand "Hostile States" Pay In Rubles For Gas
23 March, 2022,
With the ruble mostly stuck in sanctions limbo and trading around 100 to the dollar in recent days (an improvement from the USDRUB 140 hit on March 8), the Kremlin appears to have found a new way to prop up the Russian currency besides merely central bank interventions: make foreign customers of Russian gas demand it.
During an address to the nation moments ago, Vladimir Putin said that Russia will demand that countries it has labeled "unfriendly" (which includes U.S., U.K., and European Union countries) must pay in rubles for Russian gas, Interfax reported.  As a result, Putin ordered the central bank and government in a week's time to determine the scheme of ruble payments for Russian gas, and also ordered Gazprom to make corresponding changes to gas contracts.
Putin also said that Russia will continue supplying contracted volumes, will only change payment currency.
Following Putin's comments, the Russian ruble strengthened rising over 5% at MICEX after indicative prices briefly jumped more than 8% twice (its biggest single-day gain since 2014)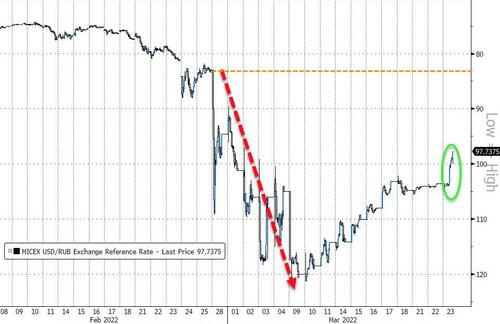 1M Rub forwards, which do trade on Bloomberg, gained over 4 rubles to ~103.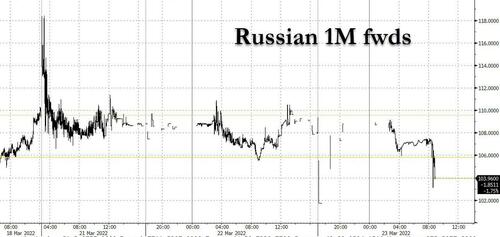 The Russian leader said it makes no sense to export goods to the U.S. or EU in dollars or euros, according to the news service.
Moscow has unveiled a new settlement mechanism for energy exports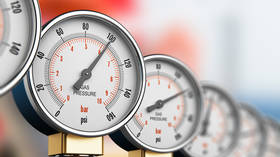 German gas industry group Zukunft Gas said on Wednesday it was confused by the statement of Russian President Vladimir Putin about the switch of payments for Russian natural gas supplies to rubles.
"We took the message that Russia wants [us] to pay for gas supplies only in rubles with great confusion," Timm Kehler, the director general of Zukunft Gas, told DPA agency. "We can't predict at this moment what specific implications this will have for the gas trade," Kehler said.
Meanwhile, Austrian OMV said it was going to continue to pay for Russian gas in euros. According to the head of the company, they have no other contractual basis.
President Putin announced earlier in the day that Russia will now accept payment for gas exports to "unfriendly countries" in rubles only.
The measure is the first serious response from Moscow to sanctions imposed on Russia by the US and its allies over the conflict in Ukraine. A number of mostly Western countries have taken steps to isolate Russia from their financial systems. Major Russian banks have been cut off from the SWIFT payment network, making it difficult for the country to continue transactions in euros and US dollars.
Days after we reported that India stubbornly refused to yield to western pressure and continued to buy cheap Russian crude oil at a discount of around $30 to dated brent…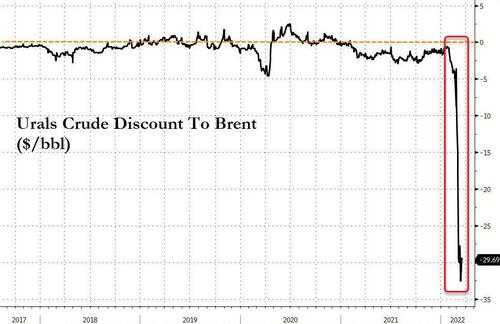 … today Bloomberg reports what we have known all along, namely that China's oil refiners are "discreetly" purchasing cheap Russian crude as the nation's supply continues to seep into the market.
However, unlike India's state-run oil refiners, which have issued a number of tenders seeking to buy Russia's flagship Urals crude among other grades, traders say China's state processors are negotiating privately under the radar with sellers so as not to make their support for the Putin regime too glaring in light of Western opposition.
At the same time, China's worst virus outbreak since the start of the pandemic has led to some oil refiners cutting back operations and is forcing analysts to rethink their demand estimates.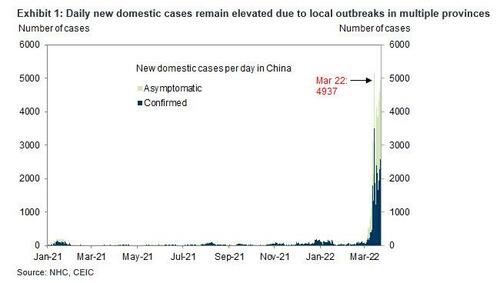 So on one hand, the Covid-19 resurgence is posing a threat to global oil consumption and may accelerate demand destruction, helping to rein in bloated prices that soared on Russia's war in Ukraine, but on the other it seems the world is about to be hit with another lengthy disruption.
As we first reported yesterday, Kazakhstan today said that it expects the halt of the CPC export terminal on Russia's Black Sea coast to last about 1 1/2 months, Energy Minister Bolat Akchulakov said on local business TV channel Atameken after it emerged Tuesday that oil shipments to the facility will be significantly disrupted.
In response to Russian depity prime minister Novak who said that repairs could take as long as two month, Akchulakov said the halt will be only "three weeks, a month, maybe a bit more" (read: it will be a "bit more"), with the Kazakh minister saying he expects CPC has the spare parts needed for repairs.
Yesterday, we noted that Russian and Kazakhstan oil exports via the Caspian Pipeline Consortium (CPC) from the Black Sea may (read: will, now that all commodities are weaponized) fall by up to 1 million barrels per day (bpd), or 1% of global oil production, due to storm-damaged berths, a Russian official said on Tuesday.
And in another potential supply-chain snag, on Thursday a Nigerian labor union said that Nigeria is losing nearly all of its oil output pumped through a major pipeline, in what Bloomberg calls the latest example of an increase in theft that's accompanied a surge in crude prices, according to a labor union.
Producers received as little as 5% of crude volumes pumped through the Trans Niger Pipeline between October 2021 and February 2022, with the fuel being illegally tapped in about 150 places, according to the Petroleum and Natural Gas Senior Staff Association of Nigeria. Vandalism was also a major contributor to the losses, the union said.
The losses are having an adverse impact on government revenue and foreign-exchange reserves, Central Bank Governor Godwin Emefiele said in a briefing on March 21. Africa's largest crude producer has struggled to meet its OPEC+ quota despite rising oil prices following Russia's invasion of Ukraine.  
"How can we be losing over 95% of oil production to thieves?" Tony Elumelu, a Nigerian billionaire who owns investment firm Heirs Holdings, said on Twitter last week. "It is clear that the reason Nigeria is unable to meet its OPEC production quota is not because of low investment but because of theft, pure and simple!"
The government is intent on tackling oil-related crime, Timipre Sylva, Nigeria's minister of state for petroleum resources, said on Wednesday while visiting sites where the stolen crude is processed.
"We are determined to stop it, because we know that we can ill-afford the continuation of this insecurity in the oil industry," Sylva said, according to the remarks posted on Twitter by the state-owned Nigerian National Petroleum Company Ltd.
With all this taking place, oil was trading around $114, roughly unchanged from the highest levels hit on Wednesday.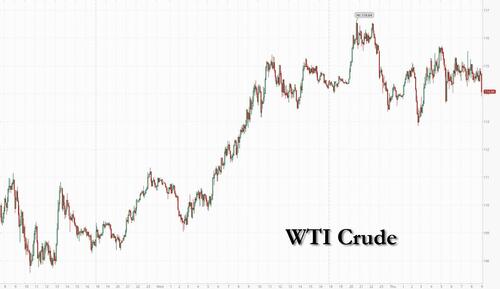 With China refusing to bend the knee to Washington's "denounce Putin" demands, it appears the Biden administration's narrative that the world is united against Russia is creaking at the seams as Bloomberg reports that cheap Russian Urals crude is finding willing buyers in India.
And why wouldn't they… With Urals Crude trading at a stunning $30 discount to Brent, who can blame India for snapping it up.
"Russia is offering oil and other commodities at a heavy discount. We will be happy to take that," one of the Indian government officials said.

The official added that such trade required preparatory work including transportation, insurance cover and getting the right blend of crude, but once that was done India would take Russia up on its offer.
As President Biden struggles to convince America's European allies to bite the bullet and agree to tougher sanctions on Russian energy during his trip to Brussels (where he is participating in meetings with NATO, the G-7 and the EU), Austrian Chancellor Karl Nehammer offered the latest example of why this this will likely be a futile effort on Biden's part, as uniting Europe in opposition to Russia simply isn't feasible given its dependence on Russian oil and gas.
Nehammer
The view from Mike Adams. 
(Natural News) As a patriotic American, this is the kind of article that pains me to write. But unlike the Democrats and their make believe gender identity fairy tales that pretend biology isn't real, I can't simply choose to alter the laws of economics and tell you something that isn't so. The truth is that based on things that have been set into motion right now, the US dollar goes to zero. And the Russian Ruble emerges as a dominant, commodity-backed world currency that gives Russia long-term economic strength and competitiveness.
There is no other rational conclusion. Anyone who is honest and who understands finance would reach the same conclusion.
See, the US is now characterized by a decadent, collapsing culture, insane levels of money printing and shocking inflation rates that are going to lead to food riots before the end of 2022. We may also see fuel rationing, food price controls, food rationing and similar actions that smack of economic authoritarianism. (The US also now features extreme censorship, political prisoners and a broken justice system that sets murderers free if they murdered conservatives or Trump supporters.)
While the dollar is backed by nothing other than a collapsing society of lunatics and actual idiots — just look at Joe Biden, Kamala Harris and the new SCOTUS nominee (Jackson) for recent examples of Idiocracy come to life — the Russian Ruble is suddenly backed by hydrocarbons. That's because Russia is now demanding payment in Rubles for natural gas sales to most countries.
The hydrocarbonruble will replace the petrodollar
The era of the so-called petrodollar is quickly giving way to the hydrocarbonruble. Yes, the Hydro-Carbon-Ruble. That's the ruble backed by hydrocarbons in natural gas. These hydrocarbons not only run Europe's cities and industries, they are also used to create nitrogen-based fertilizers that literally feed about half the world population. Every nation on Earth needs hydrocarbons. If you don't get them, your economies collapse and your people starve
The US dollar, on the other hand, is backed by nothing but idiocy and incompetence. The US is in such dire financial straights that the US central bank just stole around $300 billion in Russia's "reserves," thereby defaulting on what the central bank owes to foreign nations.
Yes, the central bank of the United States of America just defaulted.
Russia, meanwhile, is sitting on 30% of the world's natural resources. Those resources include natural gas, oil, minerals and reliable food crops. Russia owns more natural resources than any other nation in the world, including China and the USA.
The fiat currencies of the world are going to collapse to zero. This has already been set in motion. There is no stopping it. The government of California is already hoping to hand out stimulus money to help people pay for the rising cost of gasoline and diesel fuel. This is, in effect, printing more money to help cover the costs of inflation caused by printing more money.
This will rapidly spiral into hyperinflation. It is very likely that the US dollar will be losing something on the order of 10% per month before the end of 2023. By the end of 2024, we might be in full-blown Venezuela hyperinflation territory. If the US dollar survives to the year 2027 without a total collapse, it will be nothing short of a miracle.
Cleverly, Russia has tied its currency to hydrocarbons. And since there is inherit, global demand for hydrocarbons, the Russian ruble will always have demand. The dollar, backed by nothing, will be sold off everywhere, right alongside US Treasury debt, since all Treasury debt is based on the dollar itself, which is collapsing.
The end result will be extreme poverty for most Americans, driving the USA into civil unrest, chaos and extreme political upheaval.
I cover this in a 19-minute podcast here (the full Situation Update podcast is separate, below):
Brighteon.com/a0eff564-1677-4efd-ac98-20b29b04d0fc
US states had better prepare their own currencies or they will collapse when the dollar dies
Personally, I am hoping Texas declares itself to be a sovereign nation, launches its own Texas gold-backed currency (or oil-backed) and begins pumping out oil and selling it to the rest of the world. Texas can stand on its own, unlike most other US states. But mark my words: Any US state that does not have a backup currency ready to go will see its economy utterly destroyed by the collapse of the dollar.
Texas, Florida and other conservative-leaning states had better get on the ball and get this plan moving along, or they will be caught in a devastating economic collapse as hyperinflation kicks in.
California is already a goner. There is no future where the coastal regions of California don't collapse into a Mad Max scenario of total lawlessness and chaos.
Very few Americans realize that the America they once knew is over. It will never "go back to normal." Inflation is now an unleashed beast, and the only (insane) solution that will be offered by the US government and Federal Reserve is printing more money.
Printing more money to prop up the illusion of a functioning economy
It won't be long before the Federal Reserve will print money to buy up stocks in the stock market as a last-ditch effort to project the illusion of economic stability. Markets will soar while the dollar plummets. People will think they're "rich" from their stock portfolios while they are paying wildly inflated prices for bread, gasoline, clothing and consumer goods.
Eventually, the stock market Ponzi fraud will collapse, leaving the American people with nothing other than worsening inflation. Pensions will be obliterated. Savings will melt away. The only thing that will save people from starvation will be gold, silver, ammo and other physical things they can trade or sell for food. People will sell homes, ranches and farms just to avoid starvation. Horrifyingly, some people will sell their children. This will especially occur in Democrat-controlled areas which are already dominated by satanists and child traffickers (i.e. Democrat party donors).
This will be far worse than the Great Depression. And when it's over, America will be a third world nation with nukes. One of the most prolific sectors of America's future economy will be human trafficking, and no woman or child will be safe.
Not a pretty picture. It's very sad, actually, to see just how quickly the Democrats and Leftists have destroyed this great nation. This is what happens when Republicans like Mike Pence allow the Democrats to steal elections and destroy a nation. There are repercussions. Pence is a traitor, as are most US Senators and House members. But you already knew that.
Get full details in today's podcast here:
Brighteon.com/ff04bff1-3ffd-4e31-be60-6deeb2742324
Gonzalo Lira – America, you're about to be POOR