Ice on fire: first wildfires are registered around the world's Pole of Cold in Yakutia
Ice on fire: first wildfires are registered around the world's Pole of Cold in Yakutia
I have been talking about peat fires in Siberia for several years before it was mentioned.
The Siberian Times and Gizmodo seem to be the only outlets talking about some of the most important news on the planet.
By Svetlana Skarbo, Valeria Sukhova
Could burning ground in an area as extremely cold as Oymyakon be caused by zombie fires?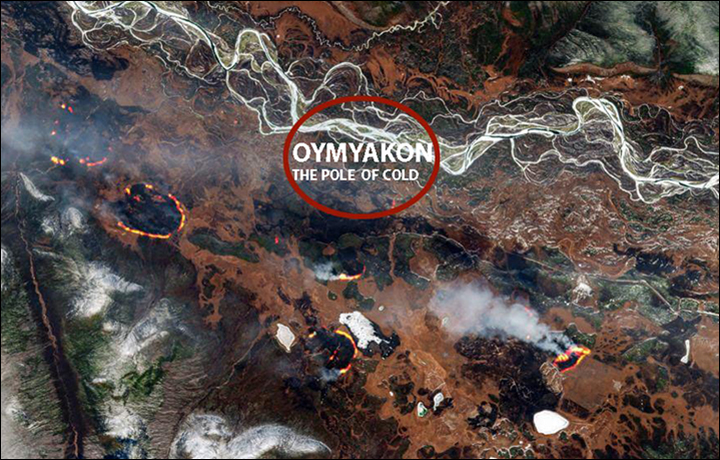 1 May 2021 wildfire south of Oymyakon (Yakutia), the coldest inhabited settlement on Earth. Picture: Pierre Markuse 
The air temperature in the Oymyakon district of Yakutia is still negative at nights, with daytime just about climbing over 1C.
Snow is beginning to melt, but rivers are still locked in ice for at least a couple weeks more – which is completely normal for Oymyakon, the coldest permanently inhabited settlement on Earth.
What is abnormal is the sight of a dozen wildfires burning a short distance north and south from this famous Pole of Cold. 
The first was registered as unusually early as 29 April by the settlement of Teryut, a short distance north from Oymyakon. 
Sentinel-2 satellite caught sight of frozen Indigirka River, snow-covered mountains, and ominous dark-orange dots scattered along the valleys.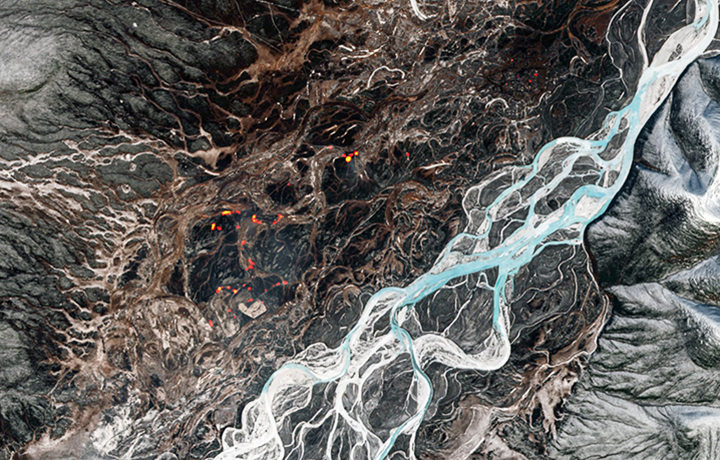 29 April 2021 wildfire by Teryut in Yakutia, north of Oymyakon, the coldest inhabited settlement on Earth
---
The second set of fires was recorded south of Oymyakon and even closer by distance (within 20km, or 12 milds) on 1 May. 
Last summer was one of the worst in the history of Yakutia for the number of wildfires, with many registered above the Arctic circle. 
Russia's largest and coldest region reported fires all around its territory, with a massive blanket of smoke visible from space in the far north beside the Arctic Ocean. 
At the end of autumn 2020 a report in Tomponsky Vestnik newspaper made clear that one such fire was still burning outside the village of Udarnik – the area that suffered badly in summer wildfires.
Video and pictures show August 2020 wildfires in Svatay, extreme north of Yakutia, and other northern villages in Yakutia 
---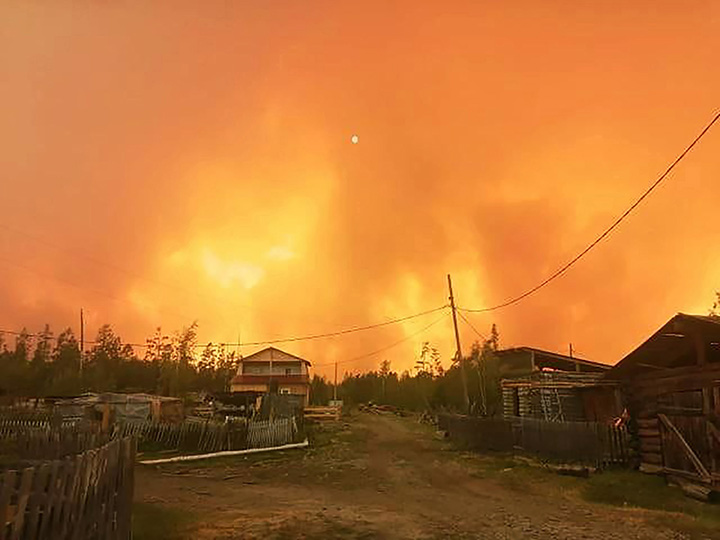 ---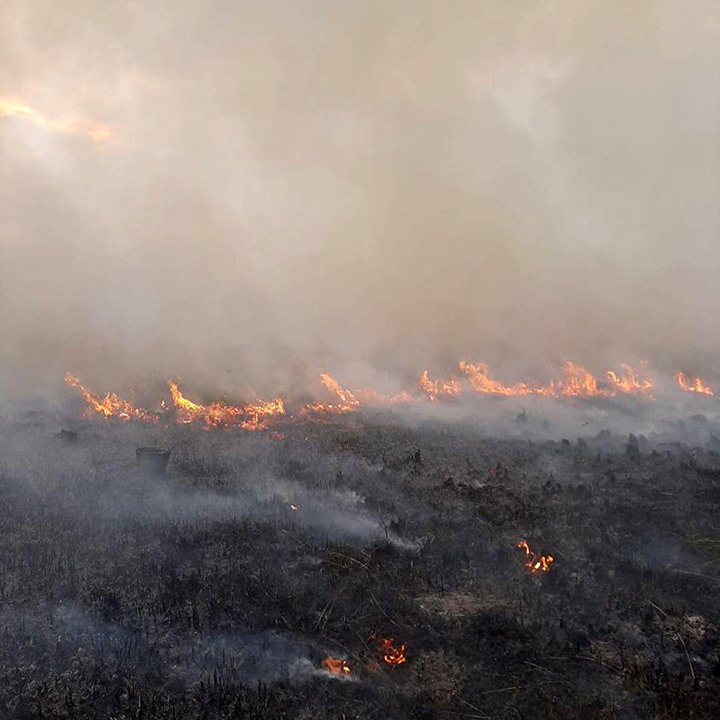 ---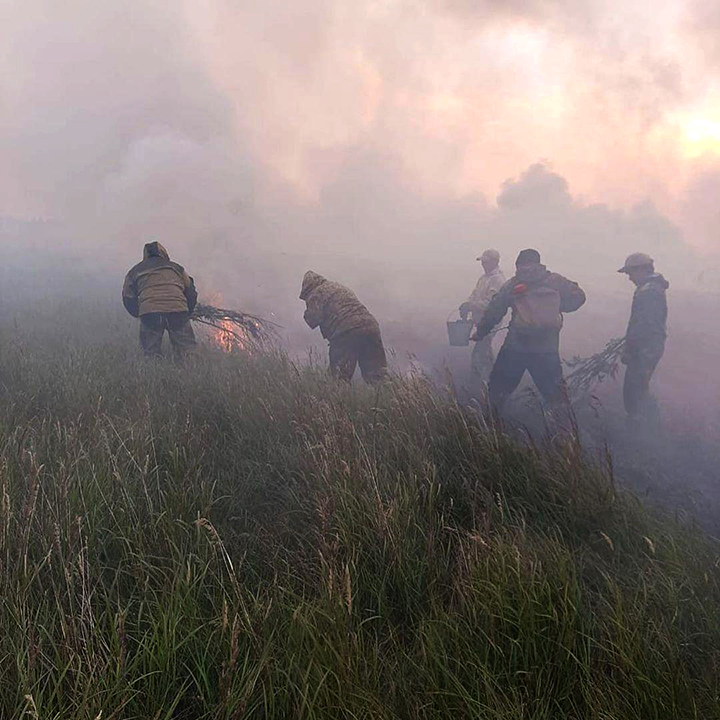 The video, filmed in November at -25C (-13F) showed pillars of smoke rising above a field outside the village, with worried residents commenting that summer fires  had not stopped.
Several months later we asked local journalists to check if the smoke was still visible in the same location – and it was, with the ground feeling 'like rubber' as they walked along a field. 
The video below was filmed at -30C (-22F) after months of extremely cold winter with air temperatures plummeting in December and January 2021 to as low as -60C (-76F). 
This kind of fire – most often in peat, or young coal, or a mixture of both – is often described as a 'zombie fire'.
Collapsing ground and thawing snow above a zombie fire outside the village of Udarnik, filmed in February 2021, months after it was first noticed in November 2020
Such blazes can go on for weeks and months. In some situations they are next to impossible to extinguish.
Siberia has a number of such fires – further south, but now they are present in the far north. 
'This winter peat and charcoal underground fire outside Udarnik was caused by summer wildfires that didn't stop till late Autumn. It wasn't diminished by weeks of rain, which is typical for peat fires as they can go many metres down, creating extremely dangerous burning 'pockets' where a man or an animal would burn alive within minutes. Peat fires don't need oxygen from outside, and 'like' cold snowy winters because snow acts like a blanket that supports burning', said ex-forester Lyubov Vasilyeva, from the Tomponsky district of Yakutia.
Lyubov, 62, believes that it was the collapse of the Soviet Union that started a long chain of events leading to the current zombie fires. 
'There was a system of controlled burning of dry grass, with specialists – who had maps with peat bogs and coal deposits marked – supervising the process,' she said, recalling the past. 
'It died in the early '90s, and nothing new was created, with people burning grass uncontrollably and without knowledge. 
'This results in massive summer wildfires, with some of them turning into zombie fires', she said. 
Siberia Is on Fire—and It's Only May
3 May, 2021
It looks like wildfires in Siberia are starting up again—and some fires that never went out after last summer are starting to poke their heads out of the snow. Very normal and cool!
Last week, authorities put Novobirsk's 1.7 million residents under what's known as a "black sky" air quality warning as smoke from nearby wildfires blanketed the city. In late April, the Siberian Times reported that 27 houses were destroyed in the city of Kemerovo and 50 in Russia's third-largest city of Novosibirsk, with more destruction in other surrounding districts.
As summer approaches, fires in Siberia like these are showing no signs of slowing down—and are sparking in even colder areas north. Images gathered by the Copernicus Sentinel-2 satellites on Sunday and posted to Twitter by the EU's Directorate-General for Defence Industry and Space account show a group of wildfires clustered near Oymyakon, a rural area known for being one of the coldest places on Earth. Other satellite images grabbed from Copernicus Sentinel data show fire hotspots igniting among snow-capped landscapes.
You can probably guess that Siberia—especially regions around the Arctic Circle—really isn't supposed to burn this much. But temperatures in Siberia broke all sorts of records last summer, and scientific analyses have found that the heat in the area was made 600 times (!) more likely due to climate change. The fires that burned in the Arctic last year released a record amount of carbon dioxide that was equivalent to the entire annual emissions of Spain, creating a dangerous feedback loop.
Balmy temperatures in the region continued into the winter: The island of Svalbard in Norway's Arctic region hit its highest-ever temperature for November last year, registering 49 degrees Fahrenheit (9.4 degrees Celsius), which would be warm for November even where I am in New York. Temperatures in the high Arctic averaged 11.9 degrees Fahrenheit (6.6 degrees Celsius) above normal this winter, according to data collected by NASA. (In NASA's case, it defines normal as the period from 1951 to 1980.)
A number of fires in recent years have ignited and spread in areas with peat, a carbon-rich soil that can release its stores into the atmosphere when burned. All this new peat-based fire activity is linked to some very weird phenomena—namely what's known as zombie fires. Peat fires can continue to smoulder underground for long periods of time, using up the carbon in the soil until they can reach the surface again. Experts have speculated that these fires could reignite into bigger blazes in warmer months.
At the end of February, the Siberian Times took footage of a zombie fire burning outside of Khandyga, a small town on the Aldan River, which they posted Sunday to Twitter. The video is pretty wild. If you've ever wondered what digging under the snow in minus-22 degrees Fahrenheit (minus-30 degrees Celsius) temperatures to find burning peat looks like, check it out. The fire filmed by the Siberian Times was originally spotted by locals in November, and the outlet suggests there could be some link between these long-lasting fires that won't die in this region and the wildfires burning now. (Arctic fire experts suggested it could be the result of human activities as well.)
Earlier this year that they may have developed an effective biodegradable solution to help firefighters extinguish zombie fires, which is great. But given Siberia itself is more than 5 million square miles (13 million square kilometers) and includes areas that are hard for firefighters to access, that solution right now is kind of like spritzing a wildfire with a spray bottle. And as Siberia warps under new pressures from climate change, we can only wonder what fresh horrors this summer's wildfire season will bring.