Indian COVID Strain Declared "Global Concern" As Data Show It's Vaccine-Resistant
Indian COVID Strain Declared "Global Concern" As Data Show It's Vaccine-Resistant
10 May, 2021
During the WHO's Monday press conference, Maria Van Kerkhove, the scientist in charge of the agency's COVID-19 response, declared that COVID-19 variant B.1.617, which was first isolated in India and is believed to be driving that country's brutal second wave, is a "variant of global concern".
There's apparently some new data that's presently being peer-reviewed which shows that B.1.617 is indeed more transmissible than earlier strains of the virus.
"There is some available information to suggest increased transmissibility," Van Kerkhove said.
Though examples of every major mutant strain have been discovered across India, local public health authorities have been growing increasingly concerned about B.1.617, suspecting that the variant strain might be even more infectious than B.1.1.7, the mutant strain otherwise known as "the Kent Strain", after the part of the UK where it was first identified.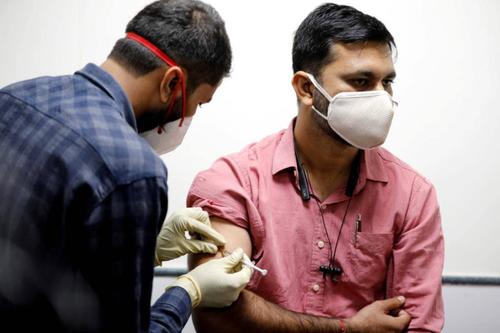 Over the weekend, the Indian Express reported that the B.1.617 variant was been found to be driving much of the spread in the outbreak in Odisha, comprising roughly 50% of cases reported. Interestingly, not a single sample of the UK variant B.1.1.7 or the triple-mutant B.1.618 (which was recently found to be more prevalent in West Bengal) has been found in Odisha, suggesting that the original India strain is spreading the fastest.
B.1.617 is also the dominant variant in India's hardest-hit state, Maharashtra.
Dr. Kerkhove explained that the WHO's data appears to support the conclusion that B.1.617 is not only more infectious, but also resistant to vaccinations, as a surprising number of patients who have already been fully vaccinated have been found to be infected with the strain.
Meanwhile, shortly after the press conference concluded, the FT reported that a new study showing that B.1.617 has "modest ability" to avoid antibodies elicited by the Pfizer jab, though an extensive vaccination campaign is likely to reduce transmissions, a study has found. The B.1.6.1.7 variant, one version of which was elevated to a "variant of concern" by Public Health England last week, first emerged in the state of Maharashtra in late 2020 or early 2021 and has spread throughout India and to at least 40 countries.
The variant includes mutations that appear to make it more transmissible and less susceptible to vaccines than the virus that first emerged in Wuhan last year.
One such mutation "confers partial evasion" of antibodies generated by the Pfizer vaccine, according to a paper — which has yet to be peer-reviewed — but is set to be published this week by researchers from India, South Africa, Japan and the UK.
Ravindra Gupta, professor of clinical microbiology at the University of Cambridge and one of the study's authors, told a press conference on Monday the variant discovered in India has mutations that "enable immune escape" and that "we should be assuming it's as transmissible" as the one first identified in the UK. To be sure, the vaccines "will still protect against severe disease," he added.
While it might not seem like it at first, this is actually good news for Pfizer. Though it's definitely bad news for humanity.