India's Current 'COVID Crisis' in Context
India's Current 'COVID Crisis' in Context
Apart from arguments about deaths from diarrhoea and respiratory conditions because of the horrific smog I suspect that this has something to do with the effects of the vaccine. 
Basically,my suspicion is that the more they vaccinate the more deaths there will be. These deaths will be ascribed to the virus and so the answer will be to vaccinate even more.
Is this Geert vanden Bossche's scenario playing out?
26 April, 2021
The mainstream media's reporting on the 'COVID crisis' in India has clearly been governed by a global approach to messaging that appears to aim at ramping up fear of 'new variants' and coerce compliance to vaccination during a period of increasing resistance, both in India and abroad. However, as somebody who lived in India for 8 years in total until December 2019, and as the fundraiser for a food bank in Bihar that has been alleviating the hunger caused by lockdowns [1], I have daily contact with people in India as well as some context for the figures being presented amidst the ongoing alarm.
Firstly, the media are presenting cases and deaths in whole numbers that sound horrendous until you convert them to percentages of India's huge population of 1.4 billion people. The current daily death rate in India of 2,600 is equivalent to 126 deaths per day in the UK, way below our peak rate and closer to what we are experiencing now. See the graph produced by JHU below to understand the context [2].
Secondly, even as the alleged COVID deaths reach their peak more people die of diarrhoea every day in India and have done for years, mostly due to a lack of clean water and sanitation creating a terrain ripe for the flourishing of communicable disease [3].
Thirdly, Delhi, the focus of the media's messaging, and the source of many of the media's horrifying scenes of suffering, has the most toxic air in the world which often leads to the city having to close down due to the widespread effects on respiratory health [4, 5, 6]. This even led to Sonia Gandhi and her son Rahul having to flee the city in November 2020 until the air quality improved [7].
Fourth, high stake assembly elections are going on in some of India's biggest states at present [8]. Delhi's toxic air has been a political football for years that neither dominant party addresses directly, preferring to call on individuals' collective efforts to tackle the problem. Therefore, blaming the soaring respiratory problems that require oxygen on a COVID surge skilfully diverts attention from the ongoing political neglect of this urgent public health issue.
Fifth, respiratory diseases including COPD, TB, and respiratory tract infections like bronchitis leading to pneumonia are always among the top ten killers in India [3]. These conditions are severely aggravated by air pollution and often require oxygen which can be in short supply during air pollution crises. Delhi even saw its first oxygen bar open in 2019, where wealthier residents can pay for a 15-minute blast of oxygen during toxic periods [9].
Finally, the Indian government's focus on vaccine procurement risks diverting resources from tackling urgent public health issues including access to clean water, sanitation, clean air, and treatments for other communicable diseases. An article in the British Medical Journal reported on disrupted access to TB vaccinations due to lockdowns [10], with TB known to cause around 1.4 million deaths in the country annually.
According to my contacts on the ground, people in Delhi are suffering from untreated respiratory and lung conditions that are now becoming serious. I've also had breathing problems there when perfectly healthy and started to mask up to keep the particulate matter out of my lungs. I used to suffer from serious chest infections twice yearly during the big changes in weather in India, usually November/December and April/May. When I reluctantly masked up that stopped. My contacts have reported that the usual seasonal bronchial infections have not been properly treated by doctors afraid of getting COVID, and due to people's avoidance of government hospitals out of fear of getting COVID. Undoubtedly, these fears will have been fuelled by the media's alarmist coverage of the situation. Consequently, the lack of early intervention means many respiratory conditions have developed life-threatening complications. Also, people from surrounding rural areas often travel to Delhi for treatment as it has the best healthcare facilities and people can go there for a few rupees by train. This puts pressure on Dehli's healthcare system during respiratory virus seasons.
Until now, my contacts report that vaccine take-up among the working classes and other minority groups has been low due to widespread mistrust of government-funded vaccination camps. In the context of successive governments' neglect of other longstanding public health problems that disproportionately affect India's working class, the rolling news coverage of COVID and lockdowns are perceived as attempts to coerce vaccination compliance. Also, many perceive COVID as a disease more likely to affect the wealthy living in gated urban environments with air conditioning; therefore, a reluctance to comply endures. Vaccination is now being promoted over cheap early treatments that were previously widely available, and while vaccine take-up has increased, so have deaths concordantly as displayed in the graphic from John Hopkins University below [11]. While correlation does not equal causation, most people I have spoken to do not believe this is merely a coincidence. Given the widespread availability of the data online, and anecdotal reports of adverse reactions and deaths, suspicions of the vaccination campaign remain.
When we consider the current media coverage of India's alleged COVID crisis in the context of the multiple factors presented above, clearly people's concerns are not unfounded, and all is not what it seems.
References
1. Just Giving (2020) 'We're Raising £3000 to Continue the Food Bank in Bodhgaya' https://www.justgiving.com/crowdfunding/foodbankbodhgaya
2. John Hopkins University's Coronavirus Resource Center (2021) https://coronavirus.jhu.edu/map.html for current data.
3. Times of India (2021) 'These Diseases Kill Many More Than the Coronavirus' https://timesofindia.indiatimes.com/india/these-diseases-kill-many-more-than-coronavirus/articleshow/74670863.cms
4. DW.com (2020) 'India: Smog Causes Health Emergency During Merkel Visit' https://www.dw.com/en/india-smog-causes-health-emergency-during-merkel-visit/a-51083303
5. Al Jazeera (2020) 'India's Capital New Delhi Suffers Most Toxic Air in a Year' https://www.aljazeera.com/news/2020/11/5/indias-capital-new-delhi-suffers-most-toxic-air-in-a-year
6. Thomas, V and Tiwari, C. (2020) 'Delhi the World's Most Polluted Capital Fights Back' Brookings https://www.brookings.edu/blog/future-development/2020/11/25/delhi-the-worlds-most-air-polluted-capital-fights-back/
7. The Hindu (2020) 'Air Pollution: Sonia Gandhi Shifts to Goa on Medical Advice' https://www.thehindu.com/news/national/air-pollution-sonia-gandhi-shifts-to-goa-on-medical-advice/article33140498.ece
8. Indian Express (2021) 'Assembly Elections 2021 Live Updates' https://indianexpress.com/article/india/assembly-elections-2021-live-updates-west-bengal-kerala-tamil-nadu-puducherry-assam-7250933/
9. BBC News (2019) 'Delhi Pollution- The Bar Selling Oxygen to Choking City.' https://www.bbc.co.uk/news/av/world-asia-india-50502972
10. Pai, M. et al. (2020) 'India's Syndemic of Tuberculosis and COVID-19' BMJ Editorial https://gh.bmj.com/content/5/11/e003979
11. John Hopkins University CSSE Covid-19 Data (2021) https://github.com/CSSEGISandData/COVID-19
Meanwhile, aren't the Indians lucky to have kindhearted Uncle Joe looking out for their interests? Lol
Kent Covid variant already dominant in the UK and US and it is in 130 countries
Indian reports show it accounts for surging proportion of infections there
It is known to be faster-spreading than other strains of the virus
Not much is known about the Indian variant but it doesn't appear to be worse
India is in a state of crisis with hospitals overwhelmed and thousands dying 
It was found in a patient tested by Stanford Health Care Clinical Virology Laboratory in California, according to news reports. The case was reportedly found in the San Francisco Bay Area
The "double mutant" variant of the coronavirus behind the ongoing surge in Covid-19 cases in India has now been detected in the US. The first confirmed infection was reported on Monday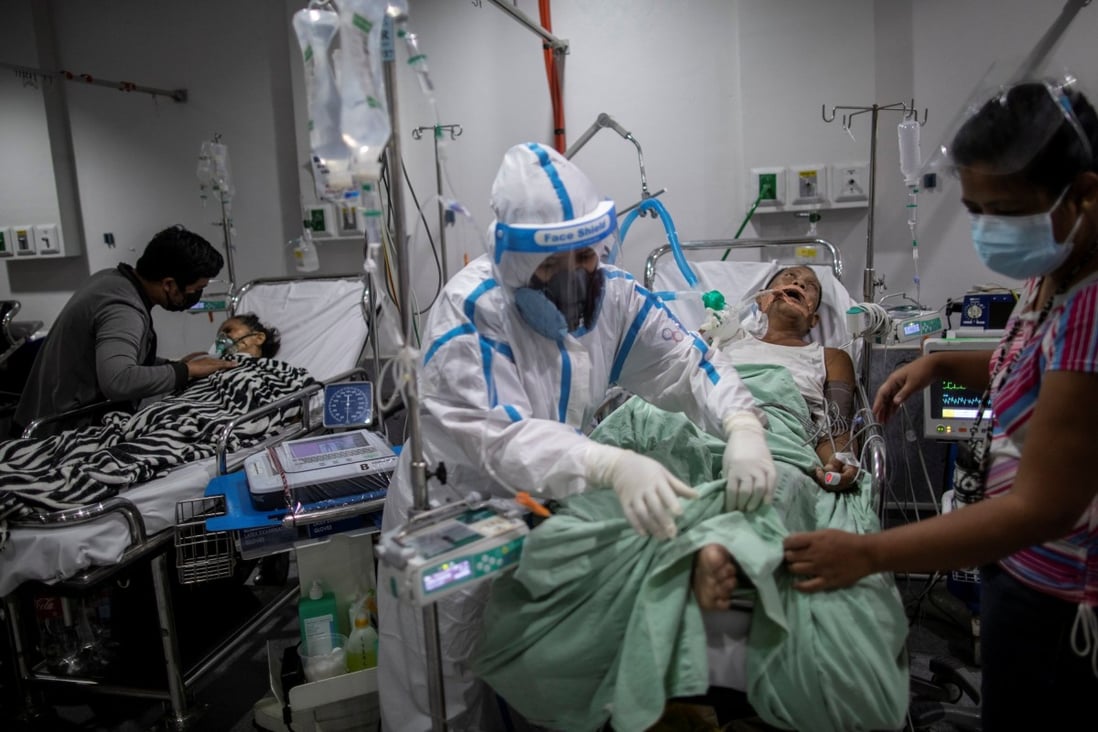 Dr Rodrigo Ong of independent OCTA Research Group think tank said the country was at the 'same crosspoint' as India in its fight against virus
Warning comes as Philippines considers cutting quarantine times for returning travellers and easing other restrictions
Relatives of 67-year-old Covid victim attacked medics in Delhi today as anger at virus response grows 
Last week, another medic was beaten in Pune by relatives of a 65-year-old patient that he couldn't save 
Attack comes as India's health system collapses under the weight of the world's worst second wave of Covid  
Medics in neighbouring Pakistan are now warning they could be next as military is deployed to help enforce new mask wearing rules and strict 6pm curfew  
Pakistani troops have been deployed in 16 major cities to assist civilian authorities in enforcing measures meant to curb the spread of the coronavirus, including the wearing of masks in public and the closing of non-essential businesses after 6pm.
"Starting at 6am this morning, troops have been sent to aid the civilian administration in each district," military spokesperson Major General Babar Iftikhar said on Monday.
The announcement came as the country recorded its highest daily death toll in recent days since the start of the pandemic, and officials said the health care system was nearing its breaking point.
Iftikhar said 570 people were on ventilators in the country and 4,300 in critical condition. In some cities more than 90% of ventilators were occupied, and industrial production of oxygen could soon be diverted for health purposes.
"Ensuring adherence to precautionary measures (for the pandemic) and maintaining law and order will still be the responsibility of civilian authorities," Iftikhar said.
Japanese towns and cities which are set to host Olympic teams are scrapping their visits due to Covid-19
The western city of Okuizomo scrapped a visit from India's hockey team when it became clear it would have to provide expensive biosecurity measures
It comes as Japan is grappling with a fourth wave of Covid-19 with more than 5,000 cases reported on Saturday 
The Canadian Armed Forces will send up to three medical teams to Ontario in order to support hospitals overwhelmed by COVID-19 following a request from the province.
The federal government made the announcement in a statement issued on Monday evening in response to Ontario's Solicitor General Sylvia Jones, who formally asked for specialized nurses to assist in intensive care, as well as other medical personnel.
In the statement, Minister of Public Safety and Emergency Preparedness Bill Blair said the military would be deploying "multi-purpose medical assistance teams" comprised of nursing officers, medical technicians and other Canadian Forces members for general support.
The federal government said that the teams would be "rotated in and out of the province rather than deployed simultaneously to ensure that CAF support is sustainable