Infonesia bans export of palm oil
Infonesia bans export of palm oil
The ban from the world's largest exporter has rocked an already precarious edible oil market. The price of cooking oil has soared as war rages between sunflower oil producers Russia and Ukraine.
Indonesia announced on Friday a ban on palm oil exports in a bid to stymie the soaring domestic price of cooking oil.
Palm oil is the most produced, consumed and traded edible oil in the world.
The price of cooking oil has risen substantially as a result of Russia's invasion of Ukraine. Both Ukraine and Russia are major exporters of sunflower oil.
What did Indonesian authorities say about the ban?
"I will continue to monitor and evaluate the implementation of this policy so that the availability of cooking oil in the country is abundant and at an affordable price," Indonesian President Joko Widodo said in a statement.
The announcement followed a rally in Jakarta, where hundreds protested soaring oil and food prices.
Indonesian Finance Minister Sri Mulyani Indrawati told Reuters that Jakarta understood that the ban would hurt other countries, but stressed that it was necessary to bring down the domestic price of cooking oil as demand exceeds supplies.
Protect your home and car with the best shield against lightning and EMP attacks…
Indrawati said that the government made what amounted to one of the "harshest moves" possible after previous measures failed to stabilize prices.
People line up to buy palm oil in Indonesia
Indonesia's government had previously required producers to reserve stocks for domestic use, but this did not succeed in bringing prices down to an affordable level for the country's households. "It's still too expensive for the ordinary household to buy these cooking oils," Indonesia's finance minister said.
"We know that this is not going to be the best result," Indrawati said. "If we are not going to export, that's definitely going to hit the other countries."
Why are Indonesian palm oil exports important?
China and India are big importers of Indonesian palm oil.
Indonesia is the largest producer of the oil and accounts for more than half of the world's supply. Neighboring Malaysia is the world's second-largest producer.
Palm oil is used in cooking oils, processed foods, cleaning products, cosmetics, biofuels and other products.
Around 77 million metric tons of palm oil are expected to be produced this year, according to the US Department of Agriculture.
Global palm oil production already slumped during the first two years of the COVID-19 pandemic due to a drop in migrant labor on plantations in Southeast Asia.
Other edible oils have also seen reduced exports. Major soybean oil producer Argentina is expected to ship less oil this year following a poor end to its soybean growing season, and in 2021 drought devastated Canada's canola harvest. [DW]
Farmers in China, India, Bangladesh, Indonesia, and Vietnam — the largest rice-producing countries could experience reduced output due to soaring fertilizer prices. 
The International Rice Research Institute warns that harvests could plunge as much as 10% in the next season, equating to about 36 million tons of rice, or enough food to feed a half billion people, according to Bloomberg. 
Chemical fertilizers, such as nitrogen, phosphorus, and potassium, are the most applied nutrients for high-yielding rice cultivation. Farmers have been particularly vulnerable to soaring fertilizer prices as some have reduced the amount of nutrients to save costs. This threatens future harvests as production declines could stoke food inflation for a crop that feeds half of humanity.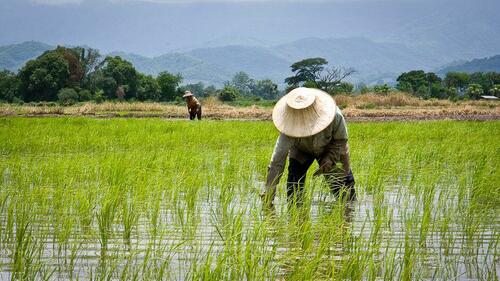 Humnath Bhandari, a senior agricultural economist at the institute, said the 10% drop in global rice production is a "very conservative estimate." He said if the Ukraine conflict continued and fertilizer prices remained high and supply limited, then the decline of rice output could be even more severe. This may trigger a full-blown global food crisis, similar to the one that the UN has been warning about. 
Russia and Belarus are big suppliers of every major type of crop nutrient. Western countries have sanctioned both, which have limited fertilizers shipments to the rest of the world, crimping supply and why prices are soaring. On top of this, Moscow has reduced or halted nutrient exports. 
Nguyen Binh Phong, the owner of a fertilizer shop in Vietnam's Kien Giang province, said nutrient costs have soared three-fold over the past year, forcing farmers in the region to reduce fertilizer use by up to 20% because of rising prices. 
"When the farmers cut fertilizer use, they accept that they will get lower profit," Phong said.
Bloomberg outlines a significant problem: Unlike most crop prices, the price of rice has gone down, not up, which will compress farmers' margins even more.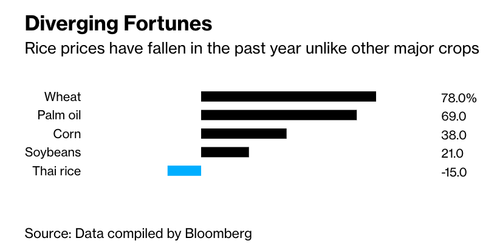 Governments across Asia have kept rice prices under control to maintain social order. Some countries offer generous fertilizer subsidies to farmers to keep yields plentiful. For example, India will spend $20 billion this year to shield farmers from soaring nutrient prices, up from the $14 billion budget before the Russian invasion of Ukraine. 
Bhandari said it's "inevitable" that rice prices will go higher; "It has to be reflected somewhere." 
Maybe the world is in the beginning stages of a food crisis and could worsen next year as crops of all sorts could experience harvest declines because farmers are spreading fewer nutrients due to high prices. 
Global food prices will remain at record-highs (or at least elevated levels) as forward-looking markets expect tightening supplies in 2023. This will give rise to continued social unrest (see: here & here) as the dominos fall in the weakest countries.
by Brian Shilhavy
Editor, Health Impact News
I have been warning the public for many years now about how fragile our food system is, where just a handful of companies control most of our nation's food, as well as most of the world's food.
Last year I published an article that identified who these globalists are, written by Sam Parker of Behind the News Network, who wrote: "Genocide is an intent of this system, not a side-effect." See:
If you have not read this article yet, please consider it MUST READING!
There are many indications that food shortages will soon start, from the war in Ukraine to the lockdowns in Shanghai and China, that are putting tremendous pressure on supply chains that will most certainly impact food security across the globe.
In addition, it has been widely reported this week in both the corporate and alternative media that there have been a rash of food processing plants catching on fire all of a sudden.
But perhaps the biggest indicator that food shortages are on the horizon in the not-too-distant future, was a published FBI warning regarding potential "Ransomware Attacks on Agricultural Cooperatives."
Summary

The Federal Bureau of Investigation (FBI) is informing Food and Agriculture (FA) sector partners that ransomware actors  may be more likely to attack agricultural cooperatives during critical planting and harvest seasons, disrupting operations,  causing financial loss, and negatively impacting the food supply chain. The FBI noted ransomware attacks during these  seasons against six grain cooperatives during the fall 2021 harvest and two attacks in early 2022 that could impact the  planting season by disrupting the supply of seeds and fertilizer. Cyber actors may perceive cooperatives as lucrative targets with a willingness to pay due to the timesensitive role they play in agricultural production. Although ransomware attacks  against the entire farm-to-table spectrum of the FA sector occur on a regular basis, the number of cyber attacks against  agricultural cooperatives during key seasons is notable.

According to a February 2022 Joint Cybersecurity Advisory authored by cybersecurity authorities in the United States,  Australia, and the United Kingdom, ransomware tactics and techniques continued to evolve in 2021. Sophisticated, high-impact ransomware incidents against critical infrastructure organizations increased globally. The FBI, the Cybersecurity and
Infrastructure Security Agency (CISA), and the National Security Agency (NSA) observed incidents involving ransomware  against 14 of the 16 U.S. critical infrastructure sectors, including FA, the Defense Industrial Base, Emergency Services,  Government Facilities, and Information Technology Sectors.

Threat

Since 2021, multiple agricultural cooperatives have been impacted by a variety of ransomware variants. Initial intrusion  vectors included known but unpatched common vulnerabilities and exploits, as well as secondary infections from the  exploitation of shared network resources or compromise of managed services. Production was impacted for some of the  targeted entities, resulting in slower processing due to manual operations, while other targeted entities lost access to  administrative functions such as websites and email but did not have production impacted.

A significant disruption of grain production could impact the entire food chain, since grain is not only consumed by humans  but also used for animal feed. In addition, a significant disruption of grain and corn production could impact commodities  trading and stocks. An attack that disrupts processing at a protein or dairy facility can quickly result in spoiled products and  have cascading effects down to the farm level as animals cannot be processed.