Former U.N. Chief Tells Iran President "Security Council Members Have Decided Upon War against Iran"
Former U.N. Chief Tells Iran President "Security Council Members Have Decided Upon War against Iran"
Iran Ready To Deliver "Crushing" Military Response After US, Israel Vow Imminent 'Action' For Tanker Attack
2 August, 2021
Iran on Sunday issued a formal denial that it was behind the major

Thursday night drone attack

 on the Mercer Street oil tanker off Oman that was managed by an Israeli firm which left two crew members dead. But both the United States and Israel on the same day 

charged that Tehran was without doubt behind the attack

, which the US Navy previously said involved multiple explosive drones targeting the vessel in the Arabian Sea. Iran's PressTV subsequently responded on Monday by vowing a 

"strong and crushing" military response to any hostile moves 

against the country.
Secretary of State Antony Blinken had warned that an "appropriate response" is coming: "There is no justification for this attack, which follows a pattern of attacks and other belligerent behavior," he said. "We are working with our partners to consider our next steps and consulting with governments inside the region and beyond on an appropriate response, which will be forthcoming."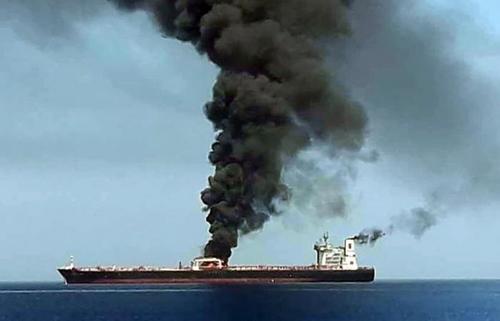 Israeli Prime Minister Naftali Bennett struck an even more ominous tone in terms of a warning and threat. He first laid out that Israeli intelligence has determined Iran to be "unequivocally" responsible for the attack, and then said, "We expect the international community to clarify to the Iranian regime that it made a terrible mistake. We have our ways of getting the message to Iran."
His address to a cabinet meeting on Sunday also included: "I say absolutely that Iran is the one that carried out the attack against the ship." Bennett added: "The thuggish behavior of Iran is dangerous not only to Israel but also to the global interest in freedom of shipping and international trade."
Iran's response to the accusations and increasingly bellicose warnings was to denounce them as "false", with a Foreign Ministry statement countering, "This is not the first time that the Zionist regime has made such accusations against Iran. This regime has taken violence and insecurity with it wherever it has gone." This despite a Friday Iranian state media report that asserted the Islamic Republic had "retaliated" for prior Israeli airstrikes inside Syria.
The UK is also backing the US-Israeli version of events, with a weekend joint US-UK statement saying the following: 
"Upon review of the available information, we are confident that Iran conducted this attack, which killed two innocent people, using one-way explosive UAVs, a lethal capability it is increasingly employing throughout the region."
A number of fresh headlines are now underscoring that the 'tanker wars' are back and in full force, with industry analysts at Dryad Global describing that "this latest attack has the hallmarks of the ongoing Israel/Iran 'shadow war'".
Likely something big is coming in terms of a major escalation in the next days…
The Israelis have further taken the incident to the Untied Nations, urging collective action, likely also as part of efforts to halt nuclear negotiations in Vienna, which are already stalled at least into August.
Hal Turner sez
BREAKING NEWS: Former U.N. Chief Tells Iran President "Security Council Members Have Decided Upon War against Iran"
Staggering revelations are coming out of the United Nations here in the New York City area this afternoon.  According to Iran President Rouhani, he was told by the former head of the United Nations that "members of the Security Council have decided upon war against Iran."
This comes just hours after Israeli Defense Minister Benny Gantz stated publicly "Iran poses an imminent and immediate danger, we must act now."
Defense Minister Gantz also warned: "Iran's terror proxies in region have hundreds of strike drones, Tehran's aggression keeps growing; the time to act against Iran is now," and then went farther, saying "Israel will take action to eliminate any existential threat."
Shortly after Gantz made his remarks UK Prime Minister Boris Johnson chimed in, blaming Iran for 'an outrageous attack on commercial shipping' which allegedly took place last week.
Last week, the Liberian-flagged Mercer Street oil tanker – en route to the UAE from Tanzania with no cargo onboard – was targeted off the coast of Oman, about 300 km southeast of Muscat.
The ship is seen in the image above, burning after the drone attack.  Below a hole in the vessel made by the apparent drone attack can be seen after the fire was put out:
UK Prime Minister Boris Johnson said on Monday that Iran must bear responsibility for its "outrageous" attack on the Mercer Street oil tanker off the coast of Oman.
"Iran should face up to the consequences of what they've done…This was clearly an unacceptable and outrageous attack on commercial shipping… A UK national died. It is absolutely vital that Iran and every other country, respects the freedoms of navigation around the world and the UK will continue to insist on that," Johnson told the media. 
Earlier on Monday, Iran's ambassador to the UK was summoned to the Foreign Office after an attack on an Israel-linked oil tanker.
"Minister (James) Cleverly reiterated that Iran must immediately cease actions that risk international peace and security, and reinforced that vessels must be allowed to navigate freely in accordance with international law," the Foreign Office said in a statement. 
This comes after both the UK and US accused Iran of attacking the Mercer Street tanker. According to the US Navy, the vessel was hit by a suicide drone.
On Saturday, Israel reportedly shared intelligence with the UK and US proving Iran's alleged role in the attack.
Tehran has vehemently denied any involvement in the incident. The Iranian Foreign Ministry on Monday summoned an adviser to the UK ambassador to Iran over London's statements alleging Tehran's involvement in the attack, the Tasnim news agency reports.
One Romanian and one British national were killed as a result. The oil tanker is Liberian-flagged and managed by Zodiac Maritime, a London-based company owned by Israeli billionaire Eyal Ofer.
 Around 3:15 PM this afternoon, U.S. Secretary of State Anthony Blinken entered the fray by announcing:
"I AM CONFIDENT THAT IRAN CARRIED OUT THE ATTACK ON THE VESSEL."
"There will be a "Collective Response" to Iran on the Mercer attack." Blinken went on to say the US is working with UK, Romania, Israel, and others on determining the response.
For its part, Iran DENIES any involvement in the shipping incident and then its Foreign Ministry warned against any action against the Iranian nation, promising "A CRUSHING RESPONSE TO ANY MOVE AGAINST IT" – According to Press.TV.
Later a disgusting display of distrust by former Israeli Prime Minister Benjamin Netanyahu showed how he _really_ thinks.  While Israel has always been willing to fight to the last . . . American . . . . Netanyahu remarked "The Biden administration could leak information about planned Israeli operations against Iran to the international media in order to prevent it, and therefore Israel shouldn't agree to a "no surprises" policy regarding Iran with the U.S."