Is the MSM coming clean about Russia and Bakhmut?
Is the MSM coming clean about Russia and Bakhmut?
Ukraine BANS NBC Journalist For Crimea Segment
NBC Journalist Keir Simmons explains that most Crimeans are pro-Russia, it will be difficult to retake, and retaking it would escalate a war with Russia:

"When Victoria Nuland talks about, at the very least, we want Crimea demilitarized, I wonder how on earth does that happen?" pic.twitter.com/avBl7qzDia

— kanekoa.substack.com (@KanekoaTheGreat) March 1, 2023
Mainstream media correspondents for major US networks rarely, if ever, report from inside Crimea and certainly are nowhere near Russian-held territory in eastern Ukraine. However, this week NBC News chief international correspondent Keir Simmons went to Sevastopol, surrounded by a significant Russian military presence given it is home to the Russian Navy's Black Sea Fleet, and in a live segment admitted that it's not at all realistic Zelensky and Ukrainian forces can ever hope to take Crimea. 
This is especially as the "the people there… view themselves as Russian." Simmons noted that "This is the closest that any US news crew has got to the Russian Black Sea Fleet in many many years." He explained that "Vladimir Putin will be determined to defend that port – to not have it take it away from him – he may well do pretty much anything to try to achieve that."
NBC News journalist Keir Simmons recently went to Crimea and reported that most Crimeans are pro-Russia. Now, Ukraine has put him on its hit list website for reporting this fact.

What does the U.S. government think about Ukraine adding an NBC journalist to its hit lists? pic.twitter.com/bD0ghFsUtf

— kanekoa.substack.com (@KanekoaTheGreat) March 1, 2023
"It is a very, very dangerous standoff.. it's hard to see how you reach a negotiation over that. There's military absolutely everywhere, it is a military town," he continued, before saying…
"When for example Victoria Nuland talks about that at the very least we [the US] want Crimea to be demilitarized, I find myself standing there and wondering, how on earth does that happen?"
Ukrainian officials and pro-Kyiv media pundits are said to be outraged at the segment, given it repeatedly and bluntly referenced that Crimeans see themselves as Russians. Even a separate write-up filed days earlier from inside Crimea and posted to NBC's website included the following: 
This is not Russia, according to Kyiv, its Western allies and the United Nations. It was annexed by the Kremlin in 2014, with the U.N. calling on Russia to return to its "internationally recognized borders." And following Moscow's broader invasion launched a year ago, President Volodymyr Zelenskyy has vowed Ukraine will take Crimea back.

But Praskovya Baranova, 73, speaks Russian, feels Russian and lives here.
But it appears that the NBC correspondent, once he was on the ground in a place that few Western reporters ever venture, couldn't deny the plain truth he was seeing all around him.
NBC told Americans the truth about Crimea for the first time and its reporter wound up on the Ukrainian government's kill list alongside several other US citizens, journos, clergy and even children.

Will NBC now report on this list? Will "press freedom" groups denounce it? https://t.co/rHLxjYdqos

— Max Blumenthal (@MaxBlumenthal) March 2, 2023
David Sacks comments of the refreshingly truthful segment, "Not long ago, these were denounced as Putin talking points." 
Sacks also says regarding NBC clearly conceding that Zelensky's goal of retaking Crimea remains unrealistic and dangerous…
This is a huge admission because it means that Biden's policy of "only the Ukrainians can decide" the objectives of the war makes no sense. We're effectively delegating our foreign policy to Zelensky, who is pursuing objectives that we don't agree with.
"At the same time that MSNBC is suddenly airing the truth about Crimea, its chief Ukraine pundit is lobbying for an all-out attack," Sacks also observes of the timing of the mid-week report.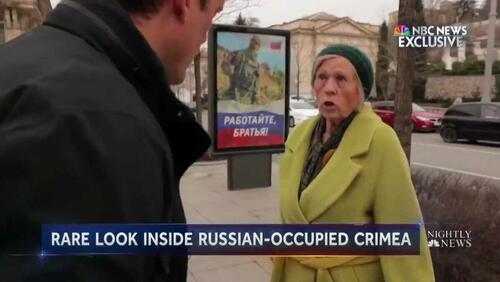 "It's getting easier to see who are the real fanatics in this war," Sacks concluded.
https://edition.cnn.com/2022/06/12/europe/bakhmut-donetsk-russia-ukraine-intl-cmd/index.html
CNN: The situation in Bakhmut is much worse than official sources say.
The Ukrainian military in Bakhmut describes the deteriorating situation:
"The situation in Bakhmut is very difficult now. It's much worse than officially reported," a military man from the front told CNN on Tuesday. 
"We have to add 100% more complexity to the official reports. In all directions. Especially in the northern direction, where the Russians have made the greatest advance.
"Khromovo [village] is a key point for defense. When it falls, only one road Bakhmut – Konstantinovka will remain to supply the city, "for which there are battles, the military explained. "It is already under enemy fire control, and if the enemy captures it, supplies will be impossible."
Another military man with the call sign Kievlyanin described a similar situation in a video posted on social networks.
"As of the morning of February 28, the situation around the defense of Bakhmut is rather complicated," he said, according to fighters inside the city. A third soldier who stood with the Kievite described the fighting at Bakhmut as "hellish".
Zelensky officials are now openly talking about a possible 'strategic pullback' from the besieged eastern city of Bakhmut. This comes after Zelensky himself said he's not ready to order a continued defense of the city at all costs. By all accounts both sides are suffering huge casualties, but Russia has the superior artillery fire, which has been sustained around the clock, also as Kremlin forces have the city almost completely surrounded. According to The Hill:
A Ukrainian presidential adviser on Tuesday said troops may "strategically pull back" from the town of Bakhmut, the focus of intense and brutal fighting for the past few months.

Alexander Rodnyansky told CNN the Ukrainian army has not yet pulled out of the city, but Kyiv may soon decide the cost of holding Bakhmut "outweighs the benefits."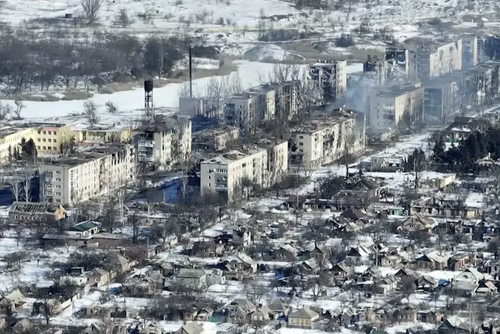 "Our military is obviously going to weigh all of the options," the Zelensky aide told CNN. "So far they've held the city, but if need be, they will strategically pull back because we're not going to sacrifice all of our people just for nothing."
President Zelensky has also admitted defense of the town has proven "most difficult" for his forces. However, in rare comments, Wagner Group founder Yevgeny Prigozhin said Ukrainian forces continue putting up a fierce resistance on Wednesday. So far they've been throwing an immense amount of manpower into Bakhmut, he said. 
"The Ukrainian army is throwing extra reserves into Artyomovsk and trying to hold the town with all their strength," Prigozhin said, using the Russian name for Bakhmut, in an audio message published by Wagner's press service. "Tens of thousands of Ukrainian army fighters are putting up furious resistance. The bloodiness of the battles is growing by the day."
Indeed recent footage from inside the city shows a war-torn wasteland of rubble…
Views of Bakhmut, Donetsk Oblast

📹https://t.co/ciSbTrHYCk pic.twitter.com/sxTJYgkdnw

— Euromaidan Press (@EuromaidanPress) March 1, 2023
As we reported previously, a retired American Marine fighting in Ukraine told ABC News this week that the frontlines are a "meat grinder" where soldiers survive an average of "four hours."
In a Tuesday address Zelensky said something similar of the Russian side: "Russia does not count people at all, sending them to constantly storm our positions," and acknowledged, "The intensity of fighting is only increasing."
A variety of updated battle maps circulating among war monitors have consistently shown the Russians have the Ukrainians nearly surrounded…