Is a zionist influence peddler at AIPAC and CPAC reponsible for infecting members of US gov't with coronavirus?
Is a zionist influence peddler at AIPAC and CPAC reponsible for infecting members of US gov't with coronavirus?
Jews
for Cruz: Who Was


Mystery Coronavirus Carrier


at AIPAC and CPAC?
Well,
this was, I admit a real stunner!
In
South Korea, which now has over 7,500 cases of coronavirus the
majority of cases are in Daegu and come from just one congregation of
a cult church.
Just
imagine if something similar to that was to happen elsewhere, say in
the United States.
Well
that is exactly what seems to be happening.
News
out of the United States is that a containment area has been
accounced for New Rochelle in Westchester County,NY.
The
National Guard will move in. Schools, churches and synagogues will be
shut down. Large indoor gatherings will be officially banned.
The
sights and rituals of life in this New York City suburb, which had
already been altered, took an eerie turn on Tuesday when Gov. Andrew
M. Cuomo announced a drastic new step to try to control the spread of
the coronavirus in the largest cluster in the United States.
State
officials created a one-mile radius "containment area" in New
Rochelle, in Westchester County, a move that echoed measures taken in
other health crises. The midpoint of the zone was a synagogue that is
at the center of the state's worst outbreak.
https://www.nytimes.com/2020/03/10/nyregion/coronavirus-new-rochelle-containment-area.html


It seems to be centered on Young Israel of New Rochelle.
***
This was the topic for discussion on today's Godcast from TruNews.
Listen to "Jews for Cruz: Who Was Mystery Coronavirus Carrier at AIPAC and CPAC?" on Spreaker.
Watch the podcast HERE
Last week the American Israel Public Affairs Committee (AIPAC) had its annual conference in conjunction with the Conservative Political Action Conference (CPAC).
There was mention of this last week from the TruNews folk but I encountered the first mention of CPAC from journalist Lee Stranahan who expressed his concerns on Twitter just a few days ago.
Now he has been joined by conservative British activist, Raheem Kassam
He has made a video about his experiences.
All the talk is about coronavirus cases "coming in so intensely now" and all attention seems to be on CPAC while AIPAC seems to be the organisation "that cannot be named".
Earlier, there were three cases (now FIVE) that have been connected to one individual who was at both AIPAC and CPAC.
Private
labs that began running coronavirus tests in New York City on Friday
are reporting so many new cases that public officials are having
trouble keeping up, Mayor Bill de Blasio told reporters Tuesday.
"They're
coming in so intensely now that being able to give you a detailed
case breakdown, we're not in that position to do that at this
moment because there are so many coming forward," de Blasio said,
speaking at Bellevue Hospital in Manhattan. "As of 12 noon … the
number of confirmed cases in New York City is 36. That's 16 new
since yesterday and 11 new even since this morning at 7 a.m. when I
last spoke about this."
Almost
2,000 New York City residents are in voluntary isolation while 30
people are in mandatory quarantine, he said…..
Earlier
Tuesday, New York Gov. Andrew Cuomo said he deployed the National
Guard to New Rochelle, a coronavirus hot spot just north of New York
City. Westchester County, where New Rochelle is located, had 108
COVID-19 cases out of the 173 confirmed infections across the state,
according to state health department data Tuesday.
https://www.cnbc.com/2020/03/10/nyc-coronavirus-cases-are-coming-in-so-intensely-now-mayor-de-blasio-says.html
I suggest that you listen to the entire TruNews show but I have put together some headlines that provide evidence.
What it takes is some joining of the dots and rational discussion of the evidence.
The
United Nations is altering its operations due to concerns about the
spreading coronavirus.
The
UN will close its headquarters to the general public, suspend tours,
and limit the number of staff there starting at 8 p.m., a spokesman
for the secretary-general said.
The
decision is being made out of an abundance of caution amid an
increasing number of COVID-19 cases, officials said.
The
secretary-general has said that the health and safety of staff is a
matter of his utmost priority and concern.
The
United Nations said it will continue to monitor the situation
closely, and further measures may be taken as circumstances evolve.
Thirteen California State University, Northridge students who traveled to a large conference in Washington, D.C., last week have self-quarantined after at least three conference attendees — including one from L.A. County — tested positive for the novel coronavirus…
Although Harrison did not specify the conference in question, it is believed to be the American Israel Public Affairs Committee (AIPAC). More than 18,000 people attended the conference, which included speakers such as Vice President Mike
https://losangeles.cbslocal.com/2020/03/10/13-cal-state-northridge-students-quarantined-after-dc-conference/
A Jewish day school in Beverly Hills is dark on the second day of Purim after a parent allegedly tested positive for coronavirus….
The parent in question is believed to have attended the AIPAC Policy Conference in Washington, D.C. last week. The parent has reportedly been quarantined and the rest of the family has not exhibited any symptoms of coronavirus.
https://losangeles.cbslocal.com/2020/03/10/coronavirus-harkham-hillel-hebrew-academy-beverly-hills-closed/
Nine Towson University students and a staff member are self-quarantining after attending a conference in Washington, D.C. at which at least two attendees tested positive for the coronavirus.
The group attended the American Israel Public Affairs Committee conference. Two people, both from New York, attended the conference and were later diagnosed with COVID-19.
https://baltimore.cbslocal.com/2020/03/09/coronavirus-9-towson-university-students-staff-member-self-quarantining-after-attending-aipac-conference/
A Montreal-area MP is in self-isolation after attending a conference in Washington, D.C. where several attendees have since tested positive for COVID-19.
Anthony Housefather, a Liberal who represents the riding of Mount Royal, told CTV News that he received an email telling him that someone from Toronto who attended the American Israel Public Affairs Committee (AIPAC) conference in Washington between March 1-3 has since tested positive for the virus.
AIPAC said two New York residents who went to the conference have since tested positive for the virus, while a third patient from Los Angeles has also since tested positive for COVID-19 after attending the conference. It is unclear when exactly the patients contracted the virus.
https://www.ctvnews.ca/health/coronavirus/quebec-mp-in-self-isolation-after-attending-event-with-possible-covid-19-exposure-1.4845421
State officials confirmed that the 55-year-old Englewood man being quarantined at Englewood Health for a presumptive positive case of coronavirus attended the Conservative Political Action Conference in Maryland.
President Donald Trump and Vice President Mike Pence also attended the conference but conference officials released a statement that said the Englewood man did not attend any events in the main hall or interact with Trump or Pence.
The American Conservative Union, which hosted the event in February, shared a message on social media Saturday that an attendee was exposed to the virus prior to the conference.
https://www.northjersey.com/story/news/new-jersey/2020/03/07/coronavirus-cpac-trump-pence-englewood-nj-man-presumptive-positive/4991098002/
One of the people caught up in this was Rep.Matt Gaetz who just last week was mocking the whole coronavirus thing by walking around the halls of Congress in a gas mask.
https://www.huffpost.com/entry/matt-gaetz-coronavirus-self-quarantine_n_5e66a205c5b68d6164590551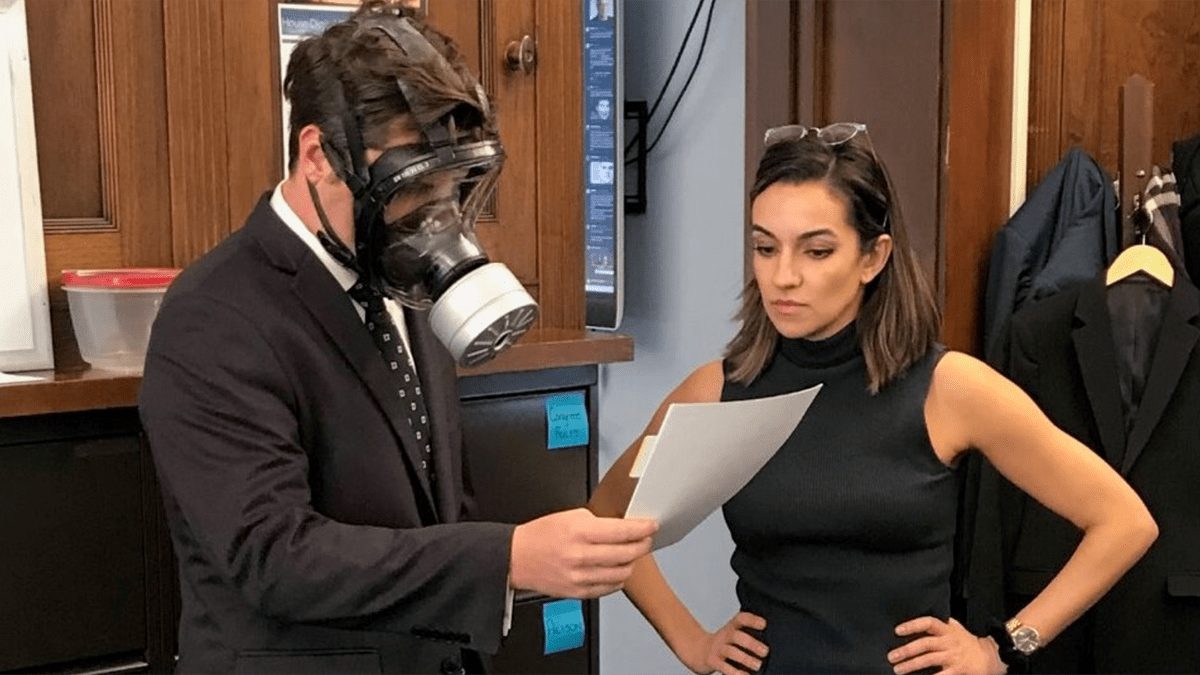 Rep. Julia Brownley (D-Calif.) announced Monday that she will self-quarantine after she interacted with a person in Washington, D.C., who tested positive for the coronavirus last week.
The California representative said she is closing her Washington office this week after the interaction with the individual who is currently self-quarantining. She is the first Democratic lawmaker in Congress to self-quarantine….
Several of Brownley's Republican colleagues including Rep. Matt Gaetz (Fla.), Rep. Doug Collins (Ga.) and Rep. Paul Gosar (Ariz.) have announced self-quarantines after coming in contact with an individual who later tested positive for coronavirus after attending the Conservative Political Action Conference (CPAC).
Sen. Ted Cruz (R-Texas) also interacted with the individual who attended CPAC and announced his self-quarantine Sunday.
Lawmakers are self-quarantining as the coronavirus spreads across the country. It has infected at least 600 people and caused 22 deaths.
https://thehill.com/homenews/house/486677-california-representative-to-self-quarantine-after-interacting-with
Rep. Louie Gohmert (R-Texas), like several of his colleagues, was informed he was exposed to the novel coronavirus at the Conservative Political Action Conference in late February. Unlike his colleagues, Gohmert declined to self-quarantine, saying Monday that a doctor from the Centers for Disease Control and Prevention cleared him to return to Washington. So he did.
https://theweek.com/speedreads/901068/texas-gop-rep-louie-gohmert-exposed-coronavirus-back-congress-leading-public-tours
Coronavirus fears officially shut down business in the House as five members self-isolated and agreed to be tested for COVID-19
But after medical professionals checked the individuals, it was quickly determined none met federal guidelines that would prompt such testing.
Concerns initially rose because three members of the House — Reps. Antony Sabatini, Cord Byrd and Thad Altman — attended the Conservative Political Action Conference, better known as CPAC.
None had direct contact with an attendee later diagnosed with the coronavirus. But after initially saying they would not self-quarantine, the lawmakers agreed to isolate themselves and await test results
https://floridapolitics.com/archives/322442-representatives-who-attended-cpac-will-not-self-quarantine-over-coronavirus-fears
Whilst Trump has declined to be tested for coronavirus his newly-appointed top aide has been quarantined.
Meanwhile according to the liberal media he fears journalists will contract coronavirus to infect him on Air Force One (sic)
United States President Donald Trump has yet to be tested for the coronavirus, even as his incoming chief of staff and at least four other GOP lawmakers put themselves in quarantine after coming into contact with an infected person at a political event.
Mr Mark Meadows, the veteran Republican congressman from North Carolina who is taking over as Mr Trump's top aide, joined Republican representatives Doug Collins of Georgia and Mr Matt Gaetz of Florida, who announced earlier on Monday (March 9) that they had entered self-imposed quarantine.
Senator Ted Cruz and Representative Paul Gosar, both of Texas, had earlier announced they had isolated themselves.
https://www.bloomberg.com/news/articles/2020-03-10/mark-meadows-quarantines-himself-after-coronavirus-contact
President Donald Trump shook hands with CPAC chairman Matt Schlapp at the conservative conference last week, during which Schlapp engaged with an attendee who has since tested positive for the coronavirus.
The American Conservative Union said in a statement that the CPAC attendee was exposed to the coronavirus prior to the conference, which took place Feb. 26-29 in National Harbor, Maryland.
The ACU claimed that the infected attendee is quarantined in New Jersey and had no interaction with Trump or Vice President Mike Pence, both of whom spoke at the conference.
https://people.com/politics/donald-trump-shook-hands-cpacp-chairman-exposed-coronavirus/
THE ISRAELI MEDIA
Whilst there has been very little on this in the North American press and they seem to be unable to give any details other than largely say "an individual" at "a conference" the Israeli press has been much more forthcoming and less embarassed to mention the organisation that allows the Israeli zionists from having a throathold over American politics under the pretence of "protecting Israel"
A
synagogue in Toronto, Canada is suspending some activities this week
after a lay leader who attended the AIPAC conference in Washington
last week was diagnosed with the novel coronavirus. According to
reports in Canadian media, Beth Sholom Synagogue will be temporarily
closed as the building undergoes sanitation.
The
synagogue said in statement released on Monday that the man tested
positive after experiencing flu-like symptoms and his condition is
improving. He has not been to the synagogue since he was diagnosed,
and is currently in home quarantine. The synagogue said it was
suspending operations as precaution….
This
is the fifth known case of an AIPAC conference attendee who tested
positive for the virus, after two cases in New York, one in Los
Angeles and one in Ohio.
'
https://www.haaretz.com/world-news/americas/.premium-toronto-synagogue-suspends-activities-after-lay-leader-tests-positive-for-virus-1.8660331
The
health center at George Washington University (GW) called 30 students
who attended the American Israel Public Affairs Committee's (AIPAC)
conference and instructed them to begin self-quarantine early
Saturday morning, according to the Washington Post, which noted that
a university spokesperson denied the claim.
The
retroactive quarantine announced over the weekend, however, directly
contradicted earlier instructions GW gave the students after it was
revealed that four AIPAC Policy Conference attendees tested positive
for coronavirus.
On
March 7, the university stated in a campus advisory note: "There
has been a determination by public health experts that the two people
at the conference did not present symptoms during their visit to DC.
The current information indicates that both cases have no
identifiable risk for anyone exposed to them at the conference. After
conferring with DC Department of Health and GW's public health
experts, we have determined that there is no current need for those
students who attended to continue to self-quarantine."
According
to the students, after receiving a 1 a.m. phone call from the
university health center, they were escorted out of their dorms to
One Washington Circle Hotel just off campus to begin their
quarantine.
"They
told me I didn't have a choice and I needed to leave my dorm
immediately and stay at a hotel," one freshman who was asked to
enter quarantine told the newspaper.
University
officials, however, claim the retroactive self-quarantine was
optional and some students chose not to enter.
Twelve
hours later, after they were rushed out of their dorm rooms with
towels covering their mouths, GW's assistant vice president of
health and security Kathleen Fox reversed the decision and sent all
the students who spent the night in the hotel room home when the
university determined that there was "no identifiable risk to
the community from the conference."
"We
realize this situation, especially with how quickly information
develops can be scary, and we did not take the decision lightly,"
the email said, according to the Post. "We received information
from DC [Department of Health], GW's public health experts and,
importantly, from members of the student community as it was
developing."
"With
the information we had at the time, we took the action we believed
would minimize risk to you all and to the community," Fox said.
"Today we have worked with DC and our healthcare community to
determine that, at this time, there is no identifiable risk to the
community from the conference."
According
to the Post, this incident has caused students to lose faith in the
university's ability to make health determinations regarding the
coronavirus spread, with many believing the decision-making process
has been more impulsive than educated.
"I
wasn't going to leave my room to comply with something that wasn't
logical," one freshman asked to enter quarantine told the Post.
The
retroactive quarantine indicates an abundance of confusion as to what
protocols should be followed by universities officials when faced
with an outbreak on their campus. As these cases start to become more
commonplace across the country, the situation at George Washington
University alludes to a larger issue: a lack of direction coming from
public health officials as the outbreak spreads, focused on educating
university officials regarding proper procedures to abide by in order
to contain the virus and prevent it from spreading further.
https://www.jpost.com/International/GW-quarantines-students-who-attended-AIPAC-releases-them-12-hours-later-620409
Pressure
is mounting on congressional leaders to cancel votes and restrict
activity in the Capitol to avert a coronavirus outbreak.
Several
lawmakers appearing at the recent American Israel Public Affairs
Committee (AIPAC) conference and Conservative Political Action
Conference (CPAC) gatherings in the Washington, D.C., area interacted
with individuals who have since tested positive for the highly
contagious virus.
https://thehill.com/homenews/house/486604-anxiety-over-coronavirus-grows-on-capitol-hill
WHO IS PATIENT ZERO?
Revelations
that a man infected with the novel coronavirus hobnobbed with top
Republicans at the annual Conservative Public Action Conference last
month has prompted a wave of fright among Republican operatives who
attended the conference and fear they may have been exposed, too. And
as the fear has mounted so too have complaints that the conference's
planners have been too secretive about the man's identity….
While
top lawmakers apparently knew the man's identity, other CPAC
attendees were frustrated with the lack of information about the
person, whose name hasn't been released to protect his privacy.
Former Breitbart reporter Lee Stranahan, who now co-hosts a radio
show on Russian-owned broadcaster Sputnik, said he's been irritated
by the lack of contact from CPAC officials about the potential
coronavirus exposure.
https://www.thedailybeast.com/cpac-attendees-want-to-know-who-the-mystery-coronavirus-patient-is
***
Whilst the American media is afraid to name "patient zero" and to avoid mention of AIPAC while putting all attention on CPAC the UK's Daily Mail has no such compunction. He is Dr. Alan Berger who was at both conferences and now has coronavirus,but not before possibly infecting some of the American political elite.
NY Langone hospital says one of is obstetrician-gynecologists Dr. Alan Berger is 'self-isolating.' He is from Englewood, New Jersey
Dr. Berger works in midtown Manhattan and Borough Park in Brooklyn and also has private practice in New York
Dr. Berger is also close political ally of Ted Cruz and regular attendee at CPAC, the conservative conference hit by coronavirus spread
Cruz is self-quarantining after exposure to the virus there
He was head of Cruz's 'Jewish leadership team' during his failed 2016 run
Unclear if Dr. Berger was at CPAC this year; conservative organization is declining to confirm his presence
A
leading New York doctor and political ally of Senator Ted Cruz has
gone into self-quarantine over fears he has coronavirus,
DailyMail.com can reveal.
Alan
Berger, a 55-year-old gynecologist who works for NYU Langone Health,
volunteered to isolate himself and is no longer seeing patients, the
facility confirmed today in a statement.
Berger
has hosted fundraisers for Texas Republican Cruz in his hometown of
Englewood, New Jersey and is said to be friendly with President
Donald Trump's in laws, the Kushners.
Authorities
have not commented on suggestions Berger is the 'patient zero' who
interacted with Cruz and Matt Schlapp, the chairman of the American
Conservative Union, at a CPAC conference.
The
CPAC patient was described as a 55-year-old man who was recovering in
New Jersey; Dr. Berger is a 55-year-old man who has self-isolated in
New Jersey.
New
Jersey authorities have confirmed that a 55-year-old man from
Englewood was quarantined for a presumptive positive attended CPAC.
He was in stable condition and has been hospitalized since March 4,
The
Englewood man attended services at a temple in New Rochelle, New
York, according to New Jersey commissioner of health Judith
Persichille.
https://www.dailymail.co.uk/news/article-8092395/Doctor-New-York-hospital-self-isolates-coronavirus-fears.html
For
days, questions have swirled about the identity of a CPAC attendee
who tested positive for coronavirus and whose diagnosis prompted
congressional quarantines.
That
person is 55-year-old Dr. Alan W. Berger Sr., a clinical instructor
at the New York University Department of Obstetrics and Gynecology,
multiple sources told the Washington Examiner.
https://www.washingtonexaminer.com/news/new-york-doctor-at-cpac-was-coronavirus-patient-zero
***
Whilst Dr. Berger will be unknown to most he is not to the American zionists. While he was not in the main hall he was seemingly in the "Green Room" where the most important deals are done and there are lots of handshakes.
Team
Cruz was on full display throughout the weekend. At the morning meal,
attendees heard from Glenn Beck, a prominent conservative radio host
who endorsed Cruz for president. Radio host Mark Levin (who has not
endorsed any candidate in the race – JK) and Cruz's senior
advisor Nick Muzin stopped by on Friday to schmooze and Cruz's
Jewish chief of staff, Paul Teller was spotted mingling with the
group after dinner on Friday night. Dr. Alan Berger, a frequent
attendee who was recently appointed to serve on Cruz's Jewish
leadership team, treated the crowd with a heimish delectable chulent.
https://jewishjournal.com/news/nation/183164/
Republican presidential candidate Ted Cruz will be raking in some cash on the same day he addresses the Republican Jewish Coalition presidential forum in Washington, DC, on December 3rd, at a Jewish fundraiser in Englewood, NJ, according to an invite sent out by NORPAC.
The 1000-dollar-per-head fundraiser will take place Thursday night, Dec. 3rd. at the home of Elizabeth and Avi Samuels in Englewood, NJ.
NORPAC is a non-partisan political action committee whose primary purpose is to support candidates and sitting members of the Senate and House of Representatives who demonstrate a genuine commitment to the strength, security, and survival of Israel.
https://jewishinsider.com/2015/11/jonas-to-host-fundraiser-for-cruz/


Sarah
Palin is flanked by Dr. Alan Berger and his wife Deborah with their
children Sammy, Ezra, and Dara. Faith & Freedom Coalition
Hundreds
of conservative political activists were gathered in a hotel ballroom
three blocks from the White House for the luncheon opening the fourth
annual "Road to Majority" conference of the Faith and Freedom
Coalition.
Senators
Marco Rubio (R-Fla.), Rand Paul (R-Ky.), Mike Lee (R-Utah), and Ron
Johnson (R-Wis.) were mentally preparing the short speeches each
would soon deliver.
https://jewishstandard.timesofisrael.com/we-have-shared-values/
CONCLUSION
In conclusion, whilst we do not know the status of Trump, Pence, Pompeo and many others from both sides of the House, I can't help feel that there is an element of karmic justice or biblical retribution about this.
That is certainly the way Rick Wiles (correctly) feels when he addresses the zionists that want to bring him down. He may have been chucked off You Tube but his opponents have also been "deplatformed" – by a virus.
Watch this space.