Israel Is Back With Airstrikes As Turkey Scrambles To Salvage Some Oil In Syria
Israel Is Back With Airstrikes As Turkey Scrambles To Salvage Some Oil In Syria
Nothing is quiet anywhere in the world. Here is the Middle East
As has become customary in recent weeks, after the relative success of the Axis of Resistance on battlefields across the Middle East, Israel delivered a reminder of its interest in Syria. On March 16th, Damascus' air defense repelled a missile barrage, which was heading towards targets surrounding the Syrian capital.
A statement by the Syrian Arab Army said that the missiles had been launched from the direction of the occupied Golan Heights and targeted undisclosed positions around Damascus. Most of the missiles were reportedly intercepted and no casualties were observed. There was minimal damage.
Strikes such as these are commonplace and happen somewhat regularly, especially now in 2021, when Tel Aviv considers its interests under even more threat than usual due to the Biden Administration's relative passivity towards Iran.
The Israeli strike was not the only attack on Damascus in recent days. On March 15th, Syrian security forces foiled a terrorist attack intended to target unspecified areas in Damascus. As a result, three terrorists were killed and three were arrested. All six were wearing explosive belts.
Separately, in what is likely a positive development for Damascus, Russian forces moved into an oil field and gas field in the northeast Raqqah governorate.
Russian military reinforcements alongside units from the Russian-backed Fifth Armored Division arrived at al-Thawra oil facility which produces around 2,000 bpd.
Earlier, on March 12th, Russian forces entered the Toueinane gas field, also in the same area.
This is a small, but notable shift highlighting a change in the balance of power in northern Syria. Since Russia is allied with Damascus, prior to that most of Syria's oil went to the US-backed Syrian Democratic Forces or various Turkish proxies.  Most of the oil still goes out of Syria, but this is a movement in another direction.
In addition, Russia's Defense Ministry said that Turkish forces are carry out military movements and acts in Raqqa countryside in violation of a Memorandum of Understanding that Ankara signed with Moscow.
According to a statement, the Russian side is extremely worried about transporting military equipment affiliated to the Turkish armed forces and establishing fortifications and support points in the suburbs of Ain Issa.
This is an attempt at a Turkish response to recent shelling by the Syrian Arab Army in the area surrounding Aleppo, and other positions where Turkish proxies operate. Ankara can't afford to lose access to all of its cheap oil, and as such needs to provide some semblance of resistance before losing access to it.
Iran's Defense Ministry Warns Citizens To Prepare For Nuclear & Chemical Attacks
Authored by Dave DeCamp via AntiWar.com,
On Tuesday, Iran's defense minister said the countrymust be prepared to face nuclear, chemical, and biological attacks.
"We should be prepared to defend our nation against all threats and whatever the enemy may one day use as an offensive tool, including chemical, nuclear and biological weapons," said Gen. Amir Hatami, according to Iran's Fars News Agency.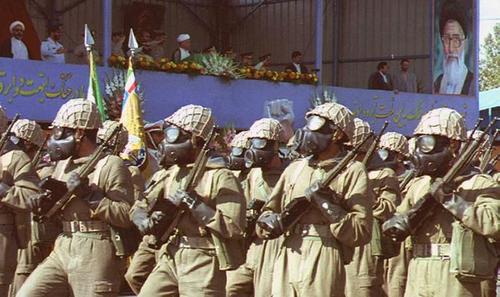 Hatami made his comments on the 33rd anniversary of a chemical weapons attack by Saddam Hussein on Iraqi Kurds in Halabja, Iraq. During the Iran-Iraq war that raged from 1980 to 1988, Hussein frequently used chemical weapons against Iran, sometimes with US support.
Declassified CIA documents revealed that in 1988, the US shared intelligence with Hussein to show the location of Iranian troops, knowing he would use lethal gas against them.
The documents revealed the US had firm evidence Hussein was using chemical weapons as early as 1983. 
The US and other Western countries provided Hussein with materials to make chemical weapons at the time. A 1994 congressional inquiry found that US companies shipped anthrax and dozens of other biological agents that could be used to make chemical weapons to Iraq during the war. 
Besides Iran's history of being targeted by chemical weapons, Iran is also constantly threatened by Israel, the only nuclear-armed state in the Middle East.
While Israel frequently takes covert action against Iran, Israeli officials have been hinting at a larger attack on Tehran's civilian nuclear program if the US returns to the Iran nuclear deal.
US Notifies China It Will Enforce Trump-Era Sanctions On Iran Oil Shipments
A key tenet of the prior Trump administration's crackdown on China and Iran was to punish those Chinese companies caught transferring sanctioned Iranian oil, which was often done through 'ghosting' or at other times offshore ship-to-ship transfers in order avoid detection. 
Since President Biden took office there's been wide reports that China's 'illicit' imports of Iranian oil have soared, resulting in critics and Iran hawks charging the White House with "turning a blind eye" in terms of sanctions enforcement based on existing laws on the books, also as Biden is seeking a path back to engagement with Iran on the US rejoining the JCPOA nuclear deal.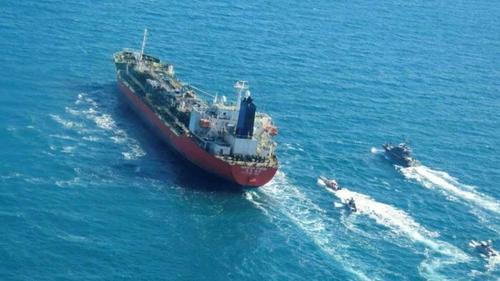 This week a senior Biden admin official has admitted in comments to FT that such banned Iranian oil exports to China have been increasing "for some time now" as Beijing continues to be Tehran's lifeline for circumventing oil sanctions, which has been ongoing for years now. China has also played a major part in keeping Venezuela's oil exports afloat. 
But now, as FT reports Wednesday "The Biden administration has told Beijing it will enforce Trump-era sanctions against Iranian oil as shipments from the Islamic regime to China have soared, a senior US official said."
Despite the White House still saying it's "prioritizing" re-entry into the nuclear deal, efforts which have been stalled thus far as Tehran is demanding the easing of sanctions as a first step, the senior official revealed to FT: "We've told the Chinese that we will continue to enforce our sanctions."
"There will be no tacit green light," the official added, but enforcement might take the form of what's dubbed these "secondary sanctions" targeting Chinese companies caught transferring Iranian oil. However, it remains the possibility that these too could ease assuming Washington and Tehran re-enter talks.
The senior official described to FT further that this could theoretically come as "either as part of a mutual set of steps or as part of a full return into compliance" with the JCPOA. "Ultimately, our goal is not to enforce the sanctions; it is to get to the point where we lift sanctions and Iran reverses its nuclear steps."
Recall that in January Indonesia seized two supertankers — the Iranian-flagged MT Horse and the MT Freya, which is under a Shanghai-based company — that were engaged in an unregistered transfer of Iranian oil at sea.
It's believed that such sanctions-busting happens on a weekly basis through various means, which also includes operating ships under shell companies. This latest White House 'threat' to get serious on "secondary" sanctions enforcement (pertaining to Chinese transfers) appears ultimately about building more leverage as the US "indirectly" negotiates with the Iranians via European officials.