Jacinda's back from holiday; Covid's back in the news
Jacinda's back from holiday; Covid's back in the news
To put this in context all this is for a disease that has caused 25 deaths over the course of a year
https://www.health.govt.nz/our-work/diseases-and-conditions/covid-19-novel-coronavirus/covid-19-data-and-statistics/covid-19-current-cases
You can bet that once they roll out the vaccine that the number of deaths will increase dramatically, but of course they will all be from covid-19 (sic)
Read this:
https://healthimpactnews.com/2021/53-dead-in-gibraltar-in-10-days-after-experimental-pfizer-mrna-covid-injections-started/
New Zealand borders to stay
closed until citizens are
'vaccinated and protected'
Jacinda Ardern says New Zealand can return to 'normal' only when the rest of the world does too
Jacinda Ardern has said New Zealand and "the world" need to return to some semblance of normality before she opens the country's borders to foreign nationals.
26 January, 2020
The prime minister shut the border in mid-March and said on Tuesday she would not open it again until New Zealanders were "vaccinated and protected" – a process that will not start for the general population until the middle of this year.
Ardern also cast doubt on the prospects for a travel bubble with Australia in the near future, and said she was "disappointed" with the Australian government's decision to suspend quarantine-free access for New Zealanders for three days in the light of the case of community transition in Northland.
"New Zealand will only truly feel like it returns to normal when there is a certain level of normality in the rest of the world, too," Ardern said at her first post-cabinet press conference of the year.
"But given the risks in the world around us and the uncertainty of the global rollout of the vaccine, we can expect our borders to be impacted for much of this year," she said.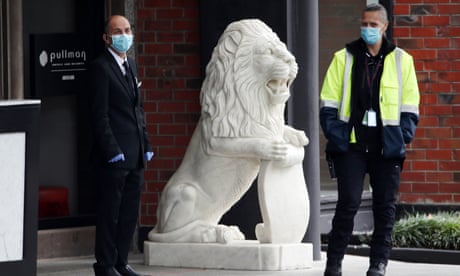 New Zealand records first Covid community case in two months
Read more
"For travel to restart, we need one of two things: we either need the confidence that being vaccinated means you don't pass Covid-19 on to others – and we don't know that yet; or we need enough of our population to be vaccinated and protected that people can safely re-enter New Zealand. Both possibilities will take some time."
New Zealand citizens are able to return to New Zealand but they must quarantine in a government-managed isolation facility for two weeks, and return two negative tests, in addition to a negative test before they depart for New Zealand.
Some foreign nationals have been able to gain exemptions to re-enter if they have specialised skills that can't be found locally, or are a family member or spouse of a New Zealand citizen.
"In the meantime, we will continue to pursue travel bubbles with Australia and the Pacific, but the rest of the world simply poses too great a risk to our health and our economy to take the risk at this stage," Ardern said.
"Our team of five million worked too hard last year for us to risk any of the gains we have made. Health gains that see us going about our daily lives pretty much as normal, and saw the economy bounce back strongly from the initial shock."
"We need to remain unified, we showed last year how good we are at that and that's exactly what we intend and need to do for 2021."
On Monday Australia suspended its quarantine-free arrangements with New Zealand for three days after a single community case of Covid-19 emerged in Northland, meaning New Zealanders arriving in Australia in that period would have to enter hotel quarantine for 14 days.
Ardern said she was "disappointed" with the Australian prime minister Scott Morrison's decision, and she would need further assurances that "short-notice border closures" would not be a feature of the bubble.
The comments came after Australia's health minister, Greg Hunt, played down any suggestion of a rift on Monday, saying Morrison had "a very productive and convivial conversation" with Ardern about the border decision.
Ardern offered assurances that the sole Northland community case was "well under control", and said a country-to-country bubble with quarantine-free travel in both directions was now looking unlikely, as each Australian state had different regulations for managing the virus.
New Zealanders breathed a sigh of relief on Tuesday after no new cases of Covid-19 were found in the community, despite hundreds of Northland residents being tested on Monday after a woman became the country's first case in months.
Fifteen of the woman's 16 close contacts have tested negative for the virus, which health authorities believe was contracted from an infected surface at the Pullman hotel in Auckland while she was in managed isolation. She tested negative twice in isolation before being allowed to leave.
Covid-19 response minister Chris Hipkins said investigations were continuing into how the 56-year-old woman became infected while in government-managed isolation, but assuaged community concerns in Northland, saying Māori had been the most tested group since Sunday and that planned Waitangi Day celebrations were scheduled to continue.
Health staff train up to
administer Pfizer vaccine
Doctors and nurses are racing to learn how to administer
Pfizer's Covid-19 vaccine
as a major step towards the rollout is signalled
A nurse holds a vial of the Pfizer-BioNTech vaccine Photo: AFP
RNZ,
27 January, 2021
The final, formal part of the Medsafe approval process will take place next week, with the government saying that could be granted by Wednesday if all goes to plan.
But there were still questions over exactly when the vaccine will arrive and how ready the health system is to distribute it.
The president of the College of GPs, Samantha Murton, said general practices were preparing.
They were undergoing training in how to administer a jab that had some quirks, including coming in multiple-dose vials and having to be stored at super-cold temperatures.
"We haven't dealt with frozen vaccines before. We do have a few vaccines that come in a big vial – but that's only a small number," she said.
However to patients, the jab would feel the same as any other, she said.
Logistics would be key to the success of any rollout, with clinics needing to plan the timing for the two-dose Pfizer vaccine and to ensure it is not thawed too quickly and spoiled, she said.
The director of the Immunisation Advisory Centre, Nikki Turner, said Medsafe was in a good position when it came to weighing up whether to approve the vaccine.
Not only did it have access to the large trial results, but also to data from countries already distributing the vaccine under emergency approval.
"It is very reassuring for New Zealand to have both clinical trial data and real world data so we are in a really positive position that we were not the first cab off the rank," she said.
The government did not have a hard date for the vaccination to arrive here, with the Prime Minister saying it was reliant on Pfizer's ability to deliver it here as well as to countries where people were dying in large numbers.
Covid-19 Response Minister Chris Hipkins said he hoped there would be enough to protect border workers and their families by the end of March, with a mass vaccination starting mid-year.
"If our delivery came earlier than the timetable we have set out then we will make sure we are ready to go earlier," he said.
But Pacific GP network chairperson, Api Talemaitoga, said there was still plenty of work to do before the government could call itself ready-to-go.
It needed to do more to train Pacific doctors and nurses to give the jab and to get Pacific faces fronting health campaigns, he said.
And it needed to start immediately to publicise the vaccine – with the right information, he said.
"Although I don't want to give it oxygen, we have to be mindful of the fact that there are a lot of people that will try to spread miss and disinformation out there to try and stop people from taking the vaccine," he said.
The Pacific community bore the brunt of a poorly-run vaccination campaign at the height of the 2019 measles epidemic and last year the Ministry of Health was criticised for problems distributing the flu vaccine.
The Immunisation Advisory Centre's Nikki Turner said those mistakes could end up helping with the Covid-19 campaign.
Despite the flu vax problems last year, nearly a quarter of the population, 1.7 million people, were eventually immunised within eight weeks, she said.
"So we can do this but what we need to learn from historical experience is how to get it done more smoothly," she said.
New Zealand has agreed to purchase enough of the Pfizer vaccine to cover 750,000 people.
It has agreements to purchase two other vaccines but they are not expected until at least the last quarter of this year – if approved.
https://www.rnz.co.nz/news/national/435250/long-wait-for-trans-tasman-bubble-just-got-even-longer