Jeremy Wiles Challenges Pro-Porn Prager
Jeremy Wiles Challenges Pro-Porn Prager
TruNews are top-notch in their analysis of the news.
However, they look to the mainstream media and often miss important stories that are completely buried.

There are major developments today in World War 3.
The Washington Post published several articles based on the top secret Pentagon documents that were leaked last month. If the documents are truthful, the man running Russia's private mercenary army has been colluding with Ukraine's intelligence agency.
Meanwhile, Great Britain decided to send long range drones to Ukraine.
And there's more information today regarding Gen. Mark Milley's mysterious phone call to China's top military commander in the closing days of the Trump Administration.
Later in today's TruNews, my son Jeremy will respond to conservative talk show host Dennis Prager's defense of pornography. Mr. Prager is one of the top hosts for Salem Media, America's biggest Christian radio broadcaster. I think Salem Media needs to make a statement about Mr. Prager's love of pornography. Jeremy will provide a Biblically solid response to Mr. Prager later today.
Rick Wiles, Doc Burkhart. Airdate 5/15/23
THE DISCORD LEAKS | Yevgeniy Prigozhin said he would tell Ukraine's military where to attack Russian troops if it pulled its own forces back from the beleaguered city of Bakhmut, where Wagner mercenaries were taking heavy losses
The Kremlin reacted to the publication about the alleged desire of Prigozhin to surrender the positions of the RF Armed Forces
Peskov: WP publication about Prigozhin's alleged intention to surrender positions to the RF Armed Forces looks like a duck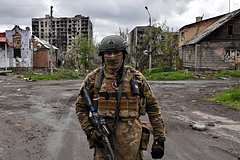 The publication of the American newspaper The Washington Post (WP) about the alleged intention of the head of the private military company (PMC) Wagner Yevgeny Prigozhin to surrender the positions of the Russian Armed Forces (RF Armed Forces) in Artemovsk (the pre-revolutionary name adopted in Ukraine – Bakhmut) to Ukrainian troops is similar to duck. This was stated by the press secretary of the President of Russia Dmitry Peskov , his words are quoted by TASS .
"Looks like another duck. Unfortunately, even respected publications in recent years quite often do not disdain this, "Peskov said, refusing to comment on the newspaper's material.
Earlier, the acting head of the Donetsk People's Republic (DPR), Denis Pushilin , said that NATO military equipment , transferred to Ukraine in the last deliveries, was noticed in the Artemivsk and Avdeevsk directions. According to him, Russian units also found American armored personnel carriers.