Kremlin responds to US fear porn
Kremlin responds to US fear porn
No need to post anything from lamestream media on this
update(5:12pmET): Both the US and Russian sides have confirmed that Biden and Putin are scheduled to hold an urgent phone call Saturday at the request of Washington. The White House earlier said it is "trying to stop a war". 
Below is Russia's full reaction to the afternoon's White House press briefing and flurry of statements from officials alleging Putin has made the decision to invade Ukraine within "days"…
Russian Foreign Ministry spokeswoman Maria Zakharova slammed reports Friday about Russia's "imminent invasion" of Ukraine as a "mass disinformation campaign" against Russia. 

"The White House hysteria is more revealing than ever. The Anglo-Saxons need a war. At any cost. Provocations, disinformation, and threats are favorite methods of solving their own problems," she wrote in a post on her Telegram channel. "Road roller of the American military-political machine is ready to go through people's lives. The whole world is watching how militarism, imperial ambitions denounce themselves. And a propaganda brigade chaired by Bloomberg serving all this."

Zakharova said the position of Western officials "in conditions of a mass disinformation campaign against Russia" is worth a separate mention — avoiding giving a proper assessment of what is happening, the authorities validate their involvement in "fakes."

"We can talk about the collusion of the authorities of Western countries and the media in order to escalate artificial tension around Ukraine by the massive and coordinated publication of false information in geopolitical interests, in particular, to distract attention from their own aggressive actions," she wrote.
* * * 
update(4:05pmET): Despite the as usual contradictory messaging out of this administration, on the one hand serving up another dose of afternoon panic and market turmoil on the news Russia will invade Ukraine in a matter of days (it's been "days" and "imminent" for multiple weeks at this point), nothing seems to have actually changed on the ground at the Russia-Ukraine border… though Blinken has claimed Russian troops have moved closer to the border. 
Multiple White House officials are currently telling various major US news outlets that the US now believes Putin has made the decision to attack Ukraine – though in a public news briefing Jake Sullivan still presented a confused picture… on the one hand telling US citizens to exit Ukraine immediately as a military offensive is nigh, but on the other cautioning he's still not sure Putin has made the final decision.
And now once again Moscow is "calling bullshit". Late at night Friday local time, the Kremlin responded to the latest headline panic-fest in the aftermath of the White House afternoon briefing, calling the new 'predictions' yet more US "disinformation".. according to the news wires:
RUSSIA SAYS BY SPREADING DISINFORMATION ABOUT PLANNED RUSSIAN INVASION OF UKRAINE WESTERN COUNTRIES WANT TO DISTRACT ATTENTION FROM THEIR OWN AGGRESSIVE ACTIONS
And here's Secretary of State Blinken from earlier in the day:
…Blinken said new Russian forces had arrived at the border in what he described as "very troubling signs of Russian escalation".

"We're in a window when an invasion could begin at any time, and to be clear, that includes during the Olympics [which end on 20 February]," Mr Blinken said.
There are reports that the US Embassy in Kiev is literally phoning US national directly, urging their departure:
The EU has said it will not reduce diplomatic staff in the country, however, other countries are telling their nationals to leave, including Israel and the UK:
Among other countries calling on citizens to leave are the UK, the Netherlands, Latvia, Japan and South Korea. The British foreign office said all UK nationals "should leave now while commercial means are still available".

In its warning, Latvia cited "a serious threat to security posed by Russia".
Biden is now reportedly seeking to hold an urgent phone call with Putin. "US President Biden and Russian President Vladimir Putin will speak on Saturday, according to an official," Bloomberg reports.
And with all this, a little Friday humor is in order…
* * *
update(2:51pmET): The White House is now telling Americans in Ukraine to get out of the country "immediately" – giving a 24 to 48 hour time frame to make a safe exit. National Security Adviser Jake Sullivan urged all US citizens in Ukraine "to depart immediately." The number of Americans in the country is often estimated in the tens of thousands – likely somewhere around 30,000 – including dual citizens.
U.S. ORDERS ADDITIONAL 3,000 TROOPS TO POLAND
"We want to be crystal clear on this point. Any American in Ukraine should leave as soon as possible and in any event, in the next 24 to 48 hours," Sullivan said. "We obviously cannot predict the future. We don't know exactly what is going to happen, but the risk is now high enough and the threat is now immediate enough." If they stay, Americans "are assuming risk with no guarantee that there will be any other opportunity to leave and no prospect of a US Military evacuation in the event of a Russian invasion," he added.
"It is the time to leave now," he said. "We are in the window when an invasion could begin at any time should Vladimir Putin decide to order it." Sullivan also in the afternoon press briefing said it's US intelligence's belief that Putin could launch an invasion by the end of the Olympics…
"We continue to see signs of Russian escalation including now forces arriving at the border. As we've said before, we're in the window when an invasion could begin at any time should Vladimir Putin decide to order it. I will not comment on the details of our intelligence information but I do want to be clear, it could begin during the Olympics, despite a lot of speculation that it will only happen after the Olympics."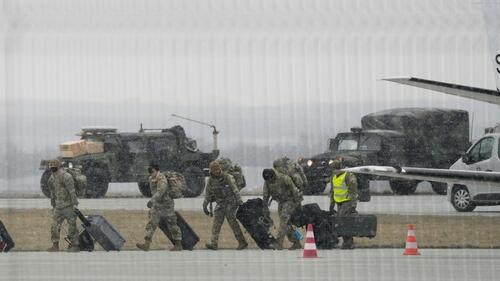 As oil spiked and markets tumbled, there was this to follow all the panicked warnings coming out of the White House… "but an official says the U.S. doesn't know whether Russia has decided either way," according to the WSJ.
* * *
Though it's unclear what precisely on the ground has actually changed, President Biden is urging all Americans in Ukraine to "leave now". "American citizens should leave now," Biden said while discussing the Russian troop build-up threatening Ukraine in a new NBC News interview. 
The president warned that "things could go crazy quickly" in the region and so it's necessary that US citizens initiate plans to depart the country immediately. He further described in the interview set to air in full later in the day, "It's not like we're dealing with a terrorist organization. We're dealing with one of the largest armies in the world. It's a very different situation and things could go crazy quickly."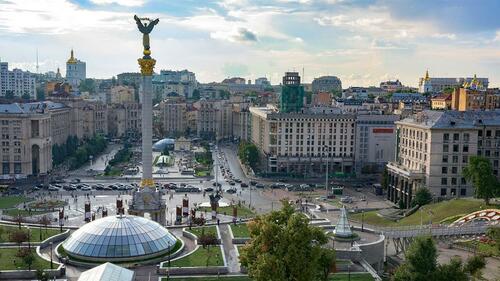 However, elsewhere in the interview he suggested that it's anything but certain that President Putin has made his intentions clear. Biden told NBC that if if Putin "foolish enough to go in, he's smart enough not to …do anything that would negatively impact on American citizens."
Earlier this week the Pentagon revealed plans to stage a logistics operation along the Polish-Ukrainian border, just inside Poland, that would assist in any potential large-scale evacuation of US citizens from Ukraine in the event of a Russian invasion. Biden addressed the possibility further with NBC:
Biden said during his NBC interview that "there's not" a situation that could prompt him to send US troops to rescue Americans attempting to exit Ukraine, adding, "That's a world war when Americans and Russia start shooting at one another."
Already some 2,000 additional US troops have been sent from Fort Bragg and Germany to Poland in order to put in place the necessary logistics for an evacuation. 
Meanwhile, the US State Department is still warning against all American travel to Ukraine. Further it re-issued a travel advisory from last month citing "increased threats of Russian military action" which makes it necessary for US citizens to depart. 
The advisory warns Americans they must "be aware that the US government will not be able to evacuate US citizens in the event of Russian military action anywhere in Ukraine." 
Without doubt, the US administration still has the Afghan evacuation deadly debacle looming in the background. There's still said to be US citizens and dual nationals stuck in Taliban-run Afghanistan as a result of efforts which were too little, too late. 
Ukraine's government has at the same time sought to cool the Washington rhetoric, saying it's causing unnecessary panic within Ukraine's population. Likely Kiev will not be too happy with Biden's latest words telling Americans to depart the country, which Zelensky himself has said is premature and overly alarmist.
UK FM Liz Truss Moscow Trip Turns to Farce, Lavrov Gives Stern Lecture in Reply
The knowledge and quality of 'western' leading officials is of serious concern. They are often politicians with no experience in the fields they are supposed to represent.
Liz Truss, currently the Foreign Secretary of the United Kingdom, is a sad example.
It is said that the job of the foreign secretary has something to do with geography. To know where this or that country is and what its surroundings are is supposedly helpful when one wants wage war or peace with or against them.
Liz Truss had failed in this category when, a week ago, she said: "We are offering extra supplies and support into our Baltic allies across the Black Sea." The Black Sea is some 700 miles away from the Baltic states.
Today Liz Truss endorsed another occasion to fail when she visited Russia to talk about the Russian non-attack on the Ukraine only to get mocked by its very experienced Foreign Minister Sergei Lavrov.
Truss came dressed with a fur hat and gloves to a Moscow that today was warmer than London.
At the meeting Truss seems to have done exactly what Lavrov had publicly warned her not to do before the meeting started:
I have read Boris Johnson's statement to the House of Commons, in which he said about relations with Russia that they should be improved. Following that, the Prime Minister's Office announced that you and your colleague the Defence Secretary would travel to Russia to improve our relations.At least this is what the announcement said. I don't know if this is really so.

If this is the goal our British colleagues aspire to, we will definitely reciprocate. We cannot be satisfied with our current relations, which are at the lowest ebb in the past years.

Of course, relations can only be normalised through dialogue based on mutual respect and equality, recognition of each other's legitimate interests and a search for mutually acceptable solutions.

Ideologically charged approaches, ultimatums, threats and moralising is a road to nowhere. Regrettably, many of our Western colleagues are using this form in their public activities. I do not see this as diplomacy.

You will agree, I am sure, that communication between two international subjects should have added value for both sides. Only in this case will it bring positive results.
The meeting did not go well.
Truss also showed a lack of manner when she started to talk (vid) even while the translation of the previous speaker was still ongoing.
Her knowledge was of similar quality. As Kommersant reports in Russian (machine translation):
The British Foreign Secretary told the head of the Russian Foreign Ministry about the need to withdraw Russian armed forces from the Ukrainian border. Sergei Lavrov replied that the military is on the territory of his country. Liz Truss repeated that they should be withdrawn. To this, the Russian minister again objected that the military did not violate anything, since they had the right to conduct any maneuvers on the territory of the Russian Federation.After that, he himself addressed a question to his British colleague: "Do you recognize the sovereignty of Russia over the Rostov and Voronezh regions?"

"Great Britain will never recognize Russian sovereignty over these regions," the Foreign Minister replied after a short pause.

British Ambassador to the Russian Federation Deborah Bonnert had to intervene in the situation, who delicately explained to Mrs. Truss that we were really talking about Russian regions.
At the press conference after the meeting Lavrov pilled on:
During an icy press conference after the talks, Lavrov said the two sides had found little common ground and that the talks contained "nothing secret, no trust. Just slogans shouted from the tribunes.""I'm honestly disappointed that our conversation turned out like the mute with the deaf. We appear to be listening but we're not hearing anything. Our detailed explanations fell on unprepared ground," Lavrov said.

"It's like when they say that Russia is waiting for the ground to freeze so that tanks can easily enter Ukraine," he added. "It seems that our British colleagues were on similar ground today, off of which bounced all the facts we presented them."
It seems that 'Global Britain', as Boris Johnson envisioned it, is represented by a know-nothing dimwit traveling around to lecture real diplomats about issues they had already forgotten more about than Truss will ever know.
That's not going to end well.
From Hal Turner
This afternoon it was CONFIRMED that the Russian Duma (Their version of US Congress) will take up the Appeal to recognize Luhansk (LNR) and Donetsk (DNR) as "independent."  If the Duma recognizes them, the next step would be the entry of Russian troops to protect those places from Ukraine.  Upon the entry of Russian troops, the commencing of war – by Ukraine – seems inevitable.
The confirmation that the Russian Duma will take up the matter on February 14, came through an announcement by KPRF party leader Gennady Zyuganov, as reported by RosSMI.  
Gennady Zyuganov is a Russian politician, who has served as Member of the State Duma since 1993.
If the two regions are recognized, then the next step would be to provide military support against Ukraine.
Recognizing DNR and LNR would be a step towards inevitable war.
INTEL COMM CIRCUITS BLAZING: Claiming "Putin Gave the "Go" Order
Intelligence communications circuits worldwide are BLAZING with rapid developments in almost ALL European countries.   Bear in mind that these Intelligence Community communications circuits only light up when info is so urgent, it cannot wait to go through normal means of communication.
According to several of my former colleagues – who allowed me to personally hear some of the extensive Intel chatter . . . which is described in the Subscriber area below . . . 
Ukraine gives Kremlin 48 hours to explain Russian military activity near Ukrainian border

Kiev has requested Moscow provide an adequate explanation for Russian military activity near the border between the two countries within 48 hours, Ukraine's Foreign Minister Dmytro Kuleba said on Twitter on Feb. 11.
According to the minister, Ukraine has done so in accordance with the Vienna Mechanism, an agreement within the framework of the Organization for Security and Co-operation in Europe (OSCE).
"We have officially triggered the risk reduction mechanism in accordance with Chapter III of the Vienna Document, and requested Russia to provide detailed explanations on military activities in the areas adjacent to the territory of Ukraine and in the temporarily occupied Crimea," said Kuleba.
He said that Russia now has to specify the exact areas where it is conducting military maneuvers and when they will conclude, in addition to the names, types, and command chain of the regiments involved.
"Russia has 48 hours to reply. In case of an absence of reply or its insufficiency/irrelevance, Ukraine will address Russia, as well as other participating states of the Vienna Document, in order to convene an extraordinary meeting where Russia will have to provide explanations," the message said.

Ukraine will continue taking all diplomatic measures available to ensure its security, the minister added.
Russia has been massing troops at the border since late October.
More than 130,000 Russian troops and offensive weapons have been deployed near Ukraine's borders and in the temporarily occupied territories, according to the latest intelligence estimate from the Ministry of Defense of Ukraine.
The Kremlin says the troop movements are an internal affair of the Russian Federation.
Russian troops have also been deployed to Belarus, as part of previously unscheduled military exercises. However, Russian equipment has been spotted along the Ukrainian-Belarusian border, far from the zone where the exercises are supposed to be held.
Russia has also announced that it was be blocking off access to large portions of the Black Sea for what it alleges are 'naval missile and gunnery training exercises' from Feb. 13 to Feb. 19.
When asked for their analysis of Ukraine's "demand," most Intelligence analysts laughed it off.  The general response was "They have 48 hours . . . . or what? Is Ukraine gonna run home and tell mommy?"
Two other analysts proffered their take by saying
1) "Russia will probably tell Ukraine that the Russian troop build up is due to the Ukraine troop build up on the borders of Luhansk and Donetsk, within 100Km of the Russian border, and until Ukraine removes its troops, Russia will keep troops where they are, AND;
2) "Russia can say they have their troops there because of all the lethal weaponry pouring into Ukraine from NATO."
Either of those answers would basically "gut" action by the OSCE to whom Ukraine is complaining.  How can the OSCE say anything to Russia about its troops inside its own country, when those troops are there because Ukraine massed fifty percent of its armed forces within 100 km of Russia?
And How can the OSCE do anything when, in fact, it is widely publicized in media that hundreds of tons of "LETHAL WEAPONRY" has already been poured into Ukraine by NATO for use against Russia?
SO the OSCE thing Ukraine is doing appears to many insiders to be useless.  It may also backfire on Ukraine, by giving Russia a format and a stage to point out that Ukraine does not honor its written agreements. 
Russia can point to the Minsk Agreement, hammered out in the Normandy Format, and honestly report to everyone that Ukraine has flatly REFUSED to honor its signed agreement for direct dialogue with Luhansk and Donetsk?  Since Ukraine does not honor its word, Russia has to be ready to protect itself from these Nazi-esque Kiev leaders!
Now, onto the Intelligence Communications circuits, which some of my former colleagues allowed me to personally listen to this afternoon . . .
Russian President Vladimir Putin ALLEGEDLY gave the "go" order for entry into Ukraine by the Russian military.  But there are CONFLICTING stories about this Order.
The first version is that Putin told his Generals When the Russian Duma approves the Appeal to be recognized as "Independent" from Luhansk and Donetsk" only THEN are Russian Army forces to enter, and to only enter Luhansk and Donetsk so as to protect them from the 100,000 Ukraine troops already massed on the borders of those two Oblasts (states).
The second version is that Putin believes Ukraine is going to move against Luhansk and Donetsk BEFORE the Russian Duma is able to vote (Scheduled for Monday, 14 February) on recognition of Independence of Luhansk and Donetsk.  If Ukraine moves first, then the second version asserts that Putin gave the Order for the Russian Army to intervene immediately to stop the Ukrainian Army from slaughtering civilians in Luhansk and Donetsk.
The THIRD version is that Putin has decided the government of Kiev must be removed and replaced with a Russia-Friendly government, to undo what the EU and US did to Viktor Yanukovich in 2014, and that a mass invasion to overthrow Kiev is what was authorized.
NO SINGLE VERSION IS COMING OUT AS PROMINENT OVER THE OTHERS.
To many analysts in the Intel Community, all three versions are, in fact, options.   But "options" do not equate to an ORDER.
So even though the intel circuits are blazing for the past hour – there is still no cohesive or dispositive confirmation of ANY of it.
Very frustrating.