Liberal Establishment threatened by the possible restoration of free speech
Liberal Establishment threatened by the possible restoration of free speech
Update (1615ET): Elon musk clarified what he meant by "free speech," writing in a Tuesday tweet: "I simply mean that which matches the law."
*  *  *
The European Union has put Elon Musk on notice – warning that he faces hefty fines or even a ban if he allows free speech on Twitter.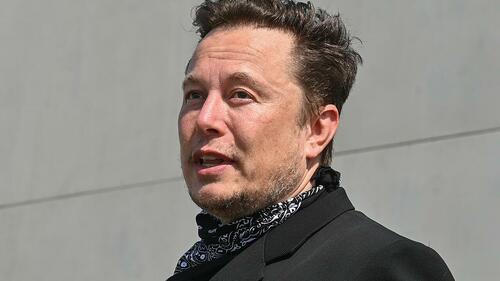 EU commissioner Thierry Breton told the Financial Times that Musk must follow rules on moderating illegal and harmful content online, since words have been elevated to 'sticks & stones' when it comes to the dangers of modern life. 
"We welcome everyone. We are open but on our conditions. At least we know what to tell him: 'Elon, there are rules. You are welcome but these are our rules. It's not your rules which will apply here," said Breton.
Musk's take-private deal for Twitter could transform the Tesla chief executive, who has used the platform to attack regulators and critics, into a social media baron, given that millions of people rely on the San Francisco-based platform for news.

He said on Monday that "free speech is the bedrock of a functioning democracy" and described Twitter as "the digital town square where matters vital to the future of humanity are debated". -FT
Breton's comments come just days after Brussels signed a major piece of legislation targeting big tech for not doing enough to police content online, which runs counter to Musk's plan to loosen Twitter's content moderation policies to match his stated "free speech absolutist" ideology that could even see the return of former President Donal Trump to the platform (despite Trump's insistence he won't be back).
According to Breton, he's simply offering Musk a "reality check" over plans for less stringent moderation, as a lack of compliance risks a ban in Europe.
"Anyone who wants to benefit from this market will have to fulfill our rules. The board [of Twitter] will have to make sure that if it operates in Europe it will have to fulfill the obligations, including moderation, open algorithms, freedom of speech, transparency in rules, obligations to comply with our own rules for hate speech, revenge porn [and] harassment," said Breton, adding "If [Twitter] does not comply with our law, there are sanctions — 6 per cent of the revenue and, if they continue, banned from operating in Europe."
Human rights groups have apparently raised "concerns" about the alleged proliferation of hate speech on social media following billionaire Elon Musk's purchase of Twitter.
Even though Elon Musk has implemented no new changes on Twitter, human rights groups have seized on Musk's self-description as a "free speech absolutist" to fret about the supposed negative consequences of his takeover.
Deborah Brown, a digital rights researcher and advocate at Human Rights Watch, told Reuters whoever owns Twitter should "respect the rights of people around the world."
"Regardless of who owns Twitter, the company has human rights responsibilities to respect the rights of people around the world who rely on the platform," said Brown. "Changes to its policies, features, and algorithms, big and small, can have disproportionate and sometimes devastating impacts, including offline violence."
Left-wing, blue-check Twitter got a dose of reality Monday after Elon Musk's $54.20 per share offer buyout (approximately worth $46.5 billion) was unanimously approved by the Twitter Board of Directors and expected to close this year. 
After weeks of liberals screaming that Musk will ruin so-called "free speech" on the social media platform, there's been an uptick in internet searches to "delete Twitter," according to AskGamblers. 
Total global search trends, including all countries, suggest an increase of 698% in searches for "delete Twitter," a spokesperson for AskGamblers said. 
"It's interesting to see how Twitter users are disappointed when the world's richest man buys out one of the most popular social media platforms in the world for $44bn," the spokesperson added. 
US Search Trend "Delete Twitter"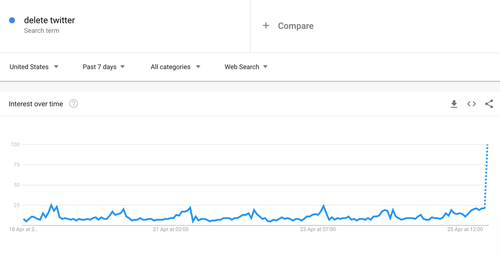 Global Search Trend "Delete Twitter"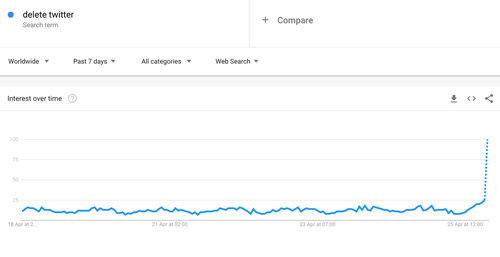 We also see the establishment media melting down, publishing articles on "How to Delete Your Twitter Account."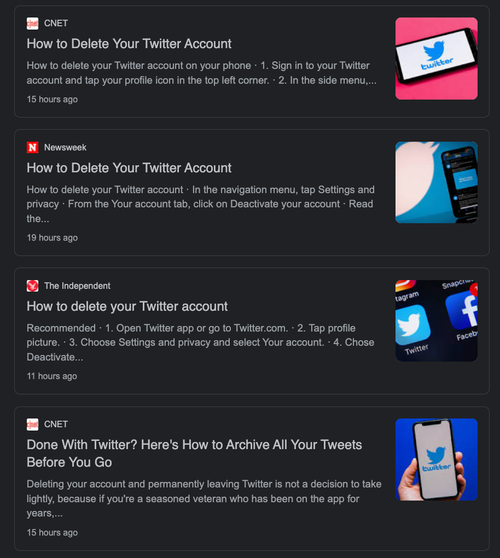 Musk has described himself as a free speech absolutist. And perhaps under his leadership, Twitter will get out of the business of censoring anyone who challenges or has a different opinion than the liberal establishment.
Authored by Paul Joseph Watson via Summit News,
Twitter has gone on internal lockdown in order to prevent woke employees from taking revenge in response to Elon Musk's takeover of the company.
Yes, really.
After Musk completed his $44 billion purchase of the social media network, leftists responded with their usual brand of hysterical moral grandstanding and empty threats to leave the platform altogether.
However, the company is also concerned about the internal reaction, with concerns that angry, woke employees would stage performative hissy fits harm the platform in response to Musk's purchase.
Twitter has locked down all changes apart from "business-critical" updates in a bid to halt and collateral damage.
Twitter has locked down product changes to the site, keeping employees who may be miffed about the Elon Musk deal from "going rogue" https://t.co/wKiYWyXGPq via @KurtWagner8 @EdLudlow

— Nick Turner (@NewsyNick) April 25, 2022
"Product changes will require approval from a vice president," reports Yahoo Finance.
"Twitter imposed the temporary ban to keep employees who may be miffed about the deal from "going rogue," according to one of the people."
The report notes that many employees are "agitated" about what Musk plans to do with the company and, God forbid, predicate it on true free speech.
Alarmed leftists are also petrified that prominent banned individuals, such as Donald Trump and Alex Jones, could make a return to the platform.
Musk previously explained how it is "extremely important for the future of civilization" for Twitter to once again become a true public square for freedom of expression.
"It's important for the function of democracy. It's important for the function of the United States as a free country among many other countries. And to help, actually to help freedom in the world more importantly than the US," said the Tesla founder.