Life is coming back to Mariupol.
Life is coming back to Mariupol.
The BBC broadcast an interview with civilians rescued from beneath Azovstal Ironworks this morning where the women claimed they were held as hostages by Ukrainian Azov Nazis and never told there were green zones set up for safe evacuation. Instead they were traded for food & water before being released. The BBC scrubbed the interview from their site.
Inside Azovstal Territory: First Western Journalist Inside Azovstal In Mariupol (Special Report)
After many months of intense fighting in Mariupol fighting has come to almost a standstill as of the newest ceasefire declared yesterday. 05/06/22.
A month ago we should you how there was intense street battles across the city but day by day as DPR and Russian forces have taken control of more and more parts of the city the fighting has winded down to just a very small pocket of the city with only some Ukraine forces being in part of the Azovstal plant underground with many civilians.
Yesterday I spent the day on the Azovstal territory a only heard one explosion.
At least 12 civilians were released by the Azov. In this report I show you part of the territory of the Azovstol and talked to the Russian and DPR soldiers who are fighting for the Azovstal.
There are talks among the locals that the Russian and DPR forces are planning a May 9th Victory day celebration in Mariupol.
Kids play freely in the streets in most of the city.
Weeks ago Russia declared victory in Mariupol.
The city is being cleaned and already some areas starting to be rebuilt.
Life is coming back to Mariupol.
It seems it is just a matter of time before the Azovtstal plant and Mariupol no longer has any Ukrainian troops in it so there is no question that the major fighting is over.
Now it is time for our team to move forward to some of the other breaking news areas in Donbass and beyond
At this point both the Russian and Ukrainian sides have announced that all civilians which had long been trapped inside the besieged Azovstal steelworks plant have been safely evacuated, in efforts that began with 200 being allowed exit a week ago and ended with some 300 more rescued on Saturday.
The efforts have been overseen, even as sporadic fighting has raged – also with an estimated hundreds of Ukrainian Azov fighters still holed up at the large sprawling complex – by United Nations and Red Cross teams. "All women, children and elderly people have been evacuated from Azovstal. This part of the Mariupol humanitarian operation has been completed," Ukrainian Deputy Prime Minister Iryna Vereshchuk announced Saturday.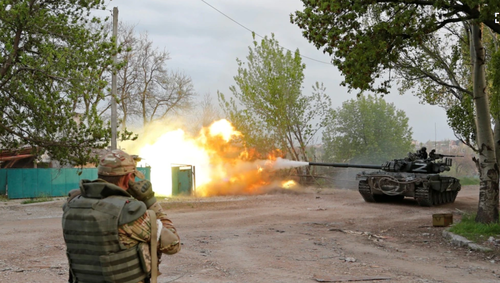 President Zelensky later expressed hope that the trapped and surrounded Ukrainian fighters would also be allowed to leave – but this looks extremely unlikely short of surrender – given the Russian military has demanded nothing less than laying down their arms and emerging from their hideouts since overtaking the port city of Mariupol, also with international attempts at reaching a ceasefire at a dead end.
He vowed to see it through, despite what's increasingly looking like an impossible prospect. "We took all civilians out of the Azovstal plant and are now preparing for the second stage of the evacuation mission to evacuate those who are wounded and medics," Zelensky said. "Of course, we are working on evacuating our military, all the heroes who are defending Mariupol."
A trapped Ukrainian fighter has additionally been cited in international media describing what he called a "hellish reality show" given relentless Russian bombardment of Azovstal has continues. He's calling for urgent outside help:
"It feels like I've landed in a hellish reality show in which us soldiers fight for our lives and the whole world watches this interesting episode," Serhiy Volinski, commander of the 36th marine infantry brigade said.

"Pain, suffering, hunger, misery, tears, fears, death. It's all real," he added, posting a picture of himself in which he is unshaven, bleary-eyed and seems to have an injured nose. He added that his troops could only hope for a miracle now.
Footage of the final civilians being transported out of the now largely destroyed southeast port city of Mariupol…
Ukrainian officials said all women, children and elderly civilians were evacuated from the Azovstal steel mill in Mariupol, as Moscow pushes for battlefield gains ahead of Russia's Victory Day celebrations https://t.co/VjkFVYvNp0 pic.twitter.com/ZjUP0fkYrd

— Reuters (@Reuters) May 8, 2022
On Sunday Reuters has talked to an additional Azov spokesman who says it will fight to the end amid Russian calls to lay down arms and surrender immediately.
Azov digging themselves out of the rubble at Azovstal after a strike pic.twitter.com/lmMAfcnt1p

— Levi (@Levi_godman) May 8, 2022
"We will continue to fight as long as we are alive to repel the Russian occupiers," Captain Sviatoslav Palamar was cited as saying. "We don't have much time, we are coming under intense shelling."
He urged the 'international community' to organize an evacuation effort that now focuses on the remaining trapped militants. "We can die at any moment… Our message is don't waste our efforts," he added.
RUSSIA CLAIMS HIGH RANKING WESTERN OFFICERS TRAPPED IN AZOVSTALpic.twitter.com/7u2ancHgda

— The_Real_Fly (@The_Real_Fly) May 8, 2022
Meanwhile, Russian forces have alleged that along with the neo-Nazi Azov group, foreign mercenaries from the West are also trapped, an allegation which has persisted through the many weeks of the complex being besieged. The Kremlin has said that "Western officers" are among the Azov ranks as Russian forces continue closing in.
Boris dips into UK emergency fund. Azovstal & snake island. Disappointed Canadian sniper
Popasnaya; "Stalingrad" of Donbass. Estonia inflation. Hunter's password. Texas dining fee.
The captured officer says he decided to flee after realizing that promised help wouldn't be coming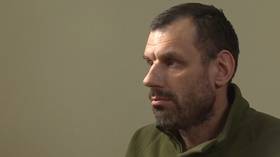 Ukraine told troops besieged by Russian forces in Mariupol that help was on its way, while making no actual attempts to end the blockade of the city, the commander of the country's 36th Naval Infantry Brigade has told RT.
Colonel Vladimir Baranyuk and his unit were tasked with guarding the northern outskirts of Mariupol, a strategic port city in the southeast of Ukraine, amid the Russian military operation in the country.
He was even awarded the Hero of Ukraine honor for his "courage and effective actions in repelling enemy attacks," with Kiev asserting that the colonel and the other defenders of Mariupol would never surrender.
But as the Russian forces kept gaining ground, Baranyuk ended up surrendering peacefully after being captured during a failed attempt to flee the city.
He was apprehended hiding in the fields together with a number of his men a few kilometers north of Mariupol.
The commander of the marines now says the Ukrainian government lied to him and his troops in order to keep them fighting.
"Kiev told us to hold on, [saying] that the units that will lift the blockade are coming, they'll soon be here," Baranyuk told RT.
The promise was made despite President Volodymyr Zelensky's adviser, Alexey Arestovich, openly acknowledging in interviews that Kiev "won't be able to save" its forces in Mariupol.
"We were promised certain help. Naturally, this help didn't arrive. And this pushed us to come out," the colonel said, explaining his decision to flee.
It was "painful" for the troops when they realized that they had been left for dead, but "everybody, including myself, understood it," Baranyuk added.
Mariupol has seen the heaviest fighting during the ongoing conflict between Russia and Ukraine. The city, which suffered immense destruction, is now almost entirely controlled by Russian forces, with the Azovstal steel plant remaining the last pocket of Ukrainian resistance.
Kiev's servicemen and nationalist fighters of the notorious Azov Battalion, who are holed up at the massive site, had been given numerous opportunities to lay down their arms by Russia, but rejected all of them. Moscow has said that those inside the plant want to surrender, but cannot do so due to Kiev's reluctance to give the relevant order.
Russia attacked its neighboring state following Ukraine's failure to implement the terms of the Minsk agreements, signed in 2014, and Moscow's eventual recognition of the Donbass republics of Donetsk and Lugansk. The German- and French-brokered Minsk Protocol was designed to give the breakaway regions special status within the Ukrainian state.
The Kremlin has since demanded that Ukraine officially declare itself a neutral country that will never join NATO. Kiev insists the Russian offensive was completely unprovoked and has denied claims it was planning to retake the two republics by force.
Ihor Kolomoisky Is In Trouble
Why Does The West Hate Russia?