"Like The Wild West": Arizona Sheriff Says Biden Border Crisis 'Worse Than Obama Years'
"Like The Wild West": Arizona Sheriff Says Biden Border Crisis 'Worse Than Obama Years'
Zero Hedge,
17 March, 2021
An Arizona sheriff says that President Bidens border crisis is worse than the Obama years, as the surge in illegal immigrants hits a 20-year-high, according to the Department of Homeland Security.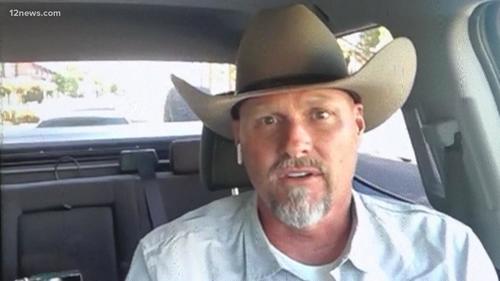 Sheriff Mark Lamb of Pinal County told "Fox & Friennds" on Wednesday that it's "ridiculous" and "unfair" that illegal immigrants – many of whom have not been tested for COVID-19 and could be carriers – are able to enter the United States unhindered while schools and businesses remain locked down in many parts of the country.
"[During the Obama administration] it was like the Wild West out there in the desert on the south end of our county and we're back to that again," said Lamb, according to Fox News.
"Almost every time we go out we're finding 20 people. Last Wednesday, we had 49 apprehensions in my county. So this is just as bad as it was back in the Obama days, probably worse and on target to be worse."
Lamb also accused the Biden administration of playing the "blame game," targeting former President Trump's border policies as the reason for the recent surge.

White House press secretary Jen Psaki on Monday referred to the influx of migrants at the southern border as a "big problem" and blamed the Trump administration for an "unworkable system" — following weeks of the Biden administration refusing to call it a "crisis."

"We recognize this is a big problem," Psaki said during a press briefing with reporters. "The last administration left us a dismantled and unworkable system and, like any other problem, we are going to do all we can to solve it." –Fox News
Lamb says that Biden halting Trump's border wall has allowed Mexican cartels to smuggle people and drugs through gaps in the now-abandoned construction sites.
As Fox News notes, "In the month of February, southern border migrant encounters are up 28% from the month prior, and a staggering 174% from the same time last year," putting the current migrant encounter numbers at their highest point since June 2019.
Watch: Reporters Demand To Know Why They Have Zero Access To Border Crisis
Authored by Steve Watson via Summit News,
As the immigration crisis on the border worsens every day, reporters demanded Wednesday to know why they have not been given any access to facilities housing migrants, and why border officials have effectively been placed under a gag order, as reported by NBC News.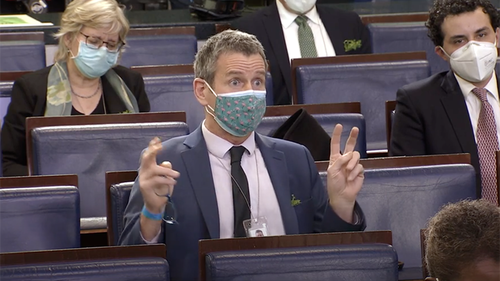 During the White House press briefing, Jen Psaki was grilled by reporter after reporter on why an administration that promised transparency is doing the exact opposite.
"It's now been three weeks since I think in this room, you were first asked about getting us some press access. Why [have] we still not [seen] any images inside these facilities?" one reporter asked.
After Psaki provided another non-answer, the reporter continued to press.
"We're hearing from border agents that they're frustrated that they can't show us what's actually happening along the border. They can't do ride-alongs. They can't answer questions about what's happening inside. Certainly, it seems like there's an element of secrecy here. Why?"
Again Psaki avoided the question.
Another reporter followed up, asking "Is The White House or DHS instructing border agents to refuse ride-along requests from reporters?"
Again Psaki avoided the question.
The reporter continued "[We] used to be able to get ride-alongs during the Trump administration, and you all came in and promised to be the most truthful and transparent administration, and you all oversee the Department of Homeland Security. So if you all wanted to grant access to the press, couldn't you just tell the DHS to do it?"
Like an operative on a customer service call Psaki said the reporter should ask the DHS.
When another reporter asked "Is there a limit or a cap to the number of unaccompanied minors that are going to be allowed into the U.S.?" Psaki snapped back "So should we send some kids who are 10 back at a certain point?"
"I'm not setting the policy here," there reporter replied, adding "I'm just asking you what the Biden administration's policy is…what the end game is here?"
Psaki reeled off some numbers and then said "Our policy continues to be, we're not going to send a ten-year-old back across the border."
This is an unprecedented crisis caused directly by the undoing of President Trump's border policies and the Biden administration either refuses to address it, or even blames Trump, who has been the only president for some three decades to somewhat successfully secure the border.
https://www.zerohedge.com/political/watch-reporters-demand-know-why-they-have-zero-access-border-crisis
Tucker on the Border Crisis: They're Doing It On Purpose
Devastating Video Shows How Biden Created Border Crisis
Coming to America: How Joe Biden and Barack Obama Created the Immigration Crisis
David Brody explains why Joe Biden and the Democrats want illegal immigrants in this country. The main reason? secure new voters to bring about victory in all future national elections and change America into a socialist utopia. That's it in a nutshell.
This has been something that TruNews have talked about 2 years in a row.  Big Brother in the novel 1984 will have been delighted wtth the technology that allows news stories to simply vaporise.
Washington Post Admits "Bombshell" Story Was Fake
Here are the TruNews episodes