News from Afghanistan – 25 August, 2021
News from Afghanistan – 25 August, 2021
I don't have much time or energy to this but it is a clusterf*ck
Biden

Finally Does 6-Minute Afghan Presser, Reiterates "Support Of Allies", Takes No Questions
25 August, 2021
Just four and a half hours after the press conference was initially scheduled for, President Biden stumbled out to a podium, read a teleprompter(barely), and then rushed for the door, taking no questions. He began by discussing the House vote then shifted to Afghanistan.
He spoke on Afghanistan for 6 minutes.
What was of note is the number of times he reiterated "full support, or "full cooperation" or "shoulder to shoulder" with US allies – which is questionable given his decision to stick with the Aug 31 deadline while his G-7 allies are pushing to extend it.
Key headlines (via Bloomberg)" 
*BIDEN: ON PACE TO FINISH AFGHANISTAN EVACUATION BY AUG 31

*BIDEN: MEETING AFGHANISTAN DEADLINE ALSO DEPENDS ON TALIBAN

*BIDEN: TENUOUS SITUATION IN AFGHANISTAN

*BIDEN: HAVE SERIOUS RISK OF SITUATION BREAKDOWN IN AFGHANISTAN

*BIDEN: WORLD WILL JUDGE TALIBAN BY THEIR ACTIONS

*BIDEN: U.S. WILL BE A LEADER IN EVACUATION OF AFGHANS

*BIDEN: CONDUCTING THOROUGH SCREENINGS FOR AFGHAN EVACUEES
*BIDEN: BLINKEN TO UPDATE ON U.S. CITIZENS STILL IN AFGHANISTAN
Watch the brief address below: 
*  *  *
Update (1600ET): US officials are reportedly telling US-based humanitarian groups to "get ready for 50,000 Afghans", according to Bloomberg, but we can imagine the real number will be higher.
U.S. TELLS REFUGEE AID GROUPS TO GET READY FOR 50,000 AFGHANS

U.S. TO START REDUCING NUMBER OF TROOPS IN AFGHANISTAN: WAPO
Meanwhile the White House is centering Biden's rationale to keep the Aug.31 deadline for full troop pullout at Kabul airport, despite the possibility that Americans might be left behind, on the lingering threat of terrorism.
Update (1524ET): It's looking like the troop draw down order has already been executed, after Pentagon officials indicated they would need 'several days' to get the some 6,000 US soldiers out of Kabul International Airport, who meanwhile themselves are busy overseeing the evacuation operation.
And so the final scramble to get out begins…
The White House has issued the following statement after the brief G-7 meeting which was done remotely, and was reportedly very brief:
During a meeting this morning with the G7 leaders, the President conveyed that our mission in Kabul will end based on the achievement of our objectives. He confirmed we are currently on pace to finish by August 31st and provided an update on progress in evacuating Americans who want to come home, third-country nationals, and Afghans who were our allies during the war.

He also made clear that with each day of operations on the ground, we have added risk to our troops with increasing threats from ISIS-K, and that completion of the mission by August 31st depends on continued coordination with the Taliban, including continued access for evacuees to the airport. In addition, the President has asked the Pentagon and the State Department for contingency plans to adjust the timeline should that become necessary.
After postponing for three hours, President Biden is set to speak at 1630ET. LIVE FEED:
* * *
Update (1450ET): 50 minutes after the second revised press conference time, and almost 3 hours after the initial press conference time, The White House is now reporting that President Biden will explain his decision to ignore G-7 allies and stock to the Taliban's plan to leave by Aug 31st at 1630ET (and comment on the House votes)
*  *  *
Update: 90 minutes after the press conference was due to start, The White House has announced that he press conference will now take place at 1400ET…
In the meantime-
BIDEN TOLD G7 LEADERS HE IS AIMING TO GET U.S. TROOPS OUT OF AFGHANISTAN BY AUG. 31, CITING THE "VERY HIGH" RISK OF A TERRORIST ATTACK -NEW YORK TIMES
*  *  *
Ahead of the press conference, Bloomberg reported that Biden told the G-7 that US "won't be able to get everyone out of Afghanistan", presumably by the deadline. However, Reuters reports that, despite that admission, Biden will stick to the August 31st deadline for Afghanistan withdrawal that the Taliban reiterated this morning.
It will be interesting to see how he explains that little dichotomy… and if anyone will be 'stranded'…
*  *  *
Update (1140ET): Following an urgent G-7 virtual meeting over Afghanistan, President Biden is expected to speak at noon, where it's looking like he's preparing to announce he will not order an extension of evacuations and a US troop presence at Kabul airport:
U.S PRESIDENT BIDEN HAS AGREED WITH PENTAGON RECOMMENDATION TO STICK WITH AUG 31 AFGHANISTAN WITHDRAWAL DEADLINE – ADMINISTRATION OFFICIAL
However, the question remains whether this can actually be done, given there's some 6,000 US troops on the ground and still tens of thousands of civilians to be evacuated. 
US allies Britain, Germany and France have urged him to stay past the deadline, on fears they won't be able to get everyone out.
* * *
Update (1100ET): This could be a problem. Given the Taliban's red-line deadline of Aug 31st for being out of Afghanistan, reports from the G-7 meeting suggest President Biden is facing another potential crisis. Bloomberg reports, according to an official familiar with comments during this morning's G-7 Afghanistan meeting, that President Biden admitted the US "won't be able to get everyone out of Afghanistan", presumably by the deadline.
Additional comments include Germany's Angela Merkel warning that "many will face great danger in Afghanistan," and UK's Johnson noted that "recognition and money" are leverage with the Taliban.
The question for The White House, and most specifically Jen Psaki, is: "does that mean those Americans are 'stranded'?"
*  *  *
If things weren't already bad enough with the past week of evacuation efforts and US scramble to get everyone out of Kabul international airport, the desperate situation is about to get a lot worse as Biden's previously stated Aug.31 deadline for full withdrawal fast approaches. 
A Taliban spokesman has put Washington on notice, telling Sky News there will be "consequences" if the Pentagon stays past the Aug.31 date, which is a mere week away. The Taliban official, identified as Suhail Shaheen, asserted that "President Biden announced that on 31 August they would withdraw all their military forces. So, if they extend it that means they are extending occupation while there is no need for that."
"If the U.S. or U.K. were to seek additional time to continue evacuations — the answer is no. Or there would be consequences. It will create mistrust between us. If they are intent on continuing the occupation it will provoke a reaction," he added. "It's a red line."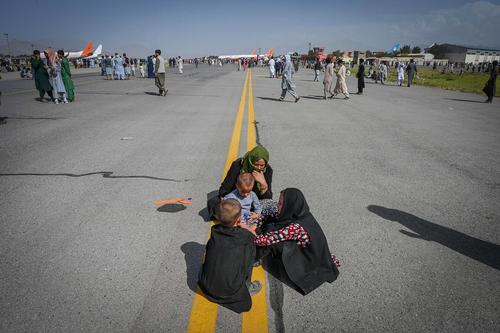 In the event of a Taliban attack if troops remain after that date, American troops, civilians, and Afghan evacuees could find themselves in a trapped and surrounded 'Black Hawk Down' type disastrous situation. 
Increasingly there are "no good options" – with the White House in its until now slow decision making barreling toward an even worse catch-22 situation than it already finds itself in: on one hand the Taliban is warning President Biden of no extensions beyond Aug.31, with on the other allies like the UK are demanding it. France is also said to be pushing for an extension.
"We are really down to hours now, not weeks, and we have to make sure we exploit every minute to get people out," UK Defense Secretary Ben Wallace said, expressing the view of many European allies who are also struggling to get their citizens out. 
Through Monday dozens of military as well as civilian aviation charter flights flew a record 16,000 passengers out of Kabul airport as the big push is underway to drastically ramp up the tempo as much as safety of airport operations allows. 
The Taliban again confirmed in a Tuesday press conference it will recognize no extension after August 31…
It's official: the Taliban says it will not agree to any proposals for an extension of the evacuation out of Kabul.
US officials have hinted that the trigger has to be pulled within the next 24 hours in terms of decision-making, as plans would have to drastically change to increase the already massive undertaking in order to make the Aug.31 pullout date.
Getting the some over 5,000 US troops now on the ground out of the airport alone would take days to pull off in terms of putting the military logistics in place. Biden is expected to make a decision imminently.
List of US-supplied and left behind equipment list now controlled by Taliban
Here is a more complete list of US-supplied and left behind equipment list now controlled by Taliban:
-2,000 Armored Vehicles Including Humvees and MRAP's
-75,989 Total Vehicles: FMTV, M35, Ford Rangers, Ford F350, Ford Vans, Toyota Pickups, Armored Security Vehicles etc
-45 UH-60 Blachhawk Helicopters
-50 MD530G Scout Attack Choppers
-ScanEagle Military Drones
-30 Military Version Cessnas
-4 C-130's
-29 Brazilian made A-29 Super Tocano Ground Attack Aircraft
=208+ Aircraft Total!!
-At least 600,000+ Small arms M16, M249 SAWs, M24 Sniper Systems, 50 Calibers, 1,394 M203 Grenade Launchers, M134 Mini Gun, 20mm Gatling Guns and Ammunition
-61,000 M203 Rounds
-20,040 Grenades
-Howitzers
-Mortars +1,000's of Rounds
-162,000 pieces of Encrypted Military Comunications Gear
-16,000+ Night Vision Goggles
-Newest Technology Night Vision Scopes
-Thermal Scopes and Thermal Mono Googles
-10,000 2.75 inch Air to Ground Rockets
-Recconaissance Equipment (ISR)
-Laser Aiming Units
-Explosives Ordnance C-4, Semtex, Detonators, Shaped Charges, Thermite, Incendiaries, AP/API/APIT
-2,520 Bombs
-Administration Encrypted Cell Phones and Laptops ALL operational
-Pallets with Millions of Dollars in US Currency
-Millions of Rounds of Ammunition including but not limited to 20,150,600 rounds of 7.62mm, 9,000,000 rounds of 50.caliber
-Large Stockpile of Plate Carriers and Body Armor
-US Military HIIDE, for Handheld Interagency Identity Detection Equipment Biometrics
-Lots of Heavy Equipment Including Bull Dozers, Backhoes, Dump Trucks, Excavators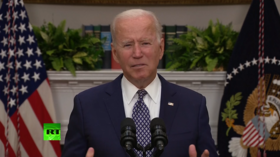 President Joe Biden said the US is "on pace" to finish evacuation efforts from Afghanistan by August 31, if the Taliban cooperates, but couldn't say how many Americans still remain or what the plan for after the deadline is.
Biden's address was originally scheduled for noon on Tuesday, but was pushed back for reasons that weren't explained. The scheduled briefings by the State Department and the Pentagon were both canceled.
Finally showing up just after 5 pm, Biden opened his remarks by talking about his domestic economic agenda in Congress, before addressing Afghanistan. He repeated the talking points of the previous week about the 20-year war needing to end, and talked about US coordination and cooperation with the G7, NATO, UN and EU.
The US and its allies are "on pace" to finish the airlift by August 31, but the Pentagon and the State Department have been asked for "contingency plans" in case it turns out otherwise, Biden said, noting that the success of the operation depends on the continued cooperation of the Taliban.
Biden could not say how many Americans are among more than 70,000 people that have been flown out of Kabul since August 14, however. He delegated that task to Secretary of State Antony Blinken – to be announced on Wednesday.
Biggest humanitarian crisis of our time': Airbnb to provide free housing to 20,000 Afghan refugeesSo far, the only estimate of the number of Americans evacuated from Kabul comes from Politico, which cited a leaked State Department cable to say 4,407 US citizens have been flown out as of Monday afternoon, out of the 26,582 total. 
Following the reported visit to Kabul by the CIA Director William Burns, the Taliban announced that there could be no extension of the deadline for the US to leave Afghanistan. The US "has the resources" to complete the evacuation of its citizens by the end of the month, Taliban spokesman Zabihullah Mujahid told the media.
A White House official then told Reuters that Biden has decided to follow the Pentagon's recommendations and have all US troops and civilians permanently leave Afghanistan by August 31.
Some US troops deployed to secure the Kabul airport have already begun to leave, the Pentagon told reporters on Tuesday, offering no further details.
Meanwhile, the remaining US citizens in Kabul were told to "avoid traveling to the airport" unless they receive "individual instructions from a U.S. government representative to do so," citing "security threats outside gates."
White House and Pentagon stand by 'unlikely' August 31 Afghan evacuation deadline, despite heavy criticismThe White House was caught off-guard by the complete collapse of the US-backed Afghan government on August 14. With the Taliban in control of Kabul and surrounding the Hamid Karzai International Airport, thousands of Westerners have to make their way past the group's checkpoints – and jockey for seats on outbound flights with tens of thousands of Afghans seeking passage out of the country as well.