Live-fire exercises around Taiwan
Live-fire exercises around Taiwan
Hal Turner is opining:
Until the PLA completes the live-fire exercises,  Pelosi can't LEAVE.   Her plane can't take-off else it may "accidentally" be hit by live fire from the "exercises." 
We'll see.
Joint naval and air force exercises under way skirting island's coastline and airspace to its north, southwest and southeast, says People's Liberation Army spokesman
Clear upgrade in response by Chinese military compared to previous moves likely to continue in future, observers add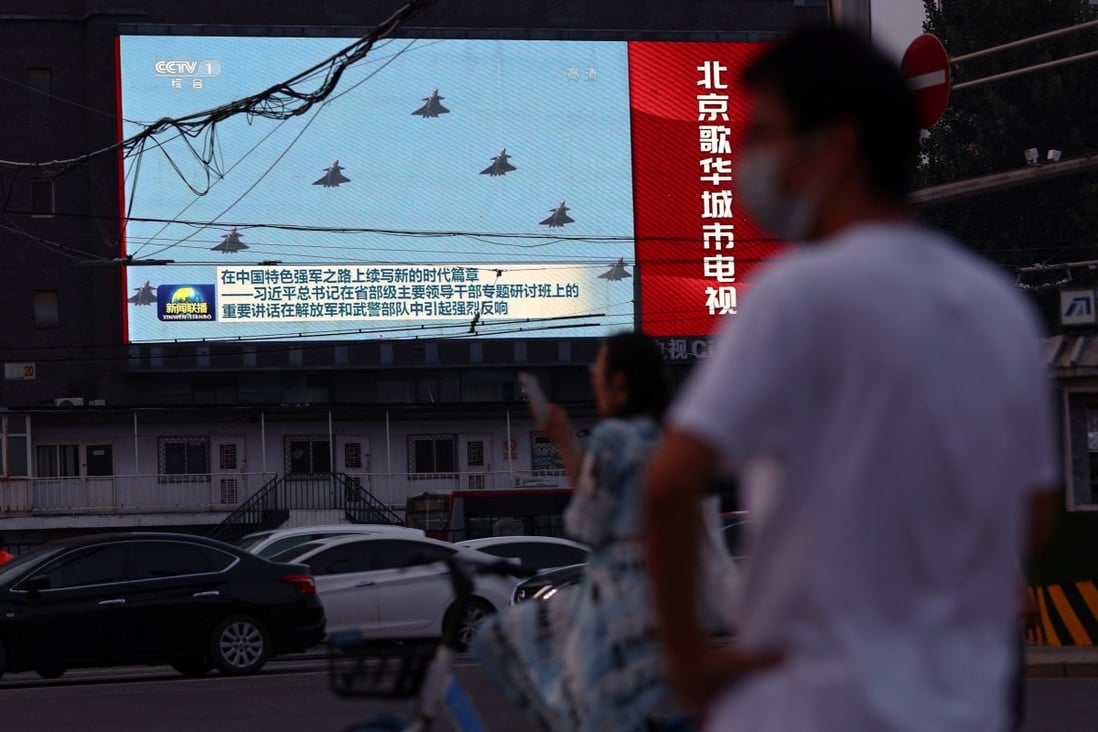 Pedestrians wait at an intersection near a screen showing footage of Chinese People's Liberation Army (PLA) aircraft during an evening news programme in Beijing on Tuesday. Photo: Reuters
In retaliation for US House Speaker Nancy Pelosi's visit to Taiwan, China will conduct a series of military operations surrounding the island from Tuesday night, its military said.
The announced actions mark a clear upgrade in response by the People's Liberation Army against the island when compared to its previous moves, and such levels of operations are likely to continue in the future, observers believe.
Just as Pelosi landed in Taipei, the PLA announced its long-warned "strong military responses" were under way. They included joint naval and air force exercises to the north, southwest and southeast of Taiwan's coastline and airspace.
The response also consisted of long-distance, live-fire artillery shooting in the Taiwan Strait as well as conventional-headed missile test firings in the waters east of the island.
"This action is a solemn deterrent against the recent major escalation of the negative actions of the United States on the Taiwan issue, and a serious warning to the Taiwanese forces seeking independence," said Shi Yi, spokesman of the PLA's Eastern Theatre Command, whose purview includes the Taiwan Strait and is carrying out the exercises.
In addition, the PLA demarcated six no-entry zones around the island for civilian ships and planes, warning it could conduct "important military exercises with live-fire shooting" in these areas from 12pm Thursday to 12pm Sunday.
The no-entry zones cut into the Taiwanese military's air-defence identification zones, and in the north, northeast and southwest, they run close to the line of 12 nautical miles of airspace.
The Chinese Ministry of Defence also said in a statement the PLA would "resolutely defend national sovereignty and territorial integrity, and resolutely thwart interference by external forces and secessionist attempts for Taiwan independence" with a series of targeted military operations.
The Chinese air force already scrambled an unknown number of Su-35 fighter jets across the median line of the strait when Pelosi's plane approached Songshan Airport in Taipei.
But the Taiwanese Ministry of Defence later said reports of PLA Su-35s crossing the strait were "not true" and that it would dispatch appropriate forces to deal with the threat.
"We have the determination, ability and confidence to ensure national security," it said in a statement.
At least eight US Air Force warplanes including F-15s were reportedly flying from Okinawa, Japan, alongside the House speaker's plane. As a further precaution, the USS Ronald Reagan and the F-35-capable amphibious assault ship USS Tripoli and their escorts were positioned near the eastern waters off Taiwan.
It was expected Beijing would go beyond its response in 1996, when then-Taiwanese President Lee Tung-hui visited the US, leading to a military crisis, according to Bonnie Glaser, Asia director at the Washington-based German Marshall Fund.
In that crisis, the PLA conducted joint exercises and fired missiles from mainland bases, with some landing close to the Taiwanese coast and offshore islands. Tensions only receded after two US aircraft carrier strike groups were sent into the strait and east of the island.
Glaser told reporters that Beijing's response to Pelosi's visit would include "military intimidation, perhaps during her visit" and "especially afterwards".
With more than 20 years of massive defence spending and PLA modernisation, China's military power has grown significantly.
In 2011, for instance, PLA aircraft for the first time intentionally crossed the strait's median line, and have frequently done so since 2019 with more fighter jets.
Lu Li-shih, a former instructor at Taiwan's Naval Academy in Kaohsiung, also believed the PLA's crossing of the median line was unlikely to be a one-off.
"This could become a regular operation," he said.