Martial law in Poland? – Headlines
Martial law in Poland? – Headlines
Poland has commenced the public distribution of Iodine Pills to its citizens, saying they fear a "nuclear incident" – possible an attack against Ukraine's Zaporozyhe Nuclear Power Plant, causing radiation to enter Poland.
This comes just one day after Russian President Vladimir Putin made clear Russia is willing to use nuclear weapons if Russia is endangered.
To anyone paying close attention to this situation, especially between Ukraine/NATO and Russia, one might get the idea that Poland already knows NATO plans for Russia over Ukraine, and Poland realizes it __must__ give out iodine because Russia's response might be nuclear!
More importantly, however, Poland enacted a new "Protection of People" law which contains provisions like "mandatory quarantine" "mandatory demolition of buildings" "take over of private property" "no demonstrations or gatherings allowed" "mandatory evacuation" "mandatory take over of private buildings or apartments" "mandatory prices."
The law goes into effect on Jan 1st 2023 and can be INVOKED by the Polish legislature with just majority of votes at any moment.
'Naïve' to think Russia will lose war, says Dr Jordan Peterson
Head of Russia's Security Council added that "the Western establishment and, in general, all citizens of the NATO countries, need to understand that Russia has chosen its own path
MOSCOW, September 22. /TASS/. Nobody should try to scare Russia with speculations about NATO's strikes at Crimea, because hypersonic weapons will be able to reach their targets in Europe and the United States much faster, the deputy head of Russia's Security Council, Dmitry Medvedev, said on his Telegram channel on Thursday.
"Various retired idiots wearing a general's insignia should know better than to try to scare us with speculations about a NATO strike at Crimea. Hypersonic retaliation is be able to reach targets in Europe and the United States much faster, it's guaranteed," Medvedev wrote.
He added that "the Western establishment and, in general, all citizens of the NATO countries, need to understand that Russia has chosen its own path. There is no turning back," he stressed.
At the same time, Medvedev is certain that referendums in the republics of Donbass and in the liberated territories will take place with the net effect of these territories' accession to Russia. "The protection of all the territories that have joined in will be significantly strengthened by Russia's Armed Forces," Medvedev wrote.
He added that "not only mobilization capabilities, but also any Russian weapons, including strategic nuclear weapons and weapons based on new principles, can be used for such protection.".
The Moscow Times reports that "Flights from Moscow to the capitals of Georgia, Turkey and Armenia — which do not require visas for Russians — for Sept. 21 were unavailable within minutes of Putin's announcement, according to Russia's top travel planning website aviasales.ru."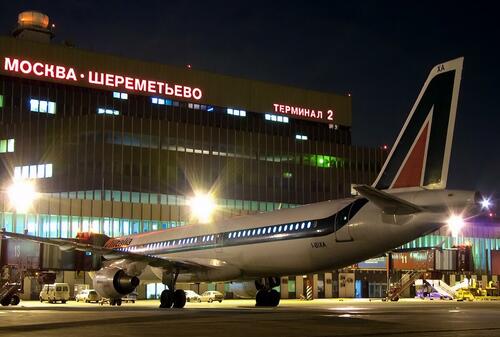 It's as yet unclear the precise extent of who will be called up, but Russia's military boasts access to some 25 million total reservists.
"By noon Moscow time, direct flights from Moscow to Azerbaijan, Kazakhstan, Uzbekistan and Kyrgyzstan had also stopped showing up on the website," Moscow Times continues.
Within hours after these initial local reports, air travel monitoring sites said that Russia's domestic airlines halted all sales of tickets abroad to Russian men aged 18 to 65; however, these can reportedly have a waiver from the Ministry of Defense.
Land borders, particularly with Georgia in the south and Finland to the west, have also seen a reported surge in activity…
Huge queues 10km long in some places on the border of Russia and Finland.

— WarMonitor🇺🇦 (@WarMonitor3) September 21, 2022
State-owned Aeroflot quickly sold out of all tickets to Istanbul – a longtime popular vacation destination for Russians – for at least the next three days, based on what its website shows. There are no spots left for Yerevan, Armenia through the weekend either.
The sudden attempt of some to evade being called up by the defense ministry also resulted in a spike in ticket prices, as one report out of Serbia noted, "Tickets for the Moscow-Belgrade flights operated by Air Serbia, the only European carrier besides Turkish Airlines to maintain flights to Russia despite a European Union flight embargo, sold out for the next several days."
BREAKING Russian airlines ordered to stop selling tickets to Russian men aged 18 to 65 https://t.co/tSKfSUFR0o

— AIRLIVE (@airlivenet) September 21, 2022
The report indicated, "The price for flights from Moscow to Istanbul or Dubai increased within minutes before jumping again, reaching as high as 9,200 euros ($9,119) for a one-way economy class fare."
Once again Dmitry Medvedev, the deputy chairman of Russia's Security Council, has served the role of issuing more severe 'read between the lines' warnings and threats fresh off President Vladimir Putin's Wednesday speech announcing partial mobilization of national forces and which confirmed referendums of occupied portions of Ukraine to join the Russian Federation. 
Putin's most alarming line came when he said, "If the territorial integrity of our country is threatened, we will certainly use all the means at our disposal to protect Russia and our people," following with "It's not a bluff." He had also stressed Moscow is ready to use "all available" means to protect its "territorial integrity". 
Medvedev has taken the president's words further in Thursday statements, stressing that regarding Russian-seized territory and the move to vote in several areas – including the LPR, DPR, Kherson and Zaporozhye regions – "there is no going back" and that even a 'nuclear option' could be on the table.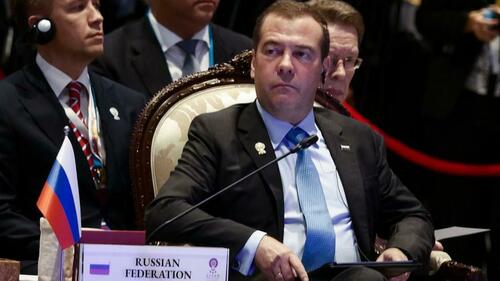 "The Donbas [Donetsk and Luhansk] republics and other territories will be accepted into Russia," he posted to Telegram. That's when the former president and top national security official doubled down on Putin's nuclear warning, stating: 
Russia has announced that not only mobilization capabilities, but also any Russian weapons, including strategic nuclear weapons and weapons based on new principles, could be used for such protection.
Putin and Medvedev's statements mark the first time any top Russian officials have affirmed readiness to bring newly acquired Russian territories under Moscow's nuclear doctrine.
However, it remains that Russian forces do not yet control 100% of any of the four main territories where annexation votes are to be held – with some referendums set for early as this weekend according to prior reports. 
To review of the past 48 hours of Kremlin decision-making which is poised to escalate this war even further, here is the logical course of what just got enacted in the call-up of some 300,000 reservists:
Conscripts were previously told they won't be sent to Ukraine to fight because they are stationed/defend inside Russia

Ukrainian-held territories are now about to vote to join the Russian Federation.

When these territories join Russian then they are "inside Russia." They are Russian oblasts and attempts to defend (formerly) Ukrainian territory would then mark an invasion of Russian territory supported by NATO equipment. 

Thus Medvedev's warning of 'willingness' to use nukes covers these territories inside Ukraine.
"Territorial integrity" is of course tricky as Russia is currently planning to absorb 4 Ukrainian regions, none of which is even fully controlled by its armed forces. Would this mean that Ukraine would be threatened with nuclear weapons to hand them to Russia? 9/13

— Andrey Baklitskiy (@baklitskiy) September 21, 2022
Putin's emphasis of this is "not a bluff" notwithstanding, some analysts say this is all about posturing in order to scare NATO away from escalation…
"I think it signals that he wants people to think he would risk nuclear war," Phillips O'Brien, a professor of strategic studies at the University of St. Andrews in Scotland. "I don't think it means he is any more likely to do it than he was yesterday."
"If he says that any attack on soil that he calls Russia is going to be a nuclear tripwire, Ukraine's already broken that in Crimea," O'Brien added in comments given to NBC. Yet Washington says it is taking this nuclear rhetoric seriously.
As for the White House, President Biden in his Wednesday UN General Assembly speech in New York called out Putin's "overt, reckless and irresponsible" nuclear threats, warning that such wars should "never be fought" and that Russia's actions should make everyone's "blood run cold". He renewed his warning of "a nuclear war cannot be won" – saying the US does "not seek a cold war".
Starting last month Ukrainian lawmakers began seeking to implement severe consequences for those participating in Russia-sponsored referendums in occupied territories of Ukraine. For example, a law is being pushed through parliament which criminalizes obtaining a Russian passport in temporarily occupied territories, Ukrainian sources reported last week, according to Yahoo News.
Proposed possible punishments have included losing Ukrainian citizenship, or even lengthy jail sentences. But other officials have argued for a more compromising approach given the necessity of survival in occupied areas. But now the Ukrainian government has reiterated its willingness to impose steep penalties for even participating in any Kremlin-sponsored vote to join the Russian Federation.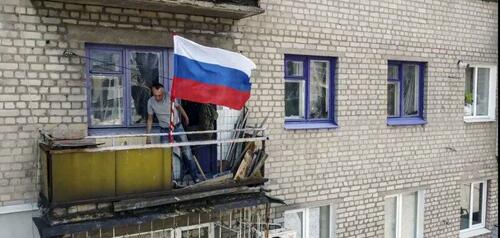 Russian President Putin's Wednesday morning address announcing partial mobilization also affirmed plans to move forward with referendums in the LPR, DPR, Kherson and Zaporozhye regions.
Ukraine has responded by warning its citizens that any official who promotes or organizes the voting faces a "prison term of five to ten years" – as well as possible asset seizure by the state, and being barred from employment in select positions for up to 15 years.
Ukrainian Deputy Prime Minister Irina Vereshchuk announced this week that a five year prison term is currently being considered for anyone caught participating in "sham referenda" by government authorities: 
"Some lawyers believe that those actions fall under Article 110 part 1 of the Criminal Code of Ukraine, 'Infringement on Ukraine's territorial integrity,' punishable with a prison term of up to five years," she told the Strana portal on Tuesday.
She further called on citizens currently in occupied to territories to "leave, if possible."
Vereshchuk was cited further as follows according to a Russian media translation of her words: 
"This [may] mean imprisonment for up to five years. So, once again I strongly advise residents of the temporarily occupied territories: do not take a [Russian] passport, do not go to referendums, do not cooperate with the occupiers and leave, if it's possible," the official stated.
Below is what a law proposed last week in Ukrainian parliament stipulates:
acquisition of citizenship or obtaining a Russian passport by state officials or representatives of local self-government in the absence of signs of high treason;

propaganda, public appeals, and coercion to act correspondingly;

restriction of the rights of people who have not received citizenship or passports from the Russian Federation.
But the important distinction was added: "The Ministry of Reintegration of the Temporary Occupied Territories noted that obtaining a Russian passport in the temporarily occupied territories is justified only if a person thus tries to return to the territory controlled by Ukraine through Russia and third countries," according to a Ukrainian report republished in Yahoo.