Marxist Milley Betrayed President Trump by Twice Secretly Calling Chinese Communists
Marxist Milley Betrayed President Trump by Twice Secretly Calling Chinese Communists
Today on TruNews, General Mark 'Marxist' Milley is featured in a new expose by Bob Woodward, detailing how the Joint Chiefs Chairman had two separate phone conversations, assuring the Chinese that they would be given a heads up in the event of any attack by President Trump. The silence from politicians both left and right to this treason is deafening.
Rick shares information of a schedule of wars that the Chinese have planned between now and the 2050s. Is the leadership of Russian, President Putin and his staff, undergoing a biological attack through COVID?
In our final segment, Kerry Kinsey joins us as we provide an update on the 'Corona Crazy' happening, and how the response is being used to usher the global population into the Beast system foretold in Revelation.
Rick Wiles, Raymond Burkhart, Kerry Kinsey. Airdate (9/14/21)

Milley is reported to have called a "secret meeting" at the Pentagon on January 8 and told staff that unless he was involved, they were not to take orders from anyone.
In a new book Peril out from Bob Woodward and the Washington Post's Robert Costa, it is revealed that Joint Chief's Chairman General Mark Milley told Gen. Li Zuocheng of the People's Liberation Army that if the US were to attack China, Milley would let Li know before it happened.
Milley was apparently afraid that President Trump would engage in hostilities, and went around Trump in order to take power, by speaking with Gen. Li Zuocheng of the People's Liberation Army. Milley assured him that the US would not engage in armed hostilities with the communist nation, according to the Washington Post. The book comes out next week.
Two calls were made. The first call was made by Milley on October 30, 2020, and the second was on January 8, 2021. In October, Milley believed that the US was considering and preparing for a military attack. Milley said "General Li, I want to assure you that the American government is stable and everything is going to be okay. We are not going to attack or conduct any kinetic operations against you."
According to the Post, Milley leaned on his longstanding relationship with Li, saying "General Li, you and I have known each other for now five years. If we're going to attack, I'm going to call you ahead of time. It's not going to be a surprise."
It was revealed additionally that the Joint Chief's of Staff enacted a "top-secret action" to prevent President Donald Trump from performing his job as Commander-in-chief.
It was Trump's military advisory General Mark Milley, Chairman of the Joint Chiefs of Staff, who allegedly "was certain that Trump had gone into a serious mental decline in the aftermath of the election." Milley's resignation has been called for by at least 90 retired generals.
Milley reportedly said that Trump was "all but manic, screaming at officials and constructing his own alternate reality about endless election conspiracies," according to CNN.
As such, the authors state, "Milley was overseeing the mobilization of America's national security state without the knowledge of the American people or the rest of the world."
Milley is reported to have called a "secret meeting" at the Pentagon on January 8, in the wake of the Capitol riot that left one Trump supporter, Ashli Babbit, dead at the hands of police, and told staff that unless he was involved, they were not to take orders from anyone.
"No matter what you are told," Milley said, directly undermining presidential authority, "you do the procedure. You do the process. And I'm part of that procedure." He sought visual confirmation from each person at that meeting before proceeding, and asked "Got it?"
Milley made the call, worried that Trump could "go rogue," according to Woodward and Costa, only two days after the Capitol riot on January 6. "You never know what a president's trigger point it," Milley reportedly told his senior staff.
Milley additionally had a private phone call with House Speaker Nancy Pelosi, during which the two agreed that Trump was "crazy." This recount is based on a transcript of the call.
According to that transcript, per Woodward and Costa, Milley used that call to assure Pelosi as to the security of the US nuclear arsenal.
"What I'm saying to you is that if they couldn't even stop him from an assault on the Capitol, who even knows what else he may do? And is there anybody in charge at the White House who was doing anything but kissing his fat butt all over this?" Pelosi said, going on to say, "You know he's crazy. He's been crazy for a long time."
Milley agreed fully, saying "Madam Speaker, I agree with you on everything."
It was after this phone call that Milley began to take power into his own hands. He told his top staff, as well as the director of the National SecurityAgency and the CIA director, Gina Haspel, to watch everything "all the time."
Milley believed, according to the authors, that he was acting in the best interests of the American people by taking this power away from the presidency, secretly, and wielding it for his own ends.
'Peril,' by Bob Woodward and Robert Costa, reveals that Gen. Mark A. Milley called his Chinese counterpart before the election and after Jan. 6 in a bid to avert armed conflict.
From January 8, 2021
House Speaker Nancy Pelosi told House Democrats in a letter on Friday that she spoke with the Chairman of the Joint Chiefs of Staff Gen. Mark Milley to discuss President Donald Trump and the nuclear codes, as Democrats call for the President to be removed from office after a violent pro-Trump mob stormed the Capitol.
"This morning, I spoke to the Chairman of the Joint Chiefs of Staff Mark Milley to discuss available precautions for preventing an unstable president from initiating military hostilities or accessing the launch codes and ordering a nuclear strike," Pelosi wrote in a letter. "The situation of this unhinged President could not be more dangerous, and we must do everything that we can to protect the American people from his unbalanced assault on our country and our democracy."
Pentagon site says an advanced destroyer among four vessels seen near the Aleutian Islands last month
Photos of ships taken down from site just hours after they were posted
China's most famous defector to America warned US intelligence agencies a coronavirus was spreading in Wuhan in November 2019 – six weeks before China admitted there was an outbreak.
Wei Jingsheng, the father of China's democracy movement, reveals in a new book, "What Really Happened in Wuhan," that he first heard of a mysterious new virus at the time of the World Military Games in Wuhan in October 2019.
Highly alarmed, the former Chinese Communist Party insider, whose defection to the United States in 1997 made global news, alerted intelligence agencies, a US politician with links to the president and Chinese human rights activist Dimon Liu.
Asked if he had any sense the intelligence agencies were taking seriously his intelligence about a new virus in Wuhan, 70-year-old Wei said: "I felt they were not as heavily concerned as I was so I tried my best to provide more detailed information. They may not believe there is (a) government of a country that would do something like that (cover up a virus). So I kept repeating myself in an effort to try to persuade them."
Wei said he was "very ­worried because … whichever way the Communist regime released this virus, I felt that the West is not prepared."
It was not until Dec. 31 that China involuntarily alerted the World Health Organization there was an outbreak in Wuhan. Beijing denied COVID-19 was contagious until January 20, 2020, when it admitted there was evidence of human-to-human transmission.
Wei, who spent 18 years in Chinese prisons for objecting to the Communist regime, is highly respected on both sides of politics and has forged relationships with former Secretary of State Mike Pompeo and House Speaker Nancy Pelosi.
Wei said he found out about the virus from high-level contacts in Beijing.
"I talked to Dimon and some other American politicians in the House of the danger of this situation," he said. "There were officials from the White House at that time as well. In November 2019."
Wei would not reveal which politician he told. "I'm not sure if this politician wants me to talk about him right here," he said. "But I want to say he is a high enough politician, high enough to be able to reach to the president of the United States."
David Asher, the State Department official who spearheaded a task force into the origins of COVID-19, said the opportunity presented by Wei's warning was like "stopping 9/11 before it happened." Asher said the US government had other crucial pieces of early-warning evidence in late 2019 but it failed to connect the dots. He said the US government first had intelligence about Wuhan Institute of Virology workers falling sick with COVID-like symptoms in late 2019 – a year before he discovered it during his investigation into the origins of the virus for the State Department. By then, 1.7 million people worldwide had died from COVID-19.
Asher said he was shocked when he found out "we actually could have had foreknowledge" of the coronavirus.
"We could have known in November of 2019, that there was a disaster occurring inside Wuhan — inside their most important biological facilities related to coronavirus research," he said.
"It was something absolutely tragic, traumatic and dramatic that was occurring and we could have reacted to it. The whole world could have been different. It would have been like stopping 9/11 before it happened."
Chinese authorities were acting to suppress news of the Wuhan outbreak, purging the internet of social media posts and news stories and "disappearing" dissidents and whistleblowers who attempted to sound a warning. Social media reports about a new coronavirus did not emerge until late December 2019 and it was not until the end of January 2020 that the US, Australia and New Zealand closed borders to travelers from China.
Liu reveals in "What Really Happened in Wuhan" that Wei told her about the virus on Nov. 22, 2019, at a dinner where her husband, former CIA agent Robert Suettinger, was also present.
"I couldn't quite believe what he was saying," Liu said. "At that time, I had thought that the coronavirus could not be worse than SARS. And SARS, as we knew from experience, was not that contagious and it could be contained. I thought at the time that was the case. Okay, there was an outbreak, but the authorities and the advance of medical sciences would be able to contain the spread of it."
In the book, Liu details the race to get information about the new virus to the White House and her uncertainty about it. After Wei's visit, she wrote a memo of what he had divulged to her and Suettinger.
She intended to pass it on to President Donald Trump's deputy national security adviser, Matt Pottinger.
"But I didn't send it to him because so many things were so incredulous," she said. "I wrote it, but I didn't send it because I decided it was better that Wei talks directly to Matt Pottinger."
Wei says in the book: "In the past several decades, the CCP's capacity to seal information is hard to be understood by you Westerners."
The US Coast Guard revealed a significant incident involving Chinese military vessels coming near American waters off Alaska. While the incident was first divulged to the public on Monday, it happened at the end of August. 
No less than four People's Liberation Army (PLA) Navy ships were spotted and shadowed by US vessels off Alaska's Aleutian Islands, including a guided missile destroyer and guided missile cruiser, as well as an intelligence gathering vessel and auxiliary ship. They stayed in international waters but came within the United States' exclusive economic zone.
"During the deployment, Bertholf and Kimball observed four ships from the People's Liberation Army Navy (PLAN) operating as close as 46 miles off the Aleutian Island coast," the Coast Guard statement said. "While the ships were within the US exclusive economic zone, they followed international laws and norms and at no point entered US territorial waters."
The statement said further, "The Chinese vessels conducted military and surveillance operations during their deployment to the Bering Sea and North Pacific Ocean."
A US Coast Guard source was later cited in a media report confirming that the Chinese ships were present in the US' EEZ (exclusive economic zone: which extends far off the Alaskan coast) from August 29 to September 1. 
Despite at one point coming to within about 46 miles of a US island off Alaska, the Chinese naval task force stayed within international waters, though were firmly within the US EEZ – which extends about 230 miles off the Alaskan coast. 
The Coast Guard published images of the encounter wherein the US vessels shadowed the Chinese group, as Business Insider details: 
The four Chinese warships were shadowed and monitored by the US Coast Guard cutters Bertholf and Kimball and are visible in Coast Guard images. The crew of the Bertholf made radio contact with the the Chinese ships, and the service said all interactions were consistent with international standards.
Chinese state mouthpiece Global Times on Monday featured insight by Chinese military analysts who said China's navy is taking "countermeasure against US military provocations on China's doorsteps in the name of freedom of navigation."
This as the US Navy has stepped up maneuvers in the South China Sea, recently sending the USS Carl Vinson Carrier which for the first time carried F-35 stealth fighters on its deck. This had served to reportedly put the PLA military 'on alert' – given the US conducted drills launching the F-35 from the carrier deck for the first time ever near China-claimed waters in the region.
Authored by Steve Watson via Summit News,
Appearing on CBS News Sunday, the former CIA Director under Obama, while Biden was Vice President, admitted that the contemptuous actions of the now president in Afghanistan has injected new inspiration into terrorists all over the globe.
Authored by Paul Joseph Watson via Summit News,
Senator Elizabeth Warren is demanding Amazon censor best-selling books because they contain information that challenges the official narrative on coronavirus.
Warren wrote a letter asserting that Amazon was complicit in spreading "COVID-19 misinformation" because it allows people to buy books authored by people like Dr. Joseph Mercola, who has been targeted by the mainstream media as a purveyor of "dangerous" fake news about COVID and vaccines.
"During the week of August 22, 2021, my staff conducted sample searches on Amazon.com of pandemic-related terms such as 'COVID-19,' 'COVID,' 'vaccine,' 'COVID 19 vaccine,' and 'pandemic,'" Sen. Warren wrote in a letter addressed to Amazon's CEO Andy Jassy.

"The top results consistently included highly-ranked and favorably-tagged books based on falsehoods about COVID-19 vaccines and cures."
Of course, the claim that these are "falsehoods" is a completely arbitrary assertion made by Warren and her staff, with no objective standard of proof required.
Mercola was again singled out for condemnation.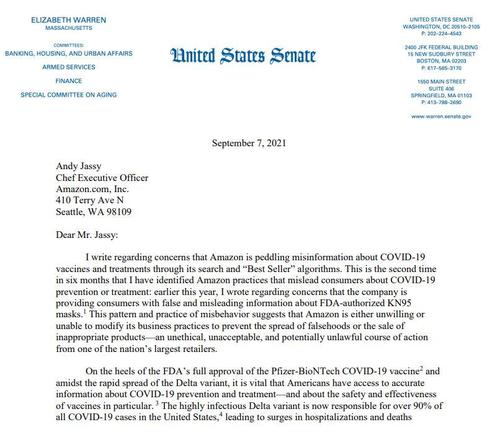 "[Dr. Mercola] has posted over 600 articles on Facebook casting doubt on COVID-19 vaccines and been subject to multiple federal investigations (with one false- advertising investigation leading to a $2.95 million consumer settlement). But Amazon's algorithms promoted 'The Truth About COVID-19' as a best seller and top result in response to common pandemic-related search terms," Warren wrote.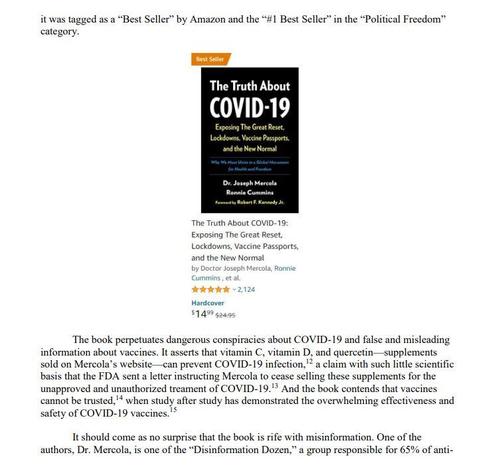 As Cindy Harper highlights, Warren's efforts to have Amazon ban books follows a similar effort by Rep. Adam Schiff, who claimed that 10 per cent of Amazon search results related to vaccines returned "misinformation" (a description again solely determined by Schiff and his staff).
At what point did we enter an era where the very thing that drove scientific progress for hundreds of years – challenging the official orthodoxy – is now treated as heresy?
Putting people on lists with terrorists and sex traffickers before deplatforming them from social media sites is not enough.
Erasing information published by actual doctors and scientific experts that dares to question the ever-shifting goalposts of what "the science" says is also insufficient.
Now the digital book burnings must begin.
Putin in self-isolation due to Covid cases in inner circle
Russian President Vladimir Putin entered self-isolation after people in his inner circle became infected with the coronavirus, the Kremlin said on Tuesday, adding that the leader himself tested negative for Covid-19.
Putin, who is fully vaccinated with Russia's Sputnik V, held several public engagements indoors on Monday and even said that he may have to quarantine soon. An aide at the time sought to suggest he was speaking generally and insisted on Tuesday that no one's heath was endangered.
During a daily conference call with reporters, Kremlin spokesman Dmitry Peskov said that Putin is "absolutely healthy" but had come in contact with someone who contracted the virus. Asked if Putin tested negative for the virus, Peskov said "definitely, yes."
Peskov didn't say when Putin began self-isolating, when he tested negative, how long he would remain in self-isolation or who among the president's contacts was infected. He did say there were several cases.