Mass vaccination and lockdowns in Europe – news – 23 March, 2021
Mass vaccination and lockdowns in Europe – news – 23 March, 2021
I had an update from a Facebook friend:
Danish government rushed through legislation for compulsory vaccination (with choices…!!) for all over 50s. Plus digital vaccination passport. Big US pressure on tiny Denmark due to permitting Russian north stream gas line to Germany now in Danish water. Plus ongoing demos all over Europe against lockdowns, COVID and vacc etc., Sputnik is clearly to be recognized by Bruxelles medic commission… then USA & Pfizer will go really ballistic. Also travel bans on Brits wanting to holiday overseas. 
Broad agreement: 

Denmark can open when everyone over the age of 50 has been vaccinated
https://www.a4arbejdsliv.dk/artikel/bred-enighed-danmark-kan-aabne-naar-alle-over-50-aar-er-vaccineret
via Google Translate
Frederiksen and Ellemann agree that Denmark can in principle open when everyone over the age of 50 has been vaccinated.
Prime Minister Mette Frederiksen (S) and Liberal Party chairman Jakob Ellemann-Jensen (V) agree on the central goal of the forthcoming reopening plan.
This was stated during Thursday's party leadership round on TV2 on the occasion of the one-year anniversary of the closure.
Here, both Mette Frederiksen and Jakob Ellemann-Jensen agreed that Denmark can in principle be reopened when everyone over the age of 50 has been vaccinated.
The agreement follows on from the fact that the Liberal Party has presented a plan in which the restrictions are gradually relaxed until everyone over the age of 50 and the vulnerable are vaccinated.
At this point, according to the Liberal Party, the whole of Denmark must be reopened, and only at large events with many people together, for example proof of vaccination or negative testing, must be presented.
That goal Mette Frederiksen agrees with during the party leaders' debate on Thursday:
– I would like to praise the Liberal Party's plan. It is not far from what most parties demand and have worked with themselves.
– I agree that when everyone over 50 is vaccinated, we can in principle have an open Denmark, says Mette Frederiksen.
She proposes that the forthcoming reopening plan should show what needs to be relaxed first towards the fact that the whole country can be reopened. Here, the Prime Minister, like a broad majority of the parties, proposes that children and young people's schooling come first.
Next in line will probably be liberal professions such as hairdressers as well as outdoor activities, one must understand on the Prime Minister.
– Then we will be able to roughly see what opens up towards summer, says Mette Frederiksen prior to the negotiations on Friday at Christiansborg.
At Dansk Industri, CEO Lars Sandahl Sørensen hopes that the politicians will agree on the goal. At the same time, he calls for the vaccination calendar to be changed in order to reach the goal as soon as possible.
– DI agrees that you should vaccinate the Danes by age when you reach the large residual group 12 in the Danish Health and Medicines Authority's vaccination calendar. It is the group that includes citizens from 65 years and down to 16 years.
– Specifically, we at DI have proposed that you start with the 50-65-year-olds. And that we fully reopen society when the last one in the 50s is fully vaccinated. When this has happened, the risk of shutting down the health service will be virtually zero, says Lars Sandahl Sørensen.
It is not yet known when everyone over the age of 50 and all vulnerable groups will be vaccinated. It depends on the supply of vaccines which have been shown to be unstable.
At the same time, the Danish Health and Medicines Authority chose on Thursday to suspend the use of the AstraZeneca vaccine for 14 days, as there have been several serious cases of blood clots among vaccinated people in Europe.
The break means that a new vaccination calendar has been made, which does not include the AstraZeneca vaccine at all. It is referred to as a worst case scenario.
The adjusted plan states that all Danes over the age of 16 who want to be vaccinated are now expected to be fully vaccinated on 15 August. Previously, the date was July 18th.
So far, however, citizens and businesses do not have to wait for the reopening plan. According to Mette Frederiksen, it must be negotiated by 23 March.
Germany Orders Most Restrictive COVID Lockdown Yet Over Easter Weekend
We noted yesterday that Chancellor Angela Merkel had succeeded in persuading the leaders of Germany's 16 states to agree to another extension of the federal lockdown. And while initial reports about Merkel's proposal noted that Germans would receive a reprieve allowing them to spend the Easter holiday with family, apparently, the government appears to have changed its mind again and decided to tighten restrictions to the toughest point yet during a brief stretch coinciding with the Easter holiday weekend to try to defuse a "third wave" of Covid-19 infections fueled by faster-spreading mutations.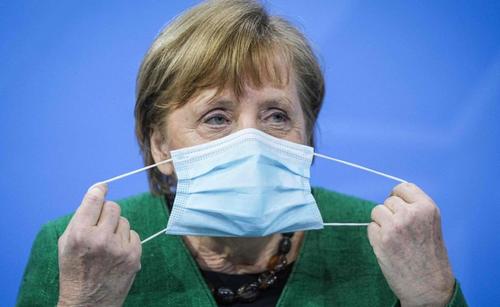 All but the most important services will be closed during the lockdown period, according to RT. Noting that the country is in a "race" to combat the pandemic, Merkel outlined the nationwide shutdown during a news conference early on Tuesday, saying that not only will existing restrictions be extended to April 18, but that most businesses will be made to close their doors for at least five days beginning on the first of the month (just before the April 4 holiday) in what appears to be the most restrictive lockdown in Germany since the start of the pandemic.
During the five-day lockdown period, only shops that sell food, as well as coronavirus testing and vaccination sites, will remain open, The draconian policy will apply across Germany, even in areas where cases haven't rebounded as intensely. Merkel said there should be "quiet days" and reduced social contacts in the time between April 1 and 5.
"We are now in a very serious situation," the chancellor told reporters after a contentious marathon meeting with the leaders of the German states – a meeting that reportedly lasted for 12 hours.
Analysts blamed Merkel's strict lockdown extension for a selloff in European stocks and the euro that unfurled during the first half of the European trading day on Tuesday. The notion of lockdowns extending beyond March raises the risk of delaying the 2Q rebound. Despite the stumble, however, analysts said the case for a rebound remains intact.
In addition to the restrictive business closures, Germans will be prohibited from holding private gatherings of more than five adults from two different households, while all travel abroad will be strongly discouraged. Even churches have been asked to hold only virtual services during that time, even on Easter itself.
Though some areas of Germany have slowly started to reopen, Merkel and the regional leaders agreed that anywhere that weekly cases per 100,000 residents rise above 100, the reopening efforts must be reversed. The shutdown policies have been controversial for many Germans, prompting a wave of heated demonstrations in several cities, the last of which erupted in Kassel over the weekend and led to clashes with police.
While other European governments rolled back lockdown measures as cases plunged earlier this year, Germany has been in some form of partial lockdown for almost a full year. Several states even announced closures before any nationwide measures were implemented last March.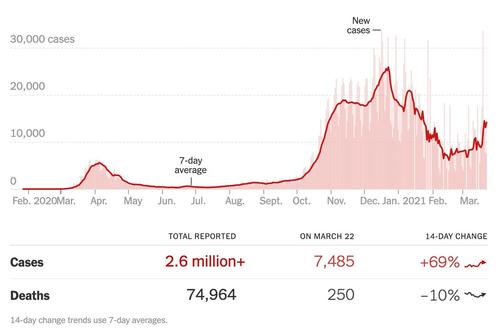 Source: NYT
To date, Germany's RKI has confirmed 2.6MM coronavirus infections and nearly 75K deaths. Around 7,700 new cases were recorded on Monday alone, roughly double the number from the week before.
Corona vaccinations "decisive instrument" – will Sputnik V soon be produced in Bavaria?
https://www.merkur.de/bayern/sputnik-impfung-corona-bayern-impfstoff-russisch-illertissen-schwaben-news-aktuell-zr-90253522.html
Via Google translate
Corona vaccinations are an important measure in the fight against the pandemic. Will the Russian vaccine Sputnik V soon be produced in Bavaria?
Illtertissen – In the Swabian town of Illertissen, the Russian vaccine * Sputnik V could be produced in the future. The company R-Pharm is investing more than 30 million euros in expanding production. The Ministry of Health announced on Friday. The European Medicines Agency (EMA) has not yet decided on the approval of the vaccine * against the coronavirus * .
Soon also Sputnik V? Corona vaccinations "crucial tool in the fight against the pandemic"
"Vaccinations are a crucial tool in the fight against the pandemic. Only they offer us long-term protection against severe COVID-19 * courses and death from illness, "emphasized Bavaria's Minister of Health Klaus Holetschek (CSU) in a press release. "That is why every vaccine that is approved is another ray of hope and ray of hope."
EMA still decides on approval of the vaccine – will Sputnik V soon be produced in Bavaria?
The vaccine was developed by the Gamaleja Research Center for Epidemiology and Microbiology in Moscow. Should it ultimately be approved in the EU, the company R-Pharm also wants to import the vaccine and handle the batch release.
Since Friday (March 19) it has been possible to vaccinate again with the Astrazeneca vaccine in Bavaria. Previously, a vaccination ban for the vaccine had been announced on Monday in order to investigate any side effects. It remains a highly effective vaccine, as Holetschek emphasized . It can protect against serious illnesses and even death. ( kam / dpa) * Merkur.de/bayern is an offer from IPPEN.MEDIA
In Hof (Bavaria), 20 retirement home residents tested positive for Corona. They had already received the double vaccination with the vaccine from Biontech / Pfizer.