Massive earthquakes hit Turkey, Syria and Lebanon
Massive earthquakes hit Turkey, Syria and Lebanon
Excellent coverage from Hal Turner
A very strong Magnitude 7.8 earthquake has struck southern Turkey at a shallow depth of only 24.1km.   Shaking from the quake is described as "violent" and serious damage, injuries, and deaths are expected.
The quake took place at 8:17 PM eastern US time, which is 01:17 UTC; the middle of the night in Turkey.
Power outages are reported.  Roads are also reported cut off. Bridges are reported to have either fallen, or are so skewed they cannot be used.
The scalable map below shows the area. Users can zoom-in to see VERY nearby communities near the epicenter.  Reports are now saying entire private homes have collapsed.

Update (1506ET):
The death toll across Turkey and Syria has surpassed 3,000 people and could spark a humanitarian crisis in that area of the world, according to NYTimes. 
About 10,000 rescuers had been dispersed across southeast Turkey by late Monday. The Turkish health minister said as many as 3,000 buildings have collapsed. 
CNN reported the total number injured in Turkey and Syria has climbed to 13,600. That number will likely rise.
NYT detailed on a map where all the large quakes struck earlier.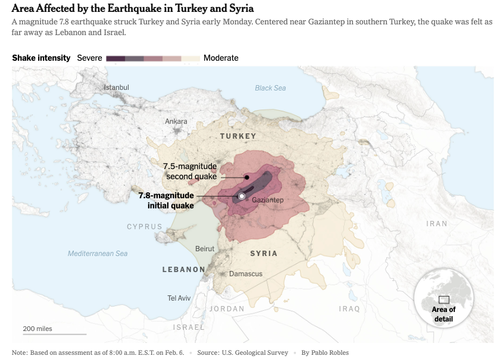 Here are more stunning views of the earthquake's aftermath. 
Aerial view, Iskenderun, #Turkey #TurkeyEarthquake pic.twitter.com/tUex1n23mK

— Abdullah Bozkurt (@abdbozkurt) February 6, 2023
Ariel (drone) view of some of the aftermath of the #Turkey #earthquake pic.twitter.com/Qpyn4mKlfF

— Alyawm Travel (@AlyawmTravel) February 6, 2023
Hatay'ın İskenderun ilçesinde depremde yıkılan binalar havadan görüntülendi.#Deprem#Turkey pic.twitter.com/5hMpsSYTip

— mühendisyen (@muhendisyenn) February 6, 2023
Shipping containers tumbled during the quake at Iskenderun harbor, #Turkey, followed by a fire. #TurkeyEarthquake pic.twitter.com/KWWArORQun

— Abdullah Bozkurt (@abdbozkurt) February 6, 2023
A 7.8-magnitude earthquake hit Turkey and Syria Monday, leaving more than 2,300 people dead and thousands injured. It's reportedly the strongest quake to hit the region in 100+ years. pic.twitter.com/UX4bvz1Ooe

— NowThis (@nowthisnews) February 6, 2023
BREAKİNG NEWS
IT WAS ANNOUNCED THAT A TOTAL OF 5606 BUILDINGS HAVE BEEN DESTROYED DUE TO THE EARTHQUAKE IN TURKEY.
images from Malatya. Don't worry I'm fine, it's snowing heavily#Turkey #deprem #Earthquake #Kahramanmaras #malatyapic.twitter.com/yiuAbuTy5q

— Eren ☭ (@Eren50855570) February 6, 2023
*   *   *
Update (0956ET): 
A 7.5-magnitude earthquake followed by a powerful 7.8 tremor in Turkey has caused 1,900 deaths so far across southeast Turkey and Syria. About 1,121 deaths were reported in Turkey, while 783 died in Syria.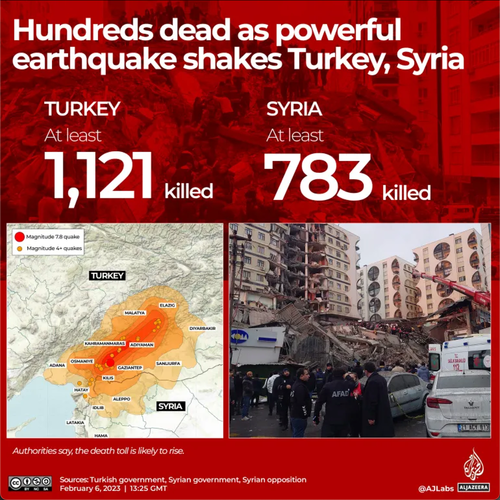 More than 2,830 buildings have been destroyed, Turkey's Disaster and Emergency Management Authority said. 
President Biden has pledged aid for Turkey and Syria:
"I have directed my team to continue to closely monitor the situation in coordination with Turkiye and provide any and all needed assistance." 
I am deeply saddened by the loss of life and devastation caused by the earthquake in Turkiye and Syria. I have directed my team to continue to closely monitor the situation in coordination with Turkiye and provide any and all needed assistance.

— President Biden (@POTUS) February 6, 2023
The United States Geological Survey estimated upwards of 10,000 deaths from the twin quakes.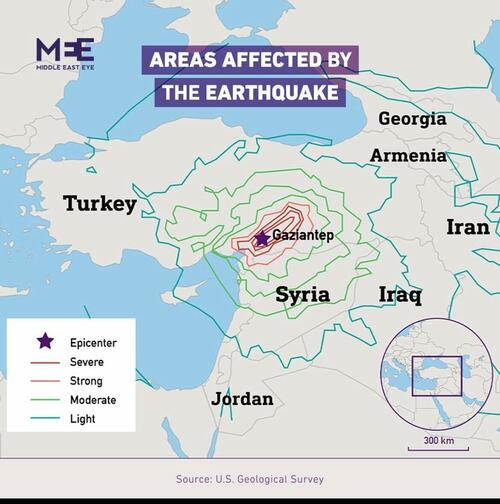 Here's more shocking footage of the earthquake's aftermath. 
#URGENTE | Asciende a 2.281 muertos por el terremoto.

1.498 en Turquía
783 en Siria#RochexRB27 #earthquake #Sismo #Temblor #Turkey pic.twitter.com/jnXaLEkikX

— Rochex Rababel Robinson Bonilla (@RochexRB27) February 6, 2023
Antakya is pretty grim #TurkeyQuake pic.twitter.com/oFme2V8ROJ

— Ragıp Soylu (@ragipsoylu) February 6, 2023
Footage of the earthquake aftermath shows where everything almost collapsed in an industrial and business area of Antakya, Turkey. pic.twitter.com/HVi2issbMI

— Blackrussian (@Blackrussiantv) February 6, 2023
The birds knew… 
Animals and Birds are more smarter than human. They could sense the danger much before humans.

In #Turkey, strange behavior was observed in birds just before the earthquake.#deprem #afaddeprem #hataydeprem #Mersin #Adana #Gaziantep #Nurdağı #Kahramanmaraş #Turquia #DepremiOldu pic.twitter.com/SHGFiGezYN

— Chaudhary Parvez (@ChaudharyParvez) February 6, 2023
At least one quake was felt in North America. 
Watch the waves from the M7.8 earthquake in Turkey roll across seismic stations in North America. pic.twitter.com/vfbecEwsR1

— EarthScope Consortium (@EarthScope_sci) February 6, 2023
*   *   *
A powerful 7.8-magnitude earthquake rocked southern Turkey early Monday, killing at least 1,400 people in the country and neighboring Syria. There are reports of another quake, registering 7.5-magnitude in the country's southeast less than 12 hours from the first. 
The first quake was felt as far away as Egypt, Jordan, and Lebanon — occurred in Kahramanmaras province, north of Gaziantep, near the Syrian border. Most of the damage is in southern Turkey and northern Syria.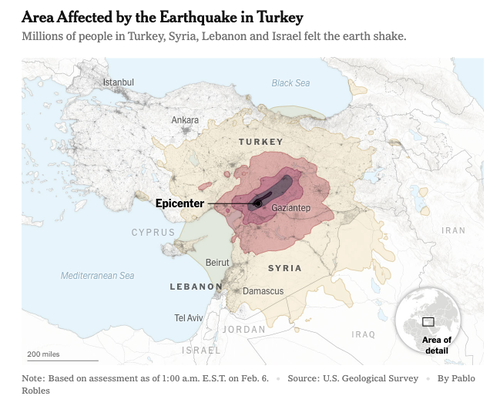 The first quake was so powerful that buildings hundreds of miles away swayed in Israel. The second quake, a 7.5-magnitude, struck Kahramanmaras province just moments ago. 
Turkey reports a 7.5-magnitude earthquake in the southeastern province of Kahramanmaras — the second high-magnitude quake to hit the country in less than 12 hours https://t.co/Z8O7KdamMM pic.twitter.com/ycWUJ6icjB

— Bloomberg TV (@BloombergTV) February 6, 2023
As the dust settles and daylight emerges, footage of the earthquake's aftermath is shocking. 
Turkey #earthquake #Turkey #HelpTurkey ❤️ pic.twitter.com/pWo9sP4LKe

— payîz (@payiz_zivistan) February 6, 2023
Shocking and tragic video of the powerful 7.5 magnitude earthquake that hit Turkey and Syria border areas on Monday morning killing at least 1200 people and injuring thousands more. pic.twitter.com/q3hDHN2DQX

— Ali Younes (@Ali_reports) February 6, 2023
Horrible scenes keep coming!!!#deprem #Turkey #TurkeyEarthquake #earthquake #DEPREMOLDU #Adana #Kahramanmaras #sanliurfa #ACİL #Osmaniye #Hatay #BREAKING #SONDAKIKA #Tsunami #PrayForTurkey #Gaziantep#nurdagi #HAARP #Turkiye #Turquia #Turchia pic.twitter.com/qT50STjDIW

— gaganraj2010@gmail.com (@gaganraj2010gm1) February 6, 2023
7.8 Magnitude Earthquake Hits Turkey, Syria, Jordan And Lebanon…

The Level Of Destruction Caused By The Earthquake In Turkey Makes It Look Like A War Zone And Declares Emergency…

PRAY FOR TURKEY …#TurkeyEarthquake #Turkey #TurkeyQuake #turkeyearthquake2023 pic.twitter.com/UbtDcfBr0y

— Pravesh Shahid (@huissail) February 6, 2023
Catastrophic scenes from Kahramanmaras, Turkey as hundreds of building can be seen destroyed throughout the city. pic.twitter.com/wyb9enaiRy

— Afshin Ismaeli (@Afshin_Ismaeli) February 6, 2023
I am very sad for my country right now, there was an earthquake of 7.4 magnitude in 7 cities. More than 1710 buildings were destroyed, more than 200 dead. I request you to spread this sad disaster in Turkey. You can share it on your social media accounts. pic.twitter.com/XdbCiTB9MA

— (@namjinmyheart) February 6, 2023
More buildings are collapsing in southern cities of #Turkey.
Entire building collapses in #Malatya, due to aftershocks. pic.twitter.com/4Yq1k5fpLZ

— Barzan Sadiq (@BarzanSadiq) February 6, 2023
Okan Tuysuz, a professor of geology at Istanbul Technical University, told Bloomberg that the quake was the "strongest earthquake in Turkey since 1939." He said one of the world's most active seismic zones runs through the country. 
The devastation is so bad that the North Atlantic Treaty Organization (NATO), the European Union, and 45 countries offer assistance to Turkey. 
Turkish President Recep Tayyip Erdogan announced on state television that nearly 3,000 buildings were destroyed. 
"We hope that we will overcome this disaster together as soon as possible," Erdogan said.
So far, reports in the southern part of the country show the port of Iskenderun was damaged. Cracks were found in airport runways in that part of the country. 
Turkish state-run pipeline operator Botas said no leaks were detected in crude oil pipelines in Turkey's south. These critical pipelines connect Turkey with vast oil fields in Iraq and Azerbaijan. 
In financial markets, Turkish stocks plunged. The country's stock exchange banned short selling. Here's a Bloomberg market update: 
The Borsa Istanbul 100 Index dropped as much as 4.6% in morning trading, with state-run insurance company Turkiye Sigorta AS and fertilizer producer Gubre Fabrikalari TAS leading declines. The lira held steady. Turkish stock exchange Borsa Istanbul suspended short selling on the country's stocks on Monday for an indefinite time, while imposing a depository rule for selling shares as part of its efforts to limit a wider market fallout. Borsa Istanbul has also halted trading in eight companies until they make a statement on how their operations were affected by the earthquake.  
As rescue efforts are underway, the United States Geological Survey warned the powerful quake could result in as many as 10,000 deaths.
HE PREDICTED THE EARTHQUAKE IN TURKEY, SYRIA, LEBANON – Frank Hoogerbeets Interview