Massive flooding in China
Massive flooding in China
China now gets attention but extreme weather in other parts of the world gets scant attention.
Dam Near China's Flooded Zhenghou City Collapses, Third In Last 48 Hours
21 July, 2021
A dam near the city of Zhengzhou in central China's Henan province has been destroyed by heavy flooding, after being seriously damaged in heavy storms that killed several people and brought the region to a halt, local media reported.
The dam is the third to fail in recent days: over the weekend, due to severe rain, two dams in Hulun Buir City in North China's Inner Mongolia collapsed. Fortunately, however, no injuries have been reported.
According to Xinhua News Agency, the meteorological bureaus of Henan and Zhengzhou have raised the level of emergency response to meteorological disasters to the first level. The Chinese media report that the subway in Zhengzhou was flooded, and rescuers evacuated blocked passengers.
The Chinese army warned that a stricken dam in the centre of the country "could collapse at any time" after being severely damaged in torrential storms that killed at least three people and brought the region to a standstill. Weather authorities also issued the highest warning level for central Henan province as downpours caused widespread disruption and the evacuation of residents of flooded streets.
On Tuesday evening the regional unit of the People's Liberation Army warned that the relentless downpour had caused a 20-meter breach in the Yihetan dam in Luoyang — a city of around seven million people — with the risk that it "may collapse at any time."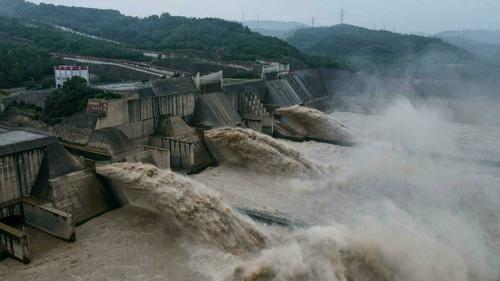 The PLA's Central Theater Command said it had sent soldiers to carry out an emergency response including blasting and flood diversion.
"On July 20, a 20-meter breach occurred at the Yihetan dam ….the riverbank was severely damaged and the dam may collapse at any time," it said in the statement according France 24.
Earlier in the day, state media also reported that the army sent about 20,000 personnel to carry out emergency work to preserve the integrity of the dams.
During China's rainy season, floods are a frequent occurrence, causing annual destruction and washing away highways, crops, and homes. However, the threat has grown over time, partially due to the extensive construction of dams and levees that have cut connections between rivers and lakes and altered floodplains that had helped absorb the surge.
Local media also reported earlier in the day that at least 12 people died in the province due to floods caused by torrential rains. Around 100,000 residents have been evacuated in the province so far. More than 6,000 military and fire service personnel are involved in rescue operations.
In the nearby city of Zhengzhou, at least one person died and two more were missing since heavy rain began battering the city, according to the state-run People's Daily, which reported that houses have collapsed. Zhengzhou Airport also canceled flights until Wednesday.
Since July 16, more than 144,660 people have been affected by torrential rains in Henan Province, with 10,152 being moved to safer areas, according to the provincial flood control and drought relief headquarters cited by Xinhua.
Watch: Chinese Subway Passengers Trapped In Chest-High Floodwaters As Heavy Rains Pound Henan Province
21 July, 2021
Torrential rains hit central China on Tuesday, overflowing the banks of major rivers, flooding streets of metro areas, and trapping subway passengers in chest-high floodwaters, according to RT News. 
There has been no official word on deaths, but dramatic videos posted on social media show the devastation in Zhengzhou in China's Henan province. 
One video shows passengers stuck in a subway car in chest-high floodwaters
In other videos, passengers experienced head-high water as, for whatever reason, many still wore their masks. Subway stations were also flooded. 
China experiences frequent flooding during the summer months. Henan is a central regional transport hub – roads and tunnels have been logistical nightmares for companies moving freight. 
Elsewhere in the region, the water levels of the Yi River have risen to dangerously high levels. 
There are at least 31 large and medium-sized reservoirs in the province that have surpassed their warning levels.
Reuters notes 19 inches of rain fell in the city of Lushan over the last several days. 
"This is the heaviest rain since I was born, with so many familiar places flooded," said a resident of Gongyi on Chinese social media.
We shared on Monday that two dams collapsed in China's northwestern region of Inner Mongolia after heavy rains. 
Heavy rains in China and Europe, megadroughts in the US, what the heck is happening worldwide?