Meet the new, super-mutant 'vaccine resistant' Omicron variant
Meet the new, super-mutant 'vaccine resistant' Omicron variant
After messages of "opening up" there is now a flip into panic. Chennel 4 represents mainstream fear mongering best.
South Africa's infection rate is growing exponentially after Botswana Covid variant was spotted in the country
Scientists warn it has spread to most of South Africa's provinces and is set to become dominant 'very quickly'
They fear the strain is highly transmissible and can infect vaccinated people more easily than the Delta variant
A new Covid variant that has more mutations than have ever been seen before is becoming dominant in South Africa and is feared to be ultra infectious and vaccine resistant, scientists warned today.
Experts said the variant is growing 'very quickly' in South Africa and is driving the country's surge in infections. 
Around 100 cases of B.1.1.529, its scientific name, have been detected so far in three countries and the World Health Organization is convening an emergency meeting tomorrow to investigate the troubling strain. 
South Africa's Health Minister Joe Phaahla described the variant as 'a major threat', warning that it was behind an 'exponential' increase in cases across the country.  
Experts in the UK today called for travel restrictions to be reimposed to prevent the strain being seeded here and avoid risking a repeat of this spring when the Delta variant was imported in huge numbers from India.
Zero-Covid scientist Professor Christina Pagel urged ministers to 'get ahead of this right now' by immediately' reimposing the red travel list ' — which was only scrapped a few weeks ago.
And Chris Snowdon, an economist who is normally in favour of fewer restrictions, also called for an immediate travel ban.
The Government has left the door open to bringing back the notorious traffic light travel system with Transport Secretary Grant Shapps saying last month hundreds of hotel rooms were still on standby for quarantine. 
Nationally, infections in South Africa have surged tenfold from 100 per day to 1,100, after the variant was first detected in neighbouring Botswana on November 11. 
Professor Tulio de Oliveira, a director of Covid surveillance in the South African province of KwaZulu-Natal, told a hastily organised press conference today that it has been spotted in nearly every corner of South Africa.
He admitted he was still 'uncertain' about the impact of the variant — which could be named 'Nu' by the WHO within days — on the country's epidemic, with other scientists saying that it might be so evolved that it becomes unstable.
But Professor Oliveria explained the new variant is 'clearly very different' from previous strains, including the fact that it has five times more mutations on a specific part of the spike protein than Delta — meaning it might be better at infecting vaccinated people than the world-dominant strain.
He said that officials 'do expect, unfortunately, to start seeing pressure in the healthcare system in the next few days and weeks.'
Health minister Mr Phaahla warned at the same press conference: 'Here is a mutation variant of serious concern.' 
He added: 'We were hopeful that we might have a longer break in between waves – possibly that it would hold off to late December or even next year January.' 
Current jabs train the immune system to recognise an older version of the spike, and lots of changes to this protein make it harder for the vaccinated people to fight it off.  
The UK Health Security Agency, which took over from Public Health England, said it was monitoring the situation closely. But the Prime Minister's official spokesman said the variant was 'not seen as something that is an issue' for the UK at present.
MailOnline first sounded the alarm about the variant yesterday after British scientists warned that it had 32 mutations and is the most evolved version of Covid yet. They said it likely emerged in a long-term infection in an immunocompromised patient, possibly someone with undiagnosed AIDS.
The fact that South Africa has the largest number of people living HIV out of any country in the world has complicated its fight against Covid, as immuno-compromised people can harbor the virus for longer, scientists say. 
It comes as Britain's daily Covid cases began to flatline today, official data showed after weeks of falling deaths and hospitalisations. This was the first time the percentage jump was below one since November 10
The top purveyor of panic on social media is Eric Feigl-Ding
Eric Feigl-Ding
⚠️My god—the new #B11259 variant being possibly ~500% more competitively infectious is the most staggering stat yet. Also, #NuVariant has more than >2x the number of bad spike mutations than Delta. Here's an updated 🧵👇 Model by @JPWeiland matches up with graph by @jburnmurdoch
WHO is monitoring a new Covid variant, scheduling a special meeting Friday to discuss what it may mean for vaccines and treatments, officials said.
The variant, called B.1.1.529, has been detected in South Africa in small numbers.
South African scientists have detected 30 mutations to the spike protein, the part of the virus that binds to cells in the body, which could have implications for vaccine efficacy and transmissibility.
This is from RT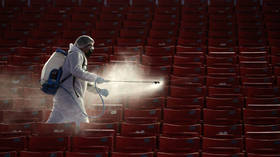 Scientists have raised the alarm about the new Omicron Covid-19 variant, first identified in Botswana, which has an "extremely high number" of mutations that may drive new waves of infection. So how dangerous is it?
The World Health Organization (WHO) on Friday named the B.1.1.529 variant of the novel coronavirus 'Omicron.' The new strain was previously referred to as the 'Nu' variant by scientists and journalists.
Omicron has reached Europe, Asia and the Middle East, having spread rapidly across southern African nations over the past fortnight. Scientists are working overtime to find out what impact this variant will have on the trajectory of the Covid-19 pandemic, but there are some things we know already.
Where did it come from?
The first cases of B.1.1.529 were identified in Botswana from samples taken on November 11. It was three days later that South Africa recorded its first case of the variant. 
Where has it spread?
The strain is understood to have spread rapidly across southern Africa, and according to Tulio de Oliveira, director of the Center for Epidemic Response and Innovation in South Africa, it already accounts for 90% of cases in Gauteng province – the Highveld state home to major cities Pretoria and Johannesburg.
Where is it going?
The variant has since been identified by genome sequencing in Israel and Hong Kong. Health authorities in Israel said they had recorded a case of B.1.1.529 on Friday in a traveler returning from Malawi; two others are being monitored. Hong Kong registered its first case of the strain on Thursday in a traveler who had arrived from South Africa. This individual infected another person in a quarantine hotel, where the transmission was blamed on a "selfish" valve-style face mask.  
Belgium became the first European nation to identify the variant on Friday. It was found in a traveler who returned from Egypt on Monday.
Can it be stopped?
Hopefully. Britain responded promptly to the fast-spreading virus, banning flights from South Africa, Namibia, Botswana, Zimbabwe, Lesotho and Eswatini. The EU has said it will follow suit, while Israel has updated its 'red list' to prevent further cases from reaching the Levantine nation. 
A number of EU nations, including Germany, have imposed flight bans or tough restrictions on people arriving from South Africa.
All arrivals will be required to quarantine for 14 days, even if they are fully vaccinated against Covid-19, German Health Minister Jens Spahn stated. The Dutch authorities have banned all flights from South Africa from midnight.
How dangerous is it?
Scientists around the globe have sounded alarm bells with their early prognoses. Dr. Tom Peacock, a virologist at Imperial College London, noted that the variant has an "incredibly high amount of spike mutations, [which] suggests this could be of real concern" in a post on a genome-sharing website. 
It "very, very much should be monitored due to that horrific spike profile," the Imperial College scientist said in a series of tweets. Responding to a follower, Peacock said this mutation appears "worse" than others at first glance but noted that it could just be "an odd cluster that isn't very transmissible."  
Omicron is known to have 32 mutations in the spike protein – the part of the virus which protrudes on the surface, appearing like spikes, and plays an important role in how the pathogen infects its host. Most vaccines are designed according to the spike-protein profile of the virus, thus mutations to this part of the virus can make it harder for the body to defeat the infection.
Speaking on Thursday, the WHO's technical head on Covid-19, Dr. Maria Van Kerkhove, admitted that little is known about the variant, with fewer than 100 full genomic sequences available for review. However, the UK Health Security Agency has already called it "the worst variant we have seen so far."  
"This variant has a large number of mutations, some of which are concerning," the WHO said in a statement released on Friday. "Preliminary evidence suggests an increased risk of reinfection with this variant."
How did we get here?
Viruses mutate "often and at random," noted Dr. Meera Chand, the Covid-19 incident director at the UK Health Security Agency. Chand told The Guardian that it is not unusual for small numbers of cases to arise featuring new sets of mutations. 
What comes next?
While news of the variant may have caused a global panic, sending stock markets plunging, we still don't know how transmissible this strain is or whether it will be able to evade vaccine-induced immunity. Van Kerkhove provided assurance that "any variants showing evidence of spread are rapidly assessed." However, it could take a number of weeks to gain a real insight into the impact of the new strain, she added.  
Here is a first reaction from Dr. Peter McCullough
"Don't you find it odd that they have found a new #COVID19 variant just as they are pushing vaccine boosters – 3rd vaccine and childhood vaccination in general? Plus vaccine passports . I don't think we can take much more of this manipulation. What do they really know ?"
–Dr.Peter McCullough
And Dr. Robert Malone who says this confirms Geert vanden Bossche's thesis.
'Nu' Super Covid Variant Originated Out Of Botswana
THE FIRST REACTIONS

The entire world is in panic mode right now over the new variant of COVID-19 that is said to be heavily mutated. Now, Israel's Prime Minister Naftali Bennett is speaking out to warn that his country is "on the threshold of an emergency situation" in the wake of the first case of the new omicron variant being found there.
Israel's Health Ministry issued a statement saying that it detected the new strain in an individual who was returning from Malawi, and officials are reportedly looking into two other suspected cases as well. All three of the investigated people had been fully vaccinated against COVID-19, and they were placed in isolation.
Just a couple of days ago our manic PM, Jacinda Adern was crowing that "if you are vaccinated you can do anything".
I wager that will change.
Our plan to reopen to the world next year could be scuppered by the new 'Omicron' variant that's been found in southern Africa, one of New Zealand's top experts says.
The Government earlier this week said managed isolation and quarantine (MIQ) would be phased out for fully vaccinated Kiwis over January and February, and for international visitors from the end of April.
But that was before South African scientists announced they'd stumbled on a worrying new variant of the SARS-CoV-2 virus which early data suggests could be several times more infectious than the original, and appears to be outcompeting Delta.
I remember how at the beginning of Delta reports were of higher-transmissibility but of symptoms a bit like allergies or a cold.
Since then all the terrible effects of the vaccines have been ascribed to the Delta variant.
New COVID Mutation Has Only Produced "Very Mild Cases"
I wonder how widely this has been circulated
Belgian officials said the case was detected in an unvaccinated young woman who had returned from Egypt
It is the first case to be detected in Europe, and suggests B.1.1.529 may already be seeded around the world
Passengers trying to land in Holland after a long haul flight from South Africa were kept on tarmac today
Stark contrast to UK, where passengers flew into Heathrow and mingled with others, were not tested for virus
Health Secretary Sajid Javid warned the new variant showed the pandemic was 'far from over'
In the meantime the letter from Botswana implies that the first cases were among the vaccinated – "travellers"