Miscellaneous reports from Russian press
Miscellaneous reports from Russian press
Intercontinental and ballistic missiles launched during the exercises hit all the designated targets
Russian President Vladimir Putin personally oversaw military drills enacting a retaliatory nuclear strike, on Wednesday. 
Defense Minister Sergey Shoigu described the aim of the exercises as testing "Russia's strategic offensive forces' readiness to conduct a massive nuclear strike in response to an enemy nuclear strike."
According to the Kremlin, land, sea, and aviation deterrence forces took part in the maneuvers. Targets located on the Kamchatka Peninsula in Russia's Far East were obliterated by the Yars intercontinental ballistic missile, fired from the Plesetsk Cosmodrome in Arkhangelsk Region, and the Sineva ballistic missile, launched from the Barents Sea. Tu-95 strategic bombers also took part in the exercises.
President Putin ordered the readiness level of Russia's strategic nuclear forces to be increased in late February, days after Moscow launched its military operation in Ukraine.
In recent weeks, the US and several other Western powers have claimed that Moscow is planning to conduct a tactical nuclear strike in Ukraine – which the Kremlin has vehemently denied.
Moscow has accused Ukraine of preparing to set off a dirty bomb to frame Russia. Defense Minister Shoigu called his colleagues in the US, UK, and several other nations to share Moscow's concerns. Ukraine has rejected the allegations as "absurd."
The Russian president has warned that portable air defense systems and high-precision armaments may fall into the wrong hands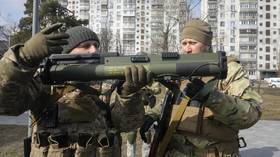 Western weapons flowing into Ukraine have begun to make their way onto black markets, Russian President Vladimir Putin said during a meeting with the heads of security and special services of the Commonwealth of Independent States (CIS) countries on Wednesday.
The Russian leader called on the participants of the meeting to bolster cooperation in anti-terrorism efforts and noted that there were "serious challenges" posed by the emerging black arms markets in Ukraine.
Putin claimed that "cross-border criminal groups" were actively involved in smuggling weapons to other regions and that it wasn't just small firearms. "There is a persistent risk of criminals getting hold of more powerful weapons, including portable air defense systems and precision weapons."
The president's statement comes after Russia's permanent representative to the UN, Vassily Nebenzia, warned last month that corrupt Ukrainian officials had established channels to deliver Western-supplied weapons onto the global black market. 
Meanwhile, the West's top military officials have admitted that it is nearly impossible to effectively track where the billions of dollars worth of arms delivered to Ukraine actually end up. Pentagon Inspector General Sean O'Donnell told Bloomberg in August that there was almost no fidelity as the Ukrainians still used paper "hand receipts" to trace supplied weapons. 
CBS News also reported that some 70% of weapons supplied to Ukraine never make it to the front lines as they have to pass through a network of "power lords, oligarchs and political players."
"There is really no information as to where they're going at all," Donatella Rovera, a senior crisis adviser with Amnesty international told the outlet, adding that it was "really worrying" that the countries supplying these weapons do not find it necessary to put in place robust oversight mechanisms. 
CBS was later pressured, however, to pull the documentary and amend the story after the channel was accused of spreading "Russian propaganda." Ukrainian presidential adviser Mikhail Podoliak has insisted there is "no proof" that weapons entering the country were unaccounted for.
Ukraine has insisted that an uninterrupted flow of Western weapons is the key to the country's survival on the battlefield. Russia, meanwhile, has warned on multiple occasions that pumping Kiev with weapons will only prolong the conflict.
Washington's military presence threatens Russia's security and won't be ignored, President Putin's spokesman warned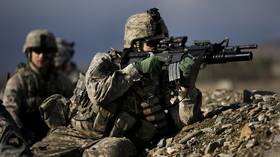 The US troop deployment in Romania increases risks for Russia's security, and will prompt Moscow to take countermeasures, Kremlin spokesman, Dmitry Peskov said on Wednesday. He was referring to the US Army's 101st Airborne Division, which is currently stationed in Romania on the border with Ukraine.
Speaking to reporters, Peskov noted that "the closer American troops are to our borders, the greater danger we are in." He went on to say that Moscow factors in such a military presence when developing its security framework.
Peskov reiterated that such a deployment on Russia's doorstep "does not contribute to predictability and stability."
Last week, speaking to CBS News, commanders of the 101st Airborne Division said that they would not hesitate to enter Ukraine should a direct conflict break out between Russia and NATO. 
In total, around 4,700 American soldiers from 101st Airborne have been sent to Europe. While in Romania, the division, which has been nicknamed "Screaming Eagles," is holding live-fire ground and air assault exercises with their NATO counterparts. 
According to its commanders, the division is the closest US unit to the fighting in Ukraine, and it is actively monitoring the Russian military while organizing drills to "replicate exactly what's going on" there.
NATO has repeatedly stated that it is not a party to the conflict and will not send its troops into Ukraine. In late June, Secretary General Jens Stoltenberg announced that the US-led bloc would significantly increase the number of its forces on high alert from 40,000 to over 300,000. 
Since the start of Russia's military campaign in Ukraine, NATO has been funneling billions of dollars in military aid to Kiev, providing it with state-of-the-art weaponry.
Thousands of foreign "soldiers of fortune" are said to be present in the Ukrainian-controlled city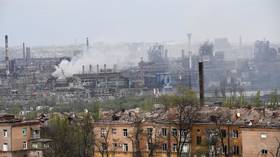 Kiev is turning the city of Zaporozhye into a heavily fortified stronghold, with foreign fighters bolstering Ukrainian forces, the top Russian official in the region has claimed.
"Zaporozhye is being turned into something like Mariupol. There is a large number of foreigners there, in the thousands," Evgeny Balitsky, the acting governor of Zaporozhye Region, told Russian TV on Wednesday.
He said this information comes from people living in the Ukrainian-controlled provincial capital who talk to relatives and friends on the Russian side of the frontline. People see military preparations with their own eyes and hear people talking in Polish, German, and English in the streets, he explained.
Russia incorporated the region as part of its territory this month, after residents in the eastern part voted in a referendum to split with Ukraine and join Russia. The city of Zaporozhye, which is located in the northwest, has remained under Kiev's control. The Ukrainian government called the vote a "sham" and pledged to retake all territories that it claims as its own.
The comparison to Mariupol refers to the Black Sea port city which was fully captured by Russia in May after the last Ukrainian troops surrendered. The fighters, many of them members of the neo-Nazi Azov regiment, spent weeks defending the Azovstal steelworks, a huge Soviet-built factory with a massive underground area designed to serve as a bunker during times of war. According to Balitsky, the AvtoZAZ automobile plant in the south of Zaporozhye is being prepared to be used the same way Azovstal was in Mariupol.
The Russian official also cited reports that the foreigners in Zaporozhye were acting "very brash" with the local population. "They simply take over places they want and turn them into military outposts," he claimed.
The mercenaries, he added, were mostly "soldiers of fortune" and thrill-seekers.
"They came to hunt, to loot, to act here in our lands with total impunity," the official said, adding that there have been reports of foreigners harassing locals.
He blamed Washington and Kiev for this, saying neither of them care about the people in the city and are fine with the troops acting as occupiers rather than defenders.
Scott Ritter weighs in
.
Posted by Russell Bentley
‼️MAIN ALARM‼️ SPECIFIC INFORMATION ABOUT THE PLANNED PROVOCATION‼️ READ AND SHARE‼️‼️ SHARING THIS INFORMATION CAN HELP STOP NUCLEAR WAR AND THE CRIME OF NUCLEAR WAR‼️
From Silver –
The Kyiv regime has already completed technical preparations for a provocation with a "dirty bomb", RIA Novosti reports citing a source.
According to the source, the specialists of the Ukrainian enterprise Yuzhmash, based on a projectile from the Tochka-U missile system, prepared a model of the Iskander OTRK missile, which is planned to be filled with a radioactive substance, and then allegedly shot down over the exclusion zone of the Chernobyl nuclear power plant by Ukrainian air defense forces and announce the launch of a nuclear charge by Russian troops.
"After the mock-up is shot down, the Kyiv authorities intend to show the Western and Ukrainian media fragments of the mock-up and electronics of the alleged Iskander missile in order to convince the Western public of Russia's guilt," the source quoted the agency as saying
Here is his original alert

Two of the few in America blowing the whistle

Zero Hedge does not seem that concerned, other than a "he said, she said" kind of approach
The Kremlin said it is raising the issue of Ukraine forces plotting a "dirty bomb" false flag attack, in order to lay blame on Russia for a mass casualty event, at the UN Security Council on Tuesday.
At the same time, Ukraine's nuclear agency has counter-alleged that Russian forces could be preparing a "terrorist act" with radioactive materials from occupied Zaporizhzhia nuclear power plant. Energoatom said Tuesday that Russian troops have access to 174 containers of spent nuclear fuel, with which Russians could be "preparing an act of nuclear terrorism," a statement asserted…[ ]