Moderna Asks FDA To Authorize Covid Vaccine For Children Under 6
Moderna Asks FDA To Authorize Covid Vaccine For Children Under 6
29 April, 2022
Moderna on Thursday became the first Covid-19 vaccine manufacturer to ask the

 Food and Drug Administration (FDA) to approve its jab for children under 6

, less than six months after the agency 

delayed approval

 for adolescents as young as 12-years-old over the risk of dangerous heart inflammation in younger patients.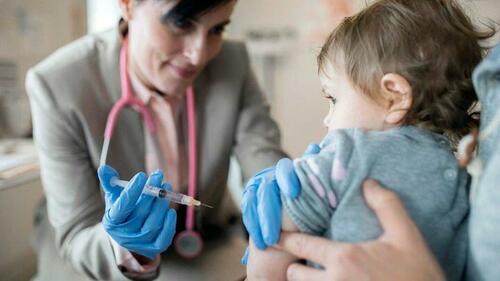 The development comes after the company announced positive results in late March for a phase 2/3 study for children aged 6 months to under 6 years – which found that the vaccine had "lower efficacy" against the Omicron strain.
"Using the Phase 3 COVE study COVID-19 definition, vaccine efficacy in children 6 months to 2 years was 43.7% and vaccine efficacy was 37.5% in the 2 to under 6 years age group."
And while the New York Times says that "Parents of the roughly 18 million youngest Americans" have been "waiting for months for pediatric doses," a CDC study revealed that throughout the entire pandemic up until January 31, 2022, there were just 2,562 children up the age of four years-old who were hospitalized with Covid-19, and just 16 deaths (2 of them from Omicron).
So Moderna wants approval for a jab with efficacy as low a 37.5%, for a demographic which has a 0.000142% hospitalization rate and generally mild (to no) symptoms without vaccination.
Moderna's clinical trial data showed that the antibody response of the youngest children compared favorably with that of adults ages 18 to 25, meeting the trial's primary criterion for success. Although the trial was not big enough to measure vaccine effectiveness, Moderna said Thursday the vaccine appeared to be 51 percent effective against symptomatic infection among those younger than 2, and 37 percent effective among those 2 to 5. -NYT
Moderna's chief medical officer, Dr. Paul Burton, said that the Omicron variant accounted for 80% of cases in the study group, which explains the low efficacy rate.
For now, Moderna's vaccine has only been cleared for adults – and the company has also requested authorization of its Covid vaccine for those aged 6-11 and 12-17, which the company will submit data for in around two weeks.
The FDA's head of vaccine regulation, Dr. Peter Marks, hinted at a Tuesday Senate oversight hearing that the agency may consider Moderna's applications for all children as a whole.
Moderna and Pfizer-BioNTech have both been developing doses for the youngest children since last year. Moderna is proposing a two-dose regimen for children from 6 months to 5 years old, using one-fourth the strength of an adult dose. Pfizer and BioNTech are working on a three-dose regimen for those 6 months to 4 years old, at one-tenth the strength of the adult dose. Pfizer has not yet submitted a request for F.D.A. authorization, but is expected to do so soon. -NYT
Last week, White House adviser Dr. Anthony Fauci suggested that the agency wants to review data for Moderna and Pfizer simultaneously in order to directly compare the two.
Regulators aren't expected to act on Moderna's application before June, while federal officials will ask the agency's outside advisory panel of experts to review the data before authorizing any vaccine for the least vulnerable.