More on Tucker Carlson
More on Tucker Carlson
Update (2114ET): After an entire day wondering why in the hell Fox News would can the highest-rated cable news host in the world, ever, the New York Times comes out with this;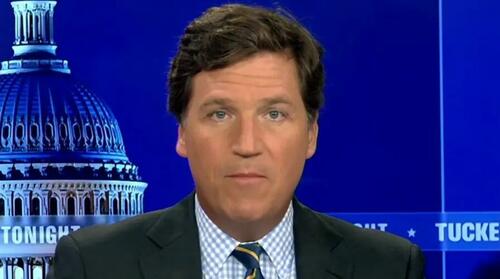 Who:
The decision to let Mr. Carlson go was made on Friday night by Lachlan Murdoch, the chief executive of Fox Corporation, and Suzanne Scott, chief executive of Fox News Media, according to a person briefed on the move. Mr. Carlson was informed on Monday morning by Ms. Scott, another person briefed on the move said.
Why?
[T]he power that Mr. Carlson, 53, wielded outside Fox News could not insulate him from a growing list of troubles inside the network related to his conduct on and off the air, some of which had been grating on Mr. Murdoch and his father, Rupert Murdoch, the chairman of Fox Corporation, who co-founded the network in 1996, according to the two people with knowledge of the company's decision.

…

The host, a polarizing and unpopular figure at the network outside of his own staff, was exposed as part of a defamation lawsuit by Dominion Voting Systems as a bully who denigrated colleagues and sources, often in profane and sexist language, and called for the firing of Fox journalists whose coverage he disliked. He has also drawn condemnation from the right and left for his role in fostering a revisionist account of the assault on the United States Capitol on Jan. 6, 2021.
So he was mean to people?
We also know that last week, Tucker attacked Big Pharma in one of his monologues.
3 days ago: Tucker's opening monologue calls out mainstream media's role in pushing the Covid vaccines despite their high risk for serious side effects and death

Today: Tucker is no longer with Fox

This is the power of Big Pharma pic.twitter.com/r5fVaZJt3d

— DC_Draino (@DC_Draino) April 24, 2023
Fox fires @TuckerCarlson five days after he crosses the red line by acknowledging that the TV networks pushed a deadly and ineffective vaccine to please their Pharma advertisers. Carlson's breathtakingly courageous April 19 monologue broke TV's two biggest rules: Tucker told the…

— Robert F. Kennedy Jr (@RobertKennedyJr) April 24, 2023
Oh, there's more:
One early point of contention was Mr. Carlson's 2021 documentary, "Patriot Purge," which advanced the conspiracy theory that the attack that day was a so-called false flag operation designed to discredit the former president and his political movement. Lachlan Murdoch was said to have been caught off guard by the program, which also led two conservative Fox News contributors to quit in protest, Jonah Goldberg and Stephen Hayes.

In March, Mr. Carlson edited down tens of thousands of hours of footage from the attack given to him by Speaker Kevin McCarthy and used them to falsely portray the rioters as people Mr. Carlson called "mostly peaceful" onlookers who had innocently ambled into the Capitol. The broadcast drew a rebuke from Senator Mitch McConnell, who is a friend of Rupert Murdoch's and said Mr. Carlson had drawn "offensive and misleading conclusions."
So he showed the public the January 6th footage and dared question the event.
There are few people in media who have their own independent following loyal to them.

Tucker is one of them. If he goes to an independent platform, his audience will be even bigger and his voice more influential.

Fox needed Tucker way more than Tucker needed Fox.

— Glenn Greenwald (@ggreenwald) April 25, 2023
The Times also says that one of Carlson's former producers said he ran a "toxic" workplace.
And yet, is any of that worth giving up tens of millions in Tucker-related ad revenue? It seems that if you routinely question the regime, it is.
This was Tucker Carlson Tonight's last moment.

Eating pizza with the hero delivery man who stopped a car jacker.

I can't think of a better way for the greatest cable news show in history to end.
pic.twitter.com/cfzNZ6QY4l

— Greg Price (@greg_price11) April 24, 2023